The 2022 edition of the Festival des Architectures Vives received very positive feedback from the public with a number of visitors of around 10,000 people.
The purpose of the Festival des Architectures Vives is to raise public awareness of the broad field of architecture. It strives not only to highlight the work of a young generation of architects, landscape architects, and urban planners but also to discover unexpected urban territories.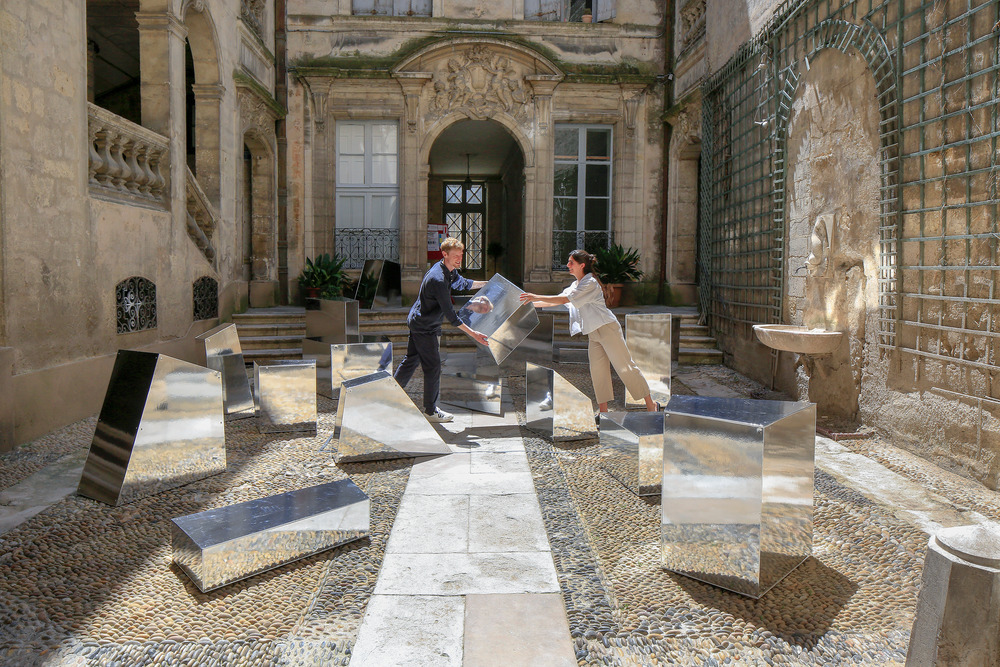 Some installations allow interaction with the public. Without leaving physical traces, the FAV seeks to mark the spirits, initiate a global reflection on architecture and its development in an existing urban context as well as create a dialogue between contemporary creation and heritage. Mediators and students at the Montpellier School of Architecture are present at each location and allow visitors to better appreciate the course. The event is free, testifying to this desire to be open to as many people as possible.
FAV 2022 teams
The teams that create the ephemeral installations are selected after a call for applications launched in September. They come from France and abroad.
Jury Prize
BOUTEILLE A LA MER
KOLLEKTIV GESAMTKUNSTWERK: Killian Petracek, Anton V. Schmunk, Marcel Navid Sharifian, Kalieb Johanes, Anh Khoa Ngo, Timur Zhigaylo
Brussels // Belgium- Frankfurt am Main // Germany
Public Prize
UNE ILLUSION D'ETERNITE
Malo Chabrol, Lucas Buti
Marseille, France
Special mention
FRAGMENT
Chiara Vigneri & François Chantier
Berlin // Germany
Special mention
CAELOSCOPE
Alek Rokosz
Krakow // Poland
ENTRE DEUX VALSES
AMBLA: Morgane BERSON, Karen LE CORROLLER, Maxime MOLINARI
Marseilles - Béziers // France
L'ILLUSION DE LA PERMANENCE
Atelier VYà: GAUQUELIN Achille & BOSSARD Timothée
Paris, France
PAYSAGE EN SUSPENS
BoON Architecture + mock up : Jean-Nicolas Bouchard, Julie Bradette, Hugo Thibeaudeau, Thierry Thibaudeau, Véronique Côté
Quebec // Canada
LA MAUVAISE HERBE NE MEURT JAMAIS
Atelier Mobile : Cristiano Tosco, Miriam Quassolo, Corrado Scudellaro, Fabrizia Muci, Francesco Paolo Rolfo
Torino // Italy
ÉCHANTILLON T22U.RFU
Slow architectures & Mobiterre: Olivia Frapolli, Sébastien Soulez-Larivière, Rachid Mizrahi, Miki Nectoux
Montpellier // France
LE CHATEAU DE CARTES
B.O: Joan BARDY, Jean ORLIAC
Barcelona // Spain
FAV 2022
– 16th edition in Montpellier
– June 14 to 19, 2022 in Montpellier
- 10,000 visitors
– 10 installations