"Vis-à-vis" and "Rendez-vous" by Marco Carini for Agape: stools and day-bed benches that arise spontaneously, in a fluid union of ergonomics and form, with free and open modularity and choices of materials and colours. Like in a child's drawing or a fairy tale by Gianni Rodari, these whimsical and playful elements show both lightness and originality of thought.
With these two designs by Marco Carini, Agape makes its first foray into using cork as a material and introduces new types of furniture into its bathroom collection. The idea of the bathroom as a space dedicated to oneself and one's personal well-being is strengthened: this is a place in which to relax and meet.
"Vis-à-vis" is a light and manoeuvrable stool made entirely of natural or heat-treated cork. It can also be used as a small side table - its "smiling" shape is sure to please.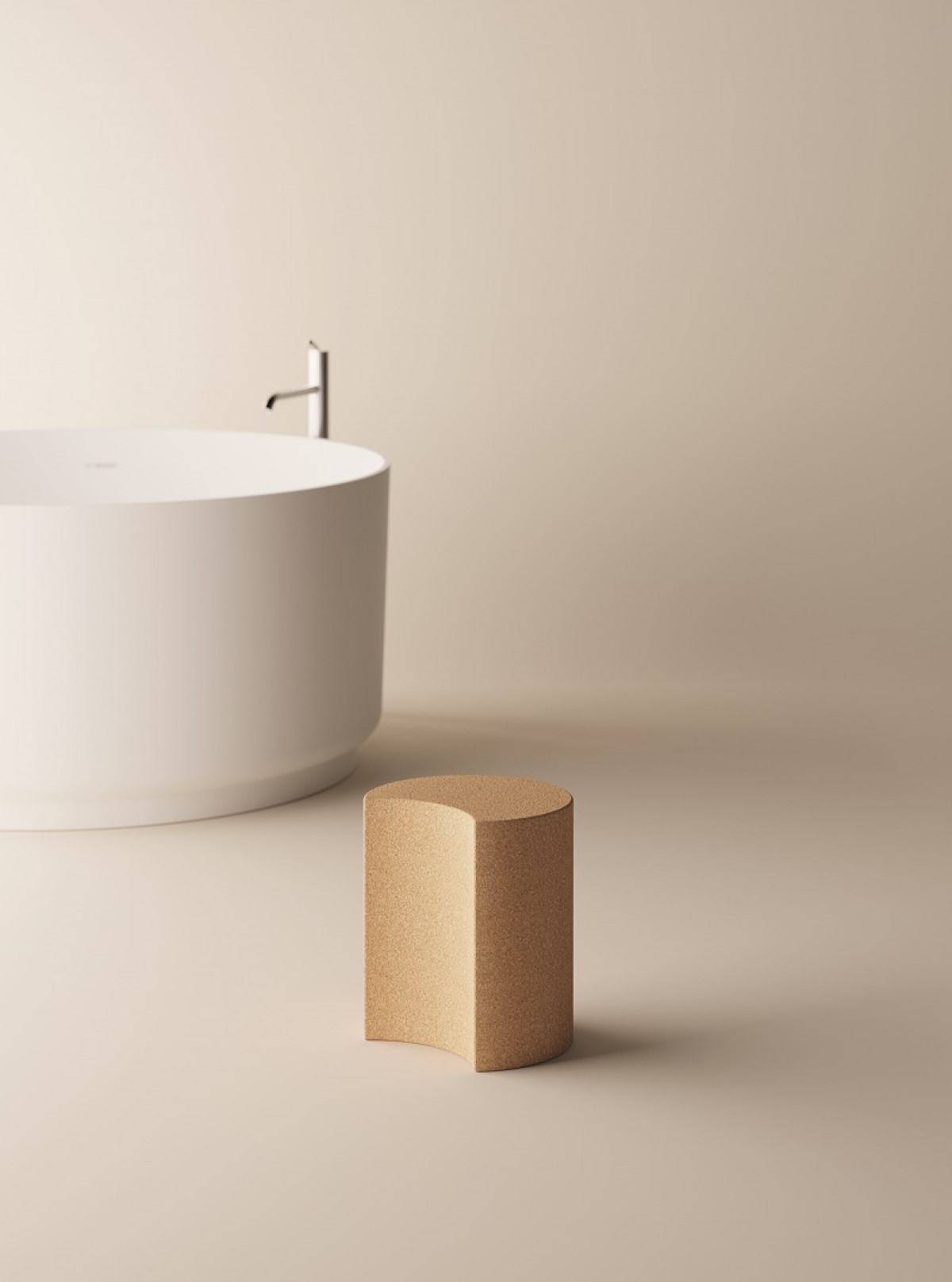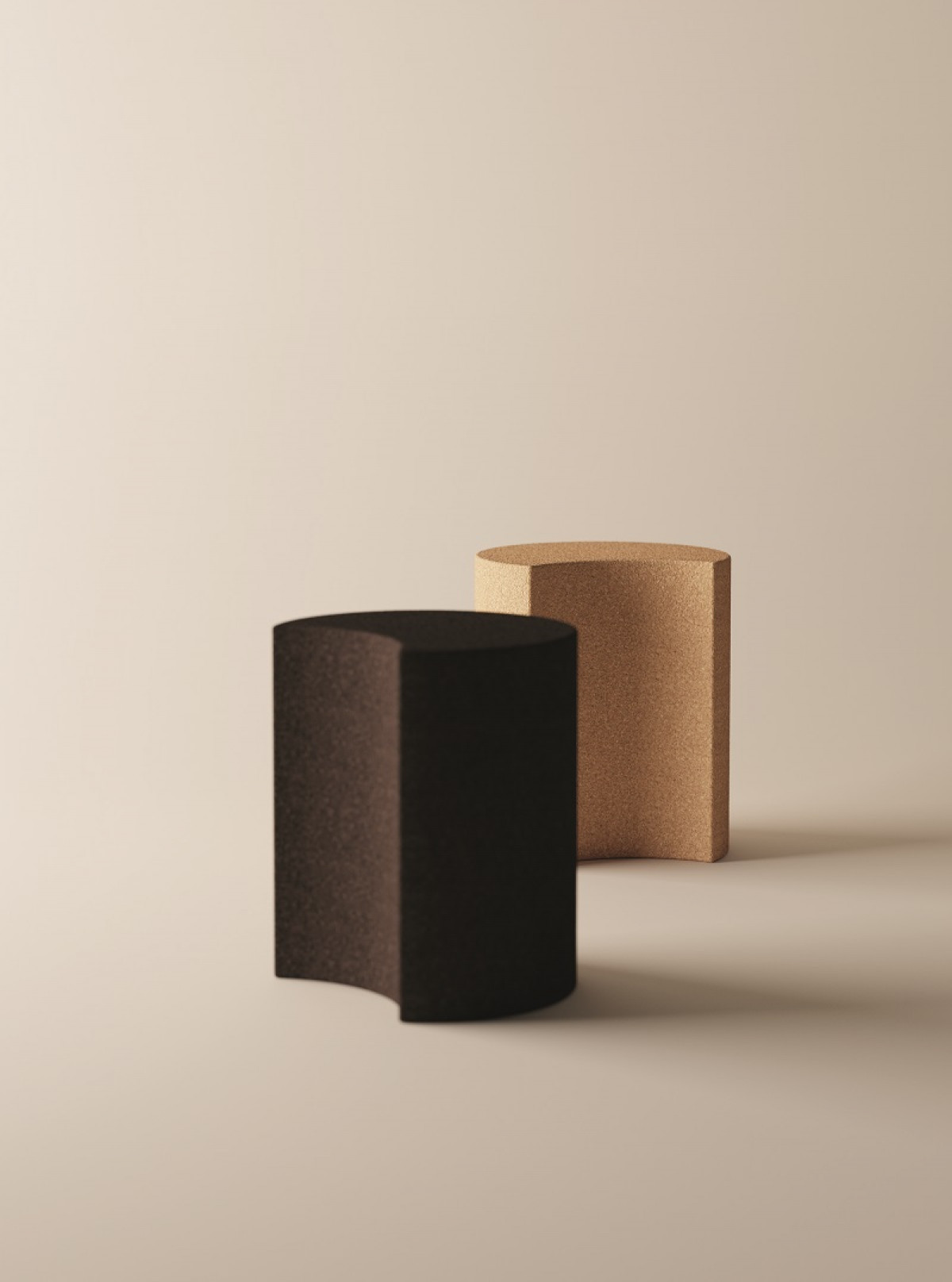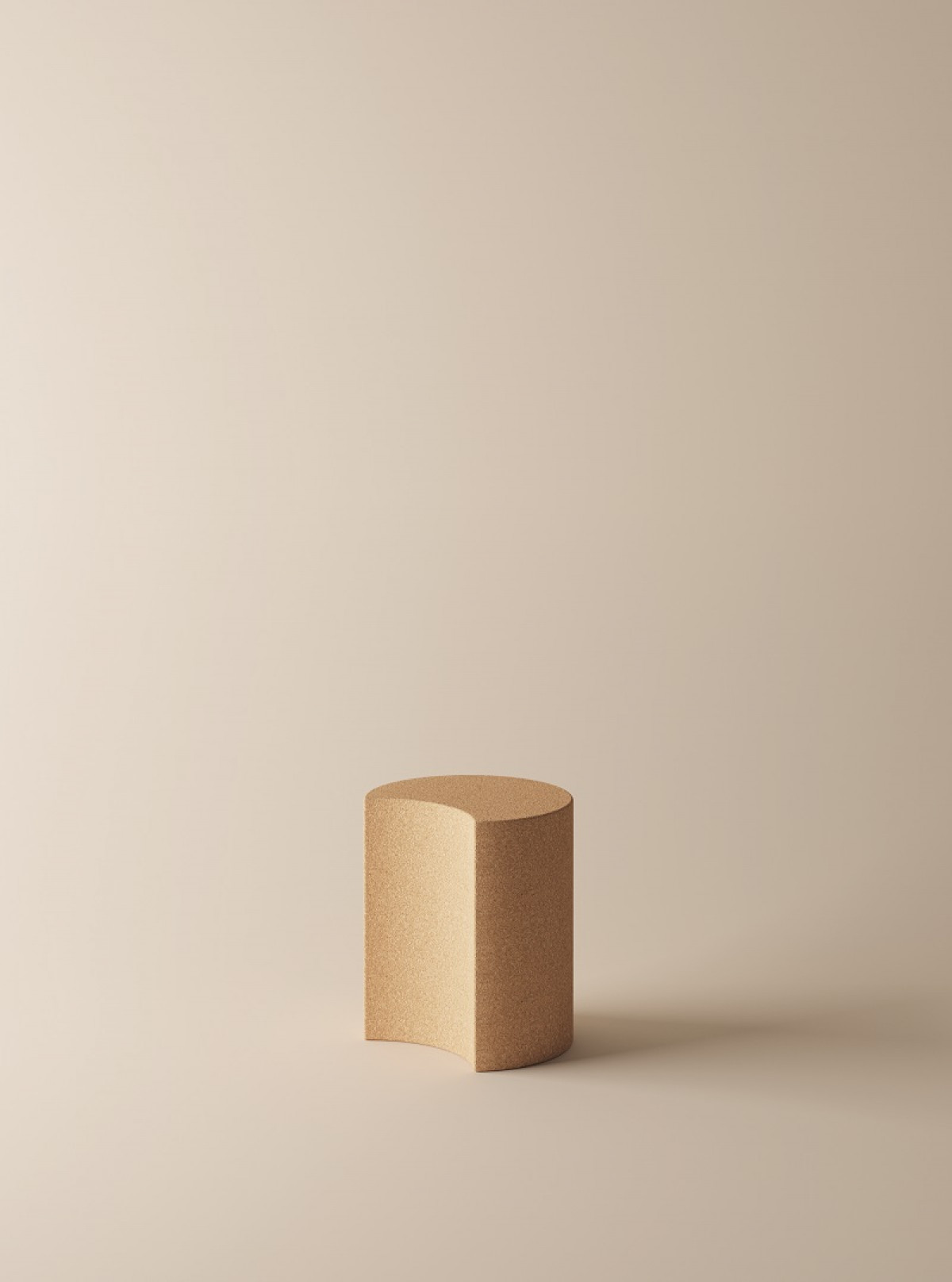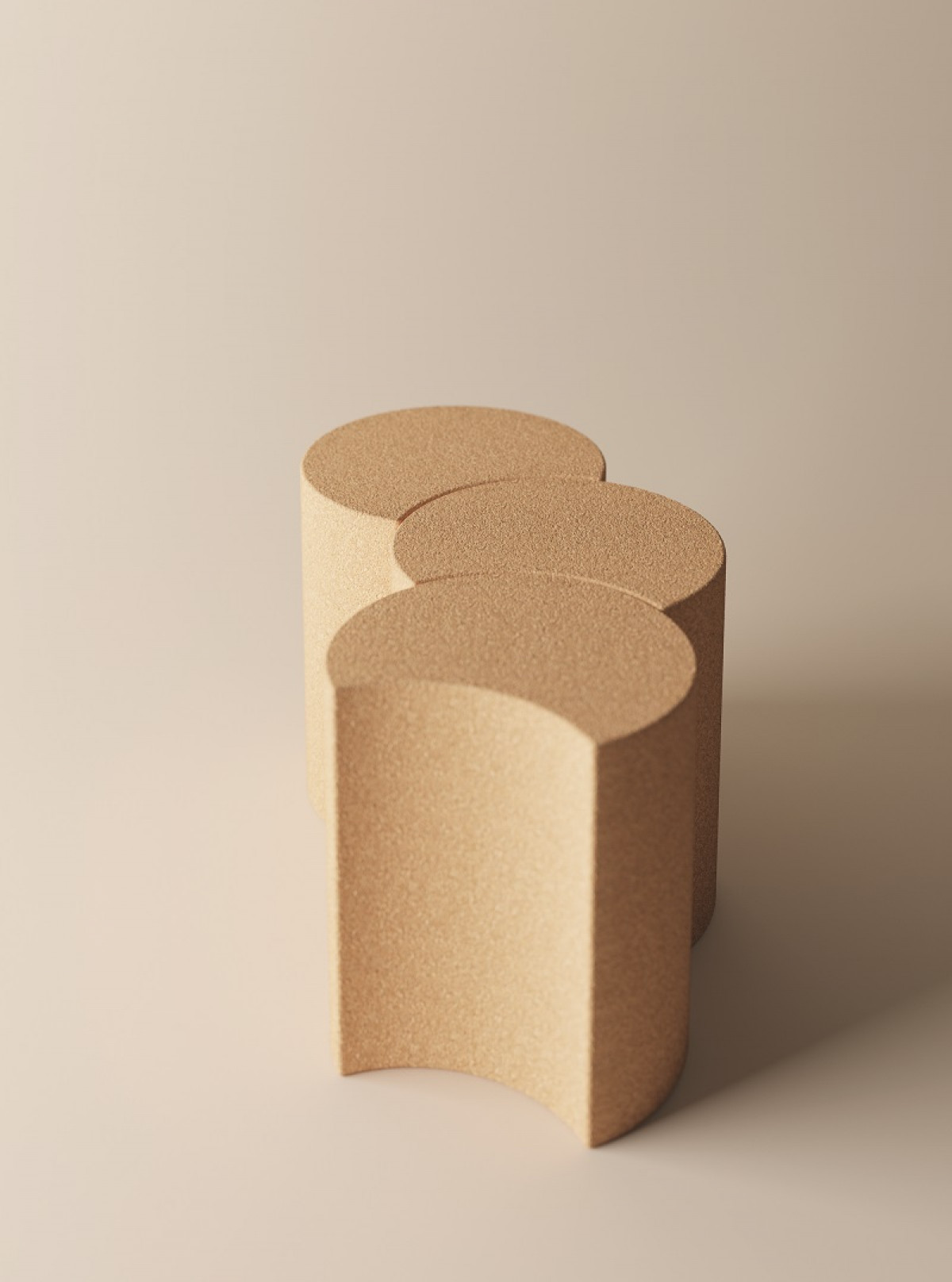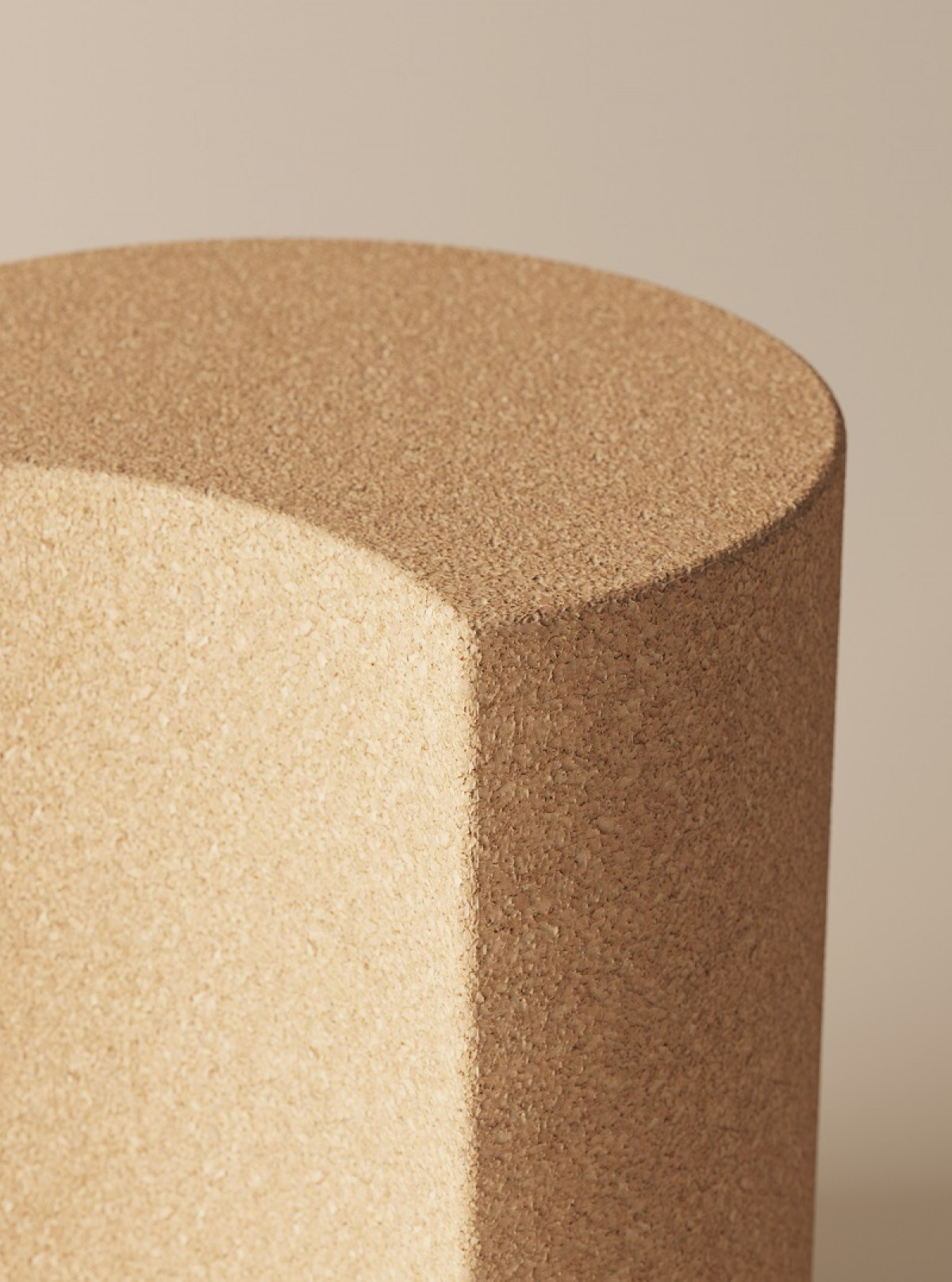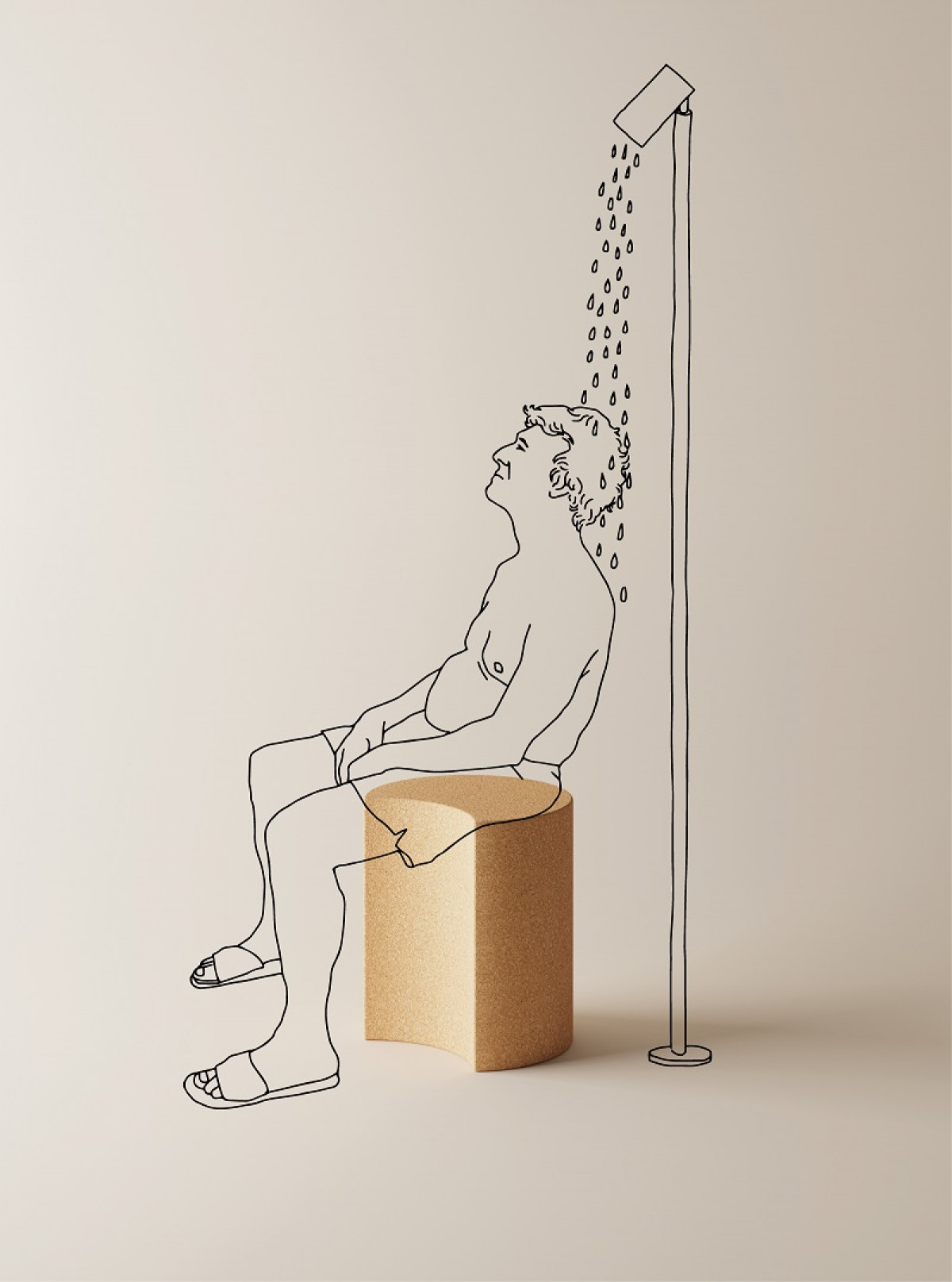 "Removing a slice from the cylindrical body creates a curve that has the same radius as the base. That means you can link one piece to another indefinitely, even creating a circular motion. That same curve also allows two people to sit comfortably facing each other on two stools, with space for their feet in the missing portion of the cylinder," explains designer Marco Carini.

That same freedom of function returns in "Rendez-vous." Three day-bed benches in three different heights can be used individually or stacked as desired, creating a space to sit, have a conversation, or stretch out and relax. The surface consists of hand-woven ropes of cork, with technical metalcore. Fine craftsmanship is apparent in the sparser and denser woven areas, with a striking decorative effect that highlights the human contribution to the design. The supports and frame are recycled aluminium tubing painted in a warm brick-red colour.

"The idea behind Rendez-vous is that of coming together. The meeting of two materials, cork rope and aluminium; of three structural elements joined together like exotic woods; hands are coming together to weave the rope on the metal frame, and people sitting together or choosing Rendez-vous for other functions," concludes Marco Carini.
Craftsmanship and nature unite for these two collections: in a world that wants everything neatly categorized and defined, these pieces celebrate their versatility and freedom of use. They are designed to be water-resistant, giving them a place in a home environment as well as in hotels and hospitality, even outside the bathroom or outdoors - the only limit is your imagination.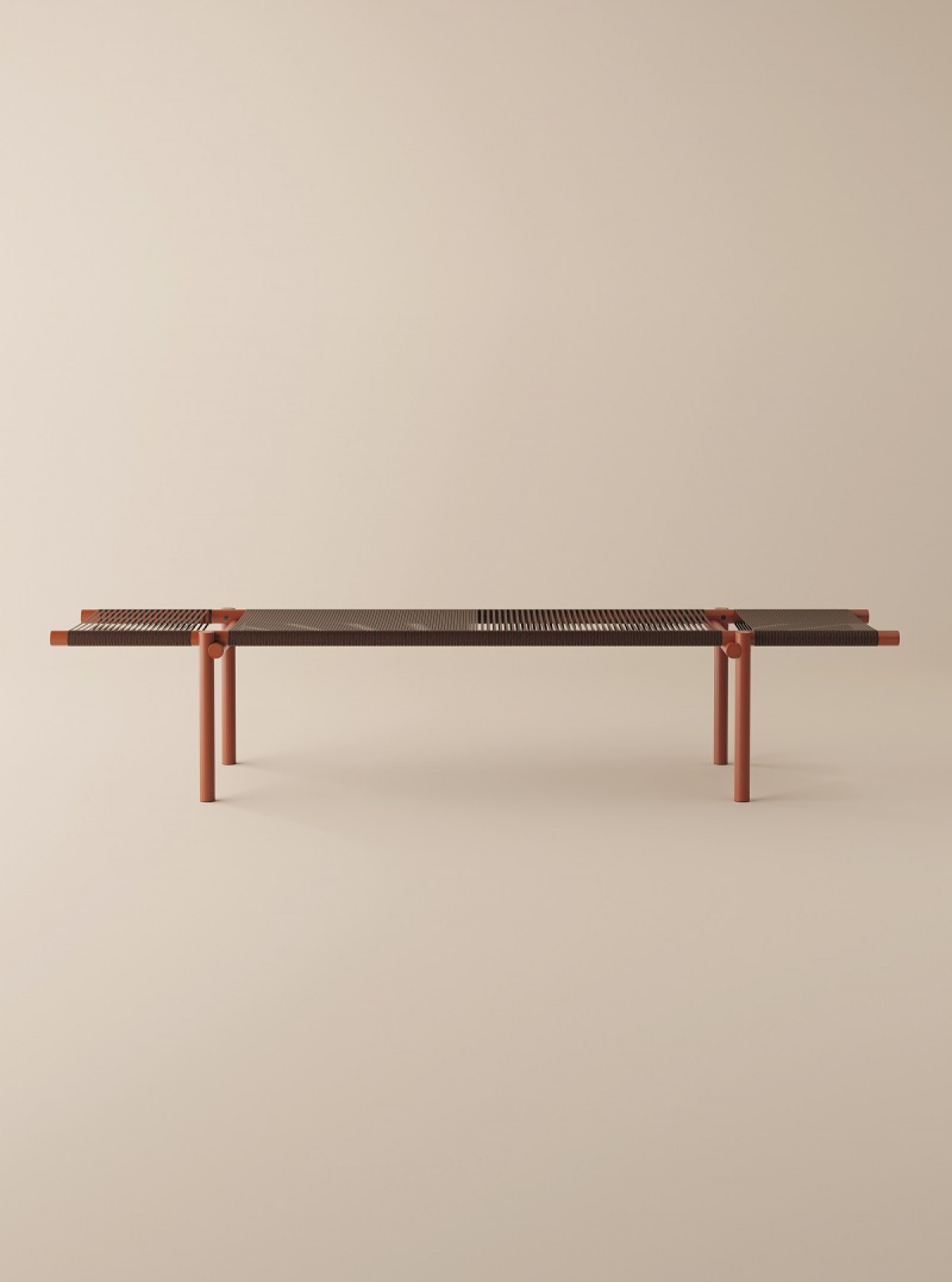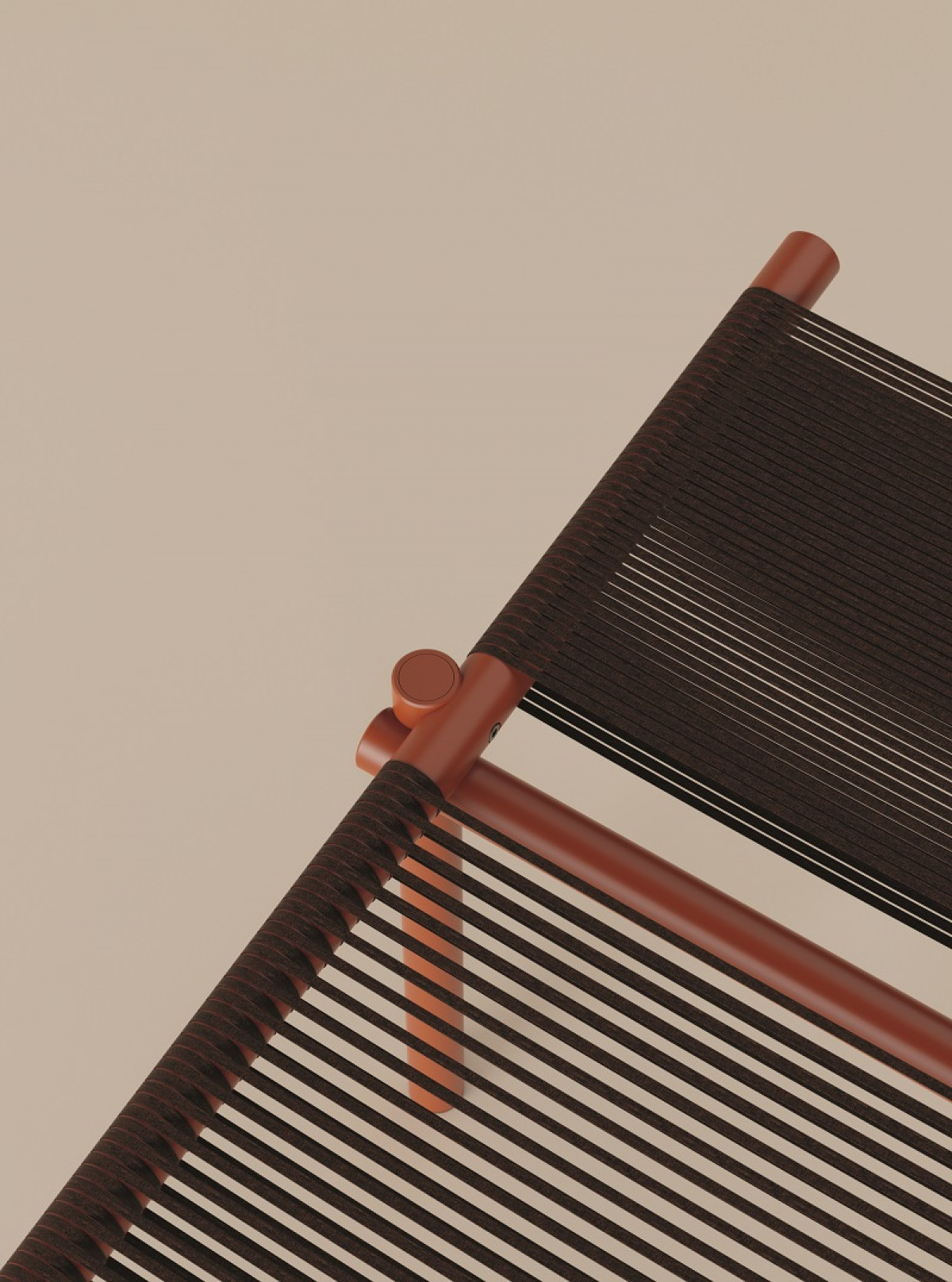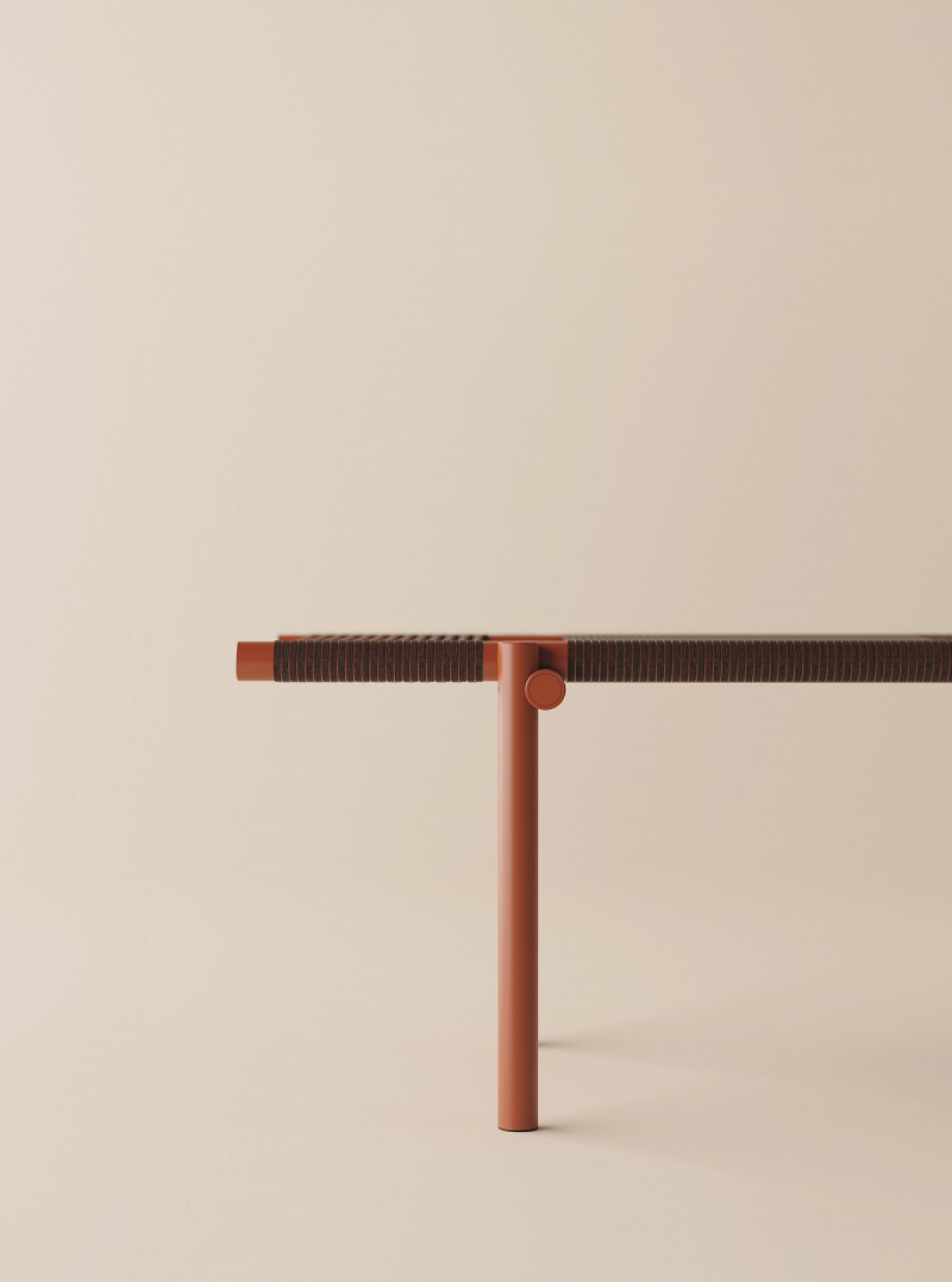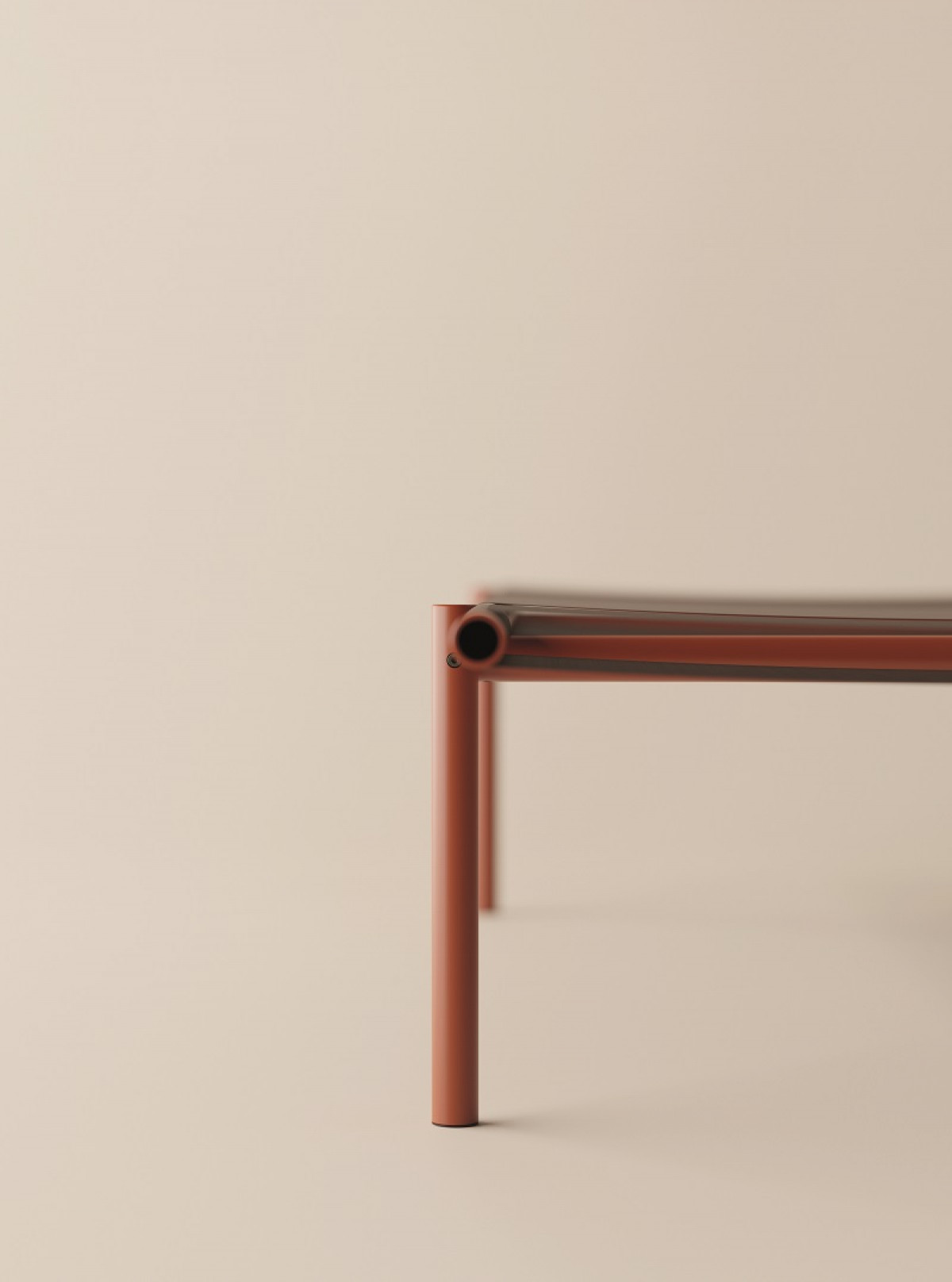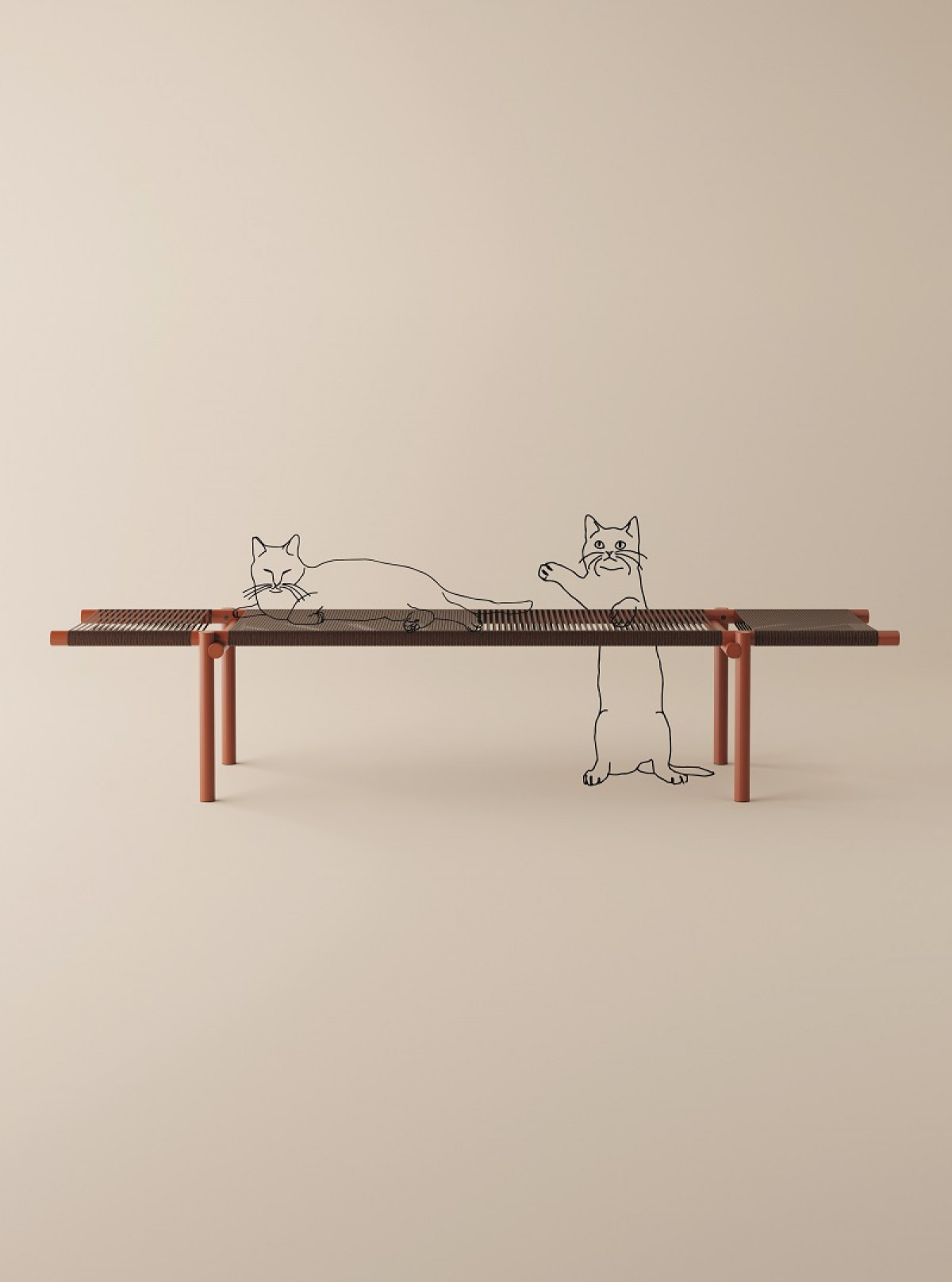 Cork and design: the sustainable choice

For both collections, Agape has chosen a material that is a rising star of the circular economy: cork, derived from the wild-growing cork oak (Quercus suber). A generous tree retains high levels of CO2 and produces large amounts of oxygen. The process of cork harvesting, or "decortication," is carried out every nine years, in harmony with the tree's natural cycles. The result is an extraordinary waterproof and fire-resistant plant material with natural elasticity and durability.
Only recycled cork from waste material is used for "Vis-à-vis" and "Rendez-vous." Discarded material from the production of wine bottle stoppers is ground into small grains and then agglomerated with suberin, the resin of cork, without the addition of chemical adhesives, or flaked and then texturized on a cotton backing to form strips, flat strings, or round ropes.