The busy urban streetscape of Osaka welcomes concrete's latest interior project: W's first hotel in Japan. With a total of 337 guest rooms & suites, W Osaka asserts its presence with a 27-story high-rise building by Nikken and a black monolith facade designed by Tadao Ando. Created for Sekisui House and Marriott International, and in collaboration with Nikken an Nikken Space Design, the building is due to open in March 2021.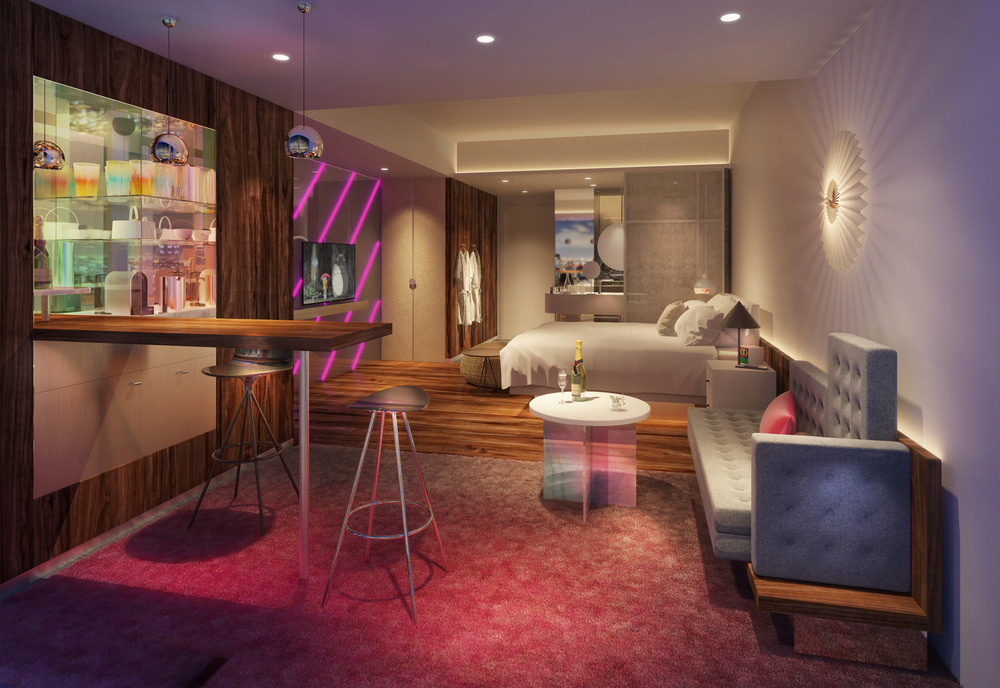 Storytelling: 'extravagant simplicity'
Concrete's team of Dutch designers explored Osaka's past, present, and future, its urban and natural landscapes, and its fascinating culture. Visually, they discovered that Osaka is water and nature – but also neon and bright colors. Struck by the contrast between the aesthetic of Japanese minimalism and the extravagance of an urban world saturated with colors. Especially in downtown Osaka an Dotonbori – Osaka's nightlife district – the display of flashing neon is breathtakingly vivid and joyful. The goal is to share the spirit of the city with the guests of W Osaka. And let the interior of the hotel tell a story that is truly Osaka. Celebrating the opposing – yet complementary – forces of extravagance and simplicity.

The sprawling metropolis of Osaka was once the imperial capital of Japan and the country's economic hub. At its heart, the wide Yodo River flows into a harbor bustling with trade. Throughout its history, visitors contributed their cultures and technologies to the city – creating a prosperous port with an extroverted, lively, and somewhat rebellious culture. All of this energy attracts international businesses and visitors. Concrete's team of Dutch designers explored Osaka's past, present, and future, its urban and natural landscapes, and its fascinating culture.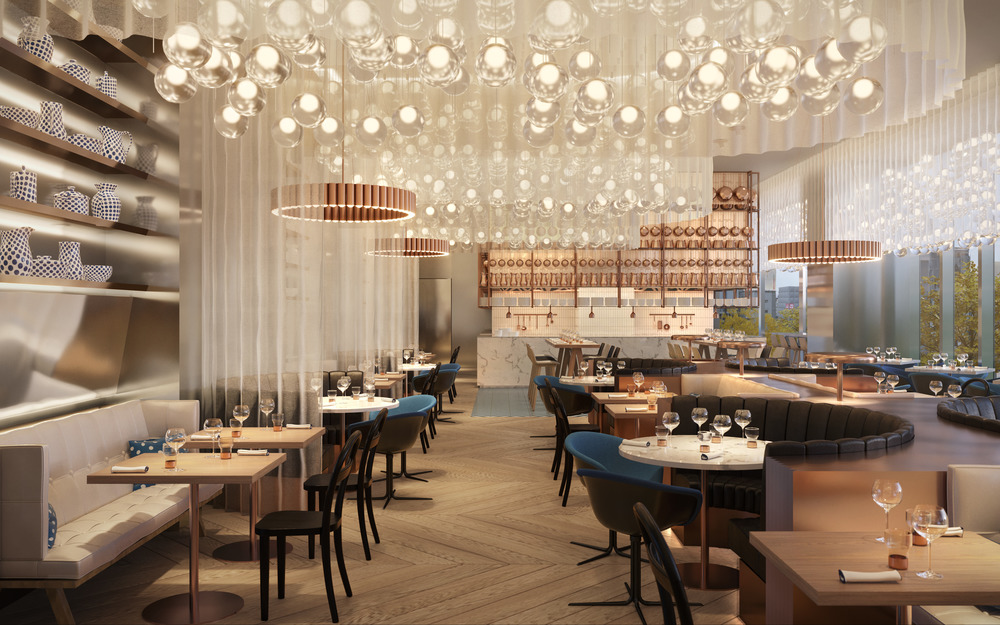 Technical sheet
Project team: Rob Wagemans, Bart de Beer, Julia Hundermark, Sofie Ruytenberg, Cathelijne Vreugdenhil, Femke Zumbrink, Marlou Spierts, Minouk Balster, Valentina Venturi, Petra Moerbeek, Erik van Dillen
Developer: Sekisui House
Architect of record: Nikken Sekkei with Tadao Ando (façade)
Interior designer: Concrete
Graphic & signage designer: Concrete
Styling: Concrete
Executive interior designer: Nikken Space Design
Purchasing agent: Crosslink Corporation
Specialist joinery: PLUS furniture company, idc-Otsuka
Lighting consultant: LPA lighting
Specialist lighting: Koizumi, Daiko lighting
Bespoke artwork: eBoy (guestrooms), Sigrid Calon (suites), Lok Jansen (sushi restaurant)

Total area: 37.000 m2
Total floors: 27
Total rooms: 337

About W Hotels
Worldwide Born from the bold attitude and 24/7 culture of New York City, W Hotels, part of Marriott International, Inc., has disrupted and redefined the hospitality scene for over two decades. Trailblazing its way around the globe, with more than 55 hotels, W is defying expectations and breaking the norms of traditional luxury wherever the iconic W sign lands. With a mission to fuel guests' lust for life, W ignites an obsessive desire to soak it in, live it up, and hit repeat. The brand's provocative design, iconic Whatever/Whenever service and buzzing Living Rooms create an experience that is often copied but never matched. Innovative, inspiring, and infectious, the brand's supercharged energy celebrates guests' endless appetite to discover what's new/next in each destination, to see more, feel more, go longer, stay later. For more information on W Hotels, visit whotels.com/theangle
About Sekisui House
Founded in 1960, Sekisui House, Ltd. Is one of the world's largest homebuilders and an internationally diversified developer, with cumulative sales of over 2 million homes. Based in Osaka, Sekisui House has over two-hundred consolidated subsidiaries and affiliates, over twenty-thousand employees, and is listed on the Tokyo Stock Exchange and Nagoya Stock Exchange.
Sekisui House aims to create homes and communities that improve with time and last for generations. With "Love of Humanity" as its Corporate Philosophy, Sekisui House believes that homes should offer comfort, security, and peace of mind for residents while maintaining harmony with the environment and its surroundings. Sekisui House has sustainability as a core corporate target and is now the global leader in the construction of net-zero-energy homes with more than fifty-thousands of them built since the product was launched in 2013. In 2009, Sekisui House expanded into several new international markets and now operates in the United States, China, Singapore, Australia, and the United Kingdom.
About concrete
Since 1997 concrete develops concepts in architecture, interior design, urban development, and brand development. We work with a team of 50 multidisciplinary creatives for corporations and institutions. Next to W Osaka, Projects include W Hotels in London and Verbier, citizenM hotels worldwide, Zoku Lofts, Virgin Voyages Scarlet Lady, Mongkok Skypark, Andaz Munchen, and more.