Italian brand, Nero Cucine, announced it has been recognized with a prestigious Architizer A+ Award in the Kitchen Cabinetry & Millwork products category for its Hyper Kitchen N037, whose main feature is a dynamic countertop that can be raised to turn an elegant block into a fully functional kitchen.
At first glance, this kitchen is striking for its inherent sculptural simplicity and monolithic look: a precious surface made of Corian (or marble), seemingly inadequate for prepping elaborate meals, can be lifted through the innovative Wing Top mechanism designed by Nero Cucine to uncover a stainless steel countertop featuring a working area with a welded sink and a retractable faucet. The Wing Top mechanism is completely concealed, and it is operated manually, ensuring smooth operability and durability over time. Once the top is fully up, forming a 90 degree angle with the under surface, it turns de facto into a backsplash equipped with a sensor LED light pointed on the cooking counter.
The stainless steel backsplash alleviates the potential concern of staining the material on the exposed top, and it simultaneously adds a very clean aesthetic to the design.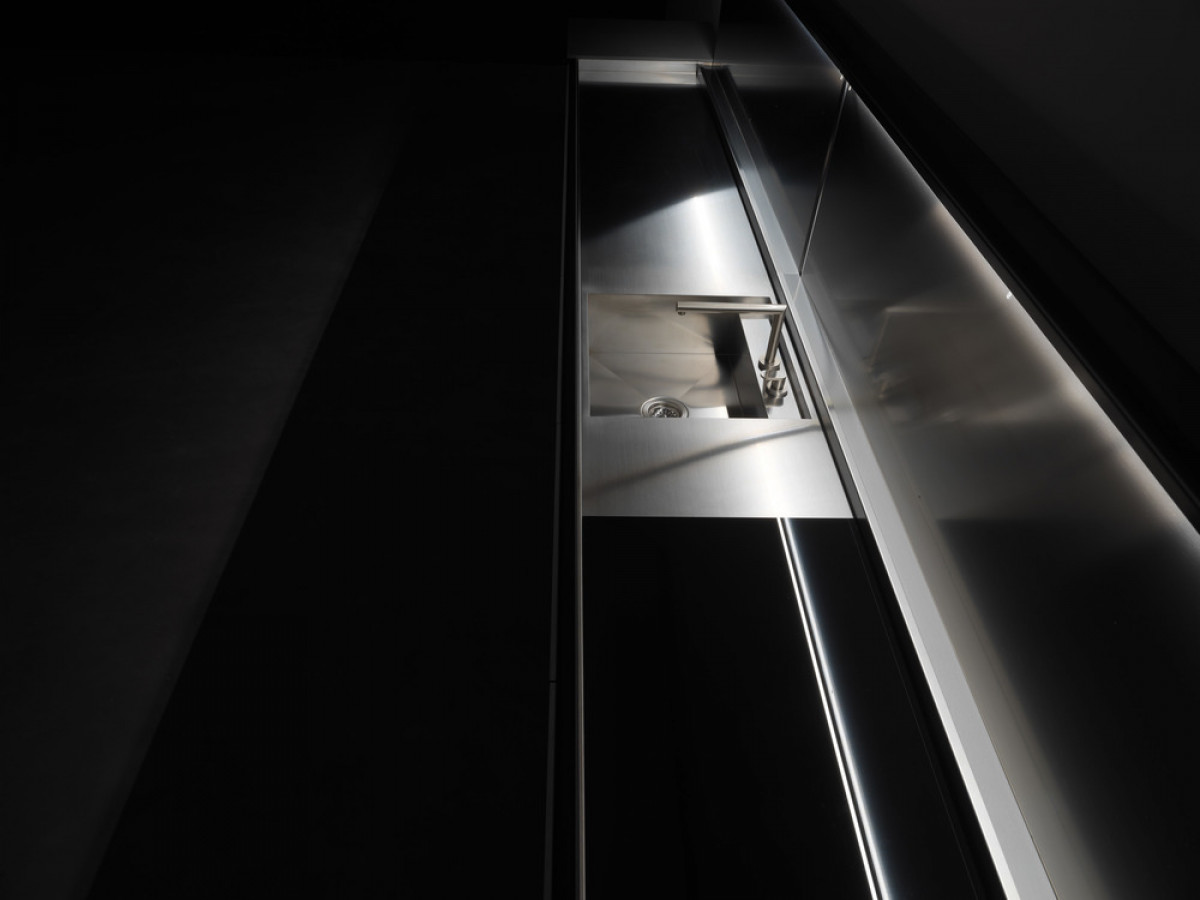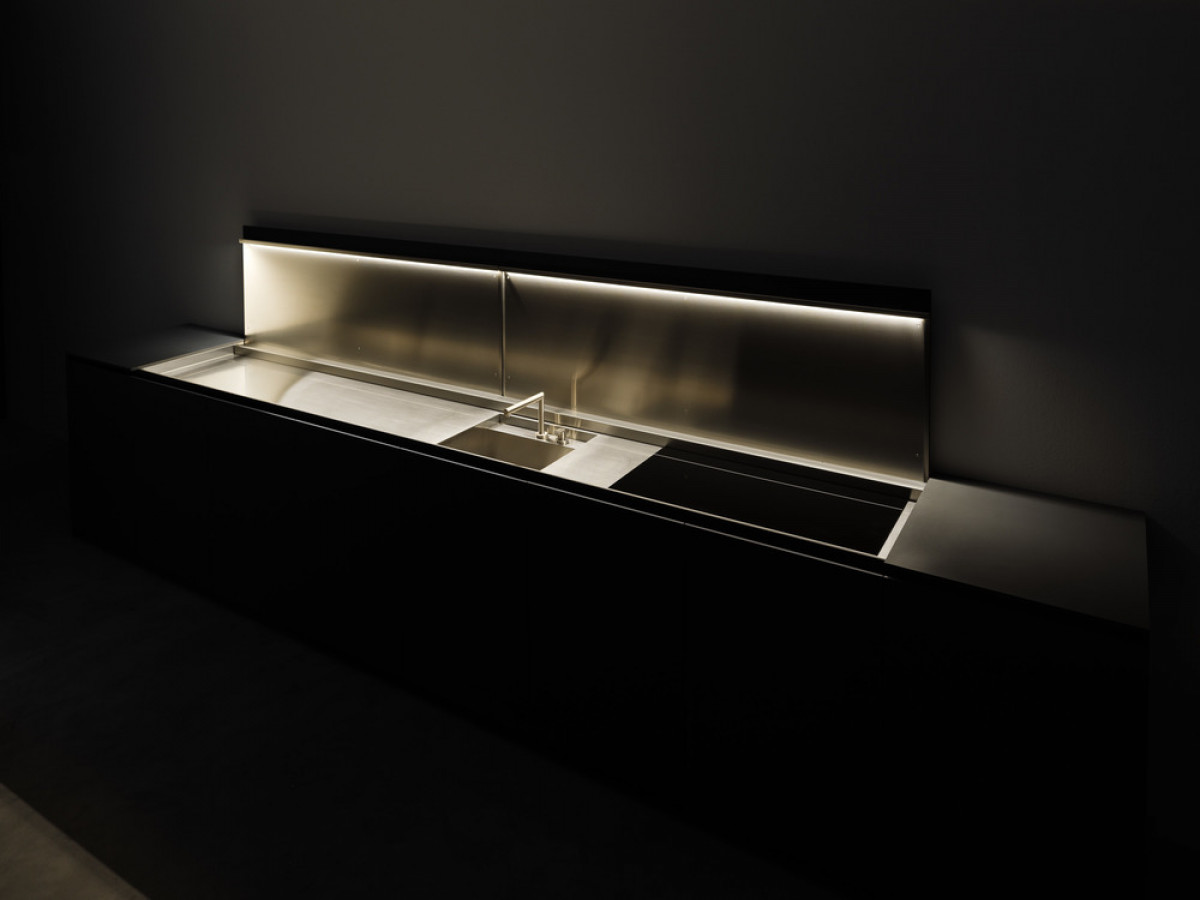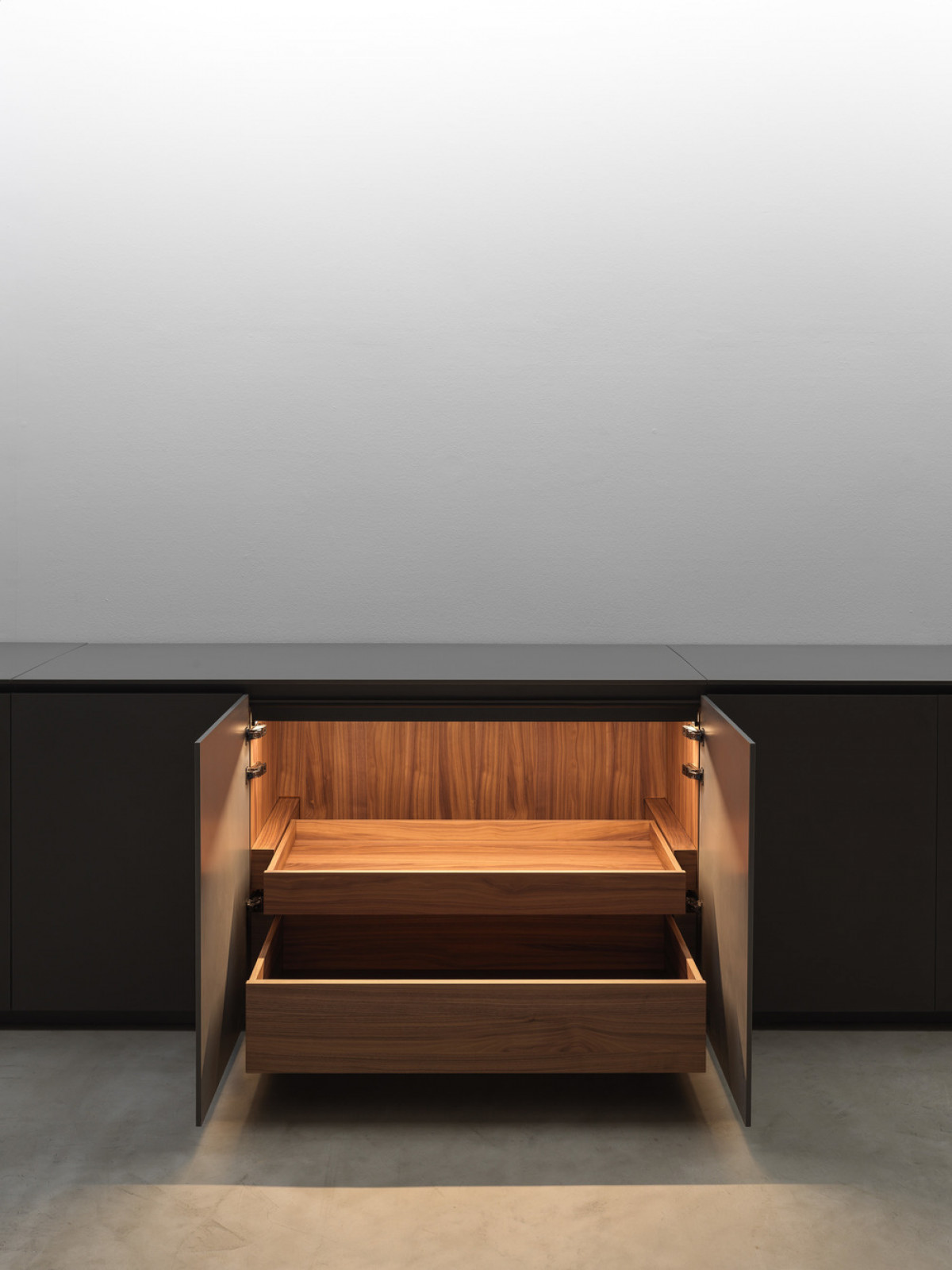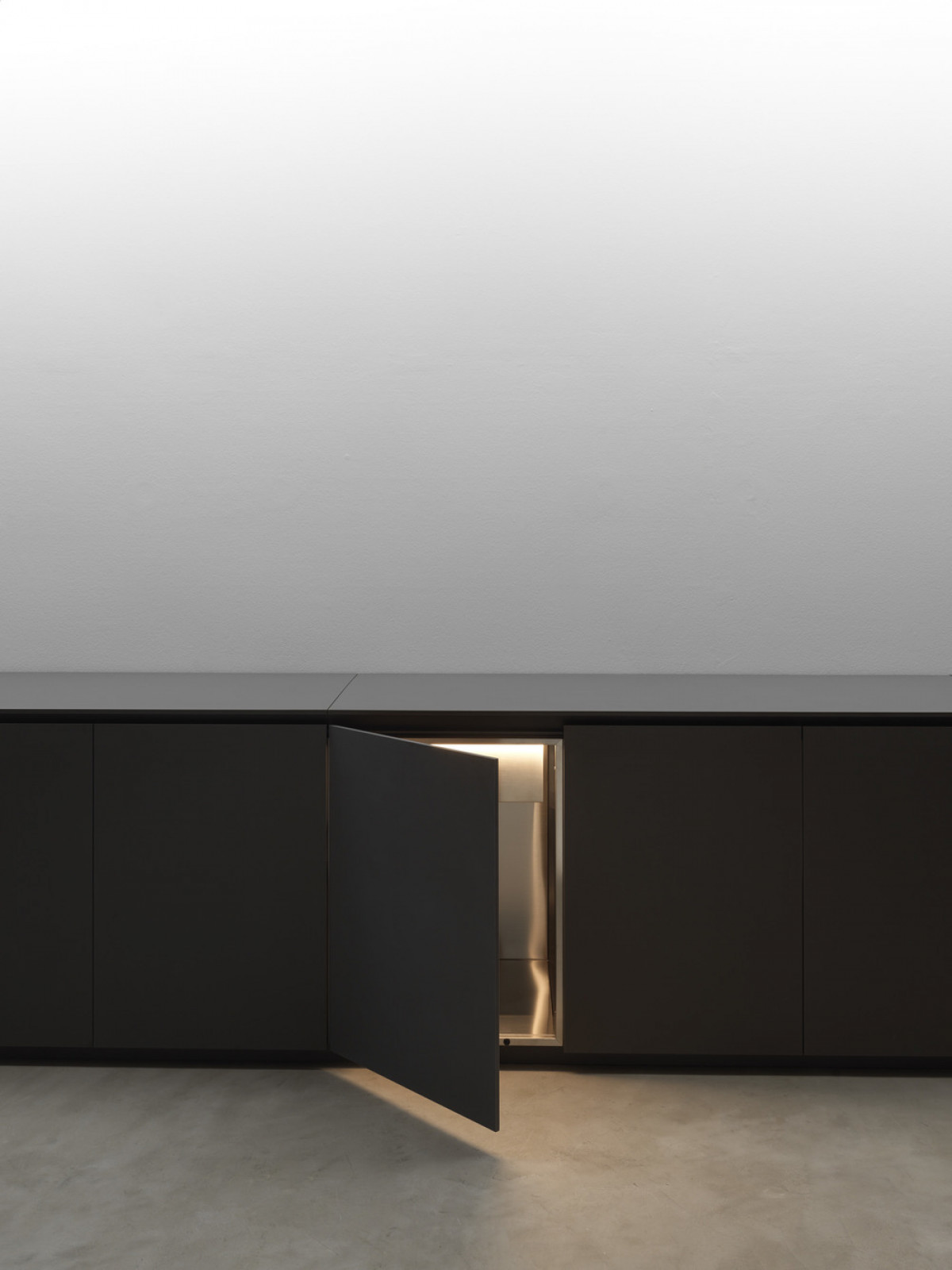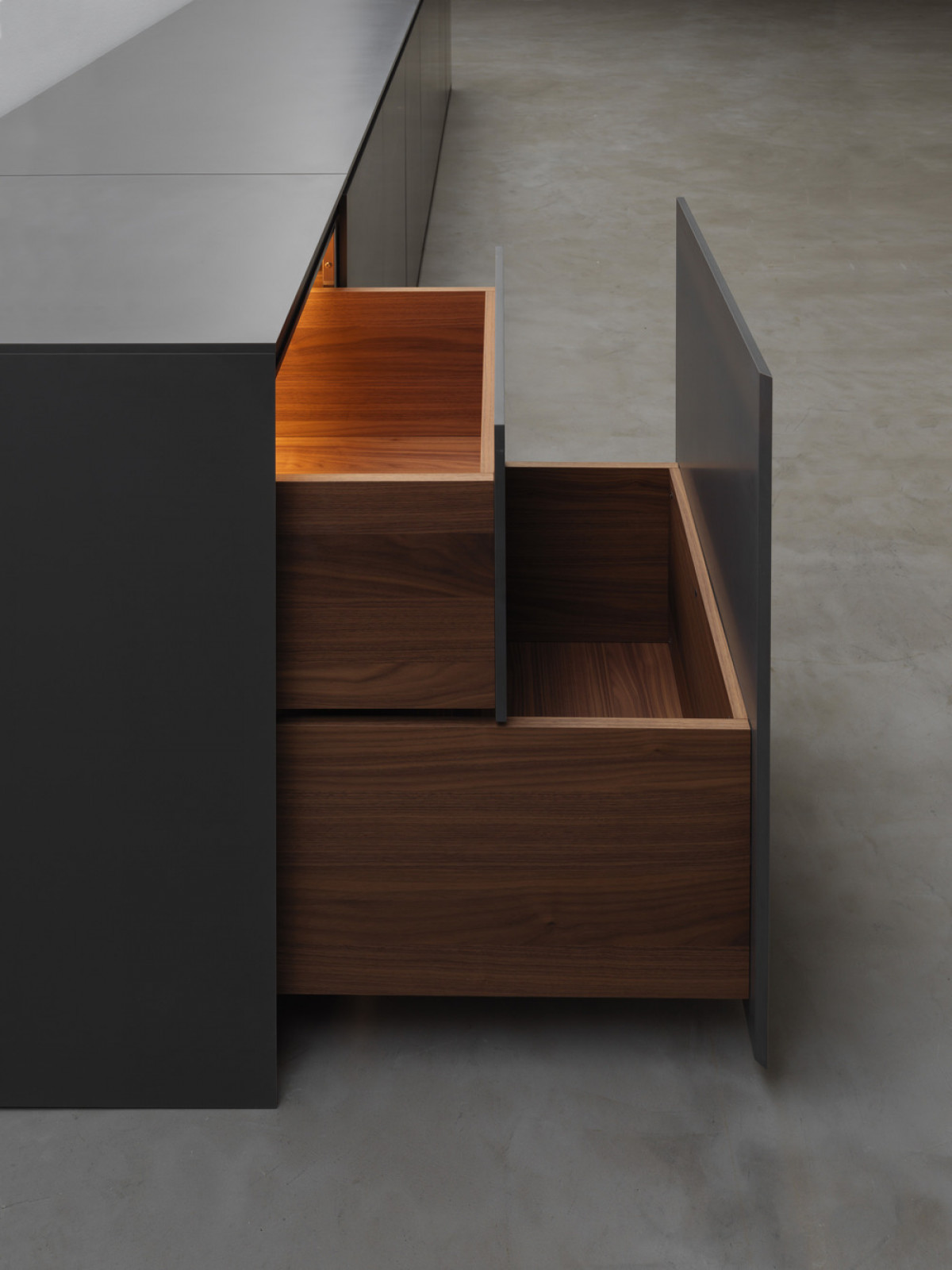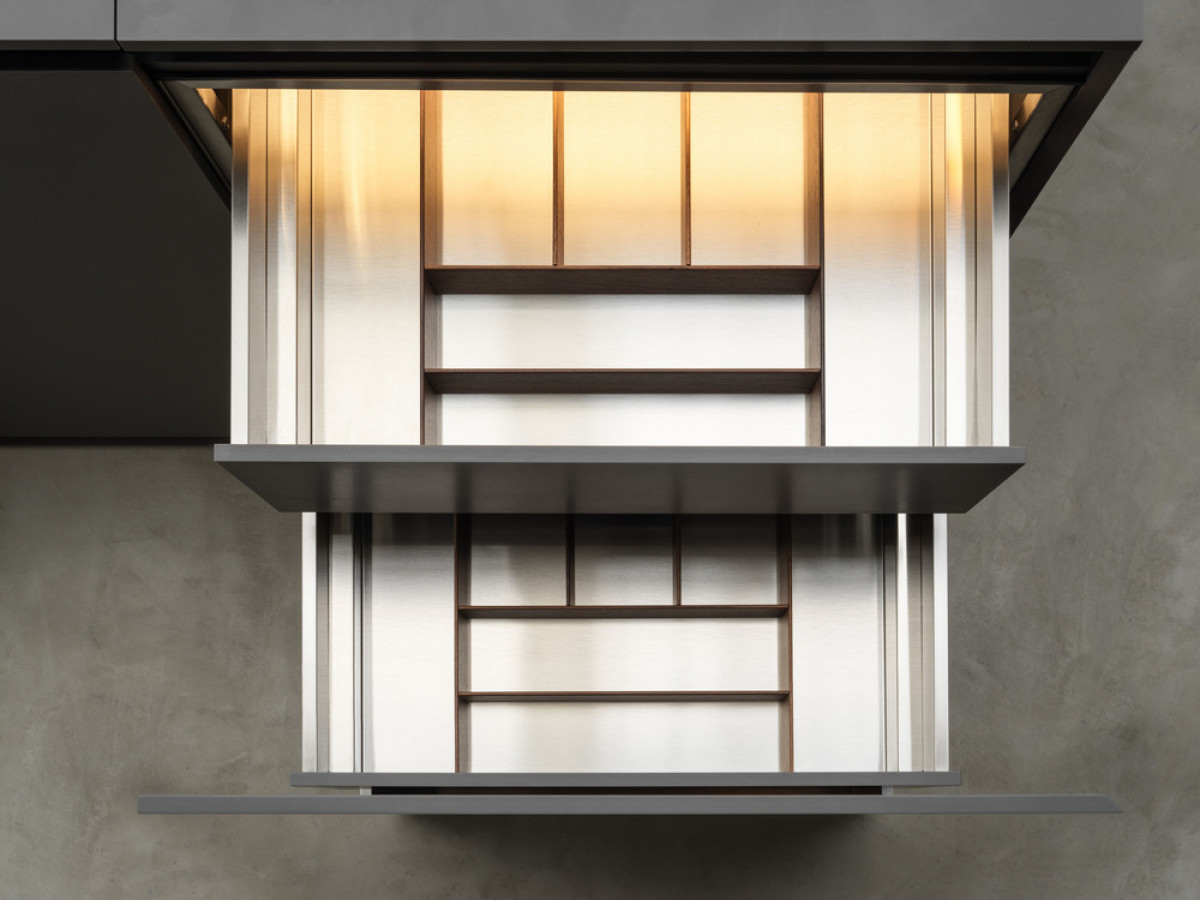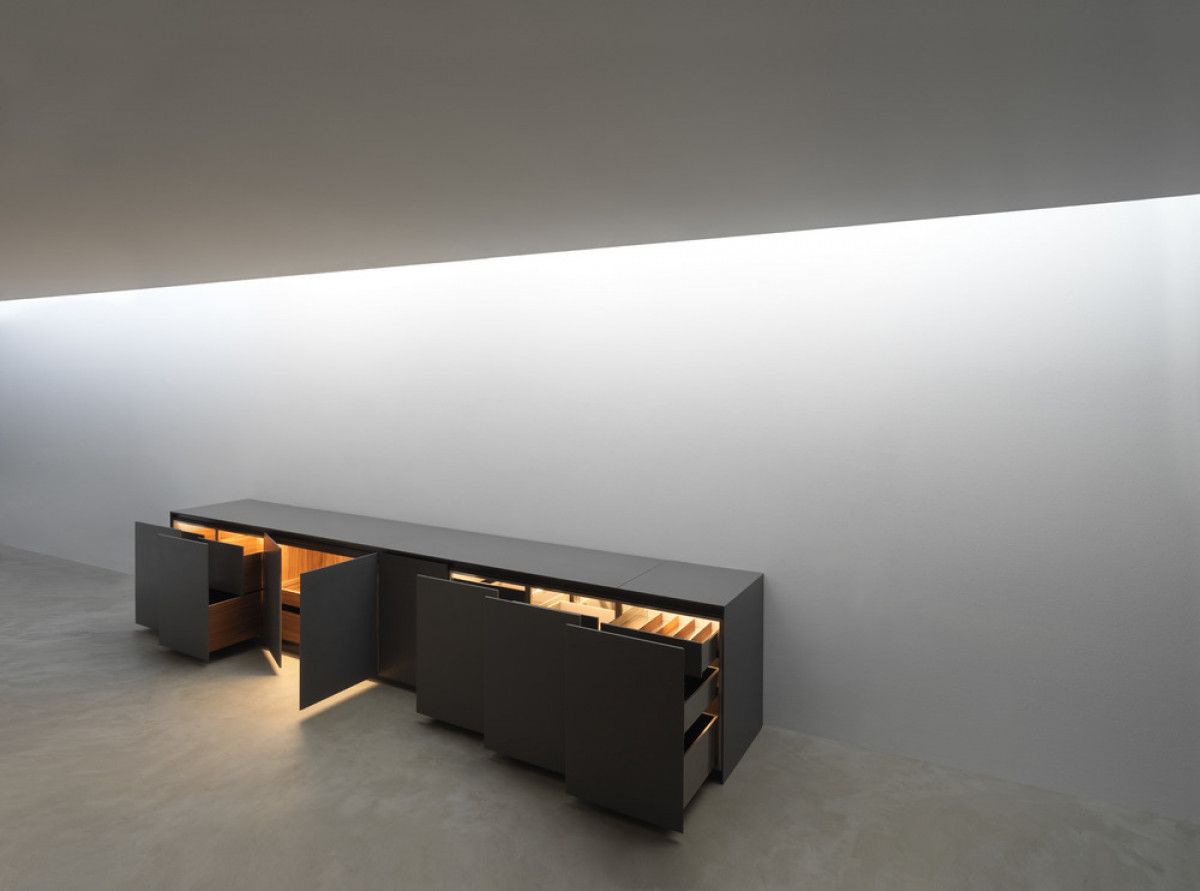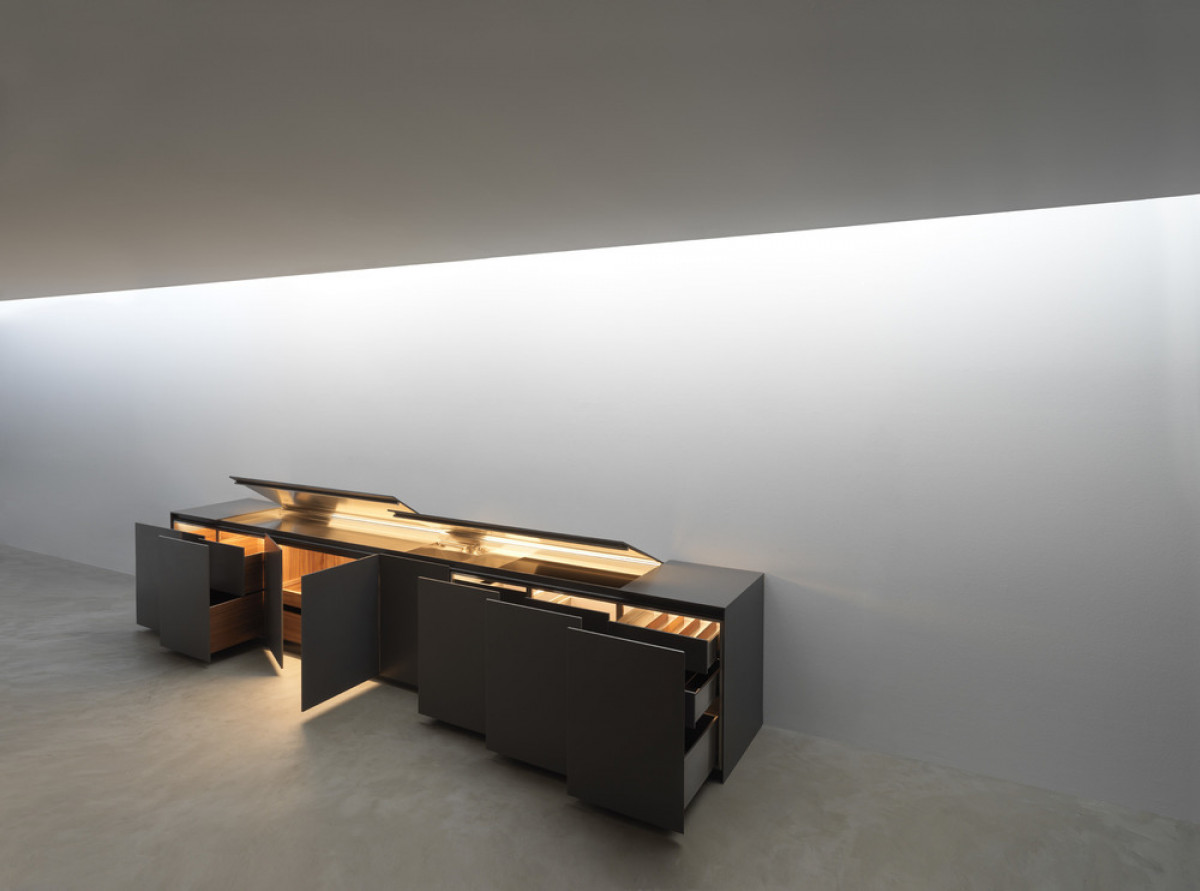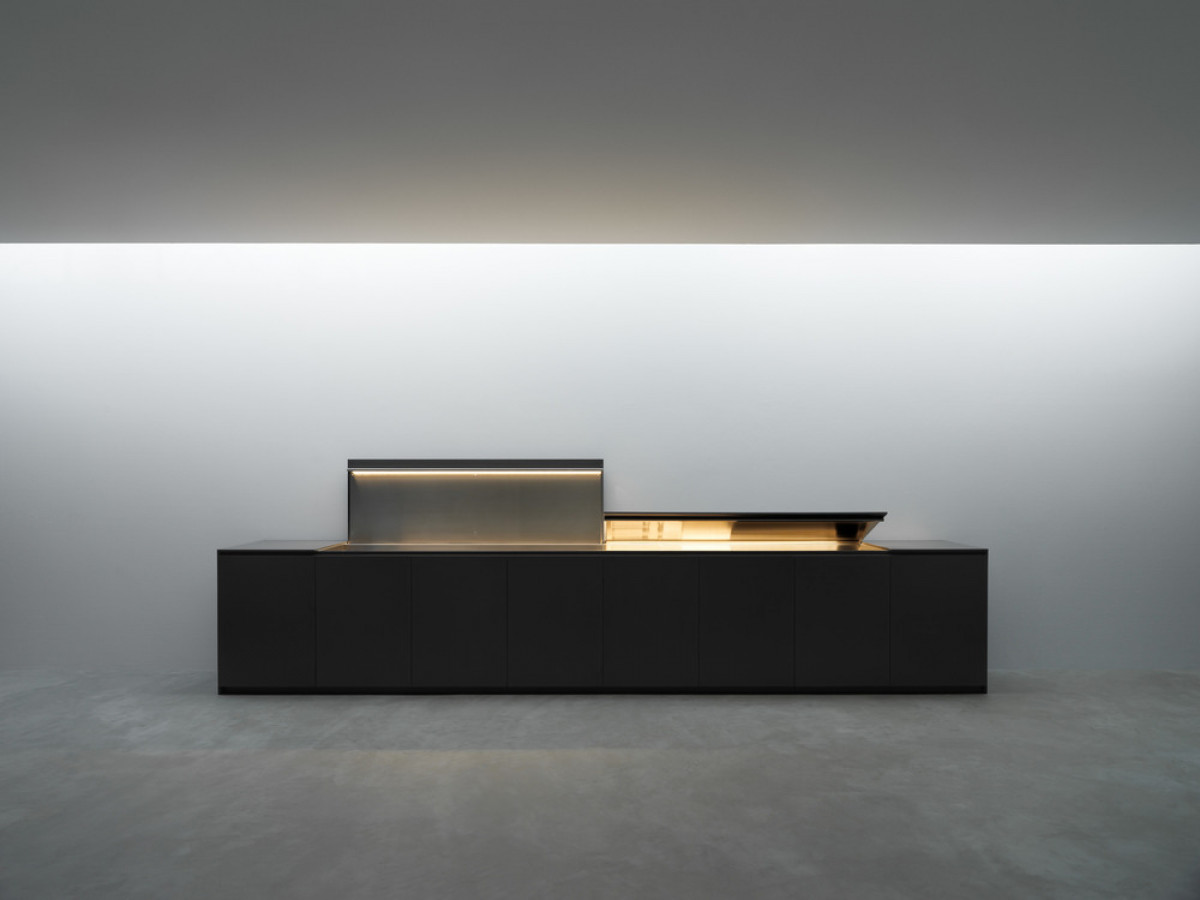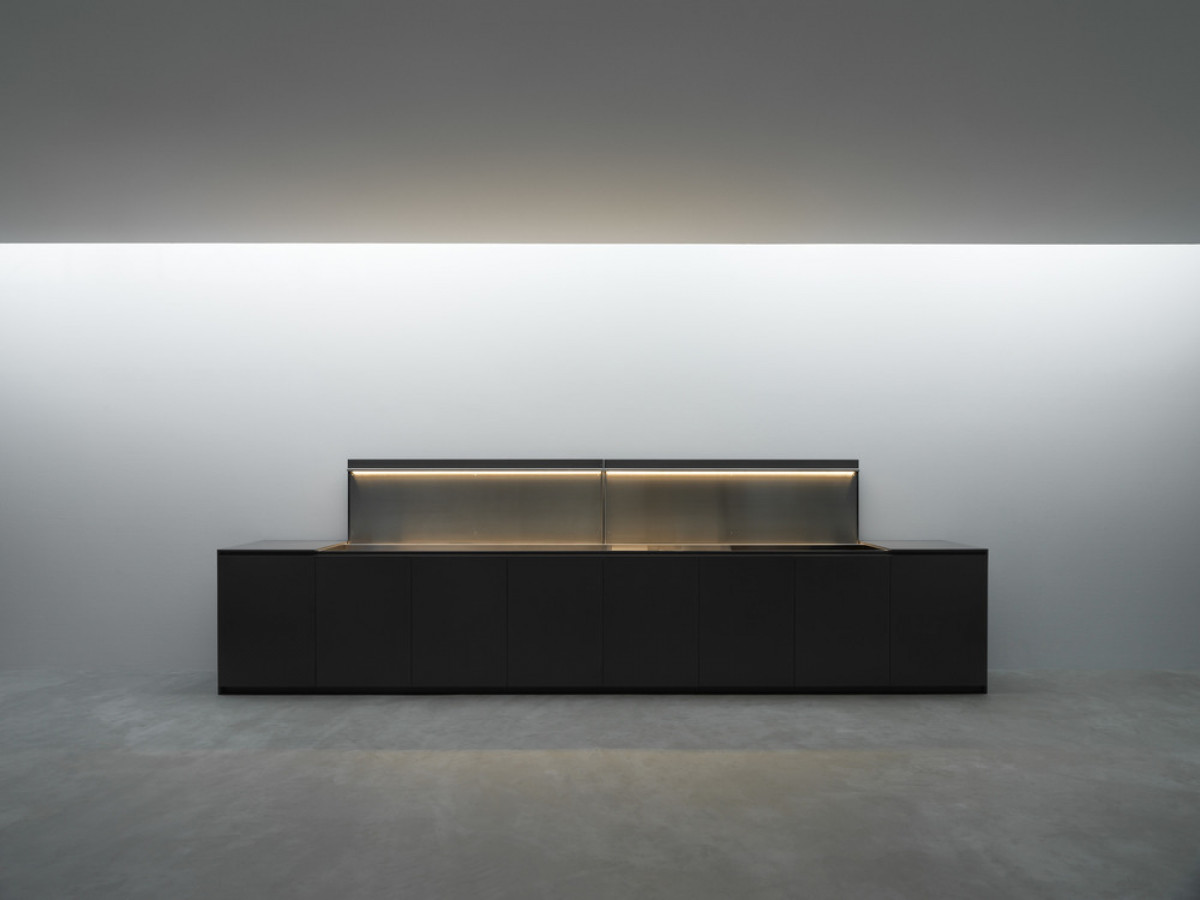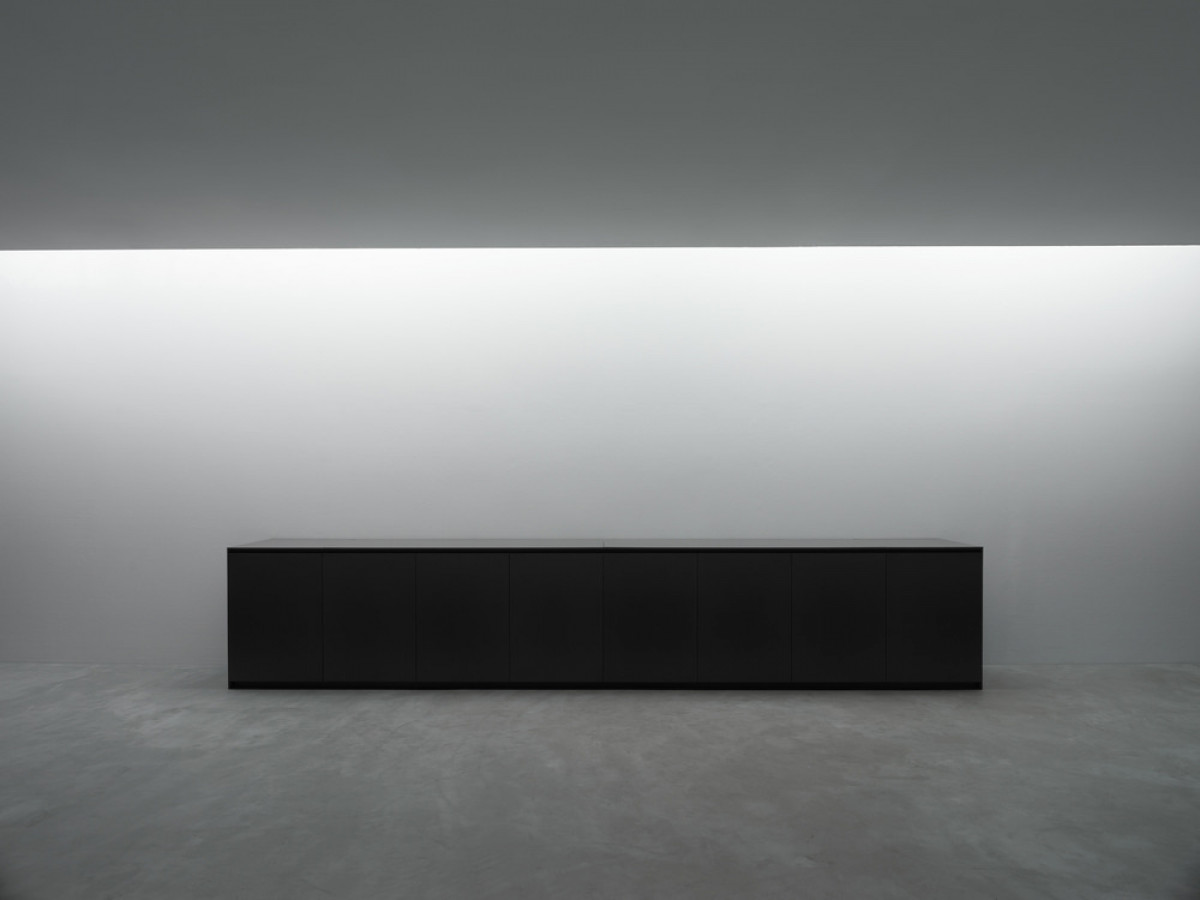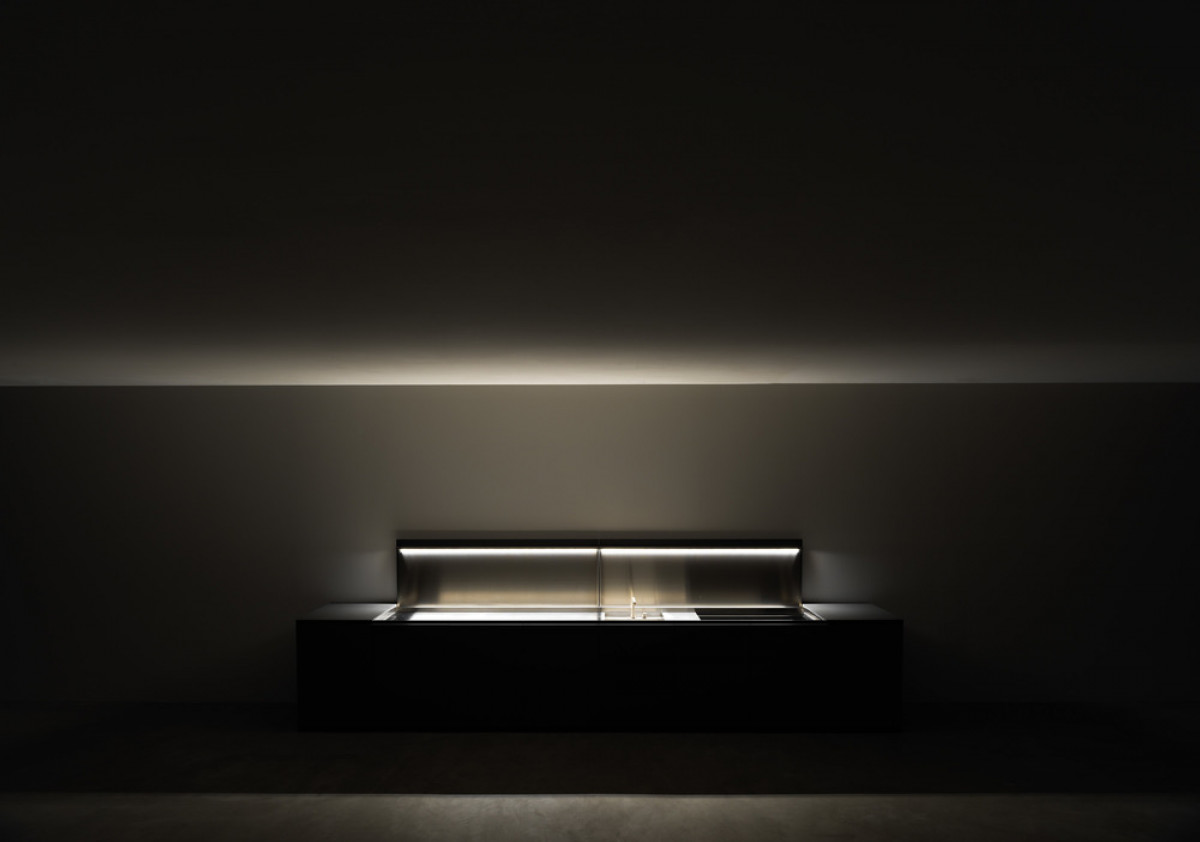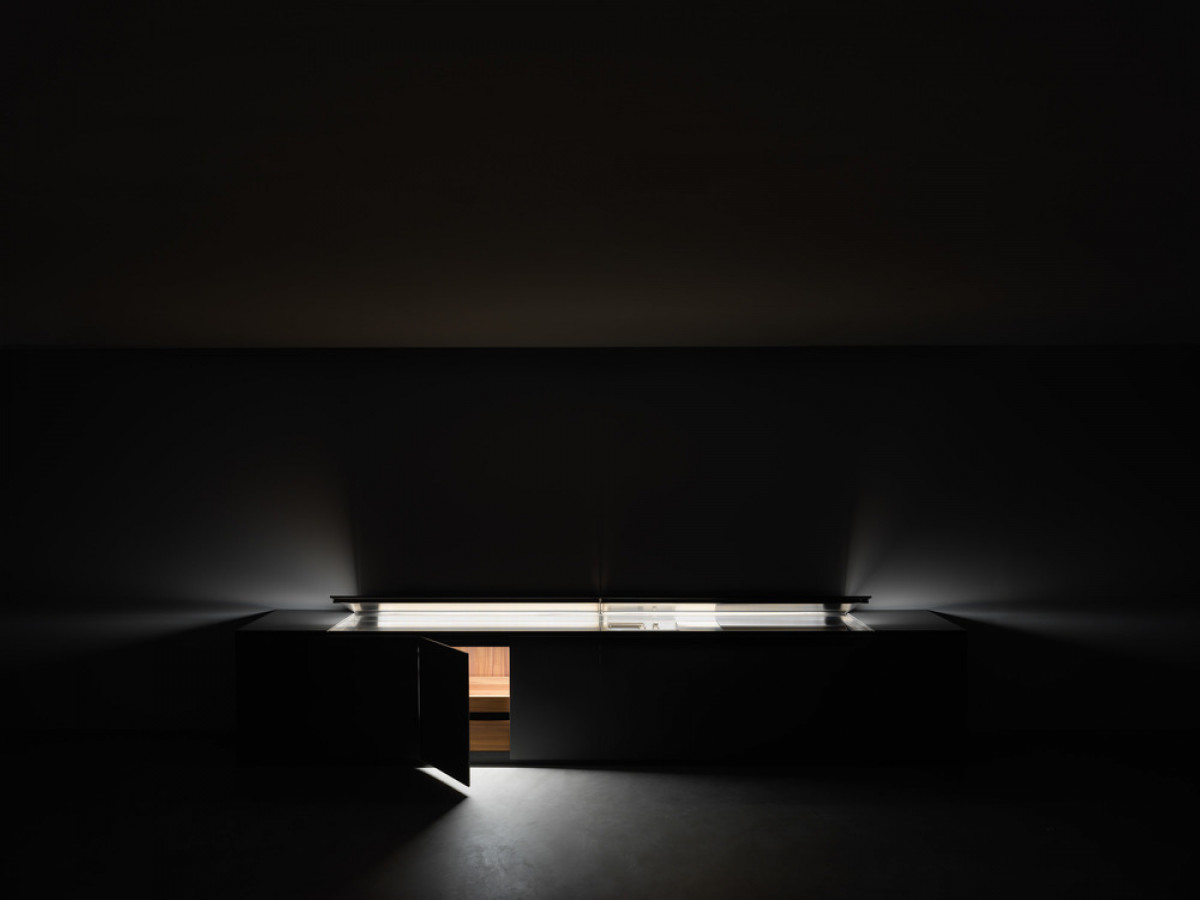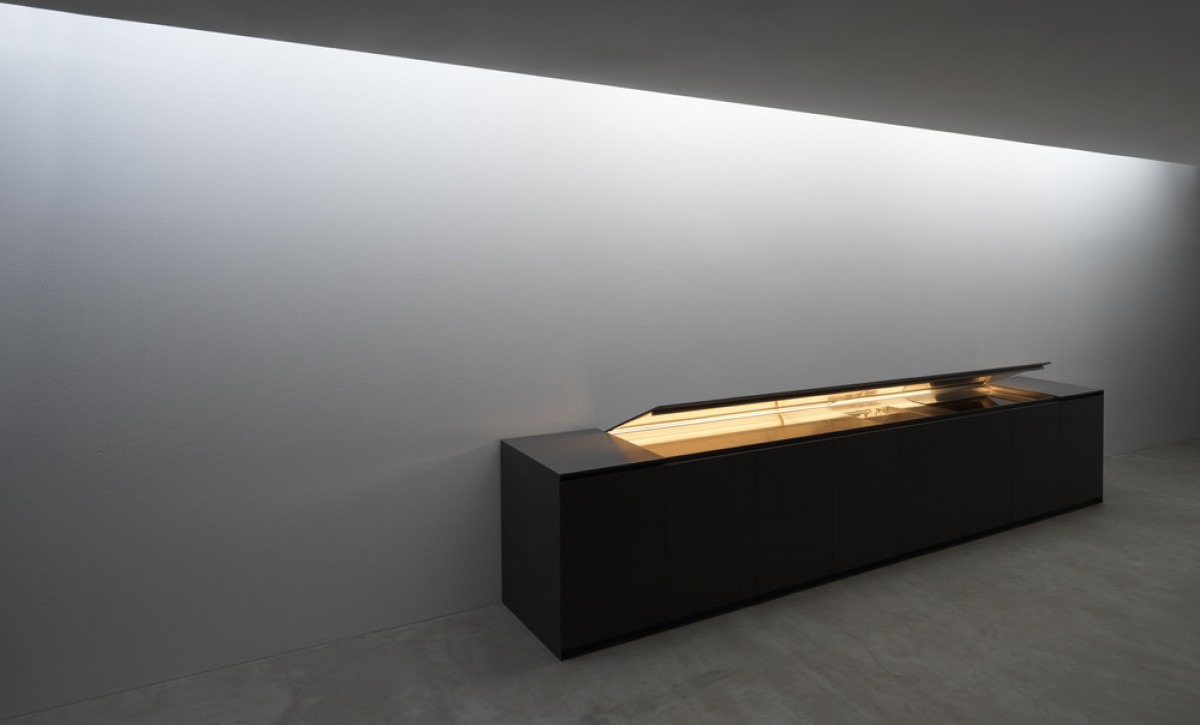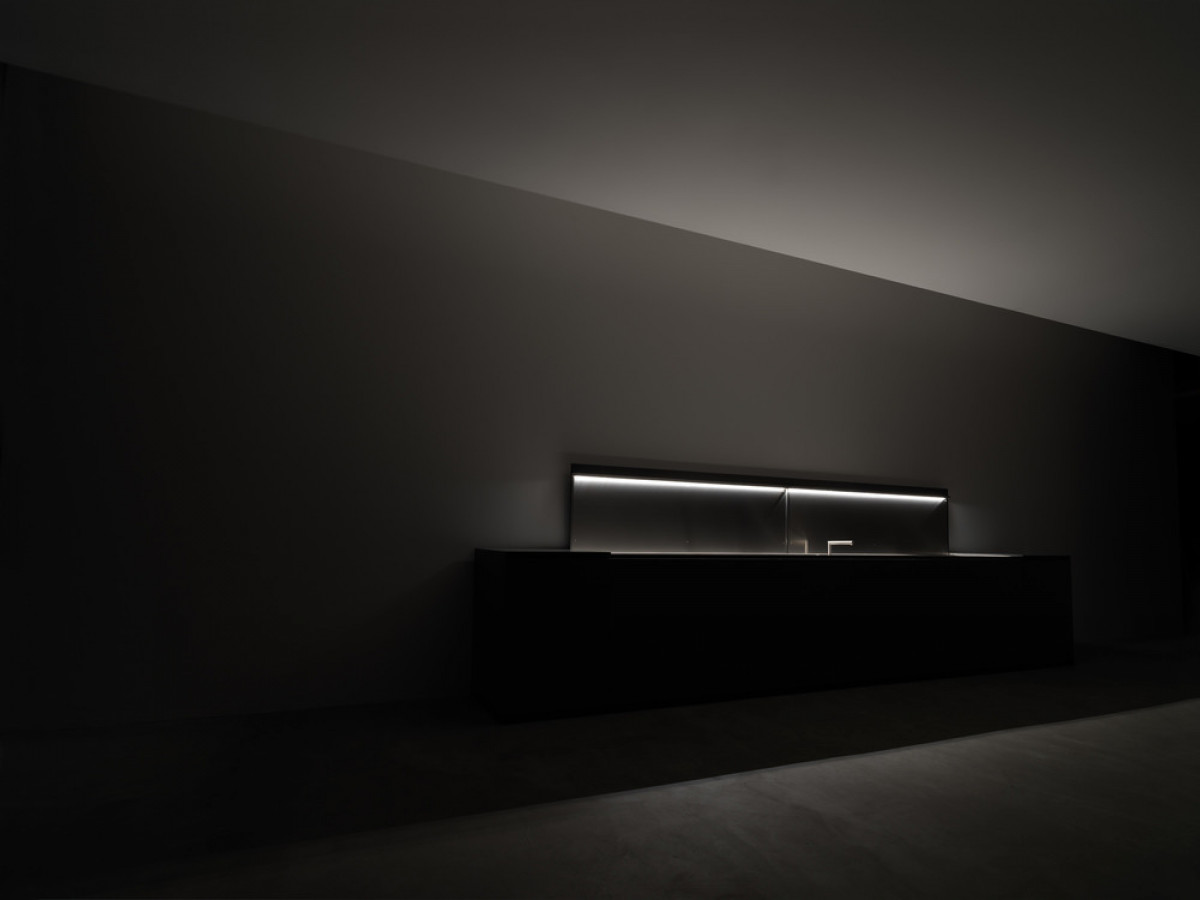 The kitchen redefines the traditional paradigm of function versus form by creating two distinct instances where one can prevail over the other. When the countertop is closed, the monolithic island exists as a sculptural piece. When raised and recessed, it becomes a highly functional workspace. For its versatility, it is an ideal solution for aesthetes who like to entertain and appreciate an elevated culinary experience assisted by technological innovations, but also for a high-end commercial space, like an art gallery, a showroom, or an executive office.
The Hyper Kitchen N037 also features an innovative and sustainable tubular steel structure that contains top-of-the-line Boom Motion Legrabox drawers, available in either metal or solid walnut dovetail. This model is equipped with internal LED lights that confer dynamism and bring it to life.
While the use of exclusive materials on the exterior radiates an exquisite aesthetic, the tubular stainless steel used on the internal structure adds timeless charm, lightness, and tactile pleasure.
The Hyper Kitchens by Nero Cucine are the result of years of design and engineering research & development carried out by a new generation of kitchen innovators who take the best traditions of Italian craftsmanship and project them into the future.
Technical sheet
Product name: N037
Collection name: Hyper Kitchens
Product launch date: 2021
Materials: The tubular stainless steel structure contains Bloom Motion Legrabox drawers and hinges. The drawers are available in either metal or solid walnut dovetail. The under-top is made of stainless steel, with a built-to-measure basin. The exposed "wing" top and cabinet fronts come in Corian or marble or veneer.
Color: Black
Options: the N037 offers a full range of customizable material and color options to match a variety of tastes.
Dimensions: (imperial) W. 15 ¾ - D. 2' 1/3" – H. 3' / (metric) W. 4800 mm - D. 700 mm - H. 910 mm (dimensions are customizable).
Uses: residential or commercial kitchen. Ideal for space whose aesthetics are contemporary and minimalist, as it combines functionality and understated elegance. The N037 can also be used as a wet or dry bar.
Designer or design team: Stefano Venier, Bartolomeo Bellati
Price: Available upon request, based on dimensions and selected materials and finishes.