For the occasion, the MAQ is storming the spaces of the luxurious LIVART - Art Center, at 3980 rue Saint -Denis, in Montreal! On 6000 sq. Ft. Of paneled rooms, the MAQ therefore invites the public to come and discover three important exhibitions on the theme Visions of architects!
Memory of a drawing: the visual work of the architect Benoît Dupuis is the subject, for the first time, of a major retrospective.
Snapshot City: or the photographic recordings of Atelier Big City's co-main partner, Howard Davies, unrepentant comedian loafer. Curator: Alain Laforest.
Architectural parasites: the new and fiercest photo report by Olivier Blouin with installation by Dupont Blouin architects, launched to the rescue of the skin of our buildings bristling with cupolas, heat pumps and other warts.
As a bonus: The first drafts of the graphic novel signed by Tangui Robert, architect from Nantes, and François Turcot, poet from Quebec, as part of our 4th Nantes-Montreal International Residence on the theme of Ports Cities.

Not to mention: the launch of our brand new website - see it on maisondelarchitecture.ca
2001-2021 ARCHITECTURAL VISIONS? YES BECAUSE...
Since its birth in May 2001, in fact, the MAQ has endeavored to bring to light all the part of creativity which permeates architecture, "profession" as well as "first of the Arts". And the most inspired architects - like a Benoît Dupuis, a Howard Davies or even younger ones such as Olivier Blouin and Marie-Josée Dupont - are not uncommon to develop other artistic disciplines, through which their gaze learns and sharpens. This frame bIf in other circumstances, they are called to transform, it becomes the support of an interiorized vision of the world, particular to each of them. The essence, soon, of a work in itself.

Architectural parasites
Seeing what others don't see is also knowing how to notice what needs improvement. Known for his architectural photography work, and his successful reports (such as Moutarde Chou or St-Tite), the architect Olivier Blouin focuses here on a concern that he and his partner Marie-Josée Dupont would like to find remedied: these famous antennas, cupolas, and other mechanical excrescences which disfigure, indifferently, the most beautiful buildings as well as the most banal landscapes. What to do, what to do with it? The Dupont Blouin installation calls out and asks the right questions ...

Memory of a drawing
The visual work of Benoît Dupuis is the subject, for the first time, of a major retrospective. An exceptional work of recovering the drawings of a practicing architect of long experience, who reconstructs a world in himself, from his old works and his own architectural research. Grids, hatching, glued portions and other elements are added to the traces of another more utilitarian creation, to build, basically, a new city, made of paper, text, abstract colors ... built city, in a play of sumptuous echoes where the hand, the pencil, the gesture, are masters.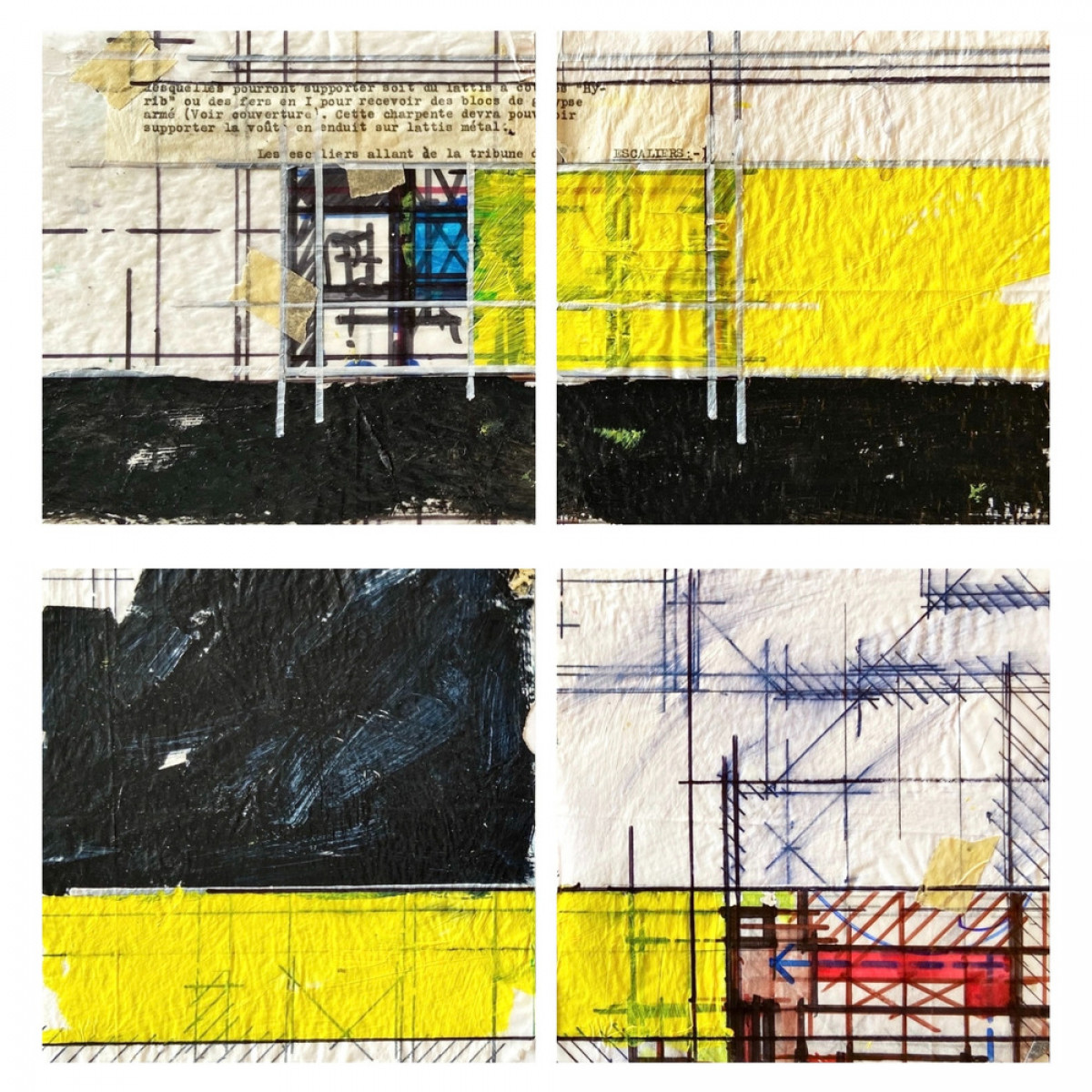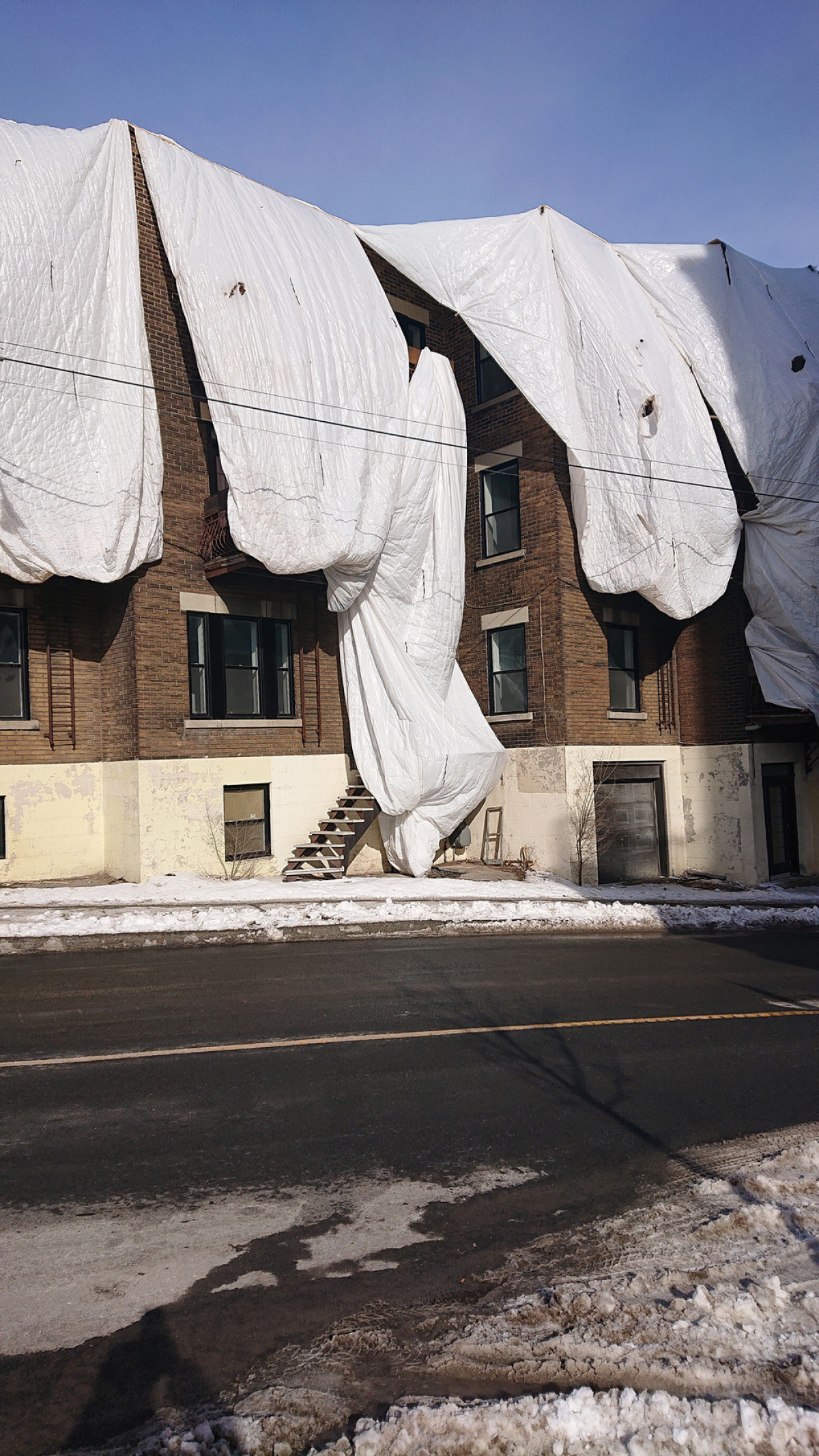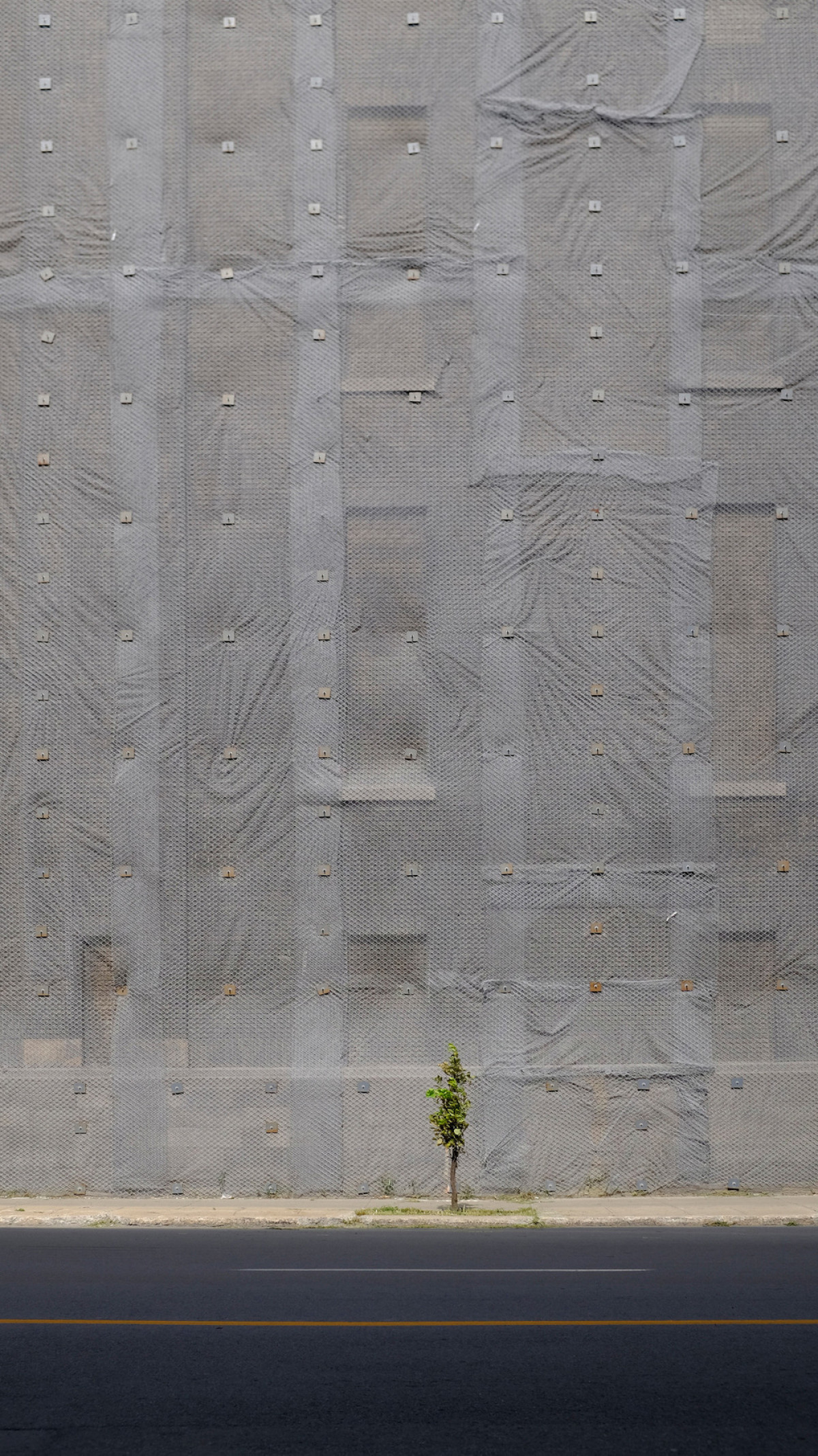 Snapshot City
In his photographic recordings, Howard Davies, unrepentant stroller, points by winks and hard-hitting titles, the involuntary absurdities of our urban landscapes. His somewhat sarcastic humor is expressed here, in some 105 snapshots, in softer tones than those known to him as the main co-partner of the renowned firm Atelier Big City. More tender, but no less funny!
Guest curator: Alain Laforest.

BIOGRAPHIES
Dupont Blouin architects
Dupont Blouin is an architectural firm based in Montreal, created in 2017 by the association of two complementary architects, Marie-Josée Dupont and Olivier Blouin. The firm has so far focused on the creation of buildings, interior spaces, exterior environments and custom furniture, mainly in residential and commercial settings. Olivier Blouin leads, at the same time, a career as an architectural and social photographer which has made the success of publications such as Moutarde Chou, St-Tite or evenScandale! Illicit Montreal, 1940-1960. Olivier Blouin's work has been the subject of two exhibitions at the Maison de l'Architecture du Québec.

Howard davies
The architect Horward Davies co-founded with Anne Cormier and Randy Cohen the famous agency Atelier Big City in 1987. The team won the Prix de Rome of the Canada Council for the Arts in 1999 and several prestigious distinctions, including the Prix d excellence of the Order of Architects of Quebec. Participating in more than 50 competitions, the agency signed major public projects such as the Notre-Dame-de-Grâce Cultural Center in 2017. Atelier Big City regularly creates temporary scenographies and installations.
passionate educator, Howard Davies has taught at McGill University since 1987, and at Concordia University since 1991, giving seminars and courses in design at all scales, from objects to urban design, as well as a course in visual form at the Concordia Cinema Department. He was also a visiting professor at Cornell, Carlton, Calgary and Rensselaer Polytechnic universities.

Benoît Dupuis
Architect graduated from Laval University, Benoît Dupuis practices architecture as an independent principal designer in several Montreal agencies, after having been founding partner of two major architectural firms: Dupuis LeTourneux Architects then ACDF architecture. Visiting professor in the workshops of the School of Architecture of the University of Montreal and of the University of Laval for several semesters, he has since been frequently invited as a critic and often acts as a juror in architecture and design competitions. of Quebec. In addition to being the co-founder of the House of Architecture of Quebec, of which he contributed to the development from 2001 to 2004, he expresses his fascination for the staging of space through scenographies ( Museum of Civilization in Quebec ... ) or the design of festive events (in Montreal, New York and Venice for the Canadian Center for Architecture). His outspokenness and contagious enthusiasm make him an essential figure in Quebec design.
Benoît Dupuis would like to thank ACDF architecture, Menkès Shooner Dagenais LeTourneux Architects and Huma + Design for their invaluable support.

About the House of Architecture of Quebec
The Maison de l'Architecture du Québec (MAQ) is a unique dissemination center of its kind in Canada which has been campaigning since 2001 for the recognition of architecture and planning disciplines as major arts but also as essential needs in everyone's life. Under the direction of Sophie Gironnay and through exhibitions, workshops, publications, residencies, competitions, debates and other initiatives, the MAQ strives to create a meeting between the imagination of the general public, and that of the creators who shape their living environment.