The pandemic and lockdowns have changed the way we live spaces considerably: the relationship we have with our homes has become more "intimate", there is a stronger need for relaxing atmospheres that are connected with nature and greenery, that send out messages of peace and wellbeing.
Attentive to the market and how it develops, Corà has launched "Miraggio", an original collection of wooden surfaces developed in partnership with the prestigious design studio Pininfarina Architecture.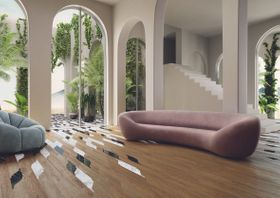 The new collection introduces an innovative element: wooden surfaces, typically warm and natural for indoor use, that have been contaminated by stoneware elements, ideal for outdoor use.
Through the perfect union of these two materials and floor continuity, Miraggio eliminates the boundary between indoors and outdoors, uniting the spaces in a single design: homes become unique in a never-seen-before exchange with the outdoors.
Functionality blends with continuity even indoors. Miraggio, in fact, encourages the smooth migration from a wooden floor to a ceramic one in all the areas of your home where wood may need more care and where stoneware, instead, can express its greater resistance and durability: for example, between the living areas and the kitchen, between the living room and the fireplace, between the bedroom and the bathroom.
Pininfarina's designs for the new collection were inspired by natural decorative patterns that take on different shapes and tones, almost as if they were a "mirage". The sinuous forms of the wooden panels and the stoneware inserts bring to mind the movement of sea waves, sand ribs sculpted by gusts of wind in the desert.
The sinuosity of the Pininfarina curve, which "autographs" the most beautiful cars in the world, becomes a distinctive element of Corà surfaces, in confirmation of a design that interprets contemporaneity while still remaining faithful to itself.