An innovative ecological initiative comes to life with the launch of "RÉCO," a non-profit dedicated to the recovery and resale of construction materials. On Monday, November 13th, RÉCO launched its trademark and inaugurated its first 10,000-square-foot materials centre. This extensive reuse hardware store already offers a wide range of quality products at affordable prices to meet the needs of homeowners, designers, renovators, heritage enthusiasts, decorators, DIY enthusiasts, and, of course, environmentalists.
The opening ceremony took place at a private press conference in the new space located at 9399 Boulevard Saint-Laurent, a few steps from Sauvé metro. About a hundred privileged guests attended this significant moment: industry partners, stakeholders in sustainable development, and local officials, including Ms Émilie Thuillier, Mayor of Ahuntsic-Cartierville, and the Honourable Steven Guilbeault, Minister of Environment and Climate Change Canada. The inauguration marked the official start of RÉCO's activities, its promotional campaign, and a new era for reuse in the construction sector.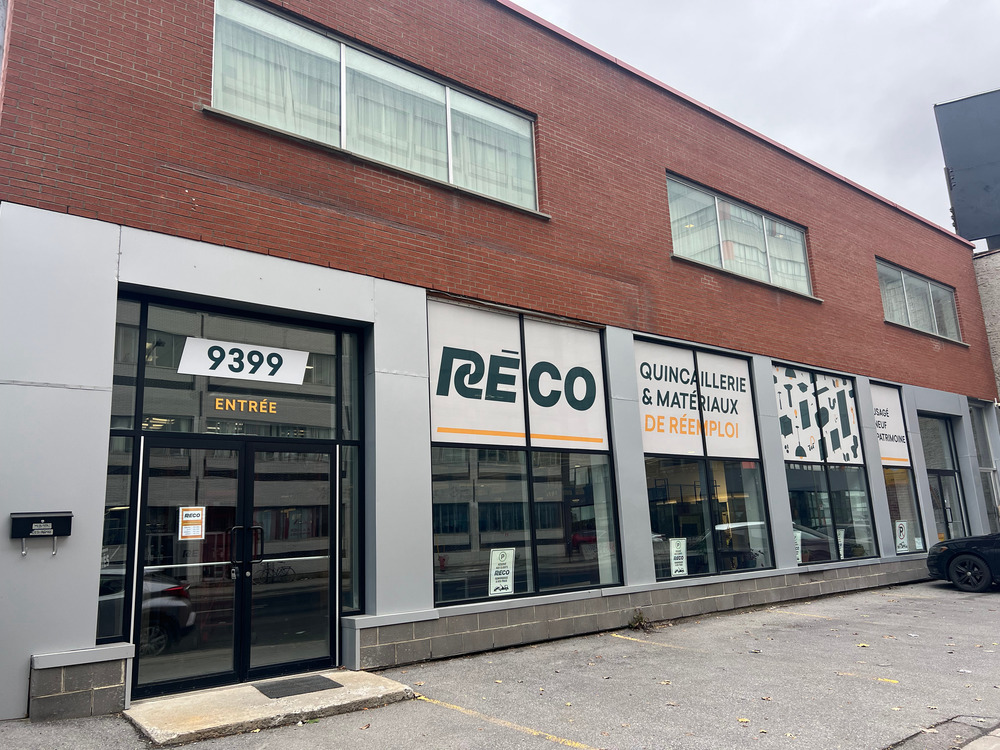 Giving instead of throwing away: an ecological, economical, and solidarity solution
Supported by the Government of Quebec, the City of Montreal, and other financial partners, RÉCO is the project of Architecture Without Borders Quebec (AWBQ), a charity organization linked to all architects in the province. Unlike a conventional hardware store, RÉCO exclusively sources from donations from businesses and individuals. Some donors may receive a charitable receipt, a tax incentive that can help offset recovery costs or even complete deconstruction. This is how RÉCO manages to give a second life to a variety of still-useful products, diverted from waste and resold to support AWBQ's mission. It's a perfect alternative to encourage architects, contractors, and consumers to value materials in an ecological, social, and profitable way.
Founded on sustainability, innovation, solidarity, and values of excellence, RÉCO positions itself as a change agent in the construction value chain, significantly contributing to reducing construction waste, preserving built heritage, and protecting the environment. It's worth noting that the construction sector globally accounts for nearly 30% of extracted resources, greenhouse gases, and waste produced. In Quebec, hundreds of thousands of tons of materials are destroyed and discarded each year, with an almost negligible reuse rate.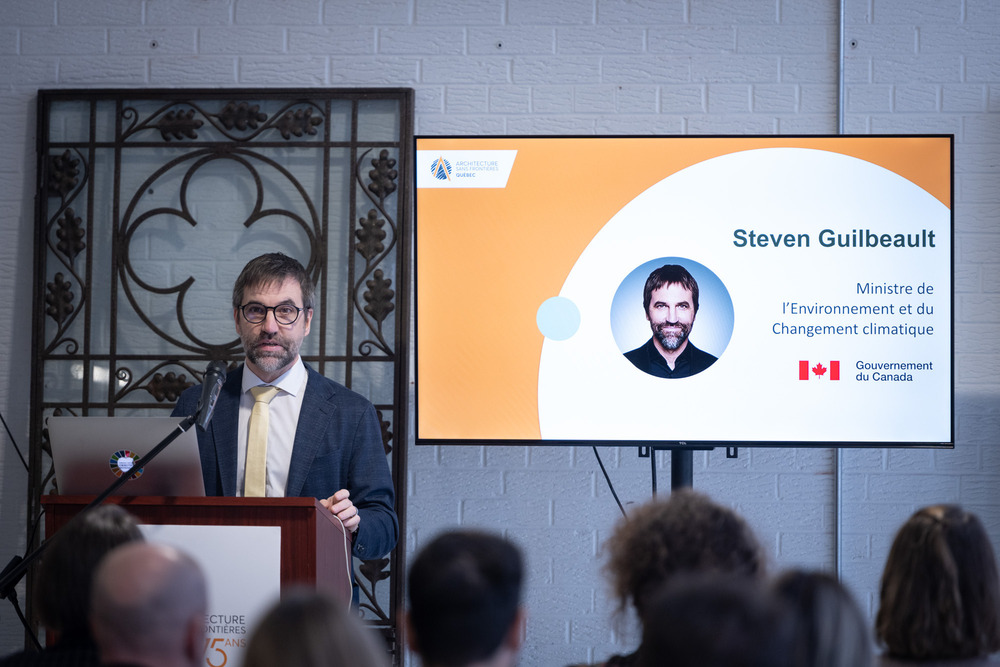 A unique brand signalling a renewal
Like the materials it houses, "RÉCO" is not a novelty but a renewal. It is the new name for Éco-Réno, a pioneering heritage preservation company founded in 2003, at a time when the circular economy was not even discussed. This name change marks the company's 20th anniversary, and its move to a space four times larger than Éco-Réno's previous location on Papineau Street.
"RÉCO" also signifies a profound transformation of the company in the context of an acquisition that AWBQ initiated in 2021 when the pandemic threatened the closure of the business. AWBQ was about to start a similar project and acquired it at that time. Recently completed, this absorption within AWBQ now profoundly transforms its business model with charitable status, donation sourcing, a privileged relationship with the architecture community, a comprehensive marketing strategy, and the contribution of volunteers wishing to support its mission. Such an innovative model indeed won first place in the Quebec Circular Initiatives Awards in 2021.
In seeking a new brand with the help of the Sid Lee agency, "RÉCO" quickly emerged as a unique, effective, and modern name to better support the project's development. RÉCO combines the "RE" of "reiteration" and the "CO" of "doing together." In French as in English, it evokes both the organization's values and the principles of circularity: recover and reconstruct, reclaim and redesign, economy and ecology, collaboration, community, and heritage conservation. RÉCO is, of course, a reminder of "wrecking" and a double nod to the nicknames "réno" and "déco", as in "renovation" and "decoration". It is also an elegant contraction of the former name "Éco-Réno." The chosen logo also evokes the circular economy with movement and originality.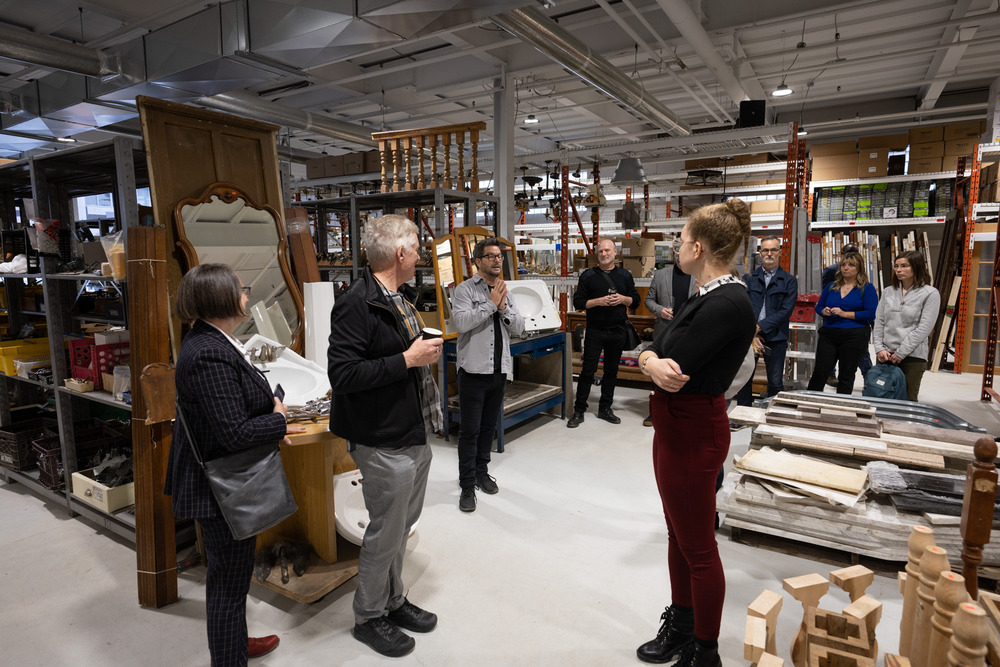 In summary, how does RÉCO operate?
Materials sold - RÉCO is a retail store open to the public, with a product range comparable to a conventional hardware store: wood, doors, windows, sinks, hardware, mouldings, hardwood floors, cabinets, lighting, and more.
Donations accepted - RÉCO accepts donations of new or used goods from homeowners, contractors, retailers, and manufacturers. Certain criteria apply to their selection, and a charitable receipt for tax purposes can be offered for donations valued at $500 and above.
Digital inventory - RÉCO has a digital inventory of its stocks, which will be made available soon on its new website in the form of a digital catalogue similar to those of major renovation banners.
Complementary services - RÉCO is developing related services such as collection, delivery, material rental, and deconstruction expertise, which will be announced gradually in the future.
Quotes
"The Canadian construction industry has enormous potential to transition to a circular economy. Used materials represent a significant economic opportunity. However, much work remains to be done to bring about this transition. That's why the development of businesses like RÉCO is necessary, and I have no doubt it will serve as a model to inspire others."
- Steven Guilbeault, Minister of Environment and Climate Change Canada
"At the City of Montreal, we have believed in this project from day one. And we are very happy to see today the leverage effect that the support and accompaniment of the City have managed to generate. This promising project will structure the Montreal reuse sector for the construction industry, facilitating the reuse and valorization of construction, renovation, and demolition residues (C&D) to ultimately prevent these materials from ending up in landfills. Developing a circular economy for the construction sector is part of the solution and, more broadly, the ecological transition of Montreal. The City must rely on a shift towards a greener and more inclusive economy, supporting the circular economy and social economy. AWBQ's initiative highlights the importance of the role of social economy enterprises in the circularity of our economy."
- Valérie Plante, Mayor of the City of Montreal
"It is with great pleasure that we welcome this Montreal flagship of construction material recovery to the heart of the Central District. In the era of climate change, the mission of this company is essential to significantly reduce the volume of waste destined for landfills and, thereby, reduce the ecological footprint. I am happy that such an important player in the construction sector in Quebec has chosen to settle in Ahuntsic-Cartierville. It is a source of pride to see the development in our borough of one of the few circular, ecological, social, and solidarity economy enterprises that operate on a Montreal scale."
- Émilie Thuillier, Mayor of the Ahuntsic-Cartierville Borough
"For RECYC-QUÉBEC, supporting innovative projects like AWBQ's aligns perfectly with our goals of encouraging source reduction, promoting reuse, avoiding sending our materials to landfills, and, above all, focusing on the circular economy as a future strategy. It's exactly this kind of innovative project that Quebec needs to address the challenges of the construction, renovation, and demolition sector, and we are fortunate to have dynamic companies that are solution-oriented."
- Emmanuelle Gehin, CEO of RECYC-QUÉBEC
"AWBQ's work in circular economy sets an example for the entire construction industry in terms of material recovery and reuse. Initiatives like RÉCO contribute to changing mindsets by offering concrete ways to reduce the climate footprint of the built environment. Thus, by recovering and extending the life of materials, we harness intelligence rather than the planet."
- Pierre Corriveau, architect and President of the Ordre des architectes du Québec (OAQ)
"We are proud to launch RÉCO, a company that demonstrates our commitment to the circular economy. AWBQ firmly believes in the need to rethink how we design, build, renovate, and treat end-of-life materials. RÉCO provides a concrete response to the waste crisis while supporting a humanitarian organization's mission. If, as a society, we are serious about ecological transition, there will need to be RÉCO centres in every city in the province one day."
- Bruno Demers, CEO of Architecture Without Borders Quebec and RÉCO
"Reuse is an effective gesture to minimize resource and energy consumption while allowing for savings. In the construction industry, where there is a huge amount of waste, RÉCO facilitates access to reuse with a wide choice of materials. By reducing the use of new wood and metals, we alleviate the pressure on our forests and mining resources and reduce the amount of waste to manage. Équiterre is proud to have been the first partner in the project, supporting the research that allowed AWBQ to envision this innovative enterprise."
- Colleen Thorpe, CEO of Équiterre
"The construction industry is known for being conservative and wasteful. RÉCO's entry into the market will lead traditional hardware stores to enrich their service offerings to align with this inevitable trend toward a more circular economy and contribute to the reduction of shameful construction site waste. It is in this perspective that AQMAT offers complimentary membership to RÉCO and commits to promoting its actions throughout its network."
- Richard Darveau, President of the Association québécoise de la quincaillerie et des matériaux de construction (AQMAT)