Mother's Day this year is going to be very different given the challenging times but all the more necessary with moms truly deserving a break having been stretched thin in all possible directions these past few months.
It is no secret that most women are afflicted by superhero syndrome - the strive to do everything in the most perfect way, all the time, is very real. Most women are still responsible for the major share if not the entirety of domestic tasks. Add in the mounted pressure presented by the coronavirus pandemic. The physical & emotional toll on women, mothers especially is insurmountable.
So, this year for Mother's Day, let's celebrate mothers for the superheroes they truly are!! Let's get creative and show our moms our gratitude & appreciation for all that they do. Because love in the time of coronavirus is all we have!
I am going to share some ideas for you to create a beautiful day that your mom will not forget.
Backyard or balcony picnic
Yes, you cannot go out for brunch. At least, you cannot go out without having to worry about social distancing. No, that doesn't mean you have to settle for the same old routine at home.
Set up a picnic in your backyard or balcony for a laidback day. Do not stress about the menu. If you have someone in the family who can whip up a feast, go for it! Else keep it casual. Especially with summer in full swing, use a lot of fruits & fresh ingredients which add color to the scene so effortlessly. Simple finger food is the mantra for picnics and that means less prep & cooking (less cleaning after too!) Finish off with fun fruit popsicles.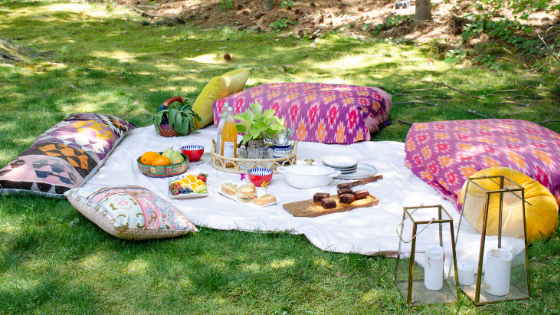 Spread a picnic blanket, prop up some colorful pillows, gather around, play her favorite music & you are all set for a laidback brunch!
Set up a buffet style brunch indoors
If you do not have access to an outdoor space or if weather is an issue, set up a brunch spread indoors. As we are going for a casual setup, a buffet would be perfect rather than a formal sit-down style meal. Even if the menu is simple, you can set the table to really speak with some details. With the lockdown & no good access for fresh flowers, use a plant as a centerpiece. I have dressed the plant in a bolga basket and set it on a cake stand for the centerpiece. Use a mix of serving dishes & platters to add interest.
A couple of pinwheel cupcake toppers for the sandwiches, rose petal frozen in ice cubes for the popsicles & of course candles and flowers from the garden all adds to the visual interest.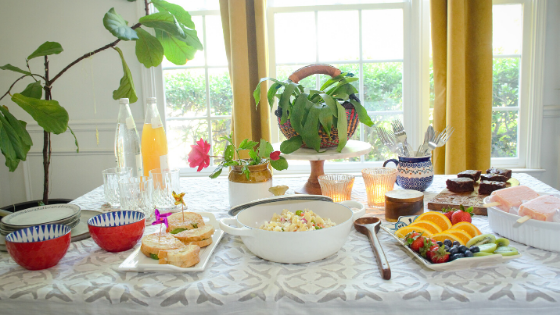 Just as the picnic menu, I have some grilled caprese sandwiches, pasta salad, fresh fruits, fruit soda & brownies and popsicles to finish them off. There is no dearth of ideas for brunch menus online, you could do anything from a live dosa station to a DIY chaat bar to taco bar!
Set up a cozy spot for her to relax
Give your mom some much needed Me time. Set up a spot for her to unwind & relax with a movie or a book or maybe even a nap. You can continue the party with some tea & treats later in the afternoon. This would also be an ideal opportunity for older kids to spend some quality time with their mom!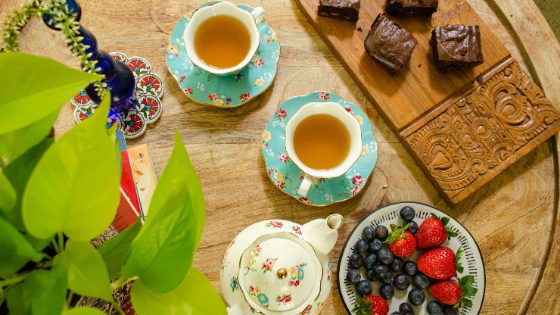 Bring in fresh sheets, some colorful accent pillows and throws. Add in accent lights to set the mood. Fairy lights are great for some whimsy. Light a candle or even a couple of spray of essential oil on the pillows. Set up a movie station or bring in some books/magazines. A cup of tea & some snacks to munch away!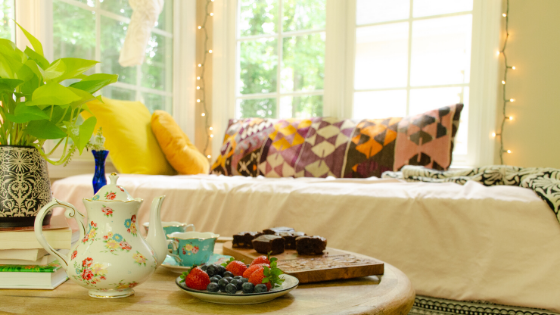 If you are an older kid currently in lockdown in a different place than your mother, make sure to stay connected virtually. Virtual cooking sessions to prepare some favorite meals or an online gaming session are some ways to spend some quality time with your mom virtually.
Whatever your situation maybe, get creative in celebrating Mother's Day this year. Because celebrating Mother's Day is the celebration of the purest form of love & life itself!