Rupin Suchak who earlier designed Alia Bhatt's office space has done another magic in Sonakshi Sinha's home. Sonakshi is living with her parents and brothers in their bungalow "Ramayan" in Juhu, Mumbai. Recently she got the top floor redesigned for herself and Art Director and Interior Designer Rupin Suchak did it. Rupin described Sonakshi's redesigned space as ultra-minimalistic and functional space.
The entire place is designed with airy palettes, rich textures and geometric shapes. Every piece of furniture is a statement piece in her abode and her artistic sense has meticulously been taken care of. There is also an art deco with pops of vibrant colours at the entrance that leads to the living room. This modern yet bold look complements Sonakshi's personality. Her house definitely provides a cosy and welcoming vibe altogether.
Bedroom : Light beige shade has been used in her bedroom with a bed of the same colour. The wall against the headboard is of brown colour along with two bedside tables of the same shade. The pillow covers are in an earthy hue to complement the white décor. The wall beside the bed has a geometric pattern with a light rust colour and a large wall clock is used as an accent on it.
Living Room : The living room has all-white colour with different bright colours in accents. It has a comfortable sofa of sky-blue shade with cushions of blue and rust shades. It is well complemented with a wooden coffee table that has low height. A painting, a round mirror with a wooden wardrobe and cane lanterns spruce up the entire living space keeping it minimal and functional. Along with the sofa, there are two single chairs of beige colour along with a round table.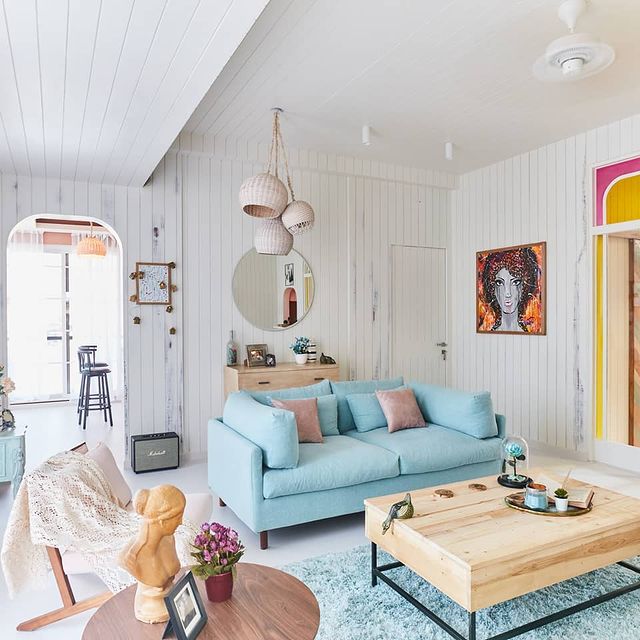 Also Read | Kareena Kapoor Khan's new home in Bandra with European styled decor & wooden detailing