Living Room Wallpaper Ideas For Small Spaces From Designers
Pack a punch in a small space with beautiful wallpaper for your living room. With the right colour palette on your chosen accent wall, wallpaper designs can help create an inviting space the most cost-effectively!
Wallpapers are fantastic add-ons to your living space owing to the sheer variety of colours, textures, and designs that they are offered in. You can either go big, bold, and beautiful with them or choose more subtle and soft tones to create a regal look in your room.
Also Read | 4 ways to style your interior spaces with copper
What's even more interesting about wallpapers is that they can be utilized in different ways to make even small spaces look bigger and brighter. However, if you are not sure how to incorporate wallpapers into your scheme of things, here are some creative and useful suggestions by our design expert, Krsnaa Mehta!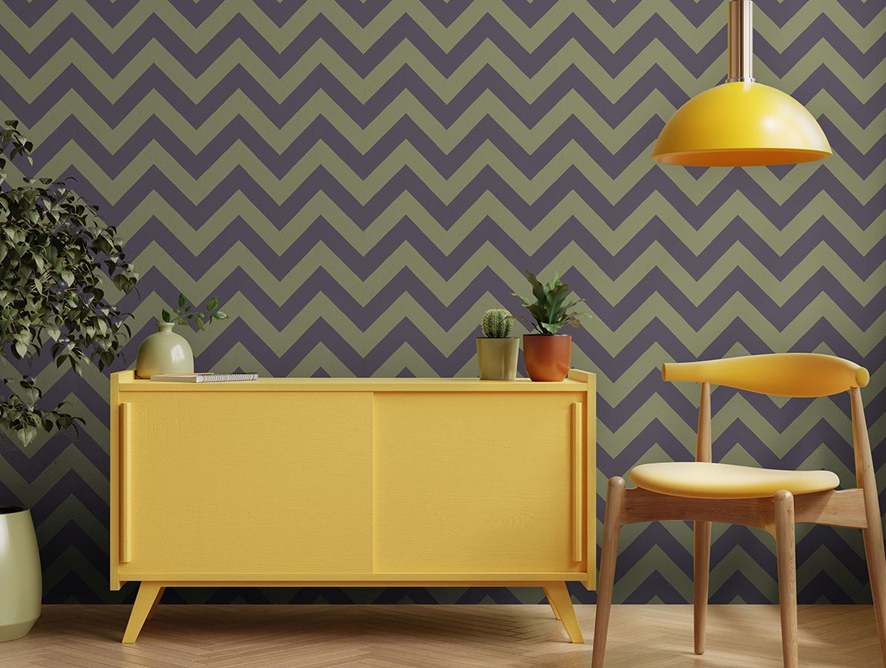 Which Wallpaper Type To Opt For?
Using wallpaper is one of the easiest ways of transforming your living space. However, with endless options available, choosing the right wallpaper can be a challenging task. With different colours, designs, patterns, and textures deciding on which wallpaper will fit perfectly in your living room is a choice that confuses us.
To begin with, you must first check whether your room is north or south-facing. If it is a south-facing room, it will get ample daylight, allowing you to choose cooler and brighter colours.
Also Read | 4 ways to style your interior spaces with copper
However, a north-facing room will get limited sunlight, demanding the use of warmer colours to make the space look cosier. You can choose a patterned wallpaper of the appropriate colours to create a focal point in the room. Adding accessories will further accentuate the overall look.
One of the most important factors to account for is how that space will be used. Whether it is a space where you would retire at the end of a long day, organize get-togethers with friends and family, or is a work-cum-office room for you. Depending on how the space will be used, you can decide the colours, patterns, and designs.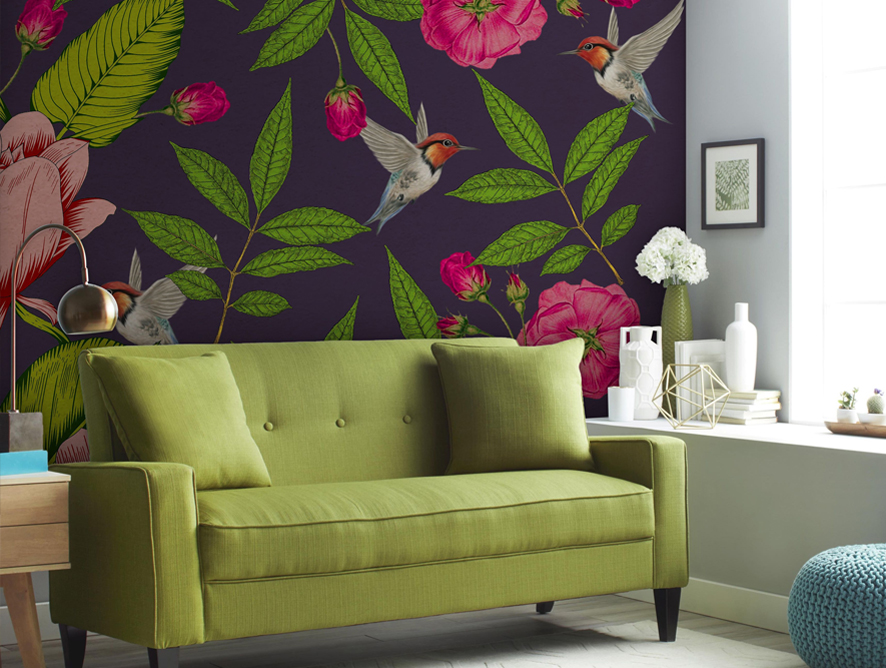 Choosing The Right Accent Wall For The Wallpaper
Where you want to put the wallpaper is important as it will require proper planning and selection. Some living spaces already have a focal point in the form of a fireplace, an entertainment unit, or a mantel.
In such cases, the wallpaper must only enhance that space and not become an overbearing addition to the room. In such spaces, our design expert suggests you use wallpapers on all four walls such that they complement the focal point!
If you choose the right wallpaper design, it can make a small space look bigger, which is contrary to common belief. Most people opine that using wallpaper in a small room will further cramp the space and become visually overwhelming.
Also Read | Interior stylist Bhawana Bhatnagar on smart lockers at residential spaces
While that might be true for wallpapers with big designs, if you choose smaller patterns and intricate designs, they will visually expand the space and make it look bigger than it is. Wallpapers can create beautiful optical illusions. Depending on their designs and pattern, they can make a small room look taller, and wider as well as add more depth to them.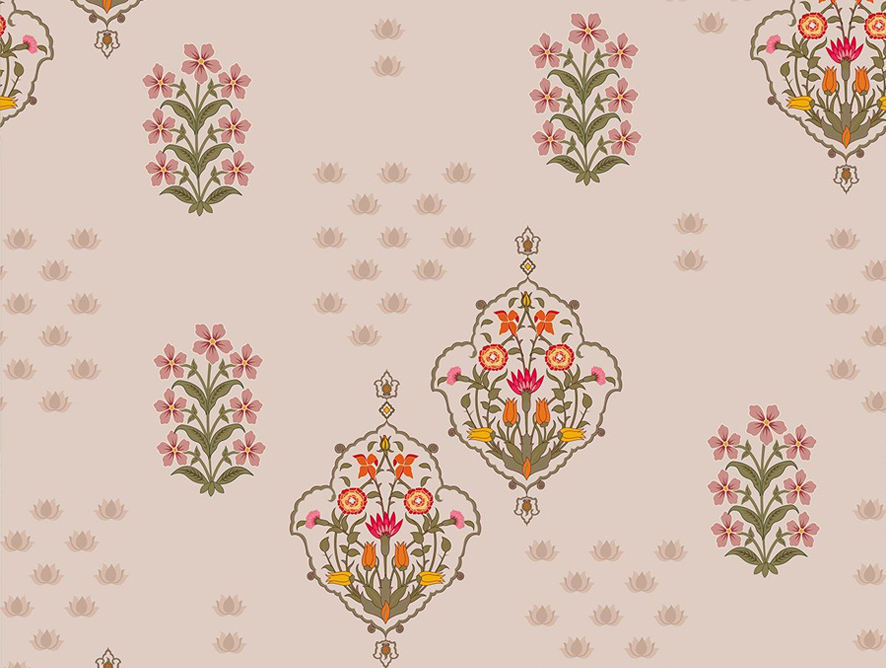 Which Design Or Pattern To Choose?
Adding more to an already small space might sound counterintuitive, but the right patterns, designs, and colours of wallpaper can completely transform a small room. You just need to make the right choices and work smartly to make the right impact. Here's what you can choose from: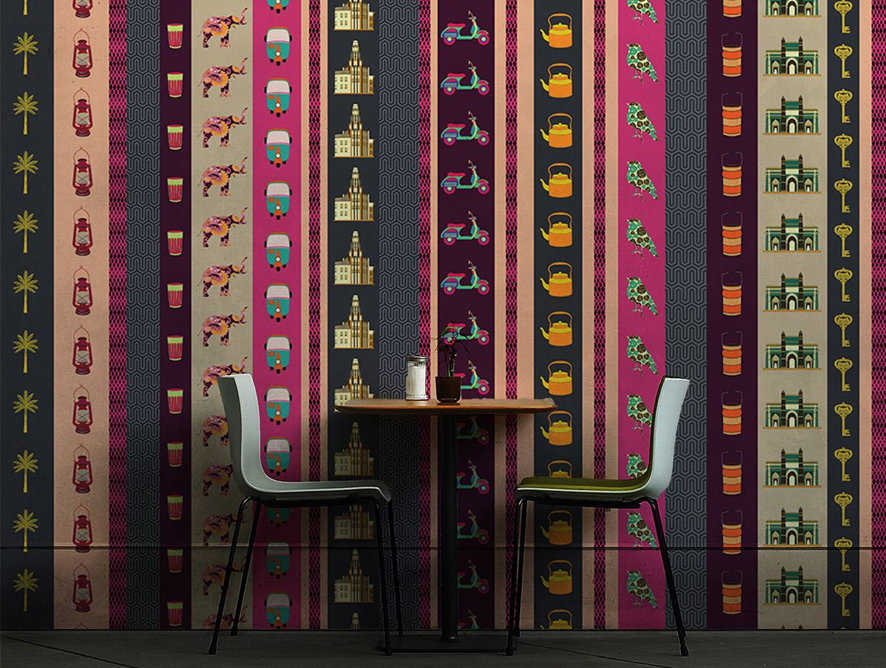 Stripes Wallpaper For Living Room
Stripes are the most common and effective pattern for visually transforming a space. Depending on the orientation of the stripes, they can add depth or height to a room. While vertical lines make a room look taller, horizontal stripes will add more width to it. Whichever way you use striped wallpapers, they will make it look bigger than its original size.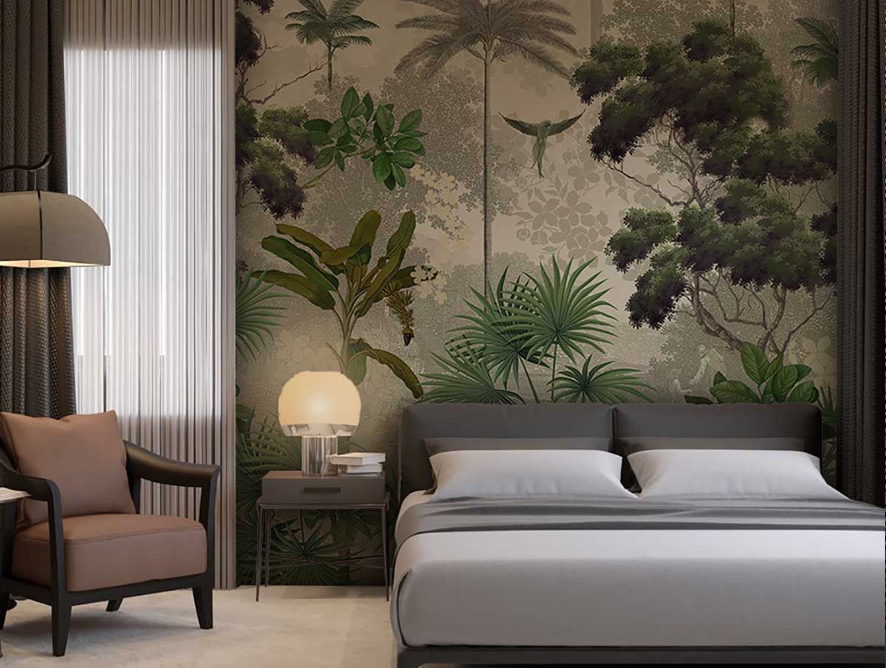 Murals Or Scenic Wallpapers For Living Room
Murals are another amazing option for creating more depth in living rooms, especially 3D murals. Similarly, scenic wallpapers can also be effective in making a room look bigger. The idea is to pull the eye outward, which creates the illusion.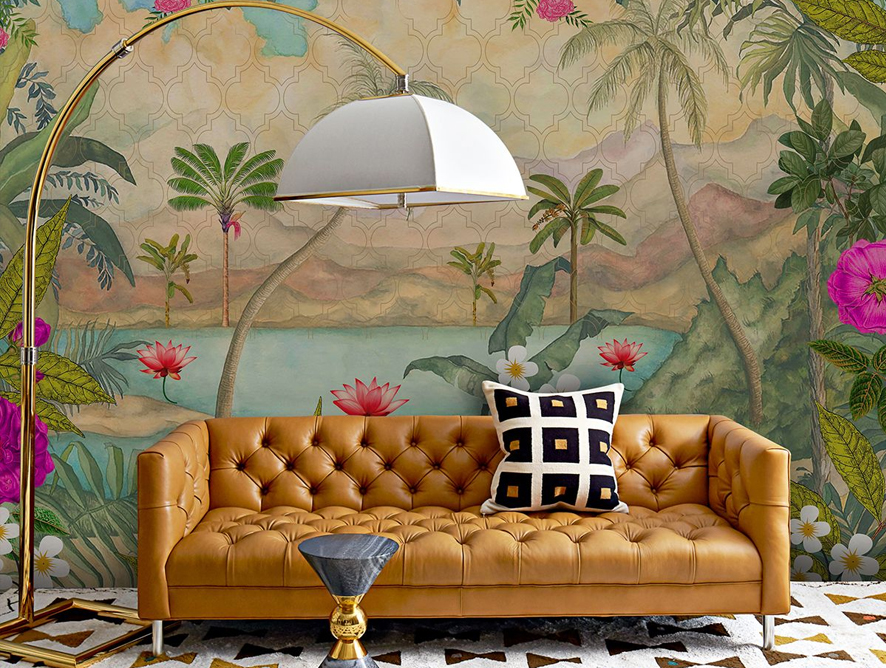 Complementing The Floor For Living Room
Matching the wallpaper with your floor is yet another brilliant idea for adding visual space to a small room. You can either choose the right colour, design, or pattern for the floor. This again makes a room visually appear bigger.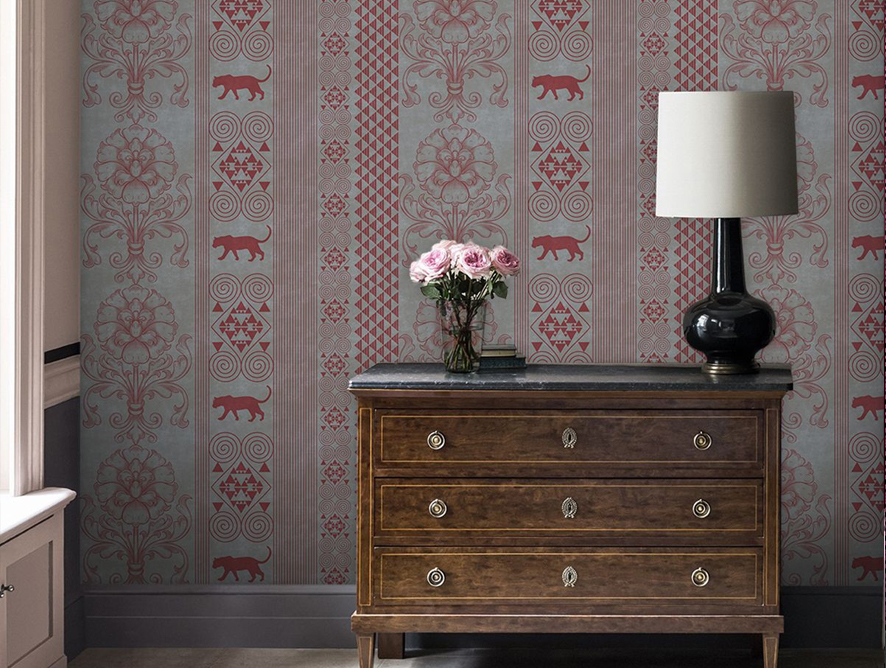 Wallpapers Adorning The Ceiling
If covering the entire wall may look overwhelming, use them smartly. Using light-coloured wallpapers on the ceiling is a great way of adding visual space to the room. Bright-coloured and busy patterned wallpapers around a bookshelf will also add some space. Intricate patterns and swirling colours around drawers also add more space. Framing them and using them as hanging on the wall will add more colours and visual appeal.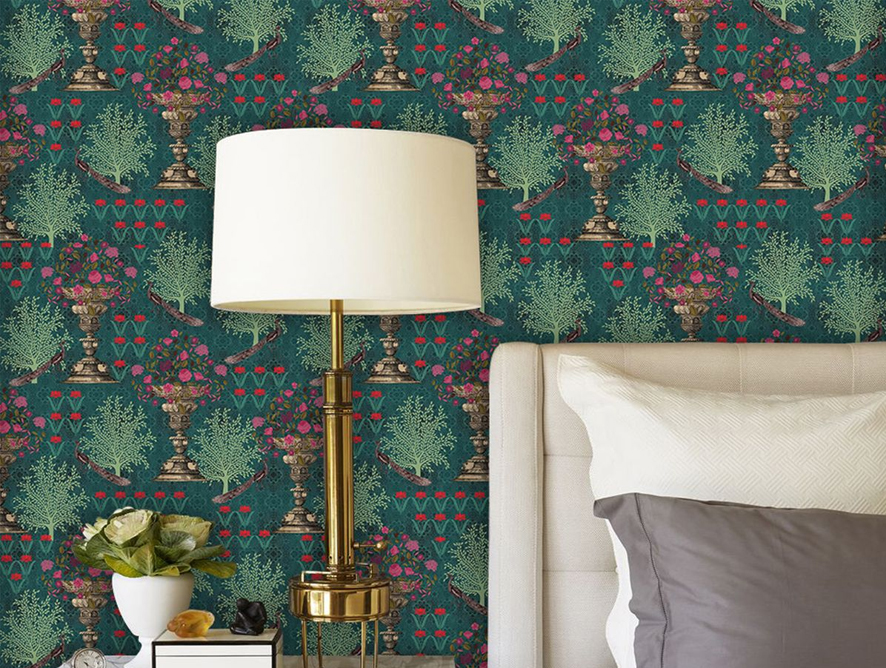 Wallpapers With Large, Repeat Patterns
A patterned paper is effective only if you choose the right patterns. Intricate and delicate patterns in a small room will make the space look cluttered. Instead, choose big and bold repeat patterns. Extra-large patterns are perfect for small spaces as they draw the eyes upwards creating an illusion of higher ceilings. Floral patterns are also extremely popular for this purpose. Large bouquets, huge tropical leaves, and plants are ideal choices.
PRO TIP: STRIKE THE RIGHT BALANCE
Balance is everything when decorating a space. If one element is too overpowering, the rest of the elements will look bleak and undesirable. If your main visual, that is, your wallpaper is bold and bright, tone down the rest of the elements in the room for visual harmony.