As radiant and extensive as the Pantone colour palette is, it will leave you with abundant choices to infuse your house with bold shades of magenta. If you are yet to decide, let us help you create a subtle statement with the Pantone colour of the year 2023.
Everyone every year puts their perceptions into creating a truly standout, stunning, and spirited house.
The Pantone Colour of the Year 2023 has finally been unveiled. It exhibits warm colour choices for decor and more. Thanks to the Pantone vibrancy and vividity, we could not be more excited. The Viva Magenta Pantone signifies everything brave and bold. The viva magenta colour code also helps you find inspiration that perfectly matches your unique perception and highlights the house you desire.
Also Read | A floating pavilion as testing grounds for museum-to-be M. in Dutch new town Almere
As radiant and extensive as the Pantone colour palette is, it will leave you with abundant choices to infuse your house with bold shades of magenta. The question that is still open is what your idea is and how you will turn it into a radiating reality.
What Is Pantone Colour?
Pantone, whole for pan and tone, is a universal colour language that enables designers and everyone to make better colour-critical decisions. The Pantone Matching System (PMS) is a system for colour standardization that supports colour matching and identification. The Pantone colour chart shows the whole colour range that printing may achieve.

What Is Viva Magenta?
Pantone Color of the Year, Viva Magenta, exudes warmth and vitality. It is a natural colour derived from the red colour family, representing a fresh indication of power. Viva Magenta Pantone is a pulsing colour whose enthusiasm promotes a joyful celebration and makes a valiant statement. The viva magenta colour code is midway between red and blue in the RGB model. It is also a new vibrant red that revels in pure exhilaration, enabling free experimentation and self-expression.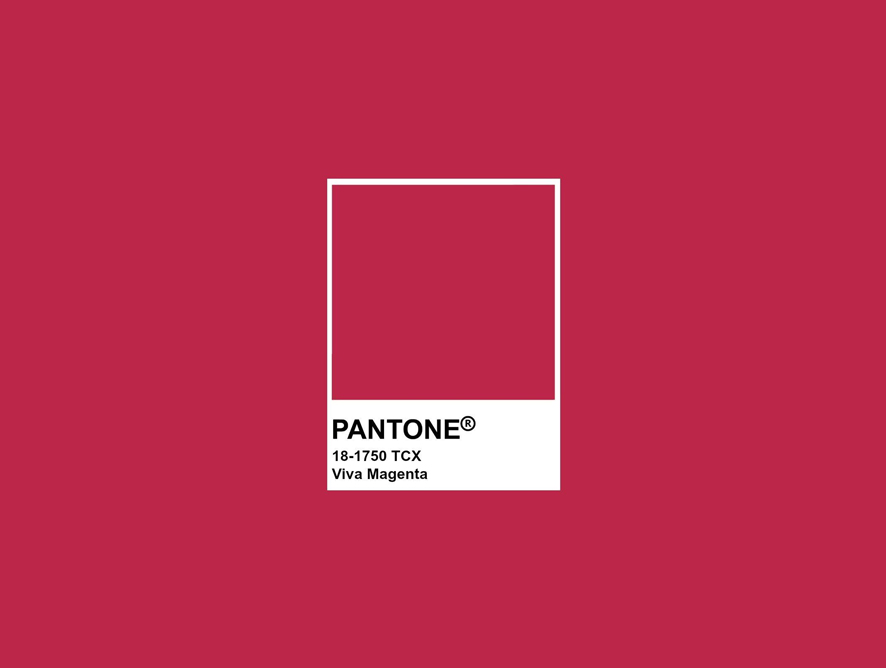 Go Bold And Beaming With Walls To Make Them Wondrous
Those empty barrel walls are brimming with possibilities and waiting to turn into beautiful focal points. And we know that at some point in time, you have faced the tough dilemma of what to do with that large and windowless wall. The Pantone colour of the year 2023 turns this situation into a potential opportunity. With this beautiful Bougainville Spectabilis Wallpaper sprinkled with a shade of magenta, you can bring your walls to life. The wallpaper will amp up your walls and bring out your individuality and taste. Bordered with beautiful bright pink Mughal jaali and Bougainvillea's will might just provide something more than you weren't expecting.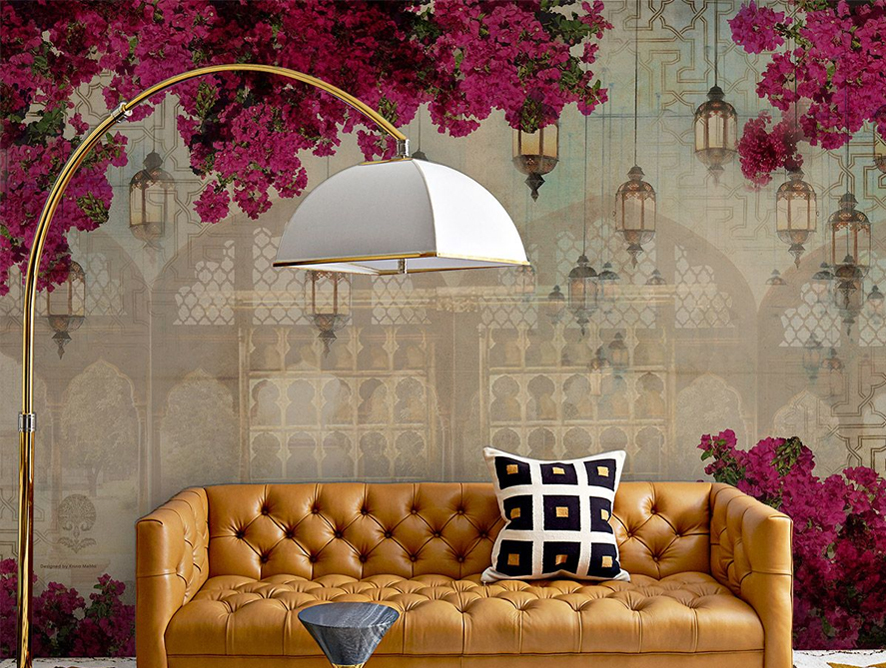 When Chai Is Beau, Let The Chai Glass Be Beautiful
When the world is at odds, a sip of chai makes everything a lot better and balanced. And it's just about the time that you add a sense of aesthetics to it. Kickstart your day on a refreshing note with our Rosebud Bloom chai glass adorned with a shade of vivid magenta. The charming set of glass makes a morning fresh and invigorating, just how it should be.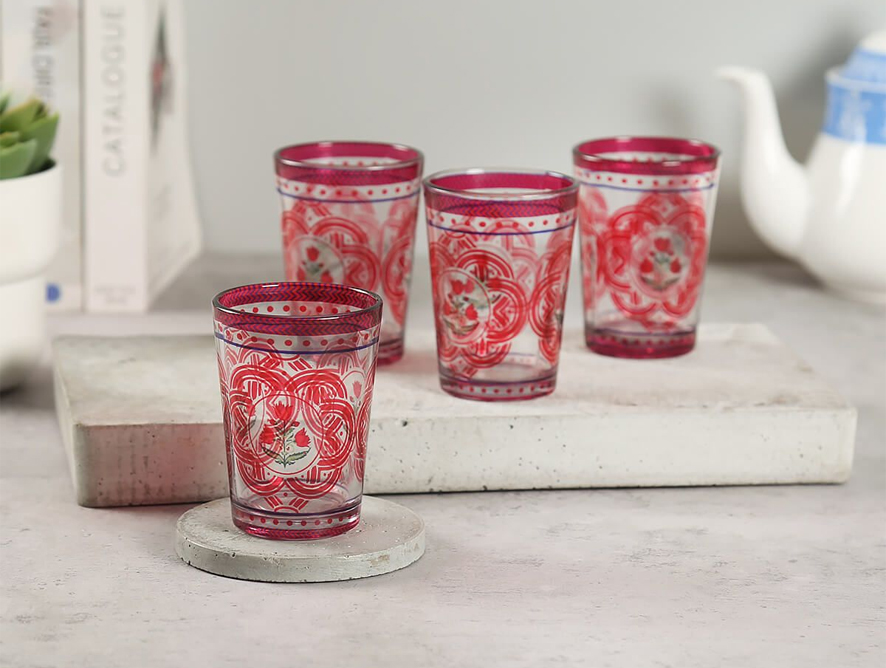 Brew A Captivating Tale With This Vibrant Hues
Bon appétit! A place where the most memories are made deserves to be the one that resembles you the most. Your kitchen has creative potential waiting for you to fully utilize. You can turn this functional space into a timeless craft with Clover's Knotty Play MDF Square Tray. A stroke of viva magenta colour lends it a hint of flair and perfection. The viva magenta will also add a more dramatic effect to your dining table.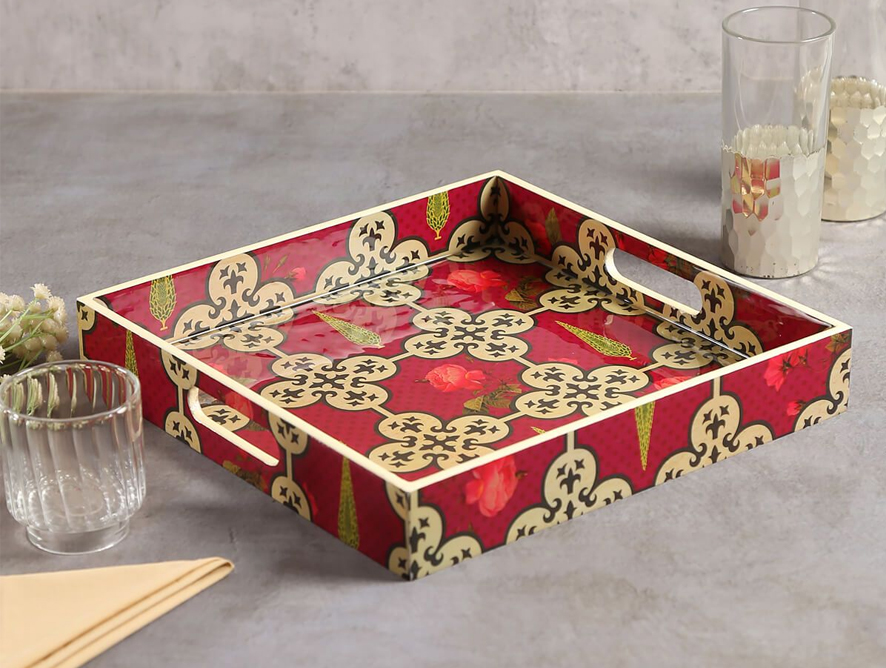 Make Dining A Delightful And Unforgettable Experience
A dining table is a place for good food and great conversation. When accompanied by a fine dinner plate, you could be experiencing the highlight of the day. The Floral Fountain Dinner Plate will help you tell a beautiful story and strike up indulging conversations. From timeless classic décor to modern minimalist, this magenta dinner plate goes well with anything and everything.
Make The Furniture Suit And Complement The Space
Furniture with an attractive colour palette is one of the best ways to spruce up a home. This inspires individualism and a realistic space full of warmth and comfort. If your home requires an update, Indian Circus Legend of the Cranes Nesting Table is a good place to start it all. Not only is it bold, but it also has charismatic characteristics that are hard to overlook.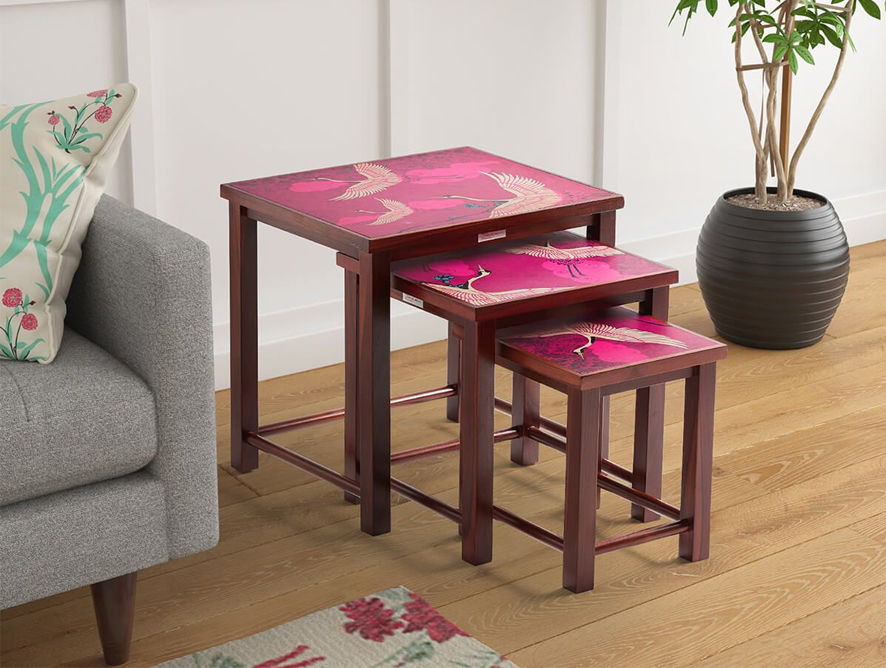 Put Pillows And Personality Together
Cushion covers are always the best idea to add visual interest, texture, and comfort to your space. But when you pair them with your personality, the place becomes a whole lot more personal to you. With Poppy Bird Land Cushion Cover Set, you can do just that. The flowery design and magenta shades come together to win everyone's hearts and attention.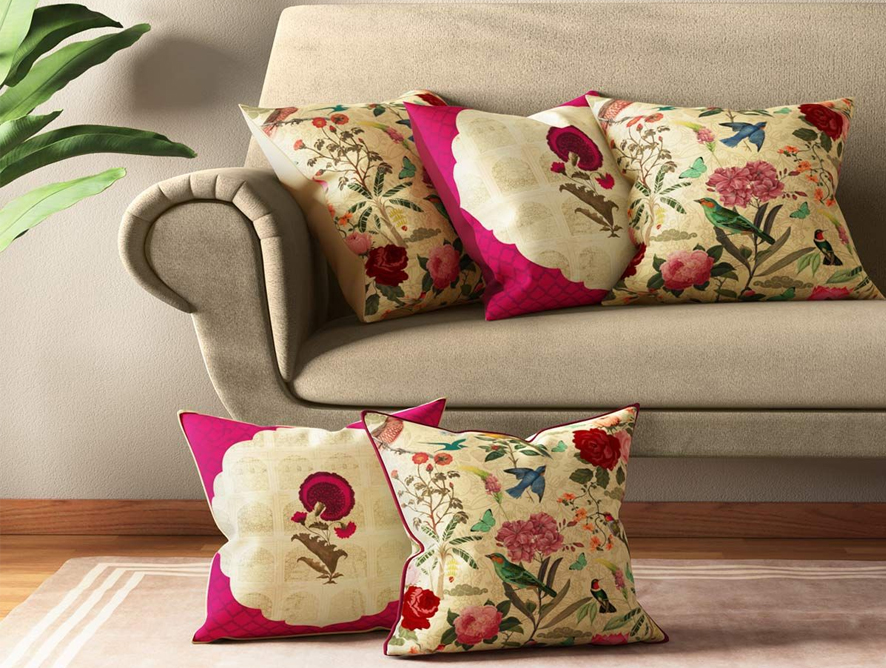 Paint Your Comfort Bold And Beautiful
Regardless of your style, you can utilize the Pantone colour palette to make your house pleasant, functional, and welcoming. And you don't have to compromise with your comfort to do that. You could make a bold statement by enveloping it in Blossom Tales Blended Velvet Cushion Cover. It will make a majestic first impression and an unforgettable last impression.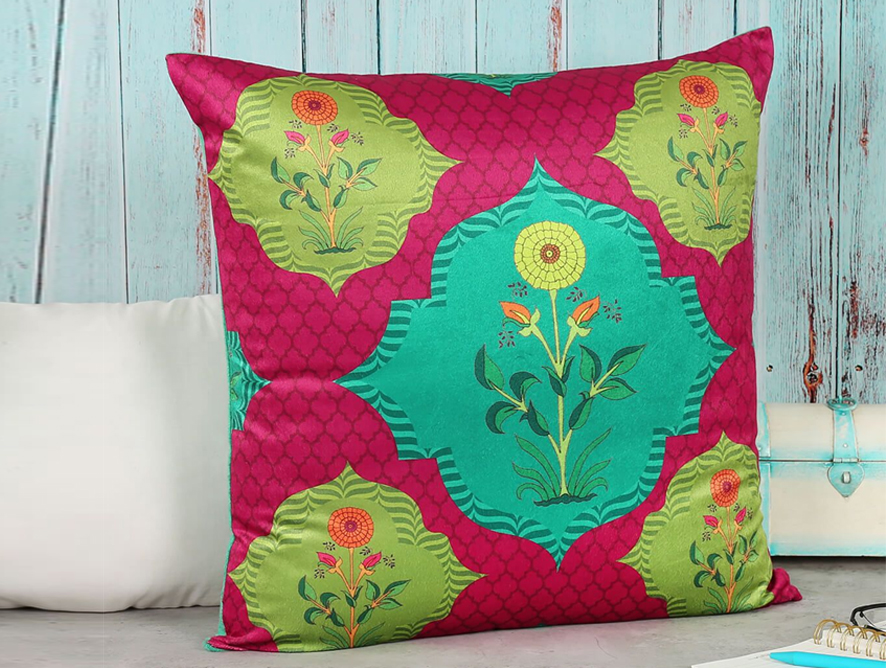 Let The Kitchen Breathe In Fresh Hues
Every house is made of bits and pieces, which all contribute an equal amount to keep it pleasing, comfortable, and attractive. And the kitchen is where most of those bits and pieces are kept. With India Circus's Legend of the Cranes Steel Container Set, you can create a truly unique and modern kitchen you adore and love. Once infused with this magenta masterpiece, staying away will just remain a thought.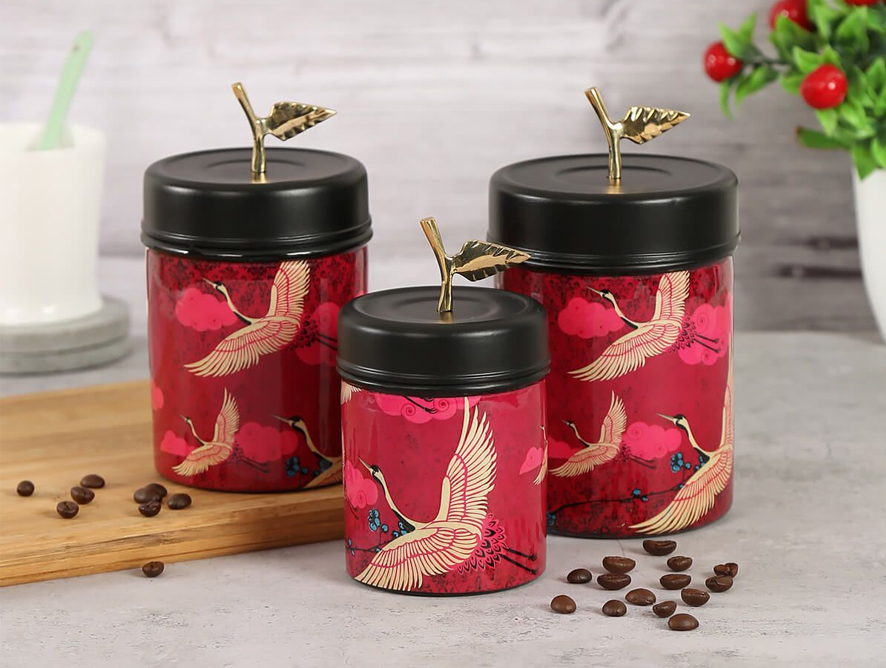 Your Favorite Drinks Found A New And Better Place
You will be surprised to know how little life changes create a big difference. And you may start it off with something as simple as how you drink your fluids. With our Poppy Flower Scarlet Bottle and Tumbler Set, you could experience happiness in every drop till the last drop. The flowery-themed set accentuated with a hint of magenta will not only impress your guests but will also create a lasting impression.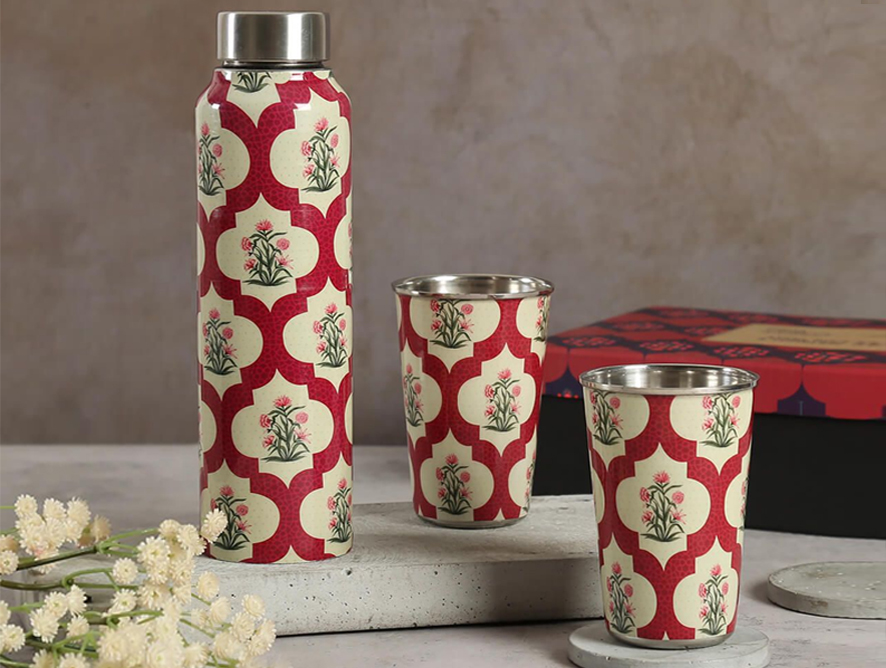 Let The House Illuminate And Shine Bright
There is something so beautiful and peaceful about watching a candle illuminate the space around you. It is also one of the best ways to create an ambience that is otherwise hard to achieve. It is just what Magenta Biome Mystique Scented Candle Votive helps you do. The candle votive is also infused with a vanilla aroma that makes everything whimsical and magical.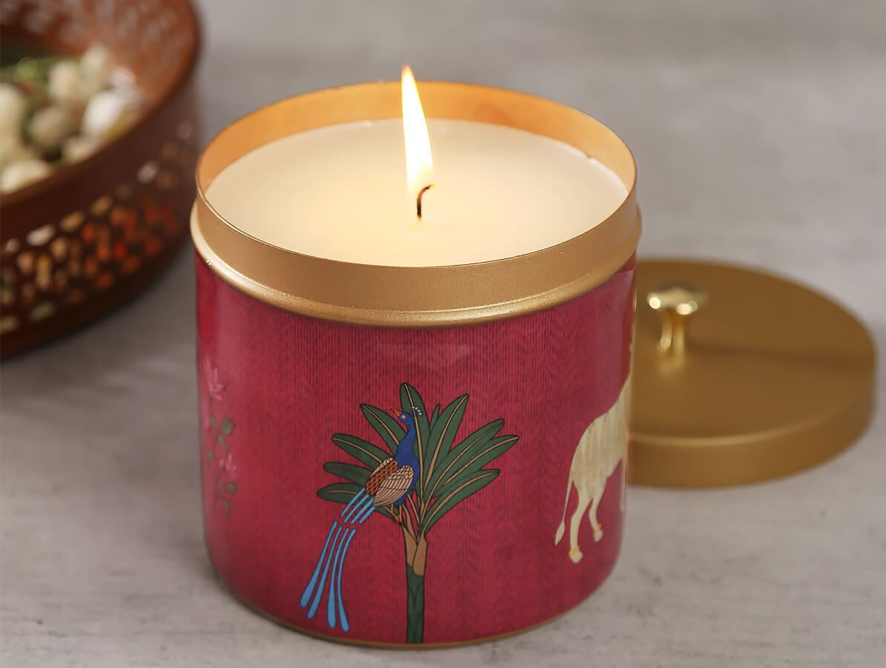 Let's Paint A House With Color That Stands Out
Everyone wants to breathe in a house that reflects their style and personality, which most likely is not bland, beige, or boring. You are no exception to it, either. But in this world of pastels, finding a shade that matches yours is challenging. But you do not have to go through this anymore. Viva Magenta will help you create a truly electrifying and vibrant house that reflects your style and personality. Whether you paint it on the walls, put it into furniture, or incorporate it into your design elements. Its subtlety and richness will never fade. Using this bold hue will drastically change the aesthetic of the area.