Yunchao Xu/Atelier Apeiron is proud to unveil its work in progress on the 142,560 m² Hengqin Culture & Art Complex, a future community focal point in one of China's fastest-growing cities destined to serve the entire Guangdong-Hong Kong-Macao Greater Bay Area. Six years into the planning, design, and construction of the new complex, Yunchao Xu/Atelier Apeiron's work is approaching its final stages.
Also Read | 4 ways to style your interior spaces with copper
In the more than a decade that has followed Chinese government approval of the massive and ambitious urban development of Hengqin Island, sitting at the crossroads of the Pearl River and South China, billions of dollars in investments have poured into the project referred to as the 'Hengqin New Area'. Dozens of major projects are being developed, all within walking distance of Macau, and only 34 nautical miles from Hong Kong. In the centre of it all, the 106-square kilometre island is a new addition to the populous region, with clusters of developments targeting the high-profile sectors of culture, creativity, and knowledge.
Also Read | Visioarq wins Architizer 2022 Architecture + Wood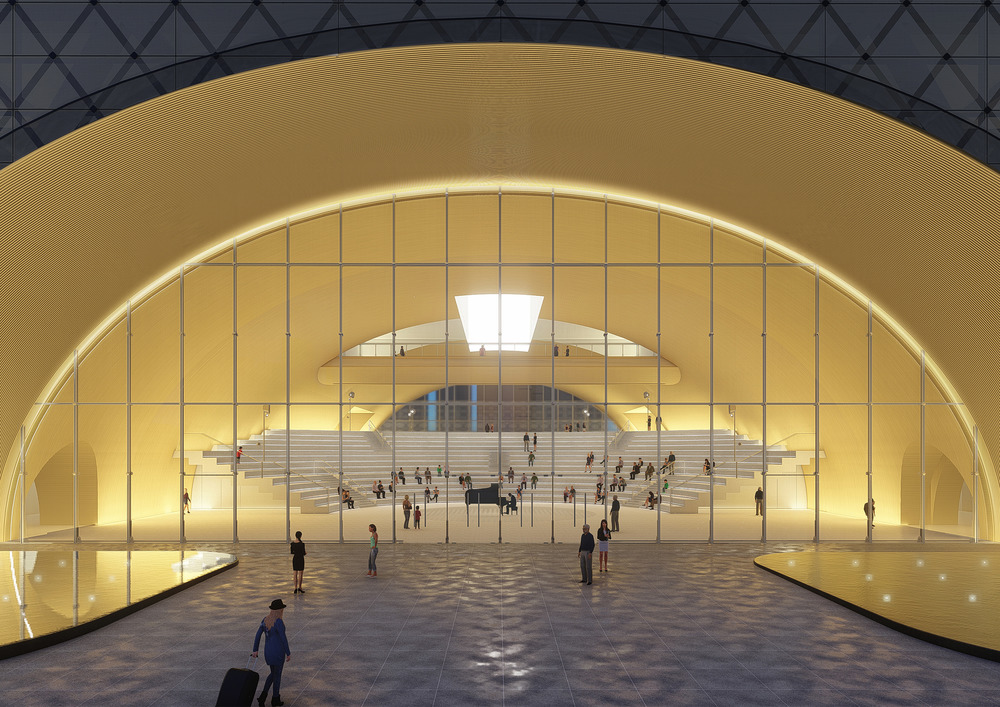 The beating heart of a newborn city
In 2018, Atelier Apeiron won a competition launched by the Chinese government to field proposals for building the Hengqin Culture & Art Complex as part of a vibrant new community in China's third-fastest growing urban centre after Hong Kong and Macao. The firm's winning proposal centred around its embrace of a new and innovative approach to the massive nine-block development.
Also Read: Easy Guide To Choose A Color Palette For Your Space
"The complex will house nine departments, but the requirements for each of them were independent and filled with contradictions," explains Yunchao Xu, lead architect of Atelier Apeiron. "We approached it from the perspective of integrating nine independent buildings into a single complex, and we convinced the client to give each department relative independence to proceed with a comprehensive strategy that resolves conflicts and stimulates public energy."
Innovative responses
The unique setting of the Hengqin Culture & Art Complex was not without its challenges. The region's status as a typhoon-prone area in summer was a challenge requiring special considerations, including numerous wind-resistant material comparisons before deciding upon a light and flexible suspended glass curtain wall as a particularly efficient solution. Another challenging element was how to introduce natural light into such large volumes.
Also Read: Tips to care for your houseplants this winter
Being on an island with a sub-tropic climate, the foundations of the expansive complex also presented a challenge, with a natural layer of silt that can cause stability issues. In response, the firm designed a basement as a sealed support space with anchor points to ensure maximum strength throughout the structure.
Gateways of Arts and culture
The site of the Hengqin Culture & Art Complex is wedged between existing residential towers and an open city park, and Atelier Apeiron devised a strategy for creating an energetic complex capable of accommodating a multifunctional future. As part of that strategy, the firm espoused an architectural approach defined by large-scale porosity, adapted to the high-density urban context of the site's surroundings.
Also Read | Interior stylist Bhawana Bhatnagar on smart lockers at residential spaces
On the lower level of the complex, Apeiron is applying a geometric concept of inverted catenary to create three magnificent arches of differing shapes, articulating an architectural language that combines Chinese and Western elements. Each arch serves as a gateway to a different hall that is unique in both character and program. To draw natural light into the inherently dark spaces, the firm cut a skylight above the arches to form connections with the rooftop gardens and also incorporated two diffuse reflectors that direct soft sunlight into the rooms.
Composed of wood and bamboo panels, the arched provide a window of transparency between the facility and its surrounding urban life. By day, visitors will enjoy unobstructed external views of the adjacent park, while nights will be illuminated by the soft lighting emitted by the transparent arched halls, forming a stage background for a variety of public events to be held in the park.
"Arches have been embraced as a critical form of architecture since the beginning of time and are prevalent in both Eastern and western culture," explains Yunchao Xu. "To create strong structures with available materials, arches have been used to convert shear force in a horizontal direction into vertical force, ensuring that all points of the structure carry a shared load."
Also Read: Easy Guide To Choose A Color Palette For Your Space
Above the archways, modular space units have been integrated into the design to ensure maximum flexibility options for a wide variety of future programs. Additionally, small spaces have been integrated into the arch joints to house equipment and building services.
A diversity of atmospheres
The massive complex was designed to house nine distinct functions - a library, an archives centre, a concert hall, a cultural centre, an art gallery, a science museum, a women's and children's activity centre, an elderly activity centre, and a youth activity centre - Yunchao Xu/Atelier Apeiron endeavoured to desegregate the experience to create a truly communal sense of being. Designed as three urban living rooms, each arch leads into a unique space, comprising a Knowledge Hall, a Performance Hall, and an Exhibition Hall.
In designing the Knowledge Hall, the firm drew inspiration from the Oodi library in Finland, where the function of the library has progressed beyond being just a space for reading services. Taking the concept of traditional libraries to new heights, the Knowledge Hall will feature a vertical village of crystal book blocks and will become a focal point of urban public activity.
The adjacent Performance Hall serves as a cultural performing arts centre, with a large open stage and black box theatre designed for productions of dance, music, theatre, and opera. Finally, the Exhibition Hall is defined by its porous space, where strategically placed 'cheese holes' invite scatters of mysterious natural light into a space conceived as a host venue for exhibitions of art and science. Together, the three halls offer visitors a range of parallel world experiences, all within the confines of a single complex.
"The modular design of the complex ensures that each of the nine pavilions has its own distinct spaces, and the three large halls follow that same rationale," says Yunchao Xu. "Our vision is for the Hengqin Culture & Art Complex to be a vibrant, three-dimensional vertical city that will host millions of tourists each year, as well as a growing community of residents, while seamlessly connecting with its surrounding environment."
Integrated landscape and vistas
With its inspirations often derived from nature, Yunchao Xu/Atelier Apeiron has incorporated natural prototypes into its design of the Hengqin Culture & Art Complex, including terraces, caves, and cliffs. A stacked, four-story arrangement of rooftop platforms provides stunning public views from serene environments, with living green balconies overlapping the urban structure-like park settings for hosting community-based events. In designing the gardens, the firm conducted multiple studies to ensure optimal sightlines from each of the platforms.
Also Read | A floating pavilion as testing grounds for museum-to-be M. in Dutch new town Almere
The base platform includes a semicircular stage and a circular auditorium, where the Macau Wedding Company will organize large-scale weddings, birthday parties, corporate team-building activities, and much more. At 24 meters, a platform designed as a children's theme park features sand pits, expansive play facilities, restaurants, museums, and family cafes. At 30 meters, another platform provides a shared garden, with the addition of staff canteens and cafeterias for employees to rest and enjoy their environment. Finally, rising 36 meters, a rain garden platform serves as an environmental zone, integrating ecology, a low carbon footprint, and green technologies as a sort of ecological laboratory. A spiral staircase invites visitors to ascend to a bamboo garden, where serenity and quiet moments can be experienced while enjoying a cup of tea adjacent to the Sky Bookstore.
A glittering landmark in a new skyline
Extending from a hill to the north, to a river to the south, the catenary curve of the Hengqin Culture & Art Complex has created a new skyline landmark. With construction scheduled for completion in 2024, Yunchao Xu/Atelier Apeiron has embraced the experience of the multidisciplinary design process to evolve in its practice. In close collaboration with material scientists, botanists, climatologists, acoustic experts, and many other experts, the firm's experience and expertise have now been infused with a comprehensive understanding of the complexities of designing such large-scale cultural complexes.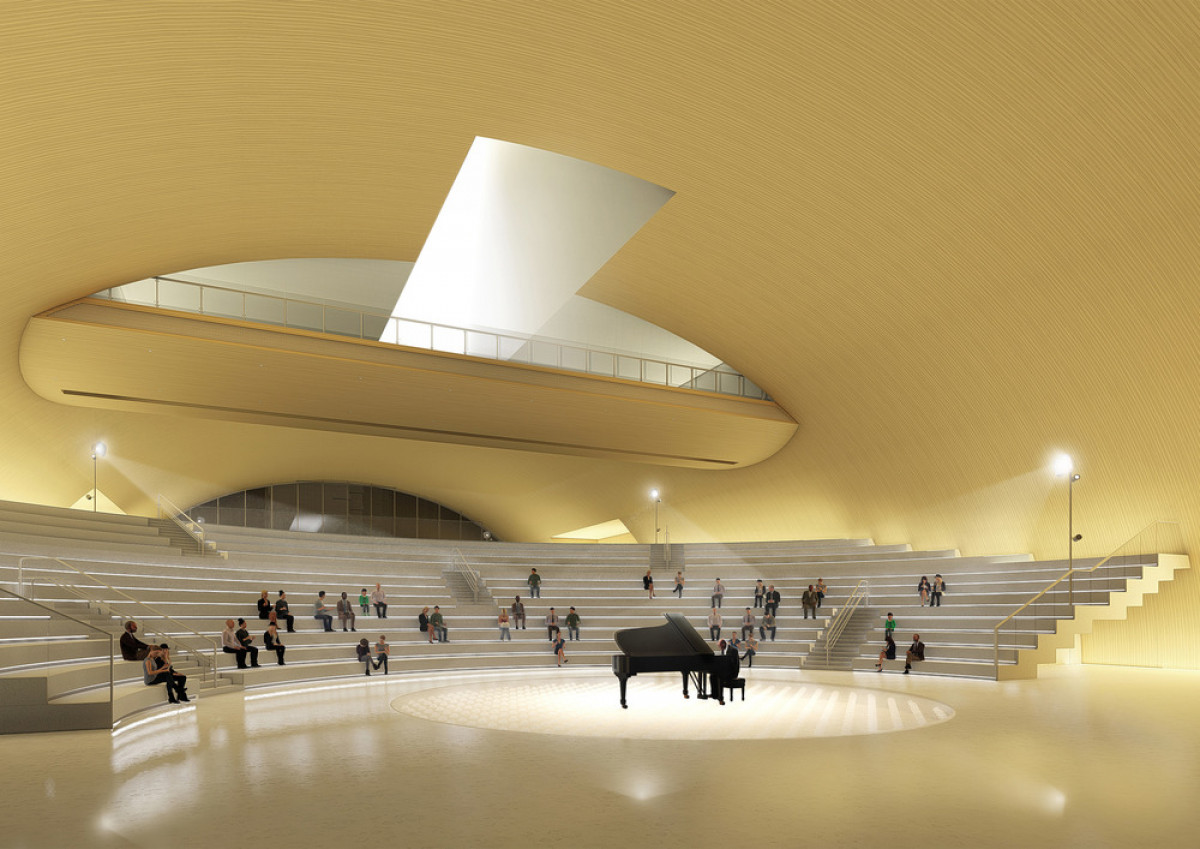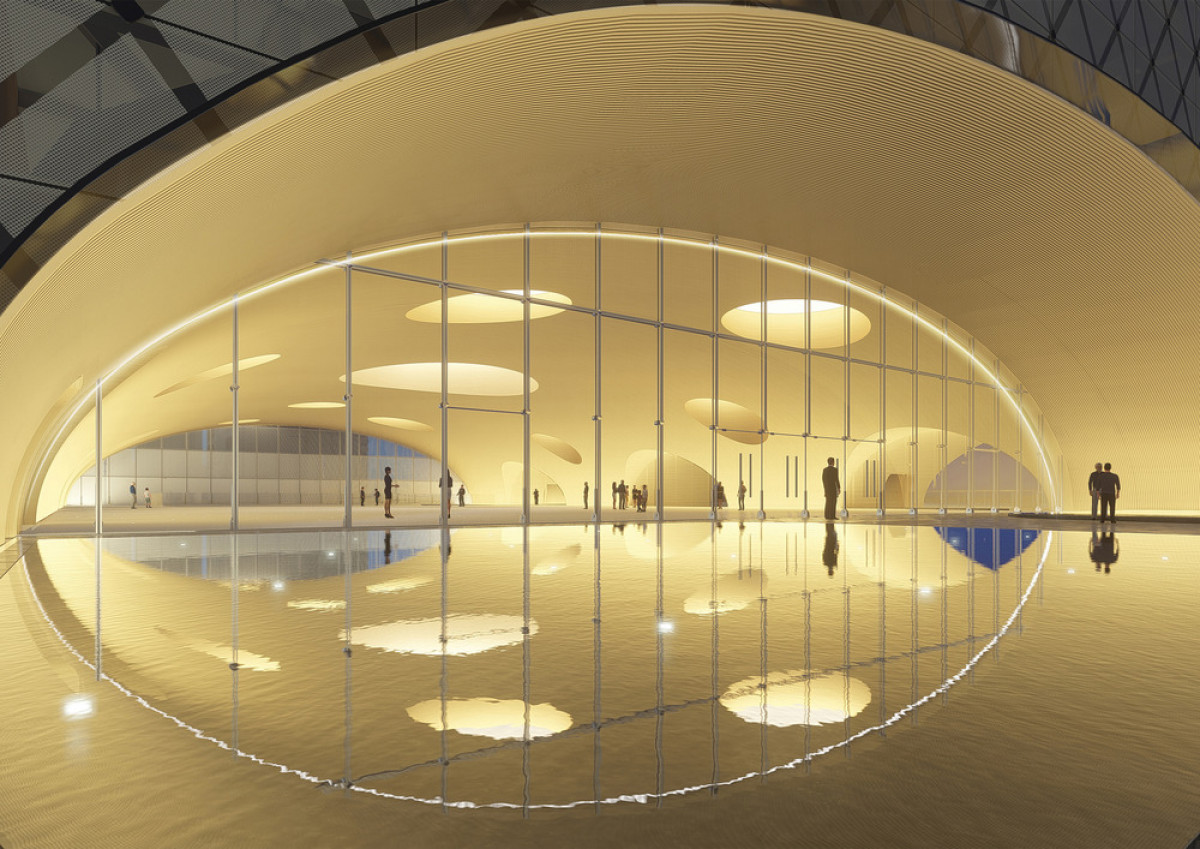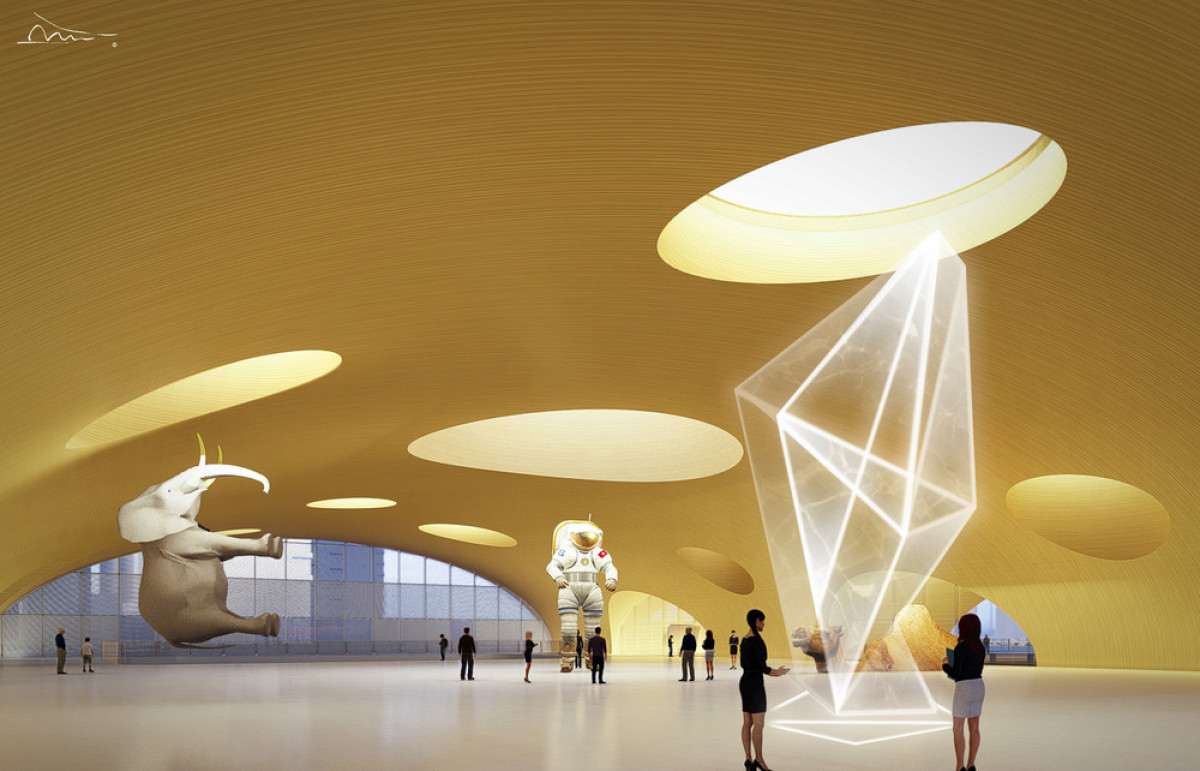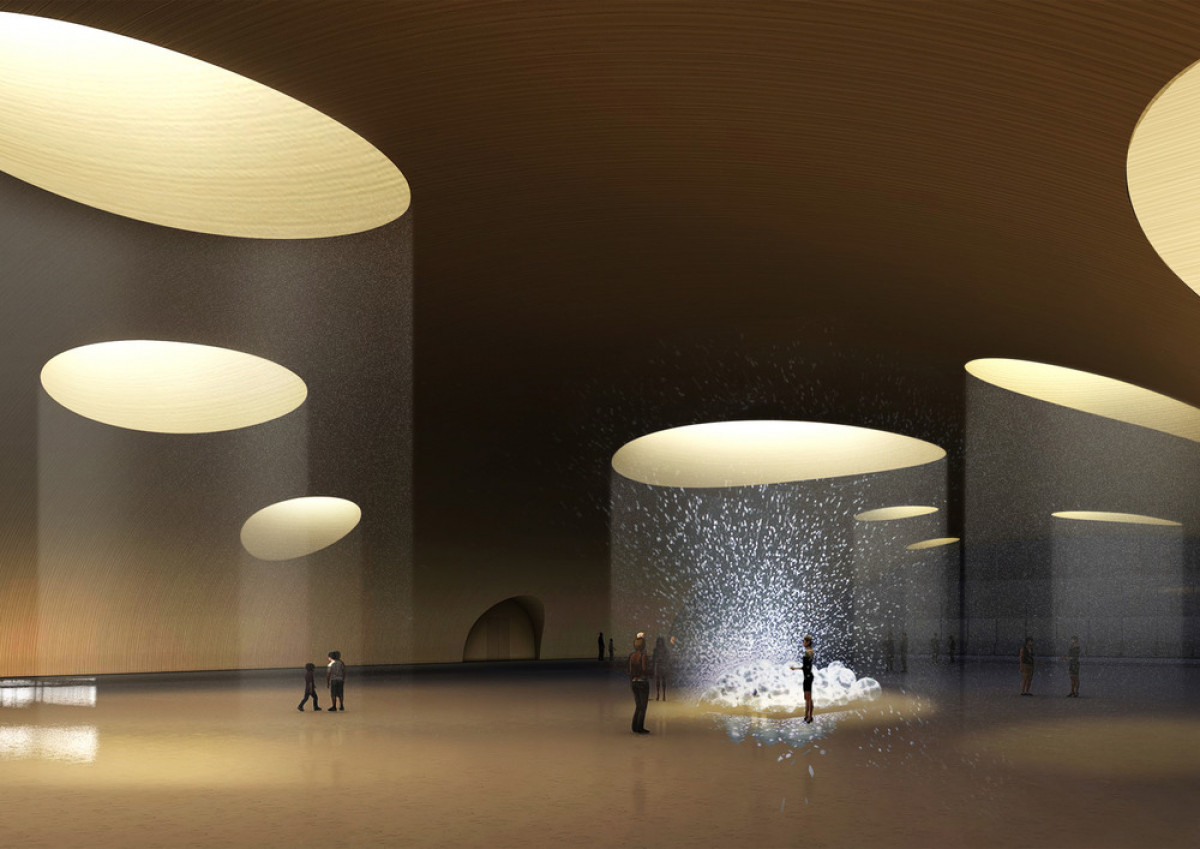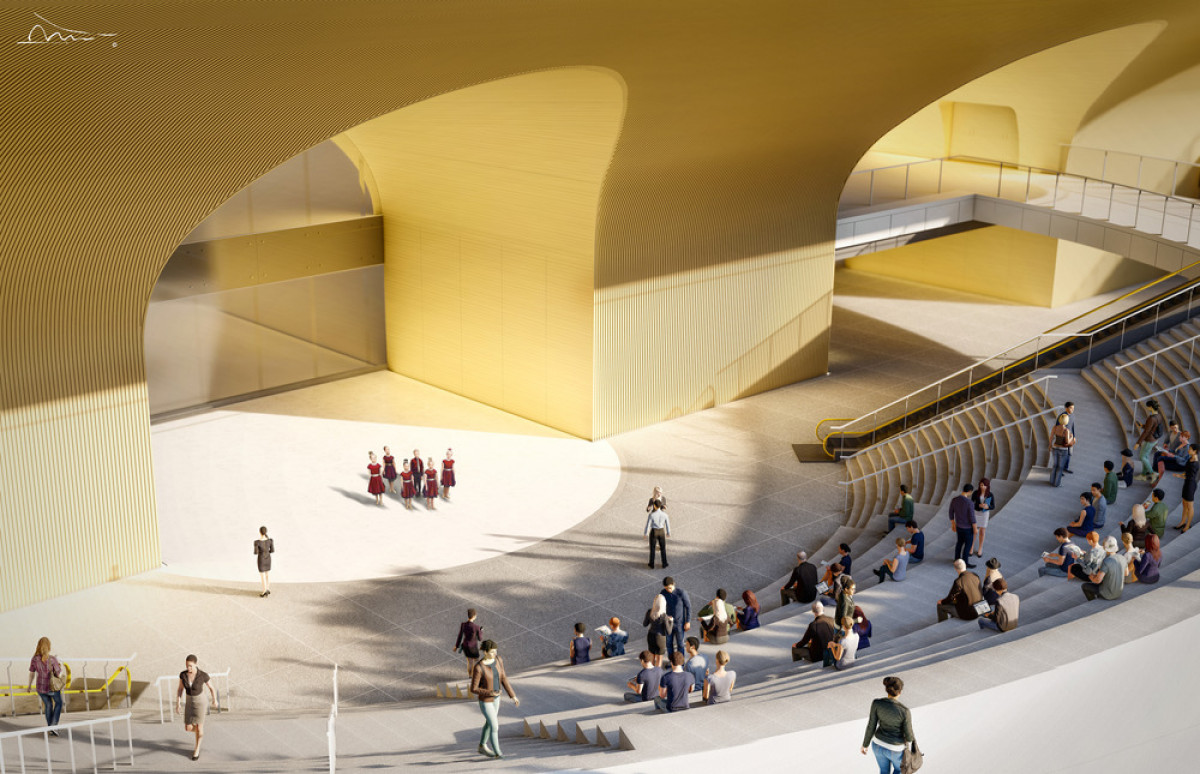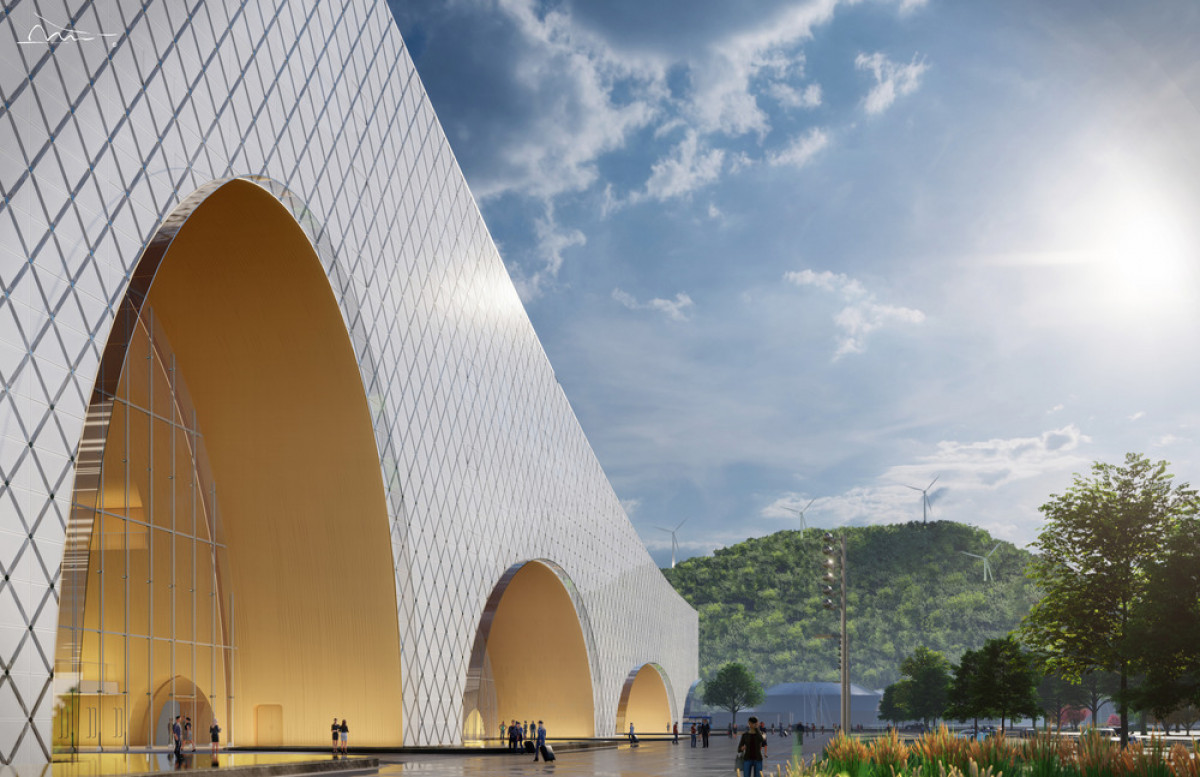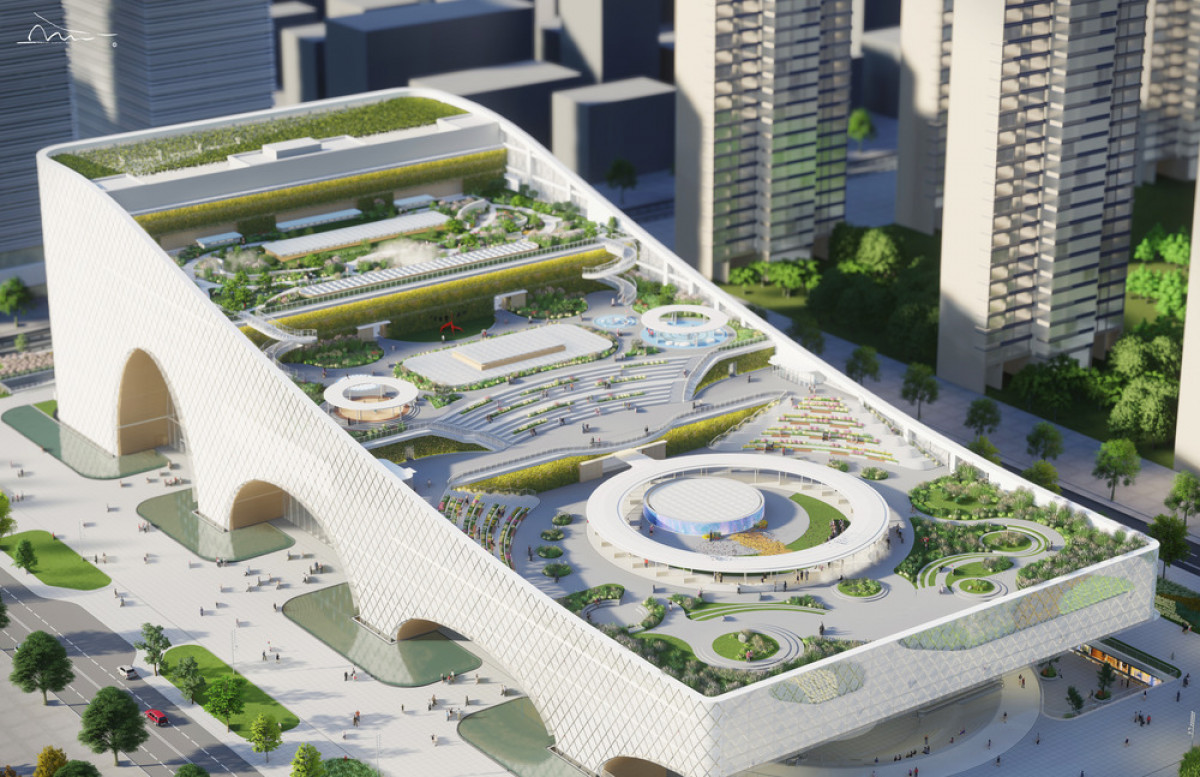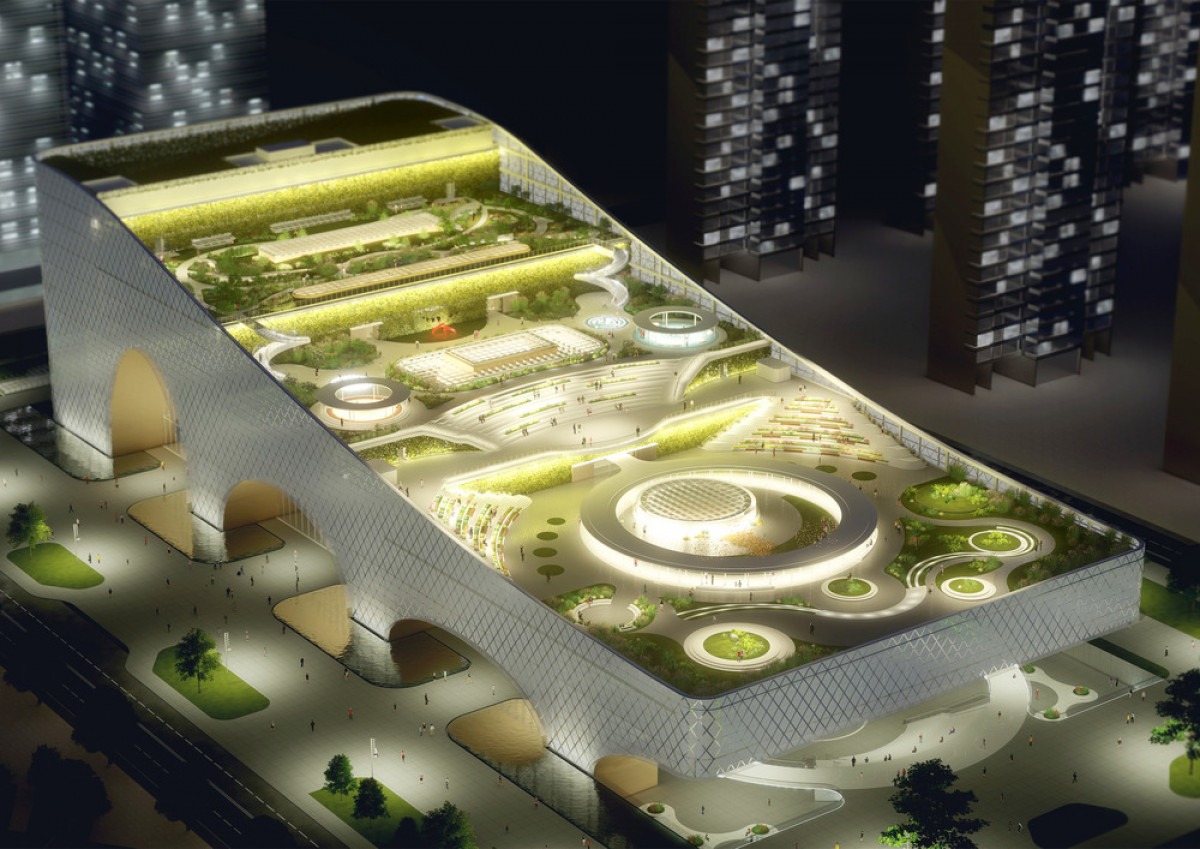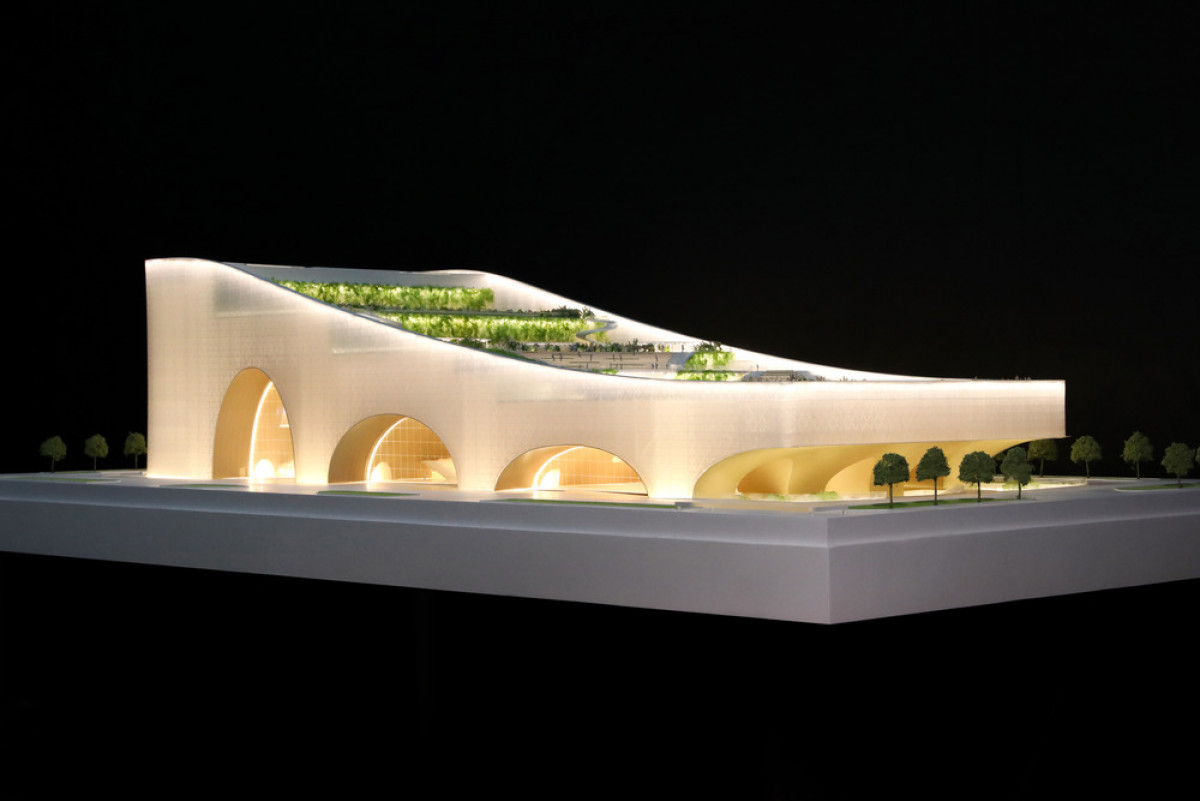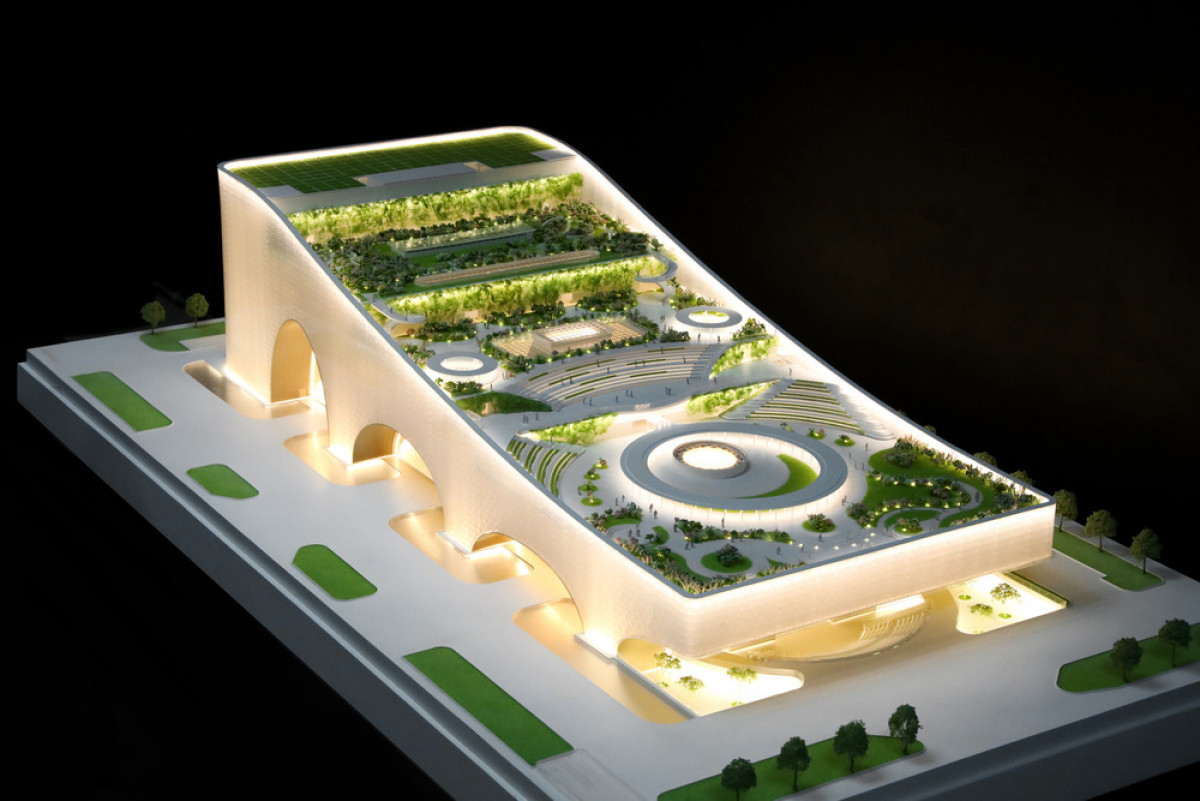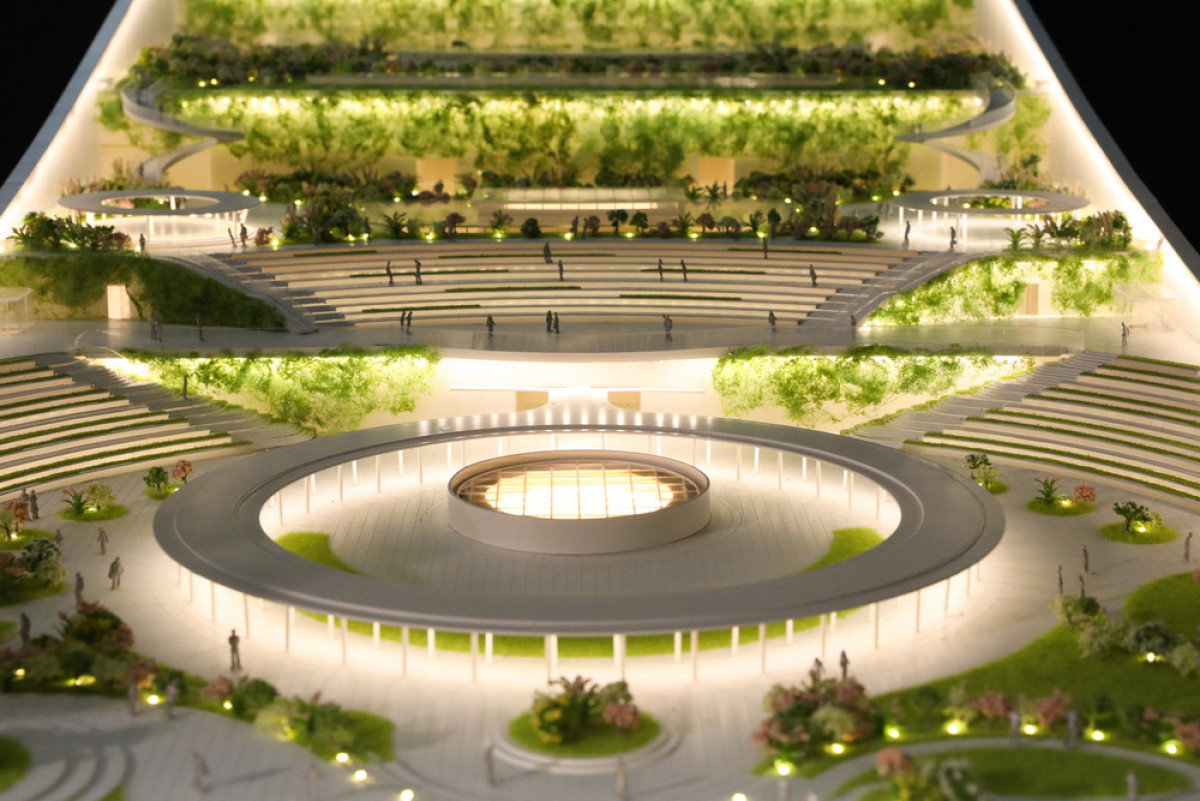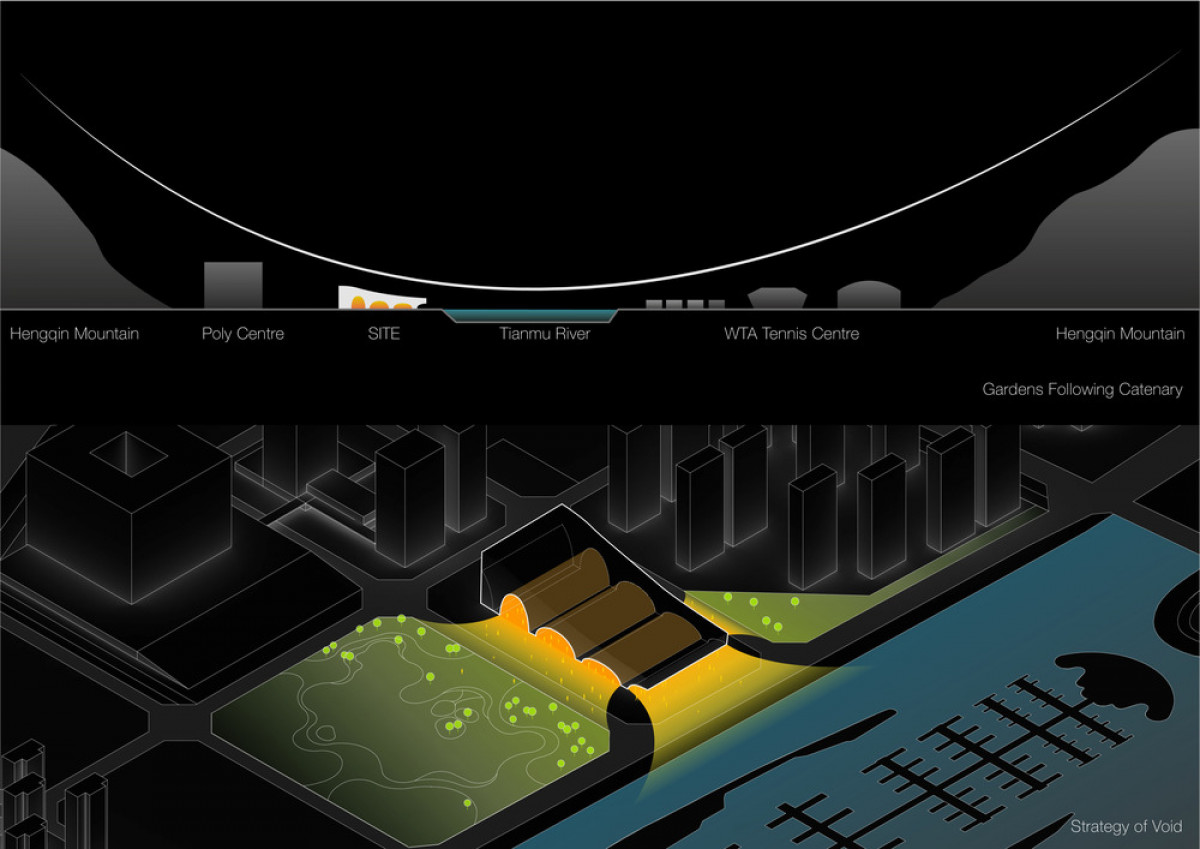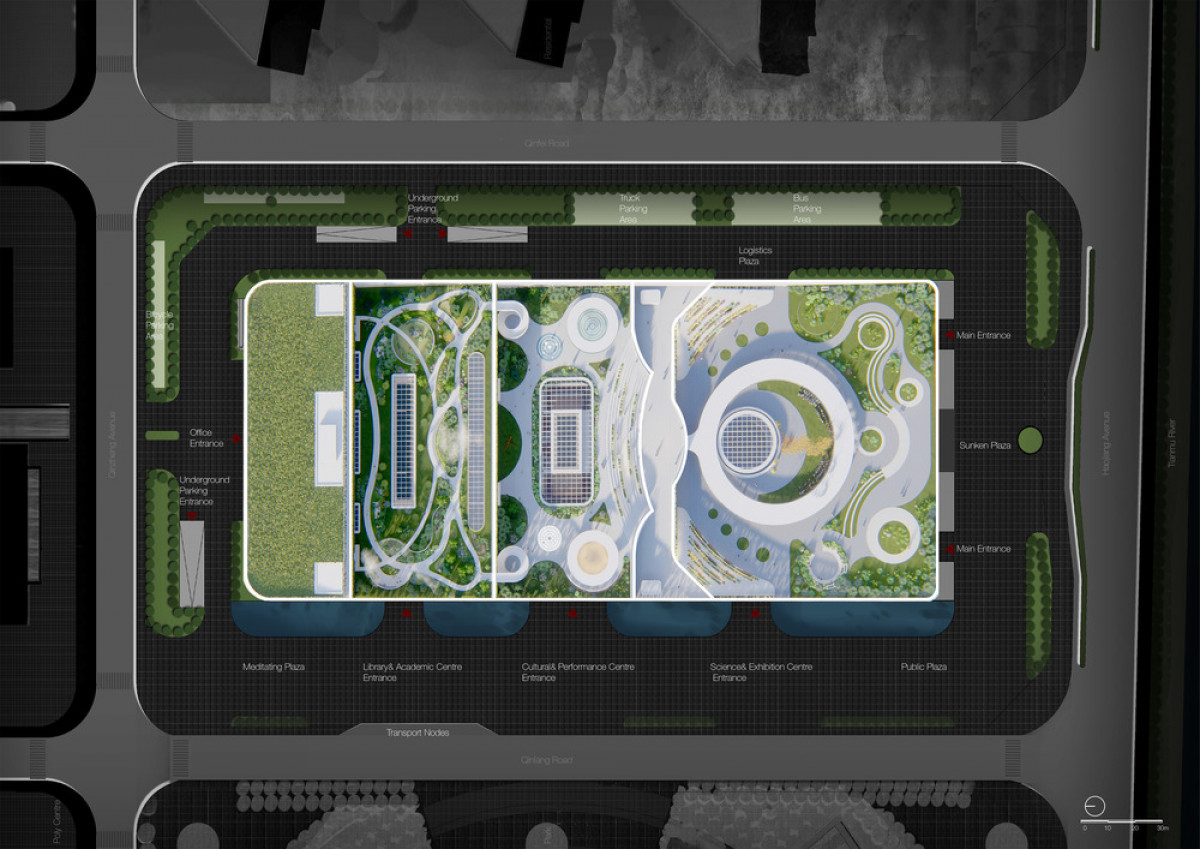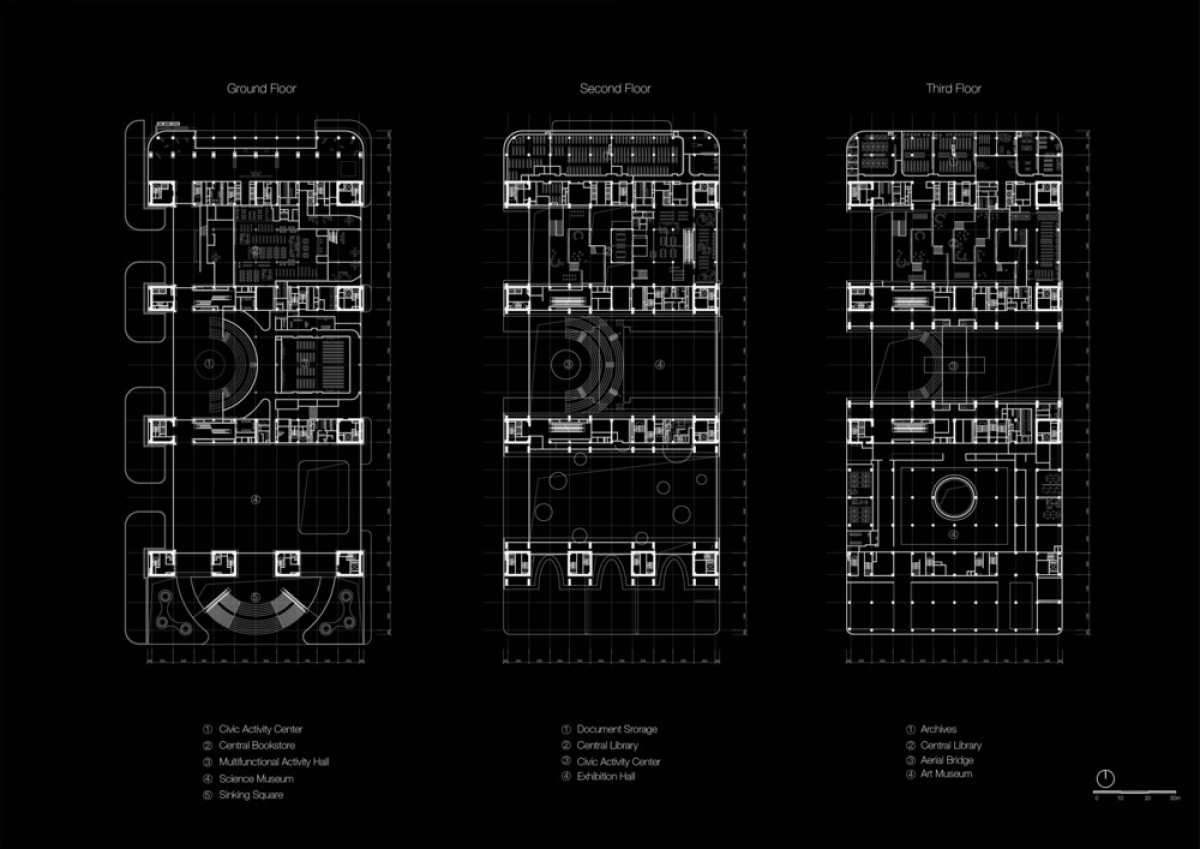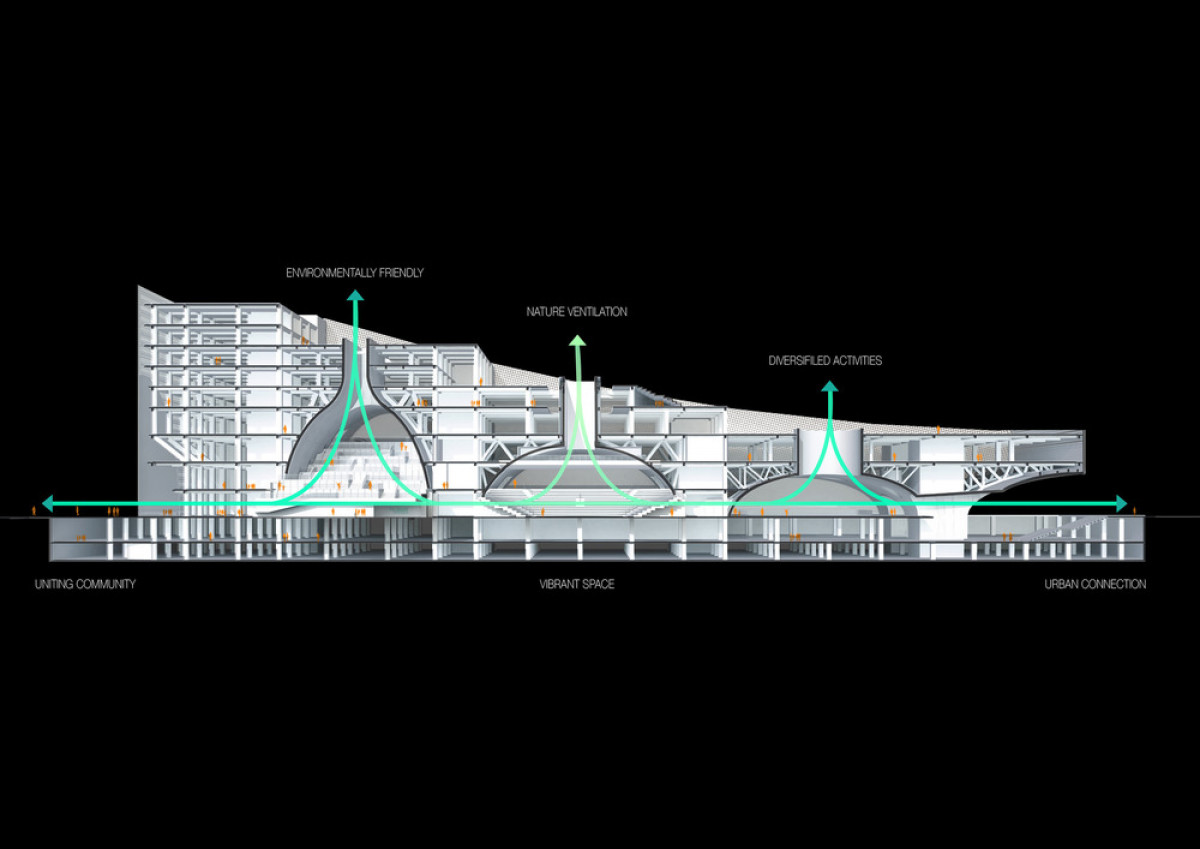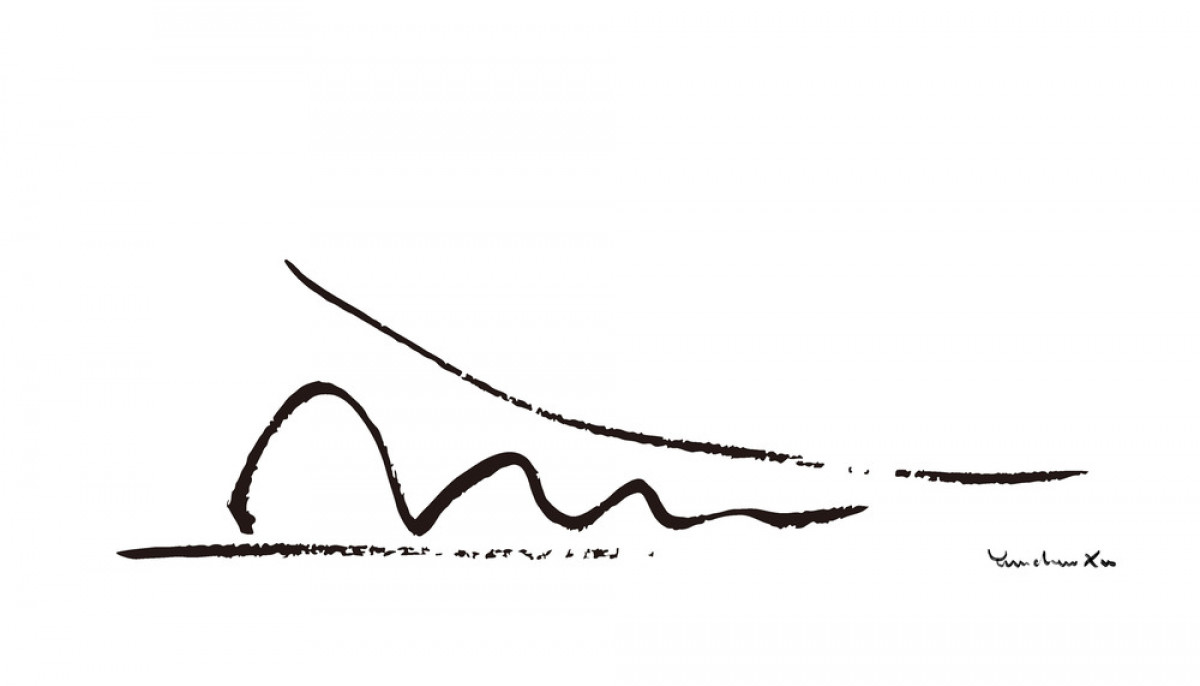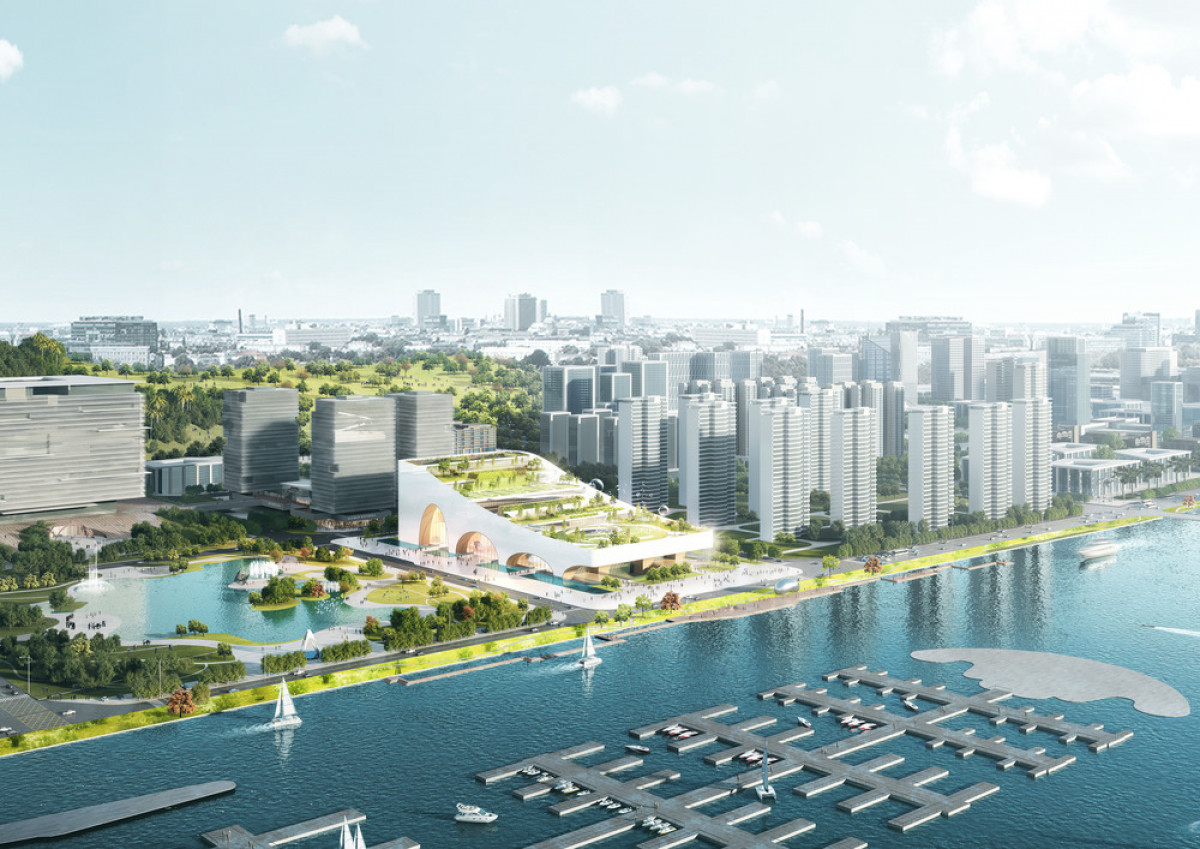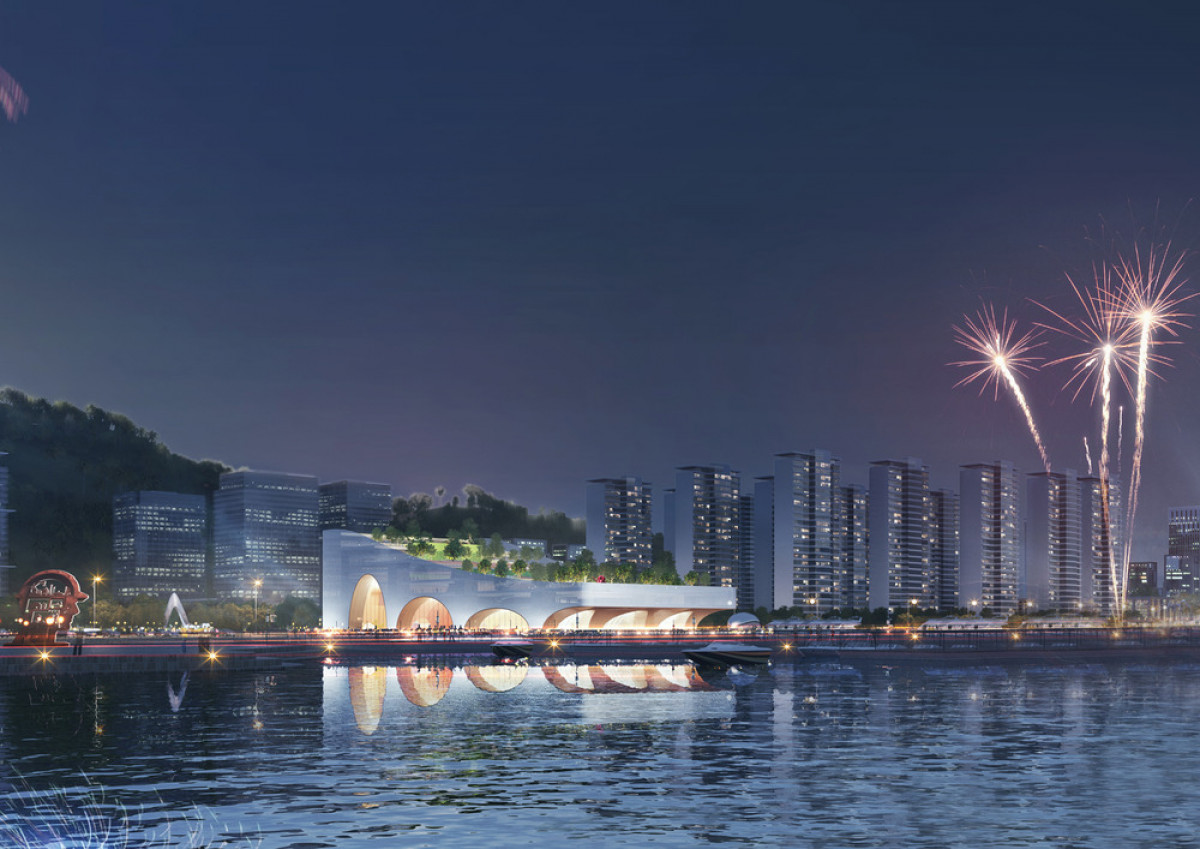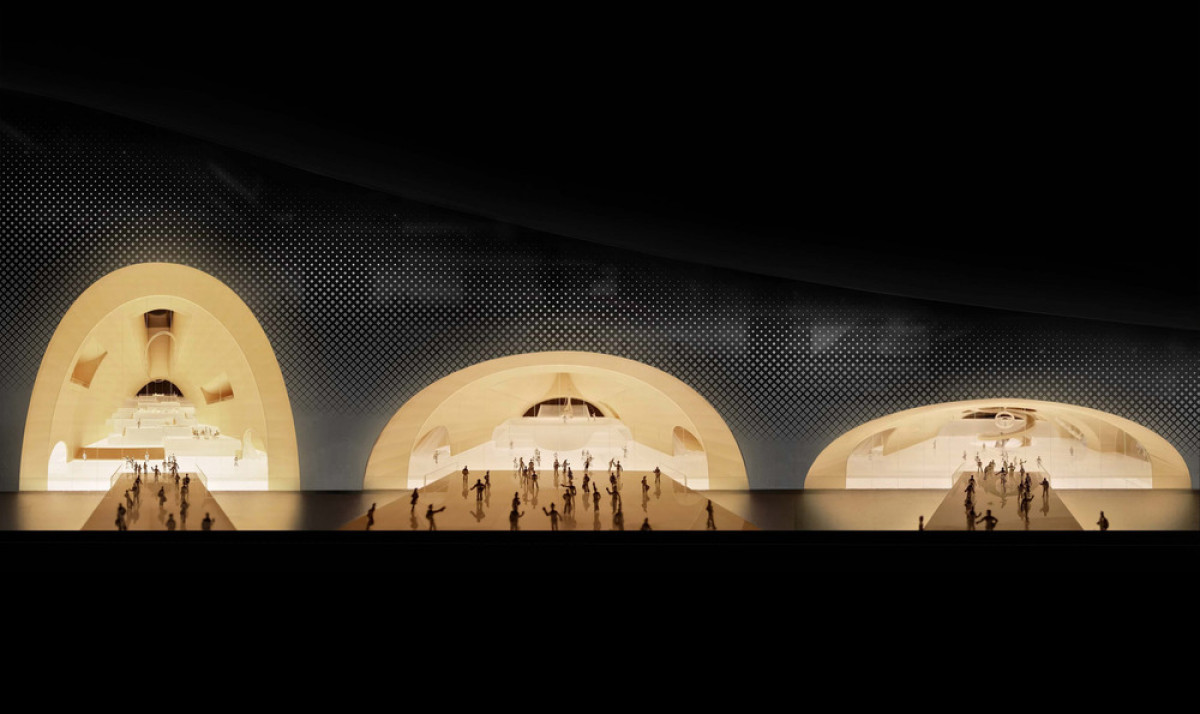 "This project is a milestone for our firm, and it opens new avenues for us to design innovative architecture in the future based on more multi-dimensional thinking," concludes Yunchao Xu. "It has motivated us to expand the definition of architecture, and to push the boundaries of traditional design."
Technical sheet
Project Name: Hengqin Culture & Art Complex
Location: Hengqin Island, China (Guangdong-Macau In-Depth Cooperation Zone)
Client: Zhuhai Gree Construction Investment Co, Ltd.
Project Sector/Typology: Cultural
Project Start: 2018
Project Completion: 2024
Total area: 142,560 m2 (1,534,503 pi2)
Architecture Firm: Yunchao Xu/Atelier Apeiron
Lead Architect: Yunchao Xu
Designers/Architects team: Jiachuan Qi, Hongrui Liu, Kan Gao, Guohong Li, Zhendong Shi, Jianxuan Chen, Shengjie Zhang, Kun Qian, Kai Liao, Zheng Xu, Zhen Shen
Technical Designer CAD: SZAD
Contractors: Zhuhai Gree Construction Investment Co, Ltd.
Constructors: Zhuhai Jianan Group Co, Ltd.
Engineers: SZAD
Interior Designers collaborators: Ruan Bin Design
Landscape architects: GVL Green View Landscape Group
Lighting consultant: GD Lightning
Acoustics Consultants: Zhongfutai Architecture Construction Co., Ltd.
Heating, ventilation, and air conditioning: SZAD
Sustainable components:
- Local sourcing and procurement
- Reusing materials
- Lower carbon footprint
- Economically sustainable
- Less air conditioning