Green, rightly called the colour of nature's heart, is undoubtedly a colour that exudes calmness and tranquility and at the same time provides a sense of vitality and effervescence. Bringing the colour into your home décor palette is sure to bring a refreshing change.
And perhaps because of its roots in nature, the colour is extremely versatile. The softer shades tell tales of a sweet breezy nature while the bolder shades add a touch of undefinable elegance. So here's to going green in our most favorite vacation destination this season, OUR HOMES!
Also Read: How to Design a Perfect Kitchen

WAYS TO INCORPORATE GREEN IN YOUR DECOR
Plants in Décor - This one is the easiest, most budget friendly and closest to nature approach to making green a part of your home decor palette! It is literally and figuratively, the "go green approach!" All plants ranging from the bonsai to money plants make for a beautiful element in the décor!

Elements of nature like twigs of plants making a simple yet elegant centre piece for our dinner table
INTEGRATING THE LOOK
Green, being a versatile colour, can be combined with numerous colours to complete the look! One could go in for combining greens with greens, or with pastels, or even with other bright hues, to create the ambience of one's liking!
Styling Green with Neutral Shades-

Pops of green combined with an otherwise neutral muted background of creams and beiges, impart an extremely elegant look to the space! The shades that best stand out against a neutral base colour scheme range from pistachio green to leafy green! Basically just any shade!

Pastel green runner with neutral furnishings adding elegance to the tables cape

Combining Multiple Shades of Green -

This has a very therapeutic and calming effect! And more so, if you combine it with shades of blue, taking inspiration from nature itself! The seas, the skies and the meadows brought home and you can enjoy your stay at home vacation in the lap of nature!!




Multiple tones and shades of green integrated to complete a calm yet vibrant bedroom and reading corner

Go all out on Vibrant Shades for a Festive Look!

Combining bright green with other bright hues like orange, red, or even teal imparts an ethnic and festive look! You could make this a part of your home décor in any room, or could use this colour scheme for a change in the look during the festivals!

Combining green with other bright hues, in ethnic patterns gives a festive look

Green with Metallic Shades

-

Pops of bold green can be combined with an otherwise metallic styling to brighten up the corner and bring it to life!




Pop of bold green with bronze, gold, copper and browns to balance the look
Green is one of the most restful hues to the eyes, and due to its versatility can be combined in any way as mentioned above in any room, to create the desired look! Experimenting with the shades, patterns and textures, is the best way to finding your own style and comfort zone! Bringing green into your house will surely add to the elegance and vibrancy of your already beautiful home! From mint to sage, to lime and olive, there is a shade of green for every home! So here's to a lot of hariyali inspired charm in your abode!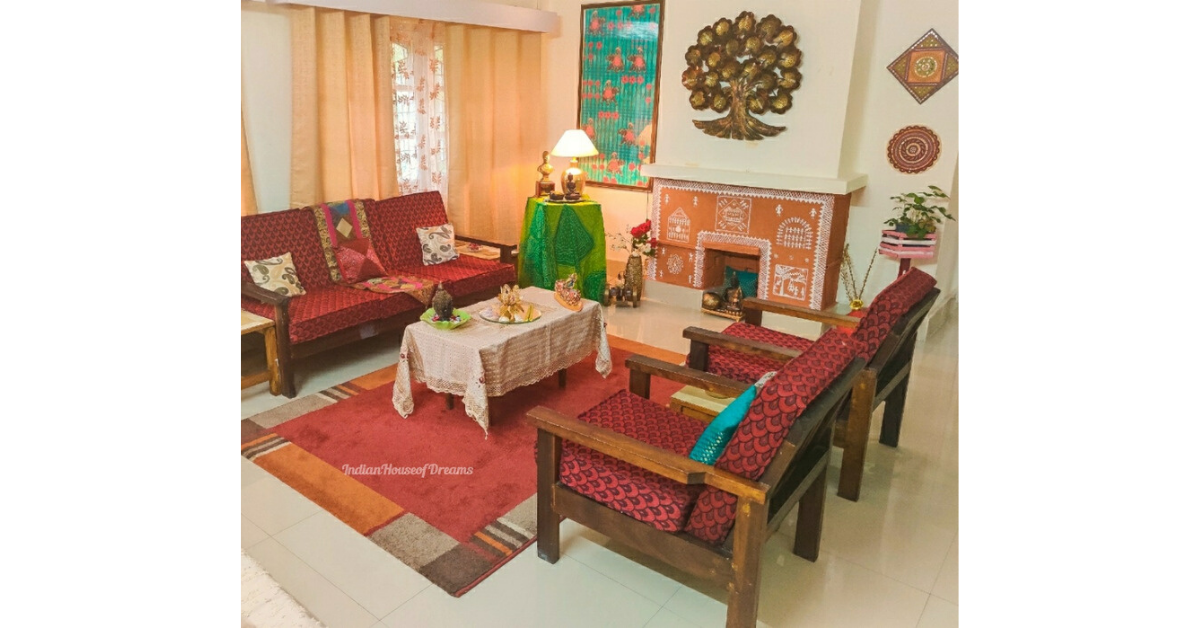 The article was submitted by Muskaan Bhatia Grover. The views expressed are of the author.
Also Read: Invertonomics: In conversation with Architect Goonmeet Singh Chauha
Do you wish to contribute and feature? Submit your idea