The side table might seem trivial, but it is a mighty piece of furniture that can (literally) transform your space. Like seriously, who doesn't wanna go off-beat with bright and brilliant decor pieces that impact the style of the home? Yep, everyone does. And if you do, too, an accent side table is what you're missing out on! There are several ways to style a side table, from sleek sculptures to scented candles and elegant vases filled with fresh flowers. Whatever your taste is, eclectic bohemian or minimalist modern, there's no shortage of inspiration to enhance the ambience of your home with a side table decor.
Also Read | Kareena Kapoor Khan's new home in Bandra with European styled decor & wooden detailin
But do you like cameras flashing every time someone enters your home? If you don't, this blog ain't for you 'cause the side table decor schemes we will discuss will create a visual interest so solid that your visitors (can't stop) won't stop taking pictures of it. So, without further ado, let's start with the first side table decor idea!
1. Simplify with a minimalist style
Add a shimmer of shine to your space with a minimalist side table. We kid you not; simplifying with a minimalist side table can be a holy grail for your home decor. A single statement piece as the centrepiece – decorated with a succulent plant, beautiful flowers, or refined sculptures, can create a lasting impression. However, we suggest you keep the colour scheme neutral and avoid cluttering the table with unnecessary items. Also, your resistance game's gotta be strong. Resist the urge to over-decorate when going minimal because like they say – less is always more with minimalist decor!
Use negative space to create visual interest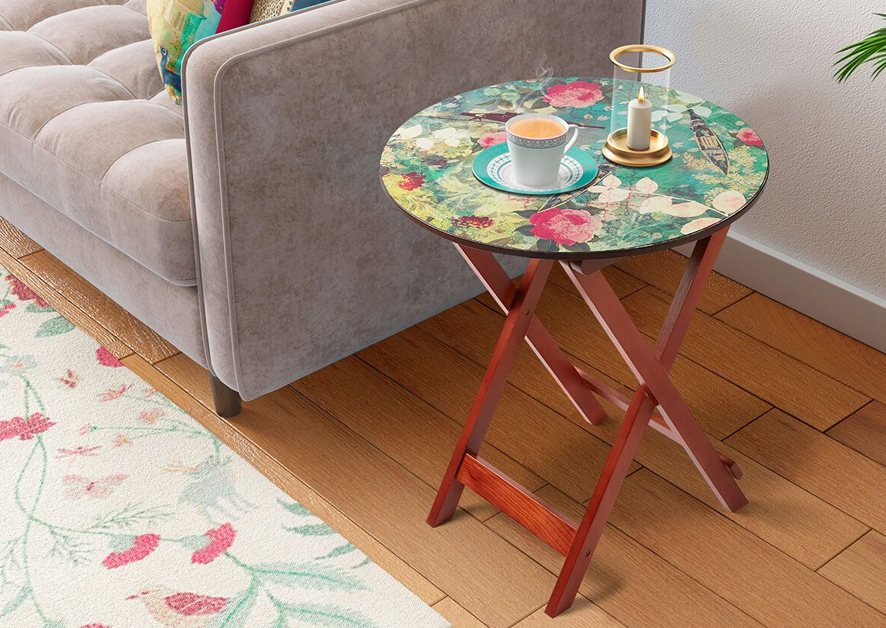 If you're a sucker for the whole "business in the front, chill in the back" vibe, use negative space to create visual interest. Like c'mon, do you want a cluttered table with too many objects lying around, making people wonder if this is a part of home decor or a lazy lifestyle? No, right – so, choose items that draw attention and leave large portions of the side table empty.
Also Read: Easy Guide To Choose A Color Palette For Your Space
Design it with a simple sculpture or vase to make the minimalist side table a statement piece. When you allow plenty of room to breathe for your furniture (and yourself), you can formulate an asymmetrical, functional, and aesthetically pleasing balance. So, my dearest – embrace negative space to enhance your side table from practical decor to fine art!
Utilize functional décors like coasters and lamps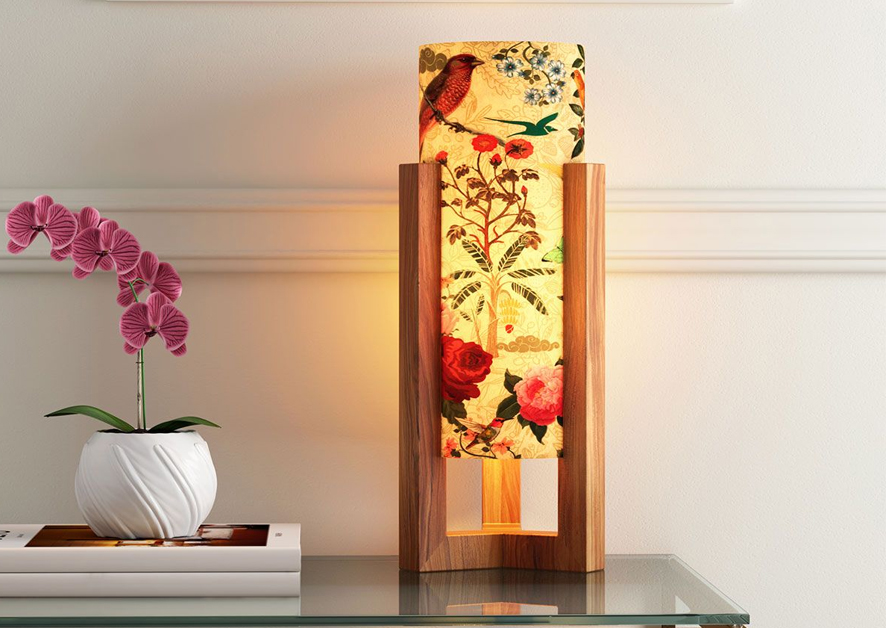 Want a home decoration that instantly raises the spirits and makes you feel outdoors? If yes, take the so-called functional side table as an opportunity to add identity and quality to your home decor. Because let's face it, side tables ain't just for function but aesthetics. Adding coasters is a great way to augment the side table decor while protecting it from water rings. Consider adding aesthetic lamps for a pop of colour or pattern. Choose contemporary, minimalist, or boho chic coasters and lamps that complement the decor. And there you have it – by utilizing functional items like coasters and lamps, you can formulate a functional yet minimalist decor, the very representative of tropical destinations!
Incorporate natural elements like plants and stones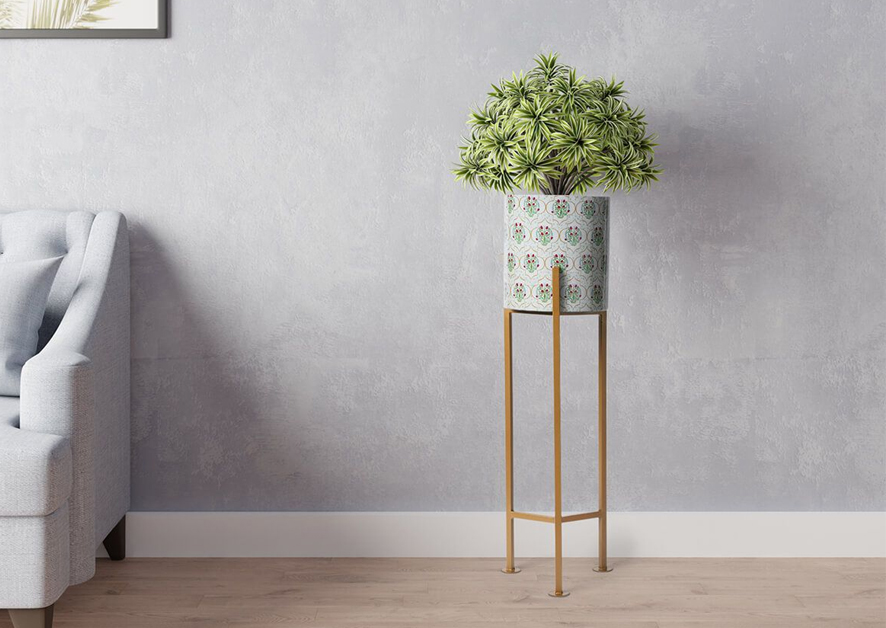 Think of beachy-tropical exotic places – you know, like Bali, Hawaii, or the jungles of the Caribbean. What is it that occurs to that beautiful head of yours? That's right, natural elements – cool breeze, lush foliage, sand and stones, and more. If you want that dramatic feel in your interiors, adorn your side table with a beautiful selection of natural elements such as plants and stones.
Also Read: Easy Guide To Choose A Color Palette For Your Space
A small succulent plant in a ceramic pot or polished stones can help bring a touch of the outdoors into your living room. Combining colours and textures can create a peaceful oasis, inviting visitors to slow down and appreciate nature.
2. Add a pop of colour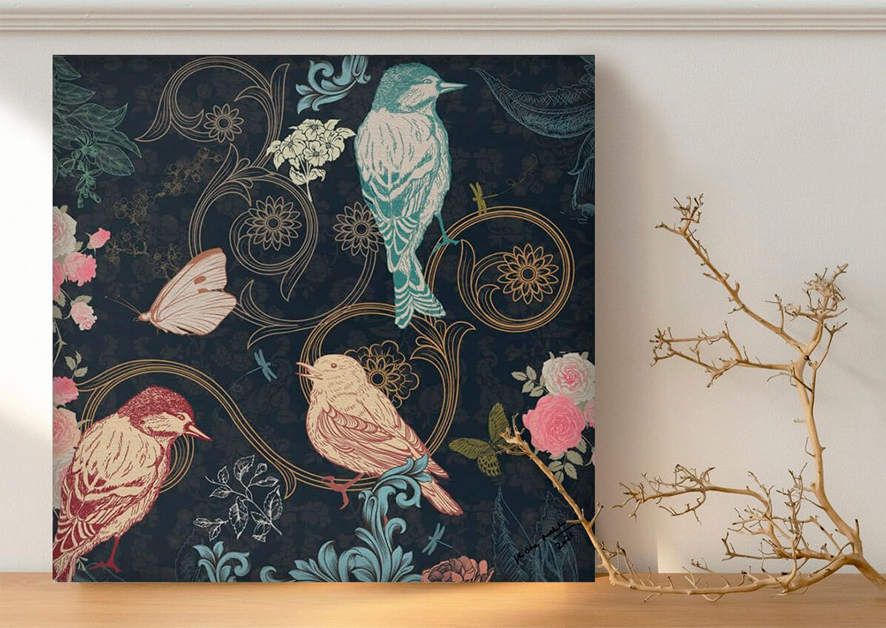 Conjure the beauty of faraway locales without venturing out the door by adding a pop of colour to your side table decor scheme. For an unexpected twist that cudgels the brain to fall in love, incorporate a splurge of colour on the side table or the wall above. For instance, a small vase filled with bright yellow flowers or planters with pink peonies adds a cheerful touch. Or if you are the I-am-miss-sophisticated, opt for deep purple irises or succulents in vibrant hues. Also, consider hanging colourful wall art above your side table.
All-gorgeous home decor doesn't take much – just a few decorative accessories and the ultimate game-changer, a bold-coloured lamp. Whether you prefer a funky ceramic accent piece or a dark red table lamp, using a unique element can create an exciting display. Don't shy away from mixing and matching colours – however, keep it minimal and cohesive. For instance, a polished table lamp with a radiant blue shade next to a rustic vase filled with fresh flowers can formulate an attractive combination.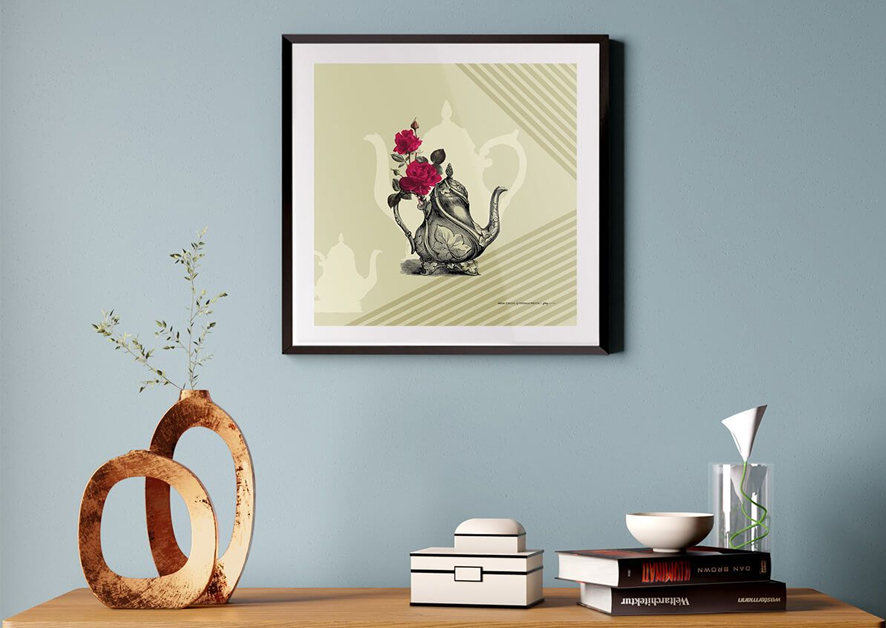 Incorporate colourful artwork or books into your side table decor for an inescapable modern island vibe that will keep every moment of your living room relaxed and you utterly chilled out. Adorn your side table with rich artwork and books to create a lively atmosphere.
Also Read | Shiro Kuramata's Samba-M shines again with Ambientec at the supersalone in Milan
Indian-culture-inspired wall art in bold hues of red and blue against a stack of vintage hardcovers with faded spines can furnish an inviting space for relaxation and inspiration. Or a delicate porcelain vase with a bouquet of freshly picked wildflowers against muted tones can uplift the artful arrangement even better!
Classic and timeless, adding a colourful vase with fresh foliage or flowers can (literally) bring life to your space. The delicate petals dancing gently in the breeze and their sweet fragrance filling the room create a soft and intimate vibe, breaking up the monotony and instilling peace (and, might I say, romance?) Besides, incorporating a vase with sophisticated patterns and bright hues immediately draws attention to the stunning display, radiating joy and positivity!
3. Mix and match textures
A trendy look is about mixing different elements and creating something exceptionally excellent! Adorn your side table with a combination of unique and visually appealing textures. Bring smooth finishes like metal or polished wood and natural elements like stones or bricks to create an interesting contrast. Consider adding an exciting touch of softness by including wool or linen fabric. Besides, experiment with colours and mixed materials to furnish depth and dimension. Be creative – the possibilities are endless!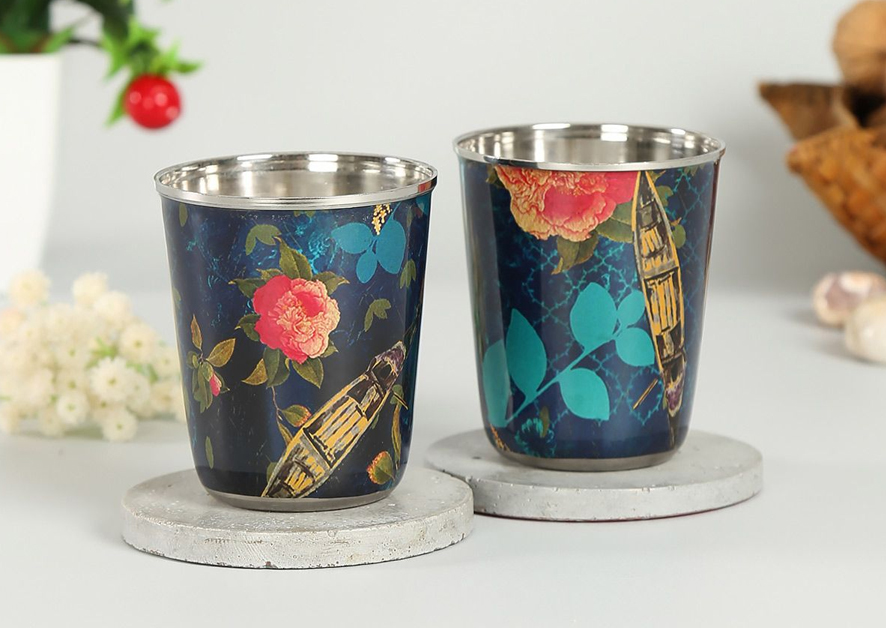 Differentiating metal, wood, and glass accents can bestow texture and dimension to the side table decor. Consider adding a bold statement piece such as a metal sculpture or hanging wooden elements with metal detailing. A sleek glass vase with fresh flowers mounted on a wooden panel will complete the existing furniture and instantly bring a new splurge of energy.
Also Read | MERAKI: New Adhesive Wall Coverings Designed by Artists From Quebec
Play around with different textures and materials – however, maintain a balance. And voilà, here we go with your island-inspired greens and tropical-oasis wooden accents complementing the side table decor!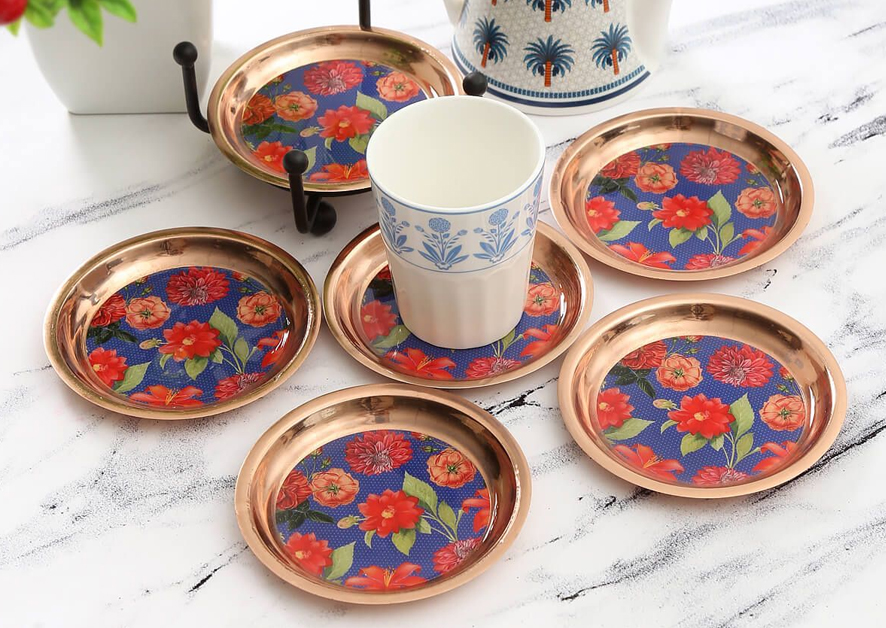 Textured fabrics create all the difference in the decor. Not only do they make the space feel cosy and comfortable, but they also add depth and dimension. The colourful contrast contributes to the playful yet formal spirit of the room.
Also Read | Five interesting ways to redefine your kitchen
So, instead of choosing plain, flat fabrics for tablecloths and coasters, add a touch of texture. Use a roll of woven jute, soft chenille, or nubby linen to create a tactile experience for anyone touching them. So, when decorating your side table, DO NOT forget the power of texture!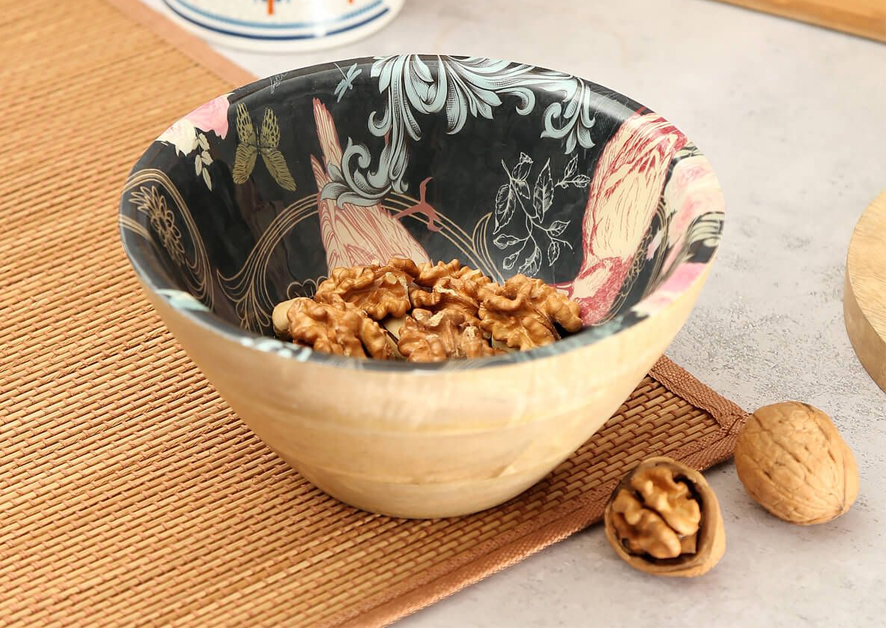 If you wanna feel less lonely, incorporate textured ceramics or woven baskets to add a rustic charm to the side table decor. Why, simply because – the basket's natural, earthy tones complement the table's warm wood tones, and the textured ceramics bestow an intriguing contrast, which is to live for! Whether used as an accent piece or a storage solution, these will add warmth and comfort to your space!
4. Incorporate personal touches
There are tons of theories applied in planning and designing home decor, but what better than to incorporate personal touches? A side table is perfect for showcasing your true personality and adding personal touches. Whether you have a minimalist or maximalist style, there are many ways to style your side table. Here's how you can do it:
We love anything that evokes a sense of emotion, and so a side table accented with sentimental items that hold meaning to you can help create a warm and welcoming atmosphere. Displaying cherished trinkets, family pictures, and souvenirs from special events can assert a story about who you are and what matters to you. Whether it's a memento from your travels, a framed photograph of a loved one, or a childhood toy, placing these items on a side table can be fun for you and your guests. So next time when you wanna spruce up your home decor, add a sentimental flair to your side table!
Are you an avid reader and have a well-curated book collection? What better way to display your favourite interest than on a fancy side table? By showcasing books, paintings, or other forms of literature, you can add personality and sophistication through a thoughtful layout and fun motifs. The key to creating the perfect side table is all about blending the niceties to establish a naturally-freshened and energetic space while keeping the vibe cool and classy. Top it off with an aesthetic lamp or a small sculpture to showcase your literary passions.
If you don't wanna play with bold hues and tons of patterns but appreciate personal aspects and tasteful colour pops, display meaningful heirlooms or jewellery. A burst of historical or vintage accents can add a refreshing look for you to wake up to. For instance, a cherished trinket, a vintage brooch, or a family photo displayed on a small stand can be an authentic injection, adding warmth to the space. Mix in some candles, fresh tulips, or books to balance the potentially overwhelming display of personal items!
5. Embrace Symmetry
When discussing side table decor ideas, symmetry is a powerful tool, ladies! A simple and effective way to embrace symmetry is by placing matching accent pieces, allowing a Scandinavian and sophisticated vibe. For instance, placing two identical side tables on either side of a large piece of furniture or matching items on either side of the table. The key is to create balance and harmony that elevates your side table decor game!
Create an attraction that attracts eyes with perfect balance and symmetry. Use pairs of items, such as two identical lamps or potted plants, to add dramatic interest. To make the arrangement more welcoming, add similar textures, shapes, and colours to tie everything together.
If you wanna create a masterpiece, adorn your side table with a symmetrical arrangement of items. Place stacked books beautifully aligned or a vase of fresh flowers flanked by two matching candles on either side. You may also install a little library cart to highlight stylish storage.
Matching frames or decor items are all the CRAZE right now! If you want to create exquisite, expensive-looking side table decor, adorn it with matching frames or decor items with cherished memories. You see, it all comes down to creating a functional space that's attractive at its best. Choose matching portraits or accent pieces for your side table to achieve a cohesive and polished look.
Wrapping up
Creating luxe-looking home decor seems daunting, yes – but with just the right accent pieces, furniture items, and decor ideas, you can create glamorous home designs and surprise yourself! To furnish a functional and fashionable space, you don't need to plough all your money into buying exemplary decor equipment – a few statement pieces will suffice, just like a side table. And with India Circus, you can get just that! So, implement these ideas and live your dream – all day, every day!
Also Read | Holt Renfrew Ogilvy dazzles as a sustainably forward luxury flagship