The world is changing at an amazingly fast pace. The traditional lifestyle is being replaced and taken over by modernism. Today functional and futuristic ideas are given priority over tradition. Under such revolutionary evolution, there is an acute need to keep the spirit of cultural heritage alive. There are innumerable ways to preserve the cultural heritage like incorporating Arabic Calligraphy art with Resin. It is modern classy and at the same time preserves the cultural heritage as it reflects its identity in a unique ravishing manner. The Arabic Language is one of the most beautiful, fascinating and enchanting languages in the world.
Also Read | Arabic Resin art decor launches by Artist Madhavi Adalja
Arabic calligraphy is an art form in itself due to the alphabets being so peculiar and versatile in their shape, form, style, rhythm and composition. It beautifully integrates cultural language with the creative design of resin.
Origins and Characteristics of the Arabic Alphabet
The starting points of the Arabic letter set can be followed by the composition of the semi-migrant Nabataean clans, who possessed southern Syria and Jordan, Northern Arabia, and the Sinai Peninsula. Stone engravings in the Nabataean script show a strong resemblance to modern Arabic writing. Calligraphy is viewed as the quintessential work of art of the Islamic world — Arabic letters enhance objects going from bowls to structures. This explores the variety and versatility of Islamic calligraphy and historical efforts to perfect and codify the scripts and generate new forms.
Also Read | Visioarq wins Architizer 2022 Architecture + Wood
Arabic calligraphy known as Islamic calligraphy is a form of writing which is an important traditional art form in the Muslim world. Calligraphers produce elaborate designs using Arabic script. Arabic calligraphy often has a religious or devotional theme and often includes prayers or passages from the Quran, Islam's sacred text.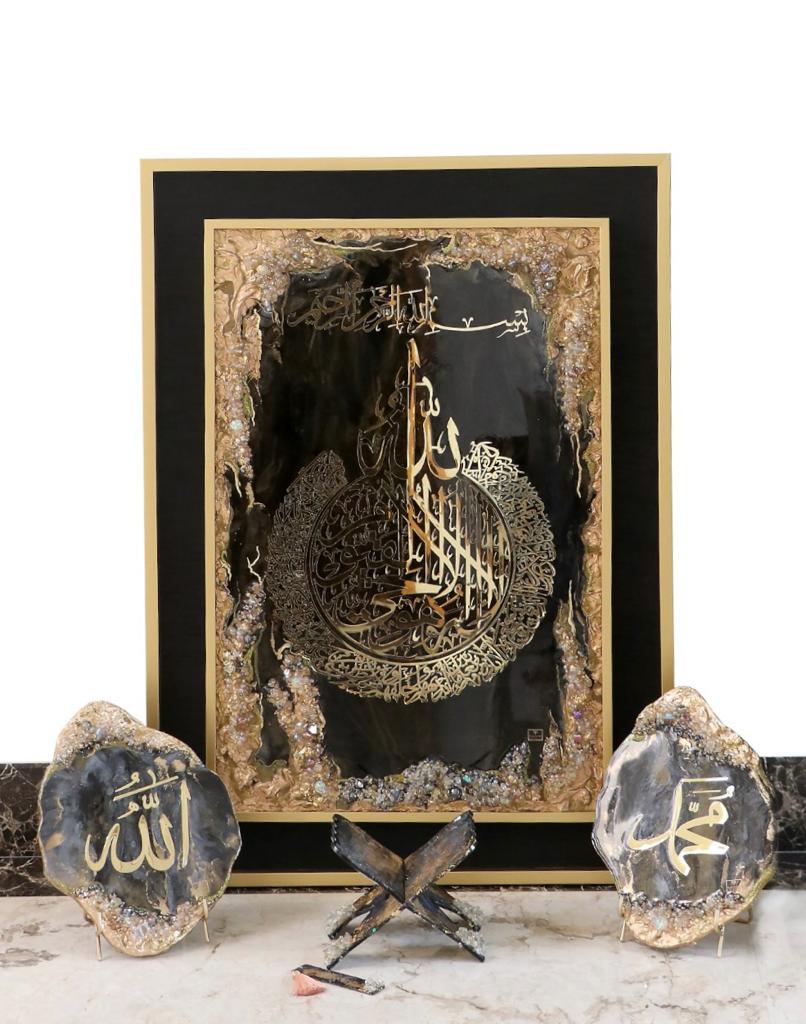 Calligraphy has an exceptional spot among human expressions in the Muslim world because of the traditional prohibition against representative art in religious contexts. Islam prohibits the worship of images, and many Muslim cultures extend this prohibition not only to images of Allah but to all religious figurative art. Arabic is the language of the Quran, giving Arabic calligraphy a special status even in Muslim cultures where Arabic is not the dominant language.
Also Read | The summer beach edit by Tisva
Many internal and external facades in Arab region buildings always use Arabic calligraphy as the main feature of decoration, reflecting the power of letters to minimize the impact on the massive scale. Taking into the thought the mathematical shapes and types of Arabic calligraphy they all have a similar ability to make new plans of systems and ideas. This has penetrated Indian interior concepts too. To take Arabic calligraphy to a new level I have incorporated resin with Quran verses and tried to create a new art form for the perfect interior.
Also Read | A floating pavilion as testing grounds for museum-to-be M. in Dutch new town Almere
Resin art is a unique style of art where you don't use typical brushes or acrylic or oil paints. It is considered an advanced painting for the new-age creative crowd. The unique materials involved in the creation of resin art differentiate ordinary artists from resin artists hence I tried combining two beautiful art forms - Resin and Arabic Calligraphy. Materials used along with resin are crystals, gold leafing, metallic pearl pigments, and modelling paste.
Contributed by: Madhavi Adalja, Resin Art Creator