In this digital age, physical books are still loved by many. The smell of old books, the collection of favourite novels, the rustling pages of dog-eared paperbacks and manuscripts are not only a treat for every bibliophile, they also take you places. Books don't just offer knowledge but are also a great source of happiness. When you want to get away from the humdrum of the daily hustle of work from home, books are a great ally. They give you the ability to see things in a different perspective.
A cosy, snug sitting area and a quaint little library with your favourite authors on the shelf, can give you the perfect setting for a literary retreat.
Here are 5 décor ideas to inspire you:
An Essential Book Case in the Living Room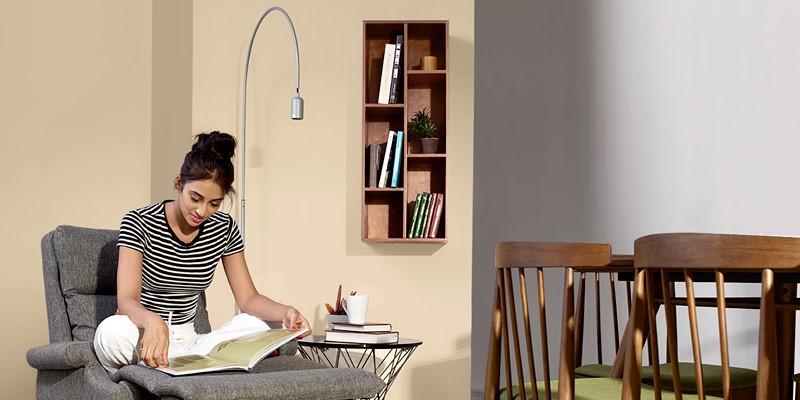 Having a book shelf like the Accord Book Case (INR 21,180 from Script by Godrej & Boyce) in your living room gives an eclectic touch to your place. In addition to your stack of must-reads, you can even arrange your favourite CDs and prized artefacts to display. Adding plants and paintings around the case will complete your library. Spruce it up with some potted plants and miniature decorations and give your reading space a great new look.
A Library Set-up in your Drawing Area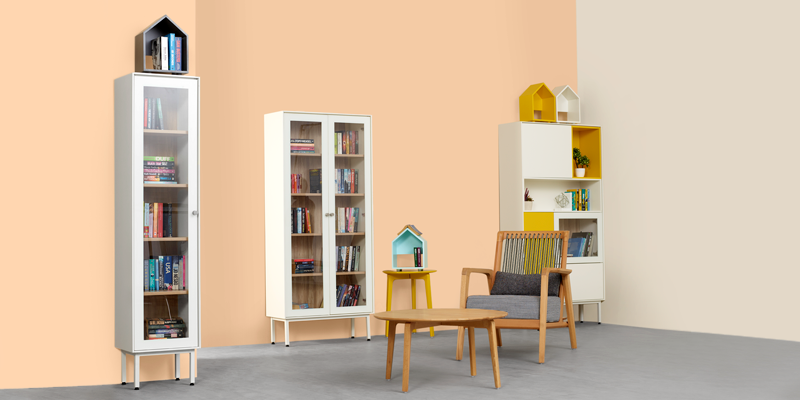 Contrary to popular belief, the average person reads more than they did two decades ago. The Dwell Ecosystem (INR 232,793, from Script by Godrej & Boyce) is crafted to cater to this resurrected need and Inspires to read a good book. With its bold contemporary style and devilish charm, the Dwell Ecosystem is a treat for those who wish to connect with their inner bookworm.
Also Read: Decorating home with Fresh flowers
The single and double door display cabinets with transparent doors display your hardcovers in style. The easy chair and table create a comfortable seating environment for you to curl up on, armed with your favourite book and a cup of coffee. And, should you need to take a break to refill your cuppa, you can keep your book on the current page on the sloping roof of the portable storage.
A Charming Bookshelf that Seeks Attention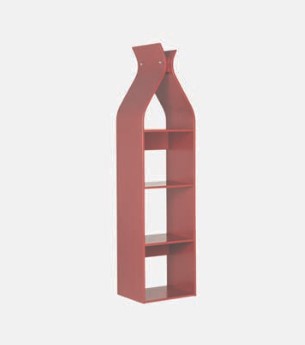 Nothing like a vibrant book shelf to help organize those piles and stacks of books for a bookworm. The toffee shaped Candy Bookshelf (INR 41,470, from Script by Godrej and Boyce) comes can make a perfect gift for your Nerdy brother. It comes in three exciting colors; Matt Yellow, Red and Light Grey and versatile enough to be placed on the floor, or in a space crunch, mounted on the wall. It's a beautiful way to display the stacks of books and keeping them organized. Moreover, it inspires Instagram-savvy aesthetics alongside your furniture.
A Go-to Sofa Chair for Peaceful Reading Time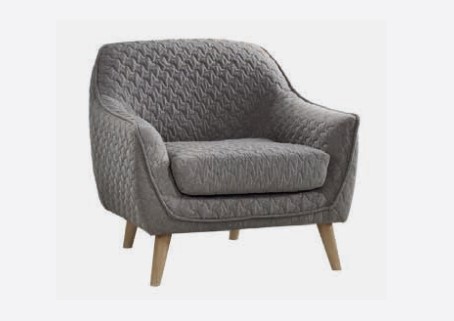 Now that work from home is here to stay, in this new normal, comfortable seating postures are a priority. If you are tired of sitting all day at your study, the Rhythm Sofa (INR 49,350, from Script by Godrej & Boyce) is the best solution to give you a breather. Its 3D woven fabric adds a unique touch to the upholstery offers an elegant yet gentle reminder to take it easy sometimes, and calls for you to take a break. Place it next to your book shelf and enjoy a pleasant reading time.
Also Read: Vastu-verified selection and placement of furniture is key to evoke prosperity and positivity at home
Contributed by: Nagabhushan Hegde, Chief Designer - SCRIPT by Godrej & Boyce