Montreal-based company élément de base, edb, known for its modular sofas and fully removable slipcovers, is launching more than thirty new products for the Spring/Summer 2023 season.
Several new collections for both residential and commercial projects are being introduced.
In addition to its new sofa collections, edb is expanding its offering with several new product lines, including slip-covered bed systems with or without storage, rug collections, and outdoor furniture. There will be lots of new products to discover.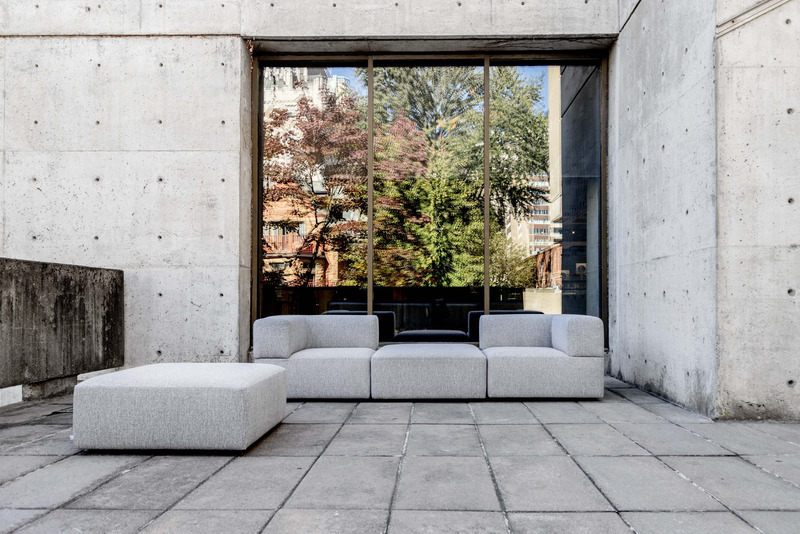 Sectionals: Coastline, Tonic, and Grid
edb is offering new proportions and dynamics. New modules are being introduced to existing collections such as the Coastline and Tonic. The Coastline now comes with an XL chair, while the Tonic collection is given a new silhouette with the addition of a wide chaise that creates the archetypal sectional. For larger, bolder spaces, the new Grid sectional features a removable quilted cover with very generous volumes.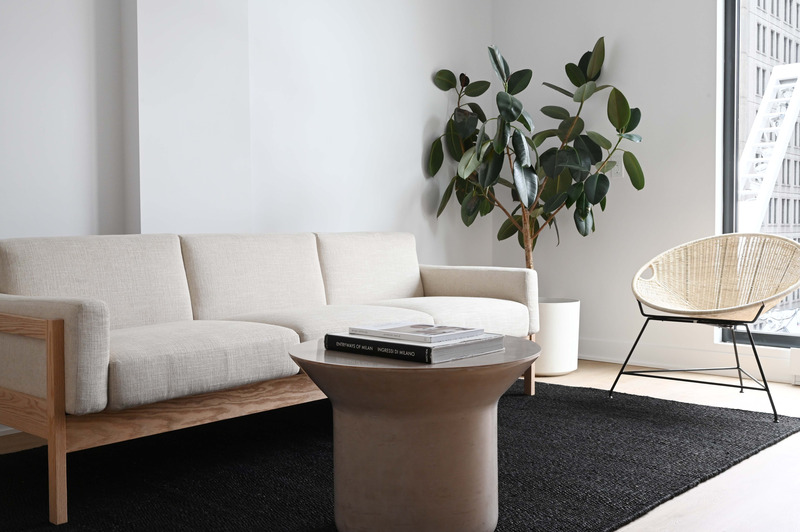 Sofas: Gallet, Prairie, and Passage
New shapes and materials guide edb sofa designs for spring and summer 2023. The Prairie sofa, a new wood-framed sofa, adds an organic touch to the existing sofa line. Available in a three-seat format in all edb fabrics, the Gallet collection plays with curves. Puffed up with curved lines, the collection comes in five pieces that can be combined to create unique sofa sections or layouts. The Passage sofa system comes in three modules for added versatility. Very compact, the Passage is designed to fit into small spaces. Each module can be used as an individual seat or can be combined to create endless possibilities.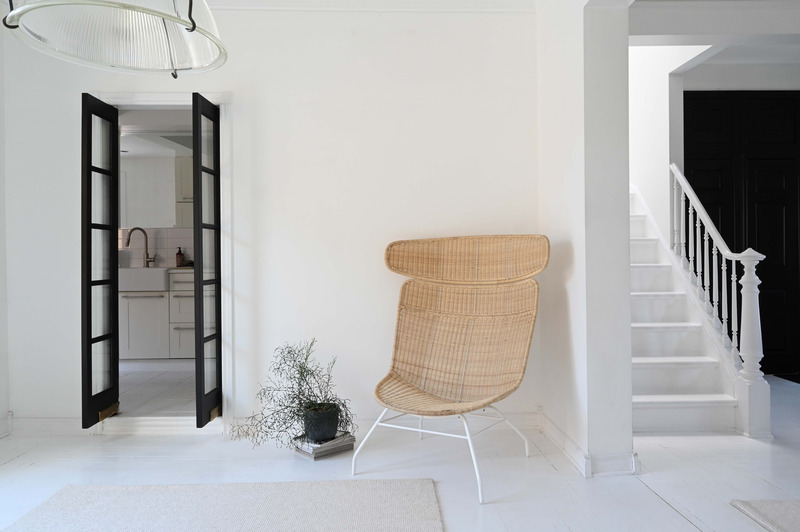 Outdoor Furniture: Panorama XT and Horizon
Looking to move beyond the four walls, a new collection of outdoor products is being offered for the summer. To start this new adventure under the sun, two collections of sofas are being offered: Panorama and Horizon. Panorama follows the existing indoor version and is now available in three outdoor modules: the corner, the single, and the ottoman. These modules are designed to create unlimited configurations.
Horizon takes a completely different direction in terms of style, with an aluminium frame on the legs and a custom spaghetti-twist rope weave. This collection is available in a sectional version with a generous chair for lounging under the summer sky. Two versions of back cushions are also offered: classic, rectangular, and soft cushions or oversized bolsters.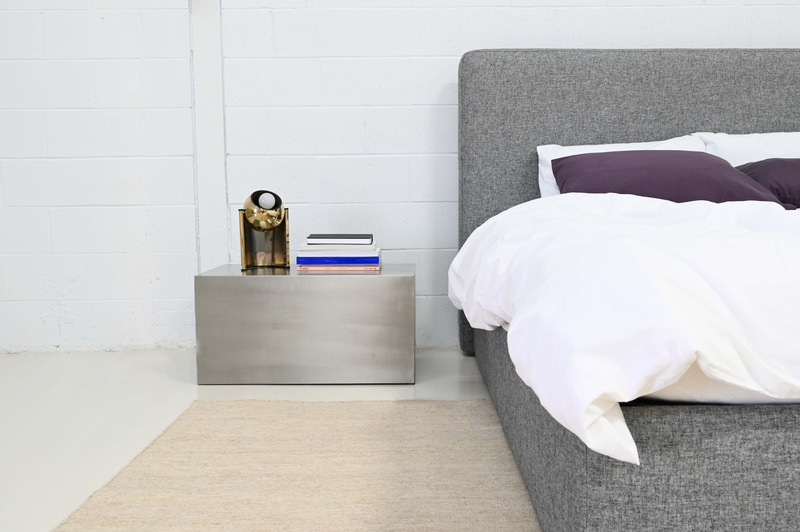 Bed Systems
The new bed systems are available for both the home and hospitality industries. Available in King and Queen, Double and Single sizes, these systems are available with or without headboards. Two headboard styles are offered in versions with or without storage: Dive, with rounded corners and a simple, classic look, and Grizzly, with sharp corners and thick padding. The removable slipcovers on these bed systems make them versatile options that can be adapted to different decors. Both are available in all edb fabrics.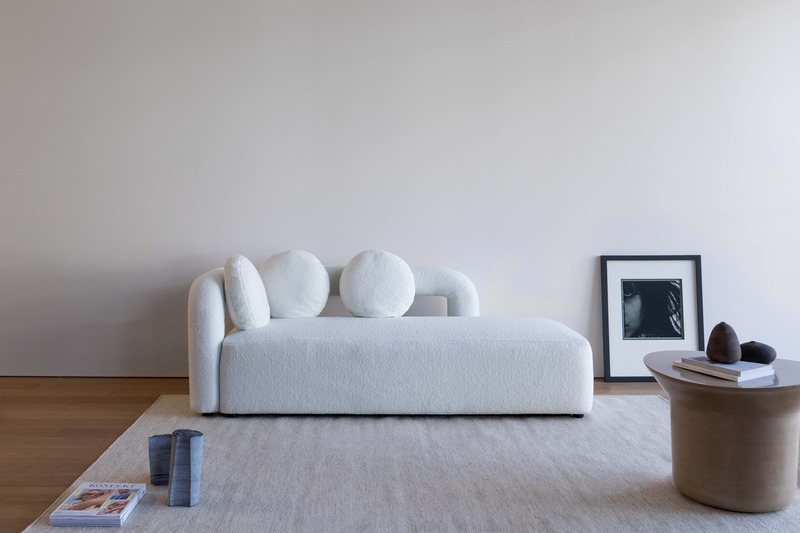 Rugs
edb is also launching its first rug collection: Great Plains. For this entry into textiles, the focus is on six models that embrace nature, minerality, and soft, earthy tones. Entirely plain and without any particular pattern, the materials used and the predominantly neutral tones make these rugs timeless and versatile. Seeking to differentiate itself from the conventional 5'x8' rug offering, edb offers 6'x9' rugs that cover a generous surface area and fit most sofas and sectionals.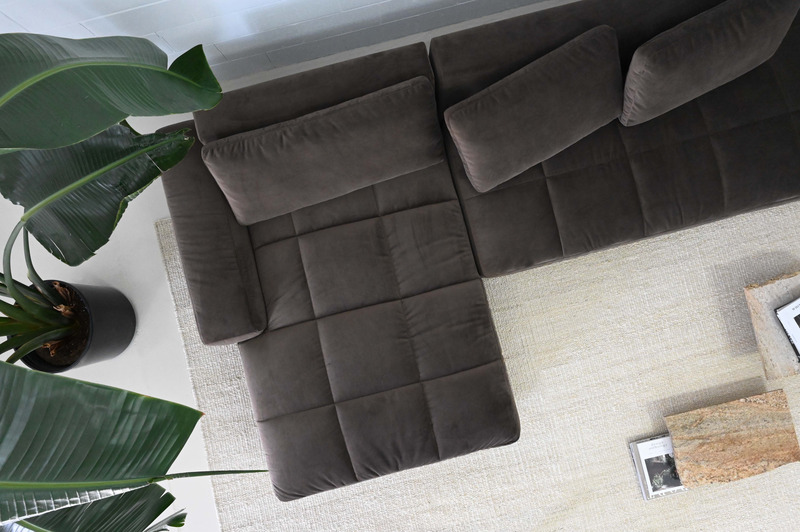 Armchairs: Inox Chair, Spa Chair, and Beluga
edb is tackling new design and production processes: materials and shapes never before presented in edb's armchair collection. The Inox Chair is a complete departure from edb's fully upholstered pieces. The same is true of the Indoor Spa collection, which uses woven rattan. Finally, the Beluga chair pushes the limits of the production process in terms of curvilinear construction and manufacturing.