Traditionally, sustainable decor in a home has been considered challenging and not very appealing to the eye, given the unavailability of materials or decor that speaks to one's personal aesthetic while still being 'green.' However, it's best to take the approach that eco-friendly living is all about trying one's best and gradually implementing changes that add up to a more sustainable and eco-friendly lifestyle. What's more, by using a few simple tips as outlined below, one can easily add more character, tranquillity, and beauty to a living space, by using eco-friendly methods.
Also Read | Interior stylist Bhawana Bhatnagar on smart lockers at residential spaces
Sustainable home decor is found in products made of cane, bamboo, clay or stone. An example of this can be seen in an antique Naga Panel that we sourced for a home, which creates a striking design for a wall. We also used antique wooden statue heads, which were modernised by putting them on pedestals. Especially now, a focus on locally-sourced materials and products is the best way to remain eco-friendly as you decorate your home. Products made using local, traditional techniques and incorporating local materials are best suited to our climate as well - which is important when considering the long-term durability of items you choose for your home.
By supporting your vendor base and local economies that either customise furniture to your requirement, has readily available stock, or uses both local craftsmen, labour and locally available materials, you will be making far more sustainable decisions than importing your furniture from another city or country.
Also Read | Five interesting ways to redefine your kitchen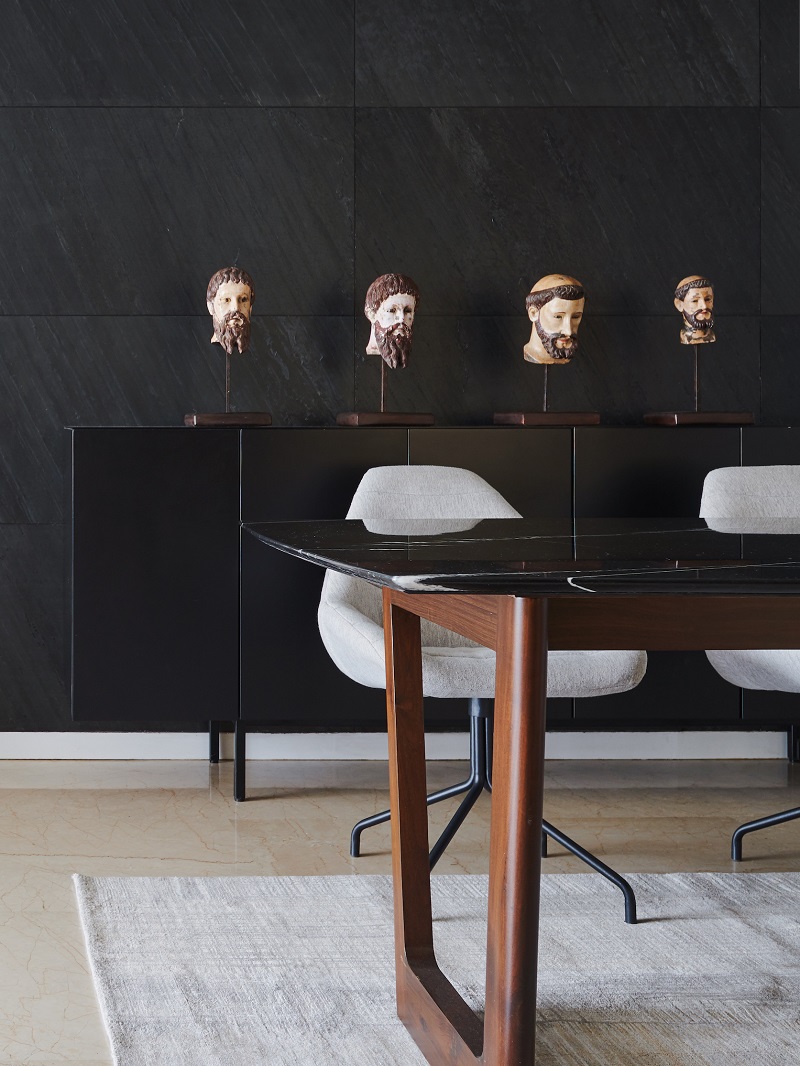 For a quick and easy way to redesign your space, consider recycling and reusing furniture and decor rather than buying new. It's pretty easy to find a new avatar for your favourite items, by placing them in different parts of the house or adding one simple element that will change their look and feel. For example, we used a cast glass table with a glass vase and antique statue all sourced locally from local craftsmen.
Also Read | Home Accessories For Hydration
A great tip to keep in mind when trying to design sustainably is to decorate with only what you need - choose a few spaces in your home that would benefit greatly from accent pieces. Invest in just a few statement pieces like art or antiques - spending money thoughtfully on a few items that will have life-long value versus on a lot of little things will definitely help create a more sustainable space - the adage 'less is more' is definitely important here.
By buying and using only what you need, and by reducing the distance it has to travel, you reduce the overall carbon footprint you're creating. A good example of this is the wooden heads we used - instead of buying a lot of newly produced products, factory-made goods, or importing items like Murano vases etc, we went to our local antique store and found affordable items that still looked great. Similarly, you can visit a local flea market and buy old antique door handles or keys, or make an installation out of old, used products to make a feature wall.
Also Read | Prestigious International Honors for Innovative, Inclusive Upper Los Angeles River Plan
There are many ways these days to remain 'green' as you go about decorating your home. Just use a bit of creativity and look around you to see what's already abundantly available, as there are so many eco-friendly options that would really liven up your living spaces.