In 2015, when Suman Sharma co-founded Mangrove Collective, she envisioned an organisation that bring stories of indigenous skill and material artisanal craft, alive through a contemporary idiom. Thus, Mangrove Collective began as a 'collaborative design' studio.
A prolific designer, entrepreneur, curator, and academician, she has diverse industry experience spanning nearly two decades. Suman completed her Masters in Furniture Design from the prestigious National Institute of Design, Ahmedabad in 1998. Over the years, she acquired valuable exposure working with leading lifestyle brands such as Good Earth, Samir Wheaton Design, and Krea, where she served as the Creative Head and helped set up the Retail Division for the brand.
Also Read | Five interesting ways to redefine your kitchen
Other endeavours extended to her own entrepreneurial ventures such as Viva Design (exporting Furniture) and Sotomoto (retailing a range of kids' furniture and lifestyle accessories). She is also a keen academician and among other engagements she has taught at the Pearl Academy, New Delhi as a visiting faculty member for 5 years.
She believes that while all products need to skillfully amalgamate craftsmanship, comfort and style, they acquire a deeper meaning with the stories that get embedded in them through the people and processes behind their creation. She also believes that only a seamless collaboration, between the client, designer, technician and maker, can allow this to happen. She continues to look for new ways to facilitate this symbiosis.
Also Read | Interior stylist Bhawana Bhatnagar on smart lockers at residential spaces
Over time, the firm has grown into a 'design and make workshop' dedicated to crafting customised furniture, millwork and projects. In 2018, the firm bagged the prestigious EDIDA Designer of the Year award at ELLE Décor Design awards and was shortlisted as the finalists in the Lexus Design Award India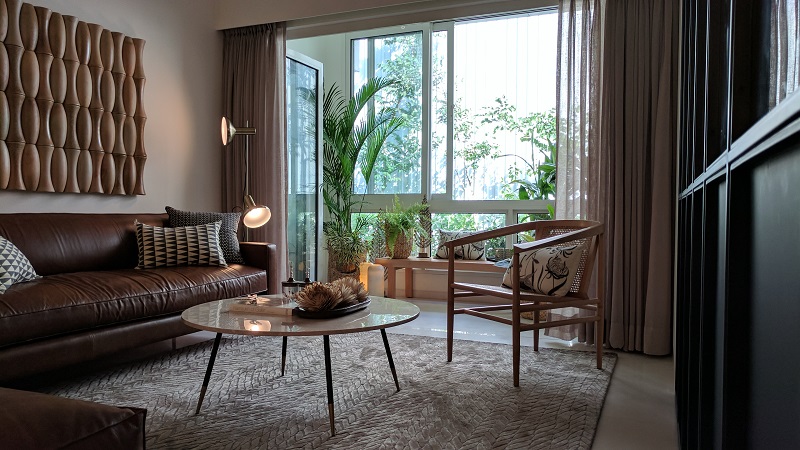 When you have a strong body of work, it is difficult to choose a particular project that has satiated the creative thirst of a professional. Suman echoes the views, "It would be challenging to narrow it down to a single project as every commission for us has been an experience unto itself. For instance, we recently had the opportunity to develop the millwork and furniture for a colonial-era guesthouse-turned private residence in Lutyens' Delhi. The result of an enriching collaboration with the design team at Studio Lotus, among many others, the project enabled us to work with a myriad of decor elements to fuse the classic and the contemporary and bring every space in the home to life.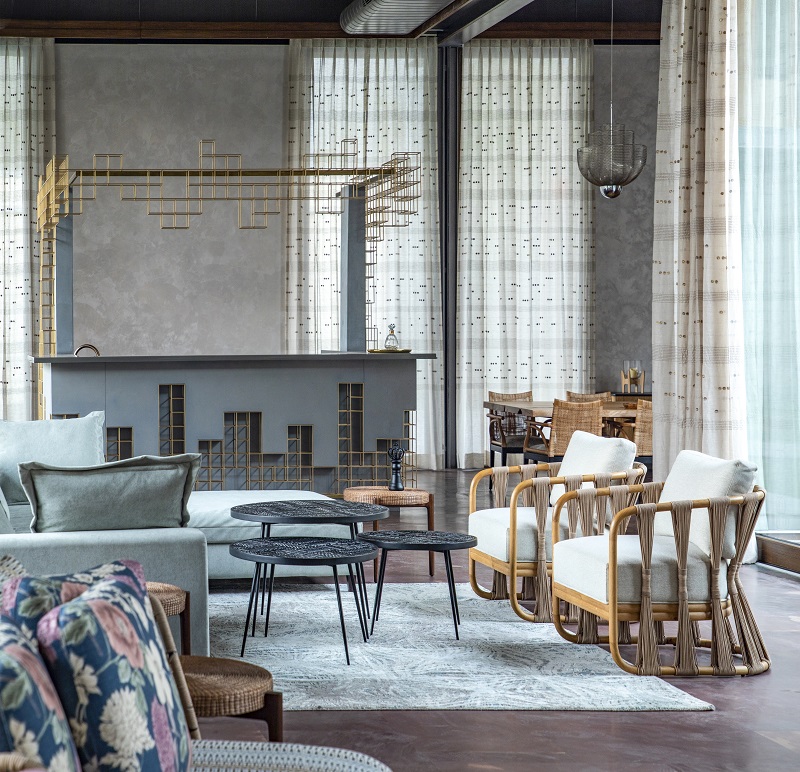 Another recently completed commission includes The Villa in the Woods, a treehouse-inspired stilted home nestled in the foothills of the Himalayas. We were provided free rein into transforming raw volume into a rustic mountain home-like experience imbued with warmth and a sense of understated luxury."
Celebrating outdoor living and offering comfort being key to the design of the furniture, Mangrove team references traditional craft techniques such as wood carving and the time-honoured ikat dyeing technique to create a sense of warmth and intimacy. From the hospitality segment, one of their latest works is the RAAS Chhatrasagar, a 20-key eco-hotel in Rajasthan perched atop a century-old dam that overlooks the Chhatrasagar Lake. The project also made into the Design Dekko's list of post lockdown hideouts. Post Lockdown Hideouts: RAAS Chhatrasagar, Nimaj, Rajasthan
"The exciting brief by RAAS—to bring the outdoors in—enabled us to craft bespoke pieces that reflected the rich biodiversity of Chhatrasagar. We worked alongside Studio Lotus and printmaker Dhvani Behl of Flora For Fauna to create a canvas celebrating the wildlife. Key interventions included intricately detailed hand-crafted AC consoles and a Flamingo bar counter that features elaborate hand-carved relief work depicting a flock of flamingos, further extending the craft narrative down to the tiniest details," Suman shares.
Also Read | Home Accessories For Hydration
Mangrove Collective believes that there is a need to narrate stories through local crafts. And more so that it warrants a conscious process that celebrates local resources, rich traditional craftsmanship, and where designers, craftsmen, and clients are equal partners. "We are constantly challenging ourselves to look at products and process in a new way - combining traditional craftsmanship with state-of-the-art technology. We feel luxury sans craftsmanship is a vain effort thus our products are designed to their impeccable details to bring joy to whichever space they inhabit," she says, adding "For us, design, art, craft, and technology go hand in hand. When we say our work is craft-based it doesn't necessarily mean that our products look hand-crafted. Depending on the nature of the commission, the requirements, and the function, either the hand or technology can take precedence over the design of the products."
This gravitation towards indigenous art-forms forms a critical part of Mangrove Collective's DNA. "For a country like ours, home to a wellspring of crafts traditions, we have at our disposal a tremendous opportunity to combine indigenous know-how with modern engineering—to develop ergonomic but also beautiful pieces of furniture. By reinterpreting indigenous and obscure crafts, local brands are giving them a new lease of life, adapting these skillsets for contemporary living."
Also Read | Interior stylist Bhawana Bhatnagar on smart lockers at residential spaces
If you look closer at the works of the team, it exudes an intricate balance of craft, ergonomics and art. And that is a consequence of the conscious process established by Suman in the firm. "We believe products must add value and have an emotional connection with the people. They must utilize the power of both hand-craft and technology if necessary and be made using materials that are responsibly chosen and procured. The act of furniture-making involves striking a balance between ergonomics (comfort), joinery details (craft), functionality, and beauty," she says.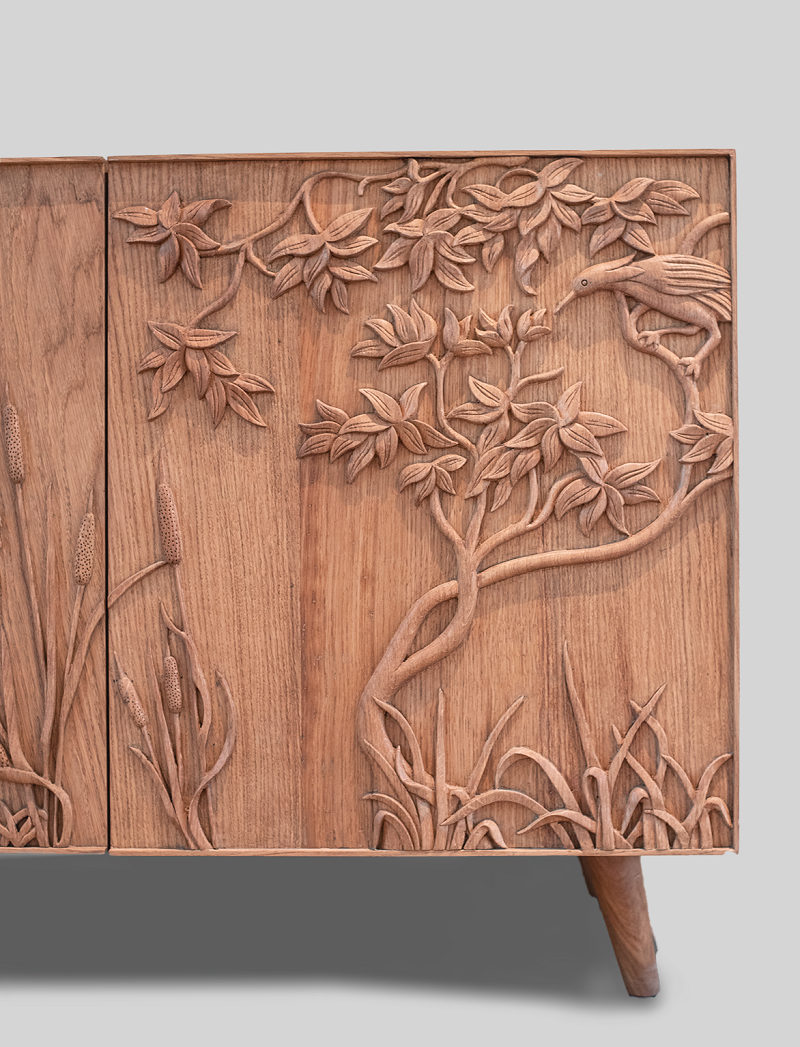 Suman is clear on her TG, and says their work is more tuned for design aware clients who value this process. "We have always believed in designing furniture for consumers who appreciate indigenous crafts and craftsmanship and value the art of hand-made pieces. With our target audience being designers and design-aware clients who are conscious of their choices--both environmentally and socially--our furniture is crafted sensitively to remain timeless and highly durable."
She asserts understanding what makes a quality piece of furniture requires a deep dive into what raw materials can be used and how one can integrate them with our traditional crafts and techniques. "For instance, cane weaving is an age-old tradition going back centuries, and its application is witnessing a resurgence in recent times. This craft form can be harnessed today to develop comfortable and highly durable furniture suited to our tropical climate and context," she notes.
Also Read | Prestigious International Honors for Innovative, Inclusive Upper Los Angeles River Plan
And that's why one of her biggest pet peeves is when someone designs a purely visual furniture that only carries aesthetic appeal but fails to offer any functional value. "Any design is only successful, which brings function into the form," she concludes.