Vibrant wallpapers adorning the walls of your home could be a sight for sore eyes! Most of us don't give wallpapers a second thought and let our lives go on with the same old paints. Little do we know- letting wallpapers into your abodes will add a sense of flair and fashion to the walls that was lost before.
A massively underrated piece of home decor, wallpapers often don't get the recognition they deserve. A wallpaper possesses versatility and charm. It has the energy to beautify your corners, make your rooms appear spacious and even add some height!
Also Read | 7 Creative ways to revamp your outdoor space and impress your guests
Another delightful fact about wallpapers is that they have a little something for everyone. Whether you're a minimalist who loves keeping it simple or a maximalist who loves going all out on designs and aesthetics. You could have a penchant for vibrant floral patterns or you could be enamoured by symmetrical geometry. There's a wallpaper out there for each and every one of us!
Wallpapers have become the talk of the town in recent times and you must be pondering why. Well, you could stick to splashing your walls with your favourite shades but let us tell you why wallpapers happen to be a favourite. There's no secret about the variety they have to offer us. Wallpapers also happen to be extremely convenient and easy to put up with minimal hassles. A huge reason they happen to have a soft space in our hearts is because they truly allow us to unleash our creativity, something most of us don't get to do very often.
Also Read | 10-Storey building made in 28 hours and 45 minutes with pre-fabricated containers in China
Close your eyes and think of a design. Something that has you enamoured with its motifs and strokes. Voila! That particular wallpaper is right in front of your eyes. They truly are a wonder.
If you happen to be someone who has been musing about switching up the atmosphere of a particular room in your home, look no further than wallpapers. A simple wallpaper that is adorned with stripes and geometric patterns has the power of making a room appear bigger than it is. Adding a cozy feeling to your bedroom can be achieved with textured wallpapers. You don't need us to tell you that the key to livening up your homes is vibrant wallpaper that always keeps the energy to a 100!
These picks of decor have a powerful potential, and when tapped into correctly can transform your homes into the destination of your dreams.
Also Read | 6 Unique ideas to make your dull and dark room look bright
We, at India Circus by Krsnaa Mehta have rounded up our favourite wallpapers for each and every one of you. Whether you wish to add a hint of heritage to your homes or a sprinkle of colour. We have it all-
Heritage & Its Wonders
Harnessing the abilities of decor to take us back to our ancient roots, wallpapers are an ideal way of introducing a walk down memory lane. It adds a rustic touch to your room, making it appear authentic and charming.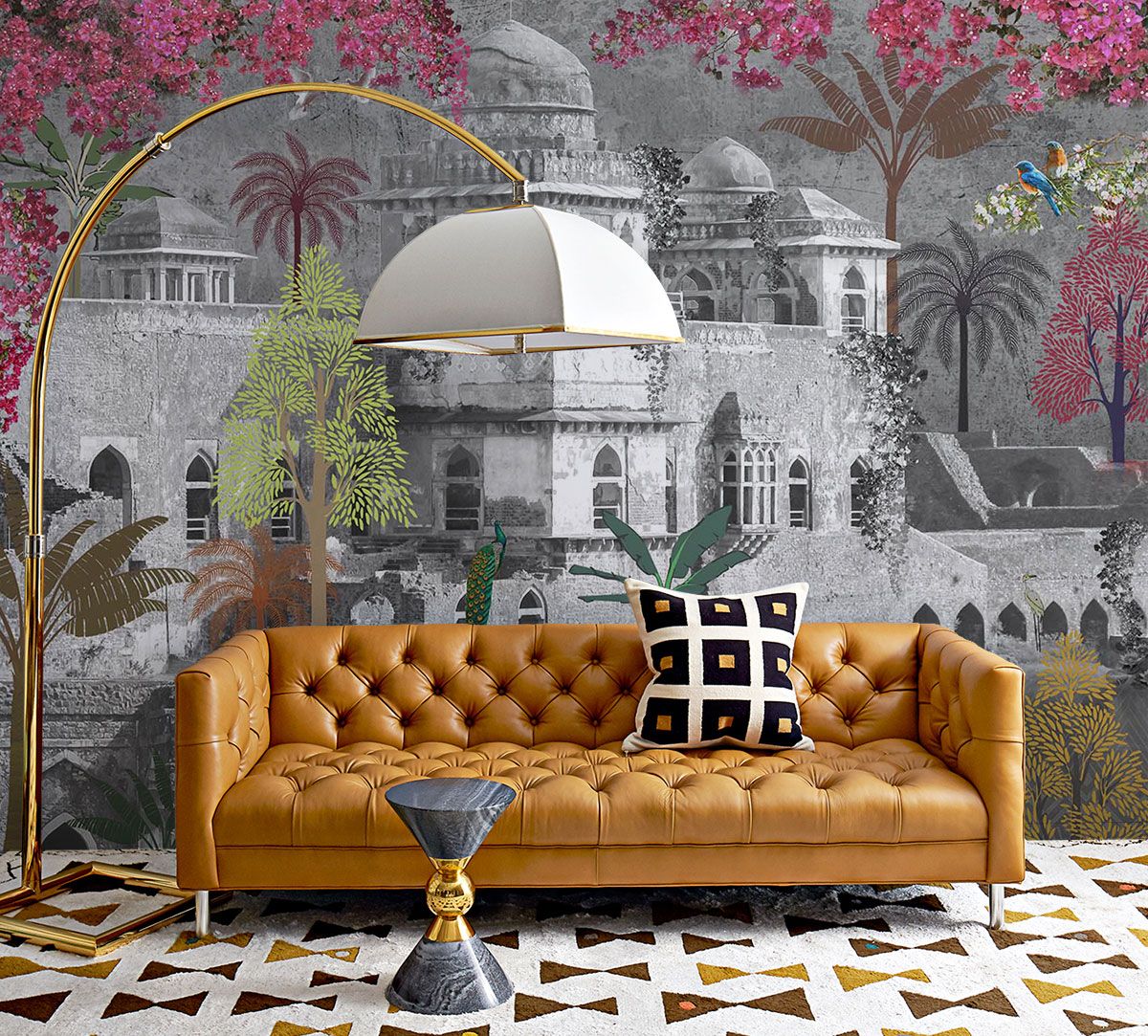 The Fort City of Mandu Monochrome Wallpaper is an ideal choice for someone who wishes to steer clear of too much colour and still wants that royal touch. Mandu is an ancient fort city in India that is renowned for its Afghan architectural heritage. The design on this wallpaper illustrates the imposing centuries-old Jahaz Mahal that stands tall in Mandu. The delicate pink flowers add a tinge of pink colour to ensure all colour isn't lost.
Bringing The Greens In
Lately, going green has been on all of our minds- and with good reason. An insurgence of individuals championing the cause of sustainability has led to hues of green being at the forefront of colour choices. Adding a splash of green to your walls will have your home translating to the wellness sanctuary you want it to be.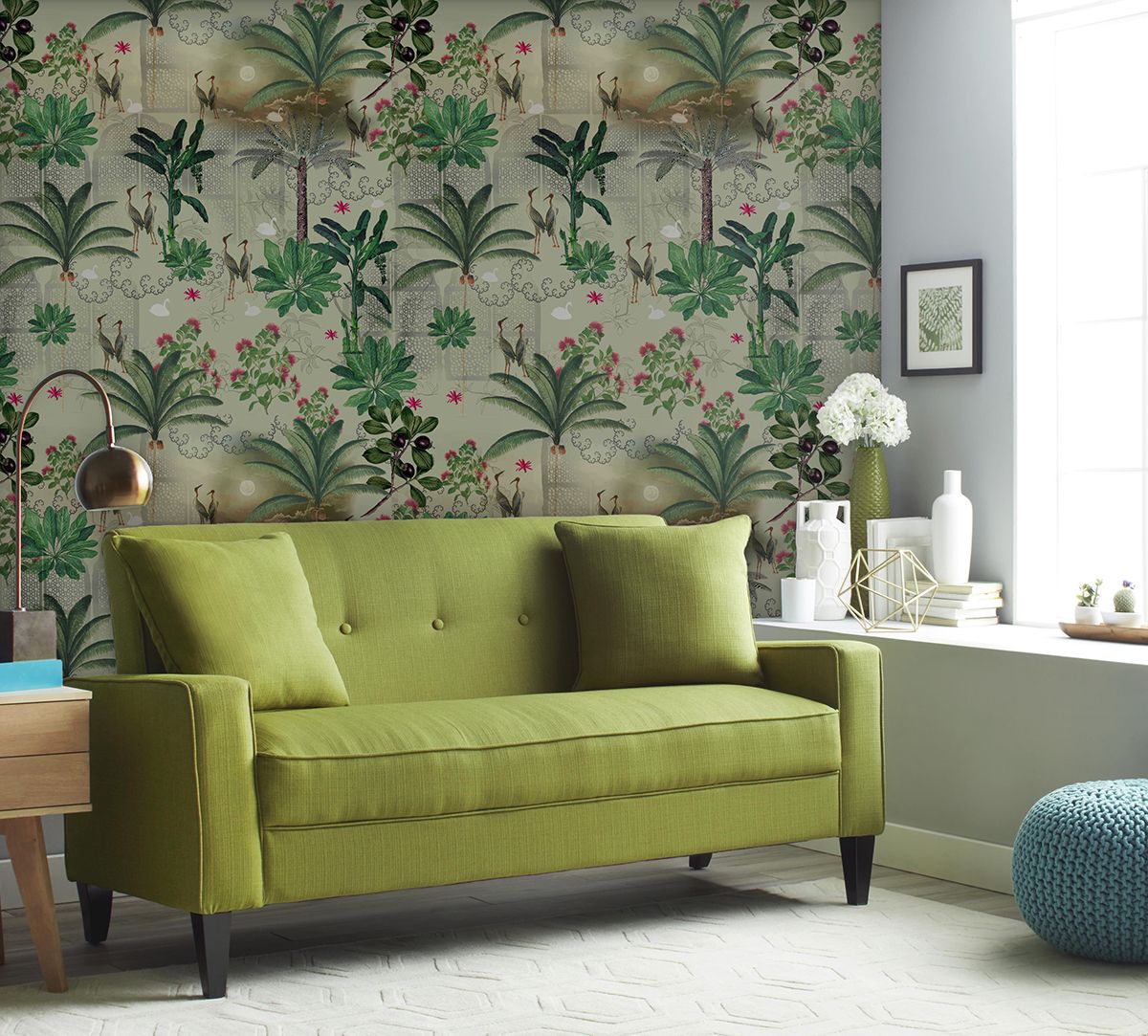 The Rhythm of The Night Wallpaper from India Circus by Krsnaa Mehta lets you bring in some green lunar splendour with this pick. It features the beauty of a full moon and lush palm motifs along with other floral patterns that come together in a succulent fashion to give your walls a classy and clean appearance.
A Lesson In Maximalist History
This is for the ones who aren't afraid to go all out when it comes to sprucing up your abode. Maximalism is a decor trend that's here to stay and liven your homes up. It shows us that more is always a great idea.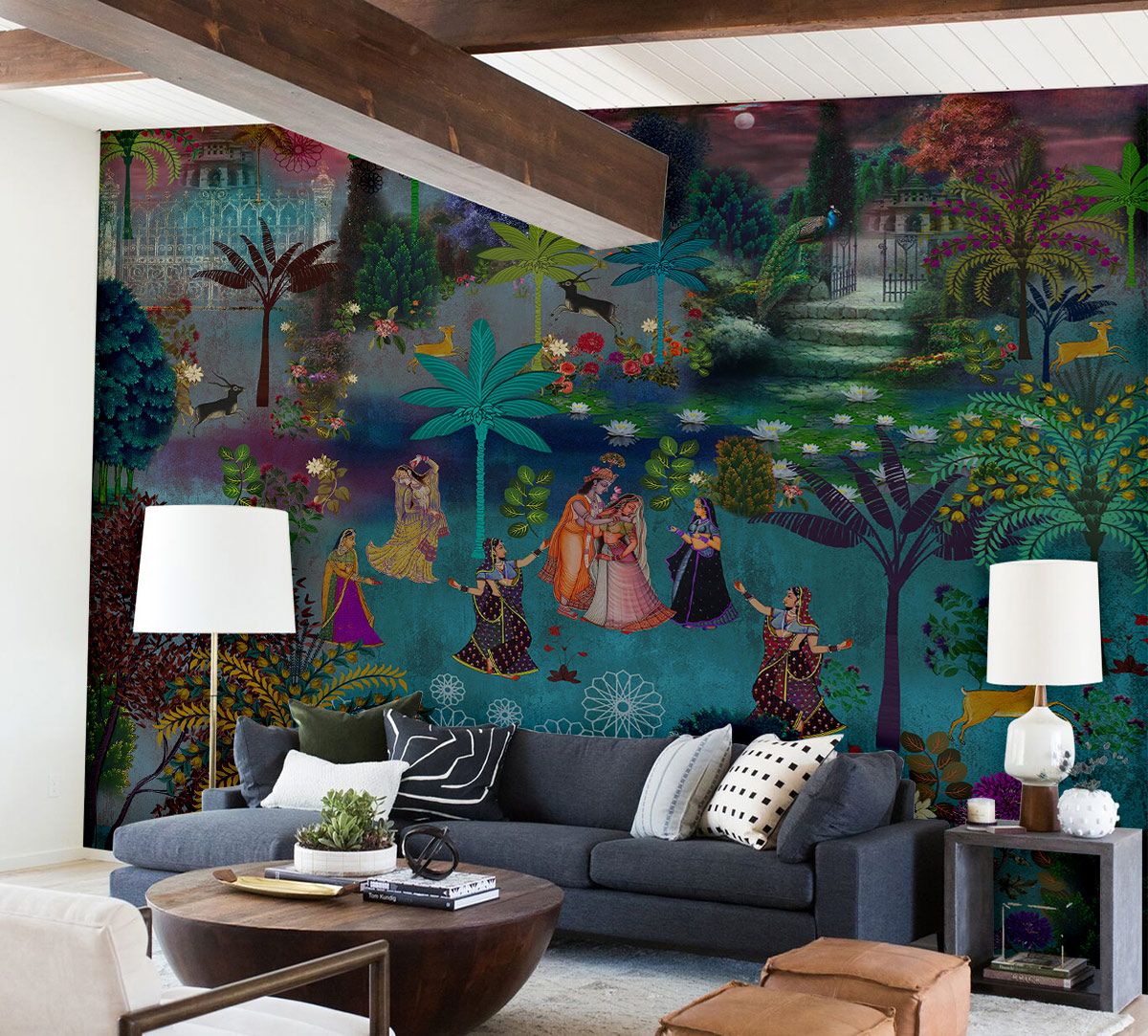 The Night of Raas Leela Wallpaper defines maximalism with a cultural touch. Raas Leela, the joyful dance of Lord Krishna and the Gopis has been immortalized in legend. Tales tell us that on a full moon night, Lord Krishna played his flute whilst Gopis danced around him by the Yamuna river. The design on this wallpaper intends to portray the same Raas Leela where a simple and joyful mingling of people rose to a transcendental state. The wallpaper is brimming with a colourful culture that transforms the atmosphere of your room instantly.
Fluttering Florals
It's time to embrace the serenity and vibrancy of florals and welcome them into your homes with open arms. A versatile motif that comes in more varieties than we could count on fingers, floral wallpapers are designed to fit the space you've created. Whether it's a contemporary space or a vintage space- flowers can brighten it all.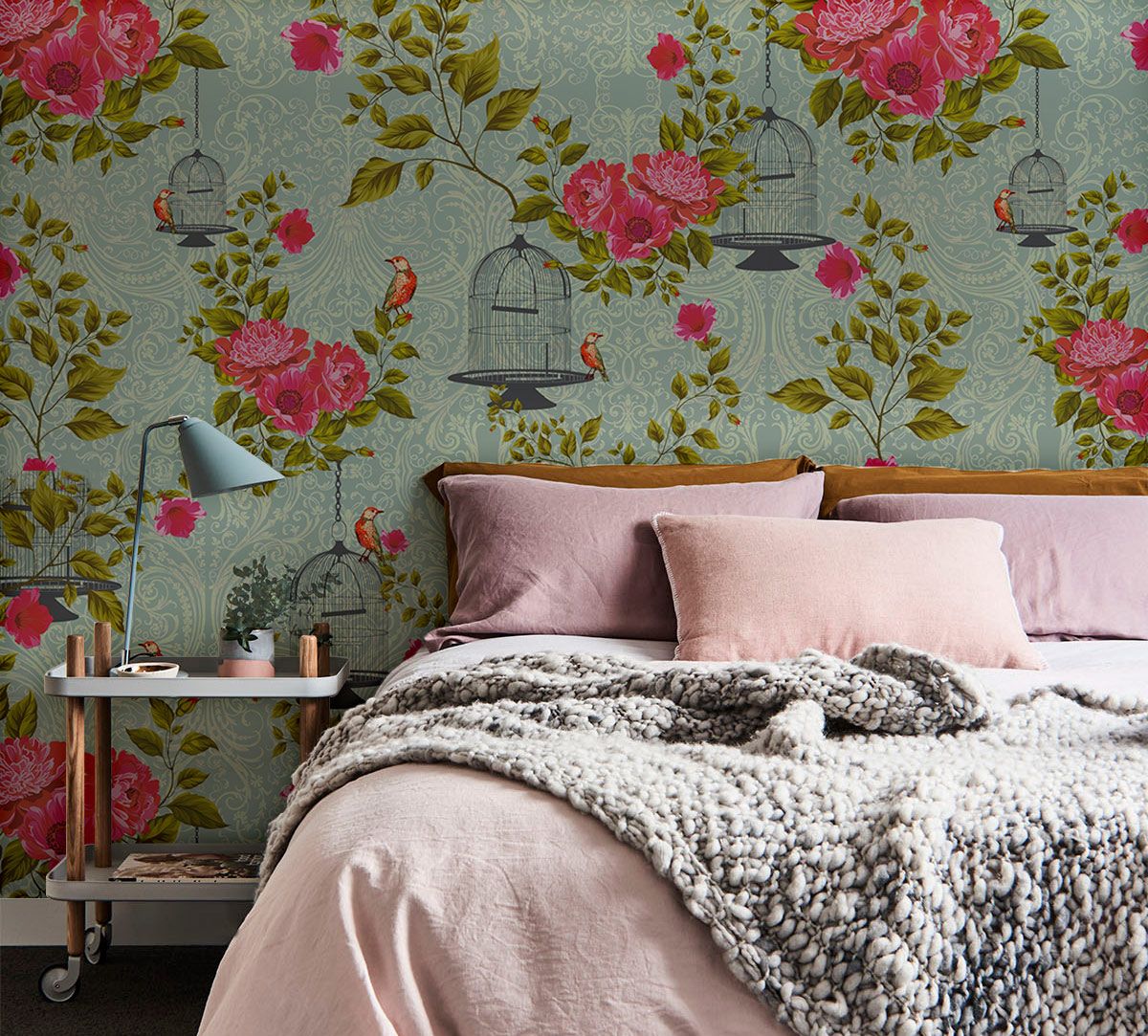 The Aves Of Blossom Wallpaper renders pink floral motifs alongside bird designs pasted on a printed backdrop. With soothing colours and rich overlays, this contemporary wallpaper can add a feeling of serenity to your home.
Geometrical Patterns Galore
Structured designs that bring order to the chaos are certainly a great fit for homes that require a change. Geometrical designs and patterns lead to the creation of a feeling of never-ending comfort in your home.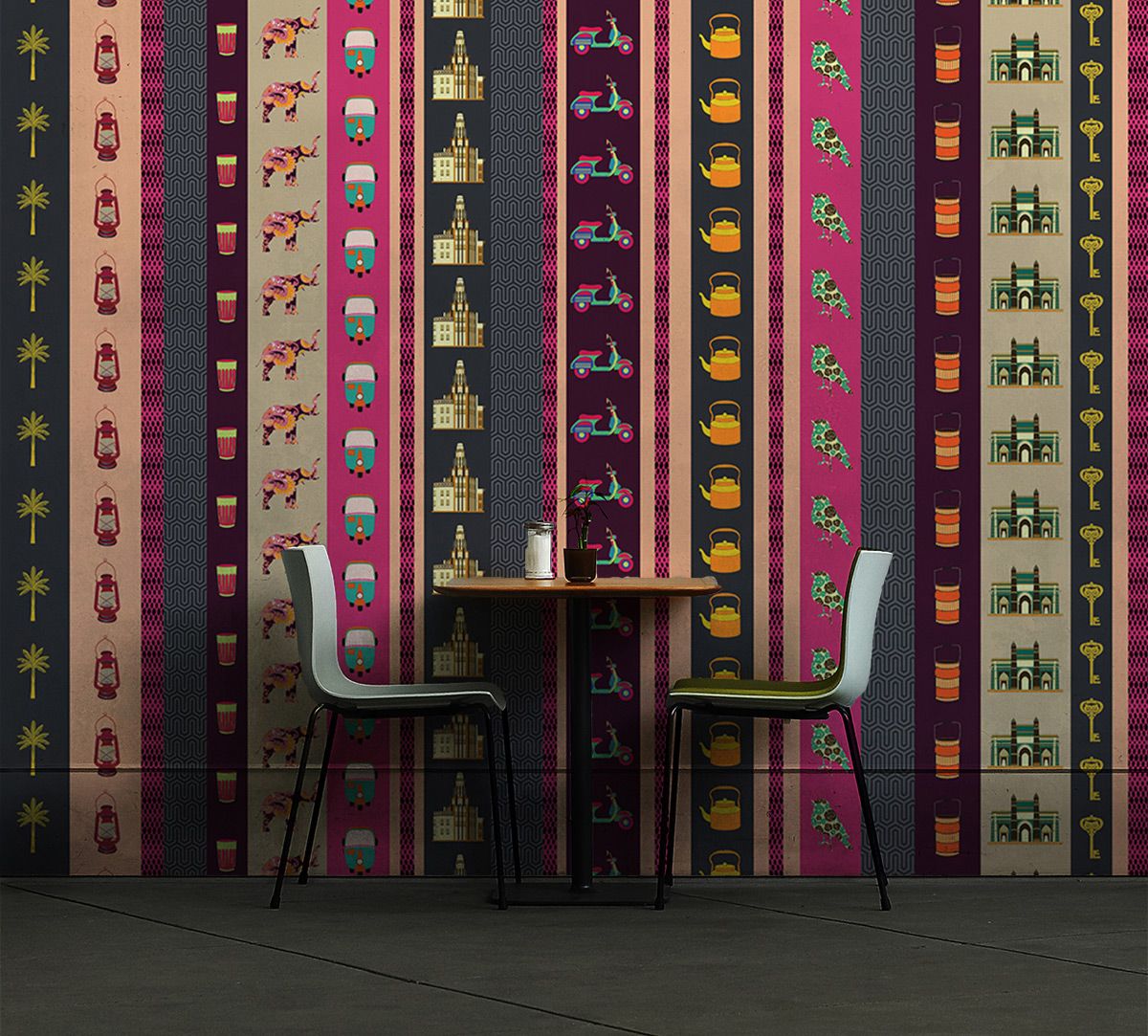 The Pride And Glory Wallpaper is inspired by the madness and the common motifs of Mumbai. This wall-art brings together the combination of designs with the chai cups and kettles, the traditional Indian lanterns and vibrant rickshaws bustling through the busy streets of Mumbai along with majestic elephants which are the epitome of pride and honour.
Also Read | 7 Budget design ideas to make your home vibrant and sexy
If you were searching for signs to shake your decor up, this is your sign to do it. Let the power of a magical wallpaper make your abode a delightful stay.