The festive season is here and it's time to elevate one's home interior. This is indeed the most exuberant time of the year; with friends and family coming over, it is essential to go the extra mile to decorate one's home as stunning interiors can lift festive spirits. Following are some handy tips from the team of Salankar Pashine & Associates that will help bring a festive vibe to your homes.
Pay attention to the Furnishings
Vibrant table mats, cushions, and bedsheets made of rich fabrics like jacquard, velvet, or raw silk elevate the furnishing while adding festivity to the space. As efficient as they are in giving homely and comfortable vibes, elements like colourful cushions add a traditional accent to the place & break the monotony, bringing a contrast to the space.
Also Read | Interior stylist Bhawana Bhatnagar on smart lockers at residential spaces
As seen in the bedroom below, the team of Salankar & Pashine Associates have included cushions with a bi-tone having embellishments that add to the cheery vigour of the room.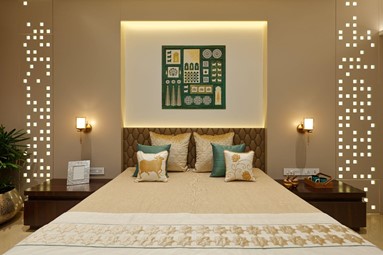 Add indoor plants
Indoor plants are trending more than ever as these green hues of natural elements in the space can never go out of style. Indoor plants in accent pots add a tasteful aesthetic to the space along with offering visual freshness.
Also Read | Five interesting ways to redefine your kitchen
Fill the home with vibrant positivity using a variety of indoor plants. They can be placed at the entrance doorways, setting a bright welcoming tone or placed in room corners, adding a lively hue to the space.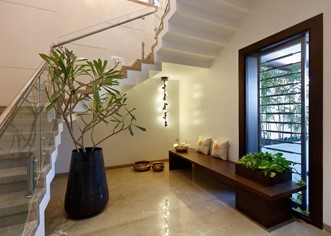 Introduce metal accents
Tabletop pieces or candle holders made of metal introduces a touch of sophistication to the space. Elements like brass, copper, or silver pieces go well with all interior settings while adding an understated glamour to the space.
Also Read | Prestigious International Honors for Innovative, Inclusive Upper Los Angeles River Plan
The living room in Luxe Villa designed by Salankar & Pashine Associates offers the room a festive touch with the help of a neutral colour scheme that is elegantly supported by metallic elements and a popping wall painting.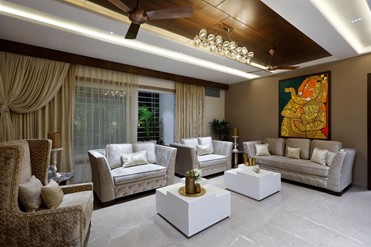 Add glass
From crockery to mirrors, glass makes a home look chic, open, reflective and barrier free. Hanging different sizes of mirrors on the walls or using glass for partitioning spaces can bring a minimalistic edge to the place. Moreover, bringing in quality glass utensils can give a good impression in front of the guests and make an elegant accessory for the dining table.
Create an accent wall
Accent walls create a rejuvenating look to the space. Designing an accent wall is hassle-free and fun! Start by creating stencil work or textural paint to walls with high visibility, and make use of a tasteful lighting scheme to bring some dramatic attention to it.
Also Read | Home Accessories For Hydration
Paints can be swapped with wallpaper if there is a time constraint. As seen in the room below of the Luxe Villa, the wooden panelling when paired with the painted wall brings the room's focus to one space thereby offering a clean, symmetrical spatial detail.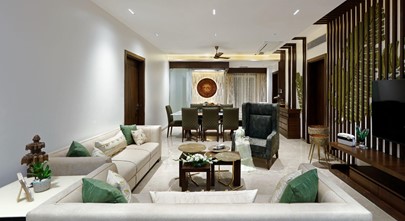 Rearranging furniture, deep cleaning, and new accessories can surely transform any living space. The team of Salankar Pashine & Associates insist upon adding extra details to the entrance with embellished lights, rangoli, and floral decorations. One can also invest in good scented candles, traditional decoration, decorative toran, antique lanterns to further decorate the space.