Whether you prefer subtle shades or bold hues, there are innumerable possibilities to create an aesthetic and inviting home decor. If you want to make your home brighter, add a pop of colour and texture with cushions!
Homes often become a dumping ground for stuff, and the continual wear and tear make them look run down. Redecorating the house can be daunting, but have you ever considered adding a few colourful cushions here and there? You will be mesmerized by the difference a few cushions can make! Cushions can be a game-changer in formulating visual appeal that reflects personality and taste. Experiment with different sizes and shapes, and mix and match patterns for a playful, eclectic vibe. For a more sophisticated feel, stick to a monochromatic palette.
Also Read | Kareena Kapoor Khan's new home in Bandra with European styled decor & wooden detailing
India Circus offers a variety of vibrant and colourful cushions that instantly brighten up your bed. From intricate patterns to cheerful prints, the bed cushions can transform your bed into an oasis of comfort and style. The bed cushion covers are soft and durable, ensuring you get the quality you paid for. So, why settle for a boring bed when you can have a sleek and stylish one? Here's how to decorate your home with colourful cushions from India Circus!
Also Read: 7 Simple steps to Declutter your Work Space
How to choose the right cushion for your bed?
You must take care of a few things while choosing the right bed cushion, especially bedroom size and style. Secondly, you should always prefer a vibrant colour that caters to your taste. Remember to add plush materials, including satin, silk and faux fur.
What kind of fabric to choose for bed cushion sets?
An apt choice is cotton or satin material. Cotton is breathable, making it comfy for all seasons. Satin adds a luxurious and effortless vibe with its natural sheen. It is a very durable fabric made from strong fibres, so it will stand up to a lot of wear and tear. Satin is resistant to wrinkles and stains, so it will look good even after many washes.
Decorate your home like a pro with India Circus cushions!
With a wide array of patterns, designs, and colours available at India Circus, you can add a touch of vibrancy and elegance to your existing home decor. Mix and match the styles to define a personalized look that suits your character. So, whether you want to augment your bedroom, living room, or any other space, India Circus cushion covers are perfect.
Also Read | Shiro Kuramata's Samba-M shines again with Ambientec at the supersalone in Milan
Blooms and Swans Cushion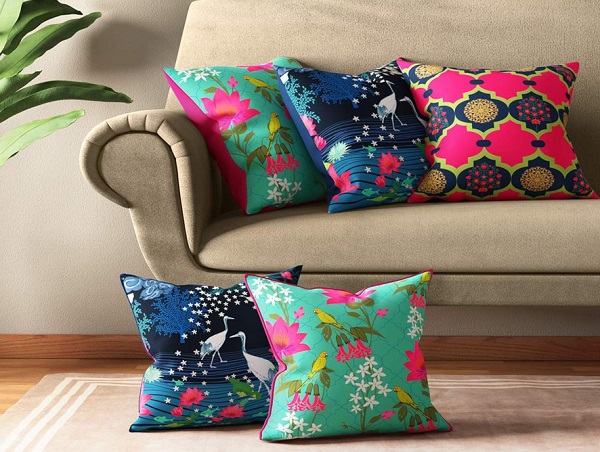 The Blooms and Swans Cushion from India Circus come in a set of five. Blossomed with gorgeous floral patterns and swans, this bed cushion cover set instantly uplifts the room decor. The intricate floral pattern features graceful swans, which adds a touch of sophistication. This cushion set is made from premium-quality material and creates a beautiful and harmonious design.
Also Read | Kareena Kapoor Khan's new home in Bandra with European styled decor & wooden detailing
The cheerful colours and patterns make it perfect for adding a decorative touch to the bed or snuggling up on the couch. The Blooms and Swans Cushion from India Circus is ideal if you want a comfortable bed with a cushion that adds personality and character to your room.
Lakeside Crane Flight Cushion
Featuring an aesthetic design of a flock of cranes soaring across a serene lakeside landscape, the Lakeside Crane Flight Cushion from India Circus adds a touch of nature and serenity to your bedroom! It is a perfect addition that offers a vibrant and colourful design. The cushion cover set is fabricated from high-quality materials, ensuring solace and durability. Whether you want to read a good book or watch TV lying comfortably on the bed, this cushion provides the ultimate support. Make it a great conversation starter and don the Lakeside Crane Flight Cushion from India Circus today.
Also Read | Arabic Resin art decor launches by Artist Madhavi Adalja
Legend Of The Cranes Poly Taf Silk Cushion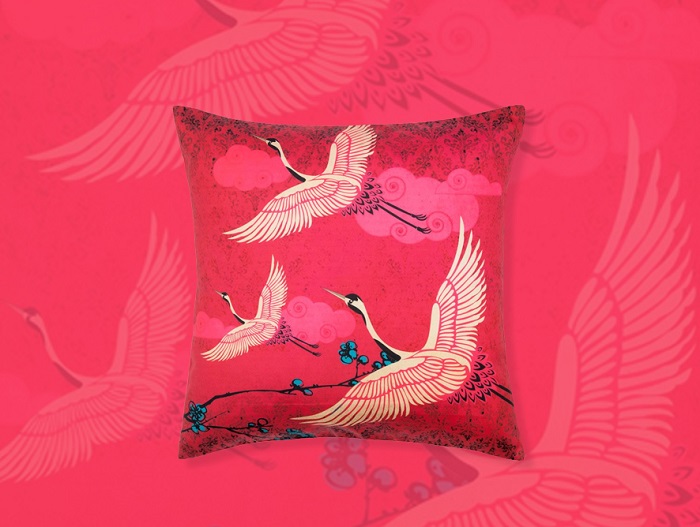 The Legend of the Cranes Poly Taf Silk Cushion from India Circus is a stunning bed cushion set with a crane print against a soft pink background. It is manufactured from high-quality poly taf silk that's truly eye-catchy and unique. The cushion cover set isn't just beautiful but comfortable and durable. If you want to augment your space's aesthetics, the Legend of Cranes poly taf silk cushion will impress!
Peacock-And-Conifer-Cushion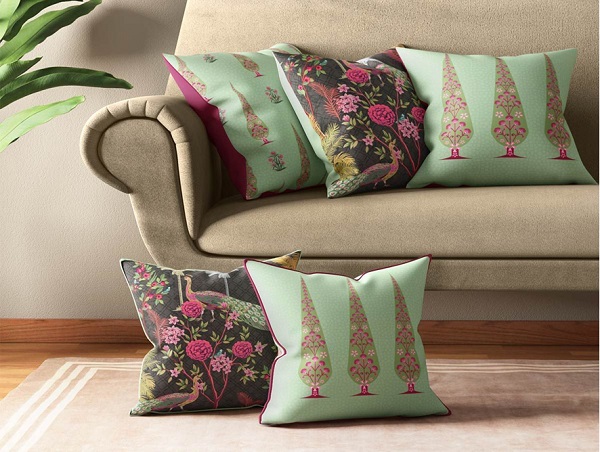 The peacock-and-conifer cushion from India Circus features a majestic peacock surrounded by delicate flowers and leaves perched on a branch of a conifer tree. With shades of green, blue, and gold that shimmer through the light, the colours of this bed cushion set are vibrant and extraordinary. The fabric is delicate and cushy, perfect for resting while idolizing the incredible artwork. Purchase the Peacock-and-conifer-cushion from India Circus today and impress anyone who sees it.
Also Read | 4 ways to style your interior spaces with copper
Poppy-Bird-Land-Cushion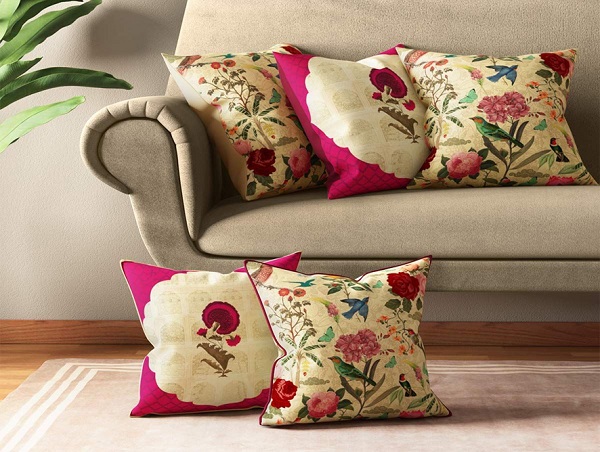 The Poppy-bird-land-cushion's intricate design and vibrant colours symbolize elegance and beauty. It features a serene bird surrounded by bright red poppies sitting on a branch. Made with premium-quality materials, the bed cushion cover set captures the essence of nature's beauty, furnishing a picturesque scene. The cushion is durable and soft. Whether you want to use it in your living room or the bedroom, the Poppy-bird-lane cushion will turn heads!
Also Read: Easy Guide To Choose A Color Palette For Your Space
Five Simple Styling Tips To Decorate Bed With Cushions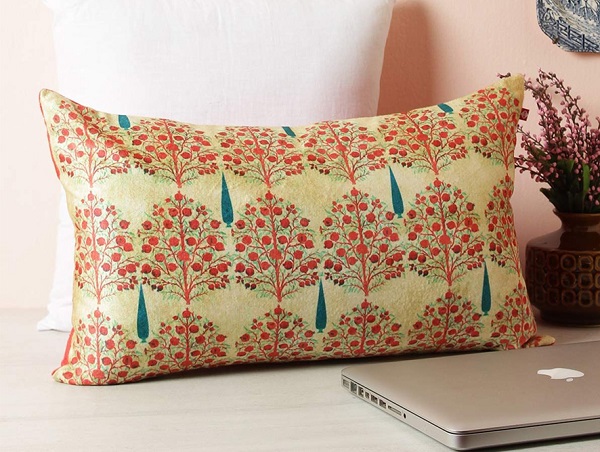 Cushions are an incredible addition to your home. Experimenting with different textures, patterns, and colours, you can add a touch of functionality and elegance to your interior. Here are five simple styling ways to decorate a bed with cushions:
Mix and match: With the right assortment of cushion sizes, shapes, and patterns, you can formulate a diverse look that evaluates your sense of style and personality.
Layer them up: Use several cushion cover sets on your bed to add depth and texture, which enhances the style element and bestows an eye-catching look.
Play with patterns: Endeavor patterns, lines, geometric designs, bold prints, or sophisticated details to add an aesthetic appeal.
Go monochrome: Stick with one solitary colour palette for a more polished look. However, we recommend you don't shy away from colours. Go all out!
Add texture: Use different materials such as velvet, faux fur, silk, wool, polyester, et al. to add texture and create a comfortable space.
Following these tips, you can elevate your bedroom decor and transform your space into a functional oasis where you will love spending time.
Also Read | The summer beach edit by Tisva