When Krishnamithra Rajan, an interior designer and artist based in Chennai, reached out to us through our Instagram page, we were intrigued to see her work. Being a community of architecture and design professionals, we normally don't say to such interesting association – after all, if we will not showcase and promote talent, what's the point of being a community and platform, huh?
But when she sent us the work, our team unanimously said, yes! Krishnamithra has been working on a series called 'illustrated interiors', which is a set of hand painted spaces that she has designed using products from Indian brands one can buy online.
Also Read: How to Create a Perfect Reading Corner at Home
The series is now complete and has been extremely well received in the furniture and decor community so far. While we would have loved to feature the full work, Krishanamithra was transparent enough to inform us that another publication beat us to that. Never mind! Such is life.
However, one of the works features a brand that is very close to us: India Circus. Therefore, she was only elated to speak about the same with us.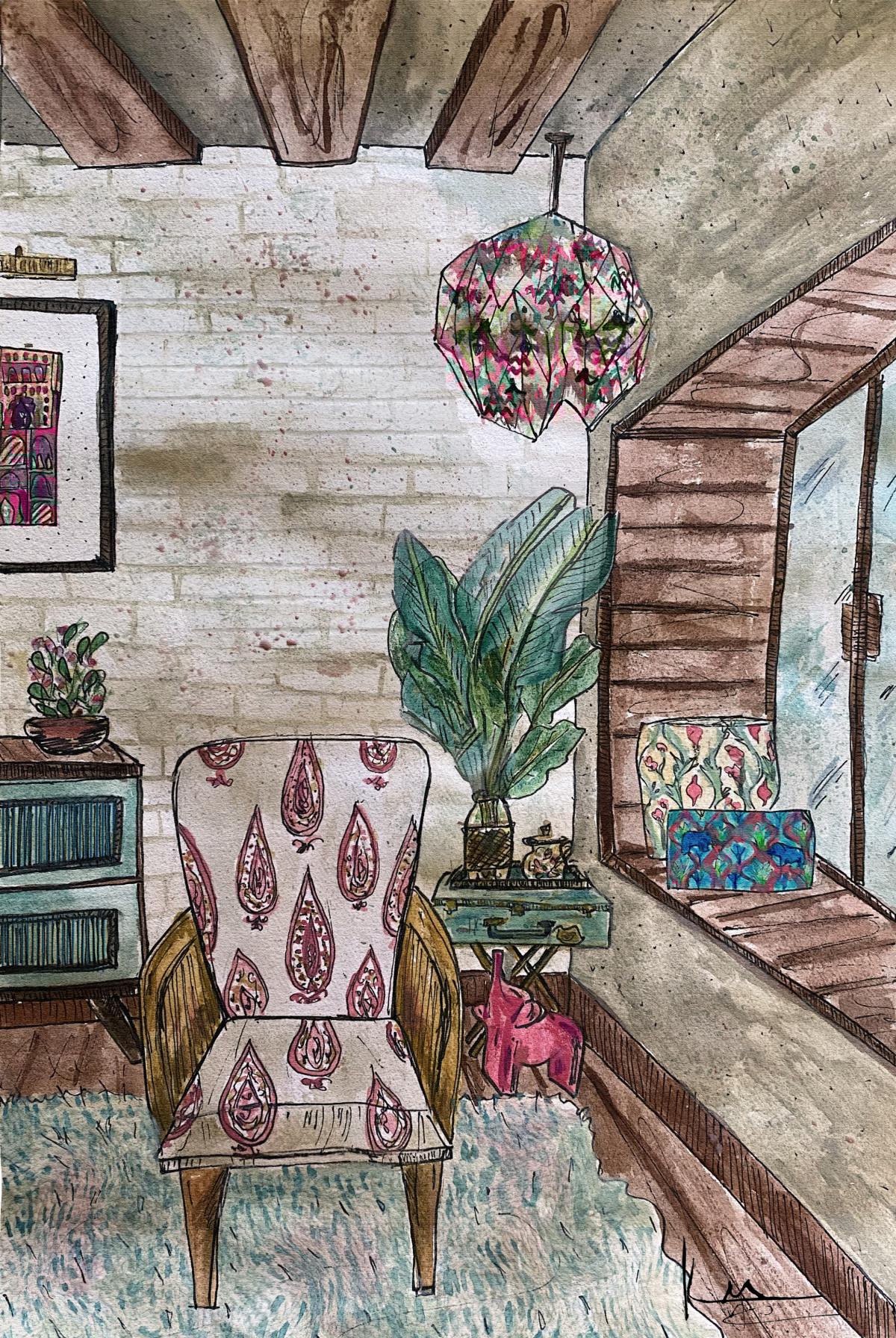 Krishnamithra graduated from the Srishti School of Art,Design and Technology with a major in Spatial Design in 2015. After having worked with some of the top architecture firms in Chennai, she currently leads design and execution in a family-owned design studio - Form and Function.
As an artist, she likes to focus on surrealistic themes, using watercolor and ink as her medium, she shares. "Art for me, is an extension of my true self and an outlet to channel my emotions, thoughts, ideas and issues in the healthiest way possible", she says.
She informs us that her debut series Celestial Navigation was showcased at the Queer and Allied Art festival in 2016 and was covered by one of the leading English daily, New Indian Express. Her next series Recurring Dreams was unveiled in 2019, where she made it to Chennai Times after an incredibly successful show over two days.
Also Read: Creating a Makeshift Classroom in the Virtual Learning Era
However, she adds that her latest series "Illustrated Interiors" is radically different from her previous work. She feels that though she always focused on the surrealistic expression of characters; this series is entirely dedicated to depicting the design of living spaces, furnished completely by Indian brands of interior and furniture companies.
Interiors is a series of hand rendered spaces furnished completely by Indian brands of interior and furniture companies that one can buy online. This series was born during the coronavirus lockdown, where resources for interior design execution were limited and there were multiple restrictions on construction work. I found myself in a perfect place to explore my options within interior styling and also a way to support local brands in my industry.
Also Read: Different ways to style a dresser or chest of drawers
The goal of this series is to allow the average consumer to visualise living spaces utilising only products that are easy to find and buy. The decision to hand render these rather than use 3D digital renders is to show interior design in a more exclusive and personal light," she adds.