Before the lockdown, a simple glance outside your apartment window in Mumbai highlighted the sheer pressure at which the city was attempting to grow vertically. Construction and re-construction are perhaps two buzzwords (of course, after tea and vada pav) in Mumbai in conversations. It is the case with all leading metros and mini-metros. With rapid urbanisation, vertical growth of cities is becoming critical. A downside of this construction and re-construction has been the volume of concrete waste generated across the country.
In July 2019, Down To Earth wrote an extensive feature on demolition waste. A similar article was published by Times of India, describing the debris crisis of Bengaluru. Construction and Demolition (C&D) waste is becoming a major environmental concern for cities across the world. Mumbai alone generates over 1500 metric tons of construction debris every day, and most of this debris is dumped in landfills; some of which have exceeded their capacity. It is posing a severe challenge for the Mumbai Municipal Corporation. And not just Mumbai, most of the metro cities which are looking at the development of vertical cities as a solution to the growing urbanisation.
The C&D Waste Rules 2016 by the Indian government laid out detailed duties and responsibilities of different stakeholders ranging from waste generators to ULBs to state and central government ministries and agencies. It also provided templates for documents needed for each management step to ease implementation. However, by its admission, implementation of these Rules has not been to the full extent, despite guidelines and advisories in support of the Rules being issued by different agencies such as CPWD, BMTPC, MoHUA, etc.
Best practice in India and abroad shows that 80-90% of C&D waste can be reused after processing in a variety of applications including landscaping, earthworks and civil engineering applications.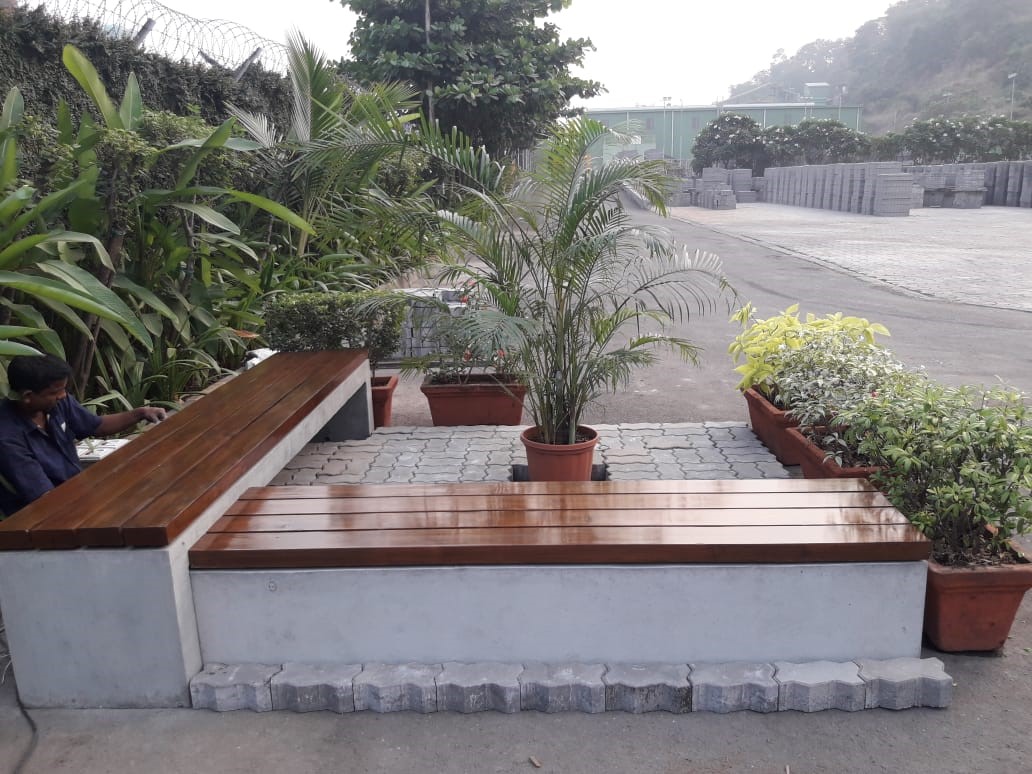 A few years ago, Godrej Construction set up a factory that converts concrete waste into building and construction materials which can be used for real estate and infrastructure projects. GC engages with builders, developers, contractors, and government institutions to help identify and collect construction waste that can be used as a raw material for its Recycled Concrete Materials (RCM) factory at Vikhroli.
The concrete debris is pulverised using a concrete recycled plant machinery which crushes the waste into granular aggregates. The recycled concrete made using these pulverised materials is then poured into moulds for making concrete blocks, pavers and other products of different shapes and sizes, known as 'TUFF'.
The specifications, strength and other characteristics of TUFF recycled concrete blocks and pavers are the same as those products made of virgin materials. The strength, water absorption, abrasion resistance etc. are designed and engineered to meet the specifications prescribed in the Indian codes and standards.
Recycled concrete materials have a two-fold impact on the environment. One, the use of RCM helps lowers the volume of stone aggregates mined from the quarries. Two, the use of RCM helps reduce the tonnage of C&D waste dumped into landfills. TUFF products are now beginning to be used in construction projects of many renowned real estate developers. TUFF was used to create public seating spaces during the 2019 and 2020 editions of Godrej Group's annual brand-agnostic lifestyle event, Godrej L'Affaire.
TUFF products are highly Green and conserve 5000 litres of water and reduce 900kgs of CO2 emissions per ton of concrete recycled.
Definitely, this isn't the only solution. The moot point, however, is that with support from local government authorities and major construction contractors, Godrej Construction has processed over 10,000 Tonnes of concrete debris over the past two years. This was used to manufacture solid blocks and pavers. The recycling of such debris has prevented the addition to such waste material to the city's landfills
Anup Mathew, Senior Vice President & Business Head, Godrej Construction, says, "Godrej Construction is committed to promoting Sustainable Development. Establishing the automated RCM Manufacturing Plant is yet another example of how the business walks its talk. The RCM Manufacturing plant makes it possible to generate a value-added product from construction debris, which is beneficial for our environment and society."
Currently, Godrej Construction is now partnering with several architects and engineering Consultants for exploring opportunities for the use of recycled concrete in newer applications. TUFF products are also being considered for the use in infrastructure projects and for making Tetrapods and Accropodes that are used as wave breakers along the seashore and coastal roads.
If you similar stories to share with us, write to info@designdekko.com. The best stories will be featured.