As you begin walking into this massive space packed with bold colours and accentuating design, each area unfolds a special story that will have you eager to see more. 'The Apartment with OTT Glamour' is a 4-and-a-half BHK residence having some of the most minimalist geometric shapes and patterns, with massive 12 feet high ceilings that creates layers, volume and textures in every view.
Also Read | Shiro Kuramata's Samba-M shines again with Ambientec at the supersalone in Milan
Designed with the utmost intricacy for a family of five, Design Hex uses a beautiful combination of curves and straight lines to create a cohesive piece of art that stays embedded in the memory of a visitor. Accentuated by tall ceilings and a bold visual impact forming a repeated pattern in every room, the home slowly unravels into a magical space.
Also Read | Montreal, Canada : New outdoor furniture section on degaspe.ca
Each room tells its own story with repeated elements, beautifully punctuated with art and bespoke furniture. The entry foyer welcomes you into the house with an audacious gold bench paired with a gold ladder that merges ingeniously into a canvas. This mimics the elements, sharing a unique story between reality and altered reality.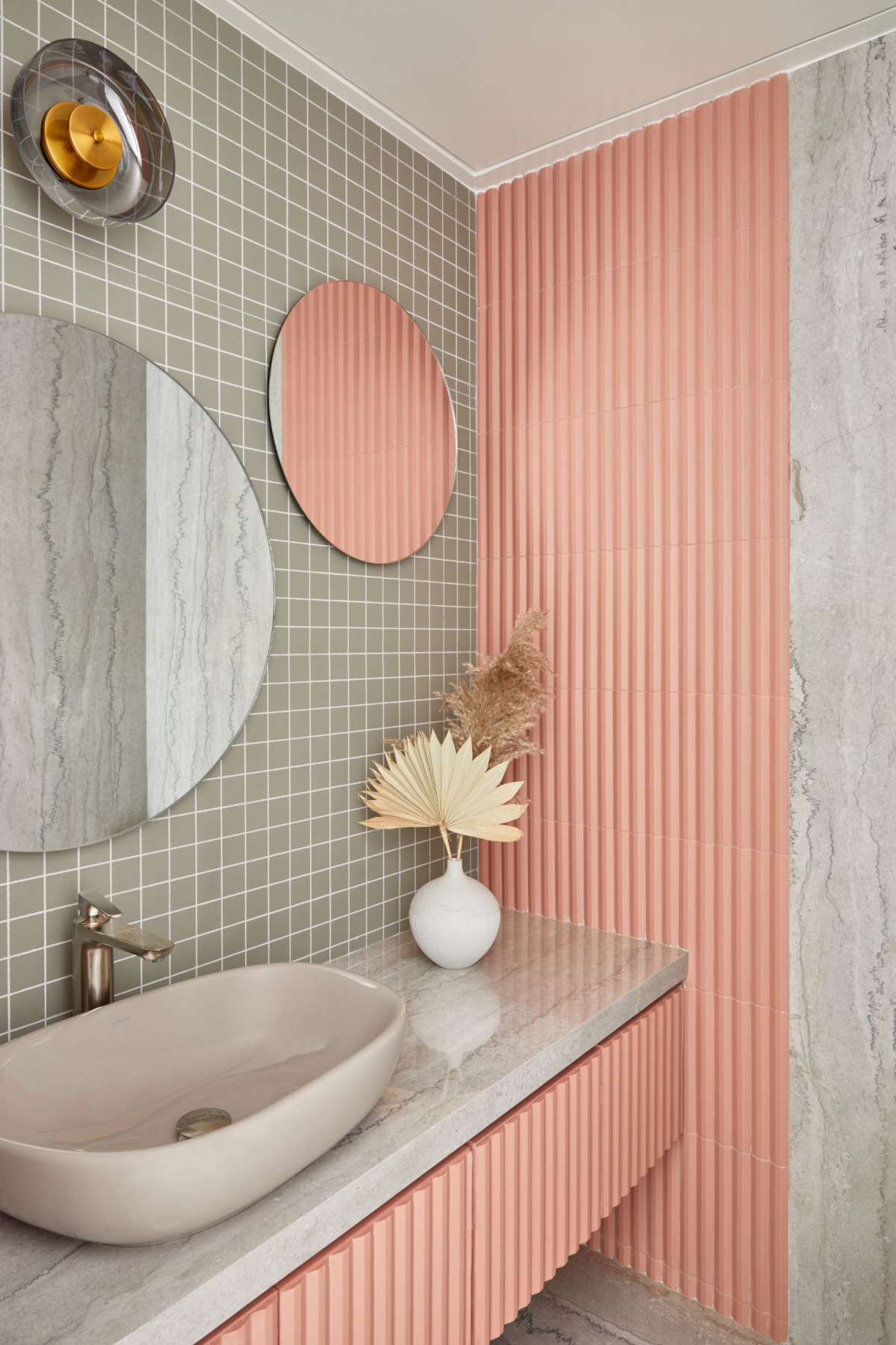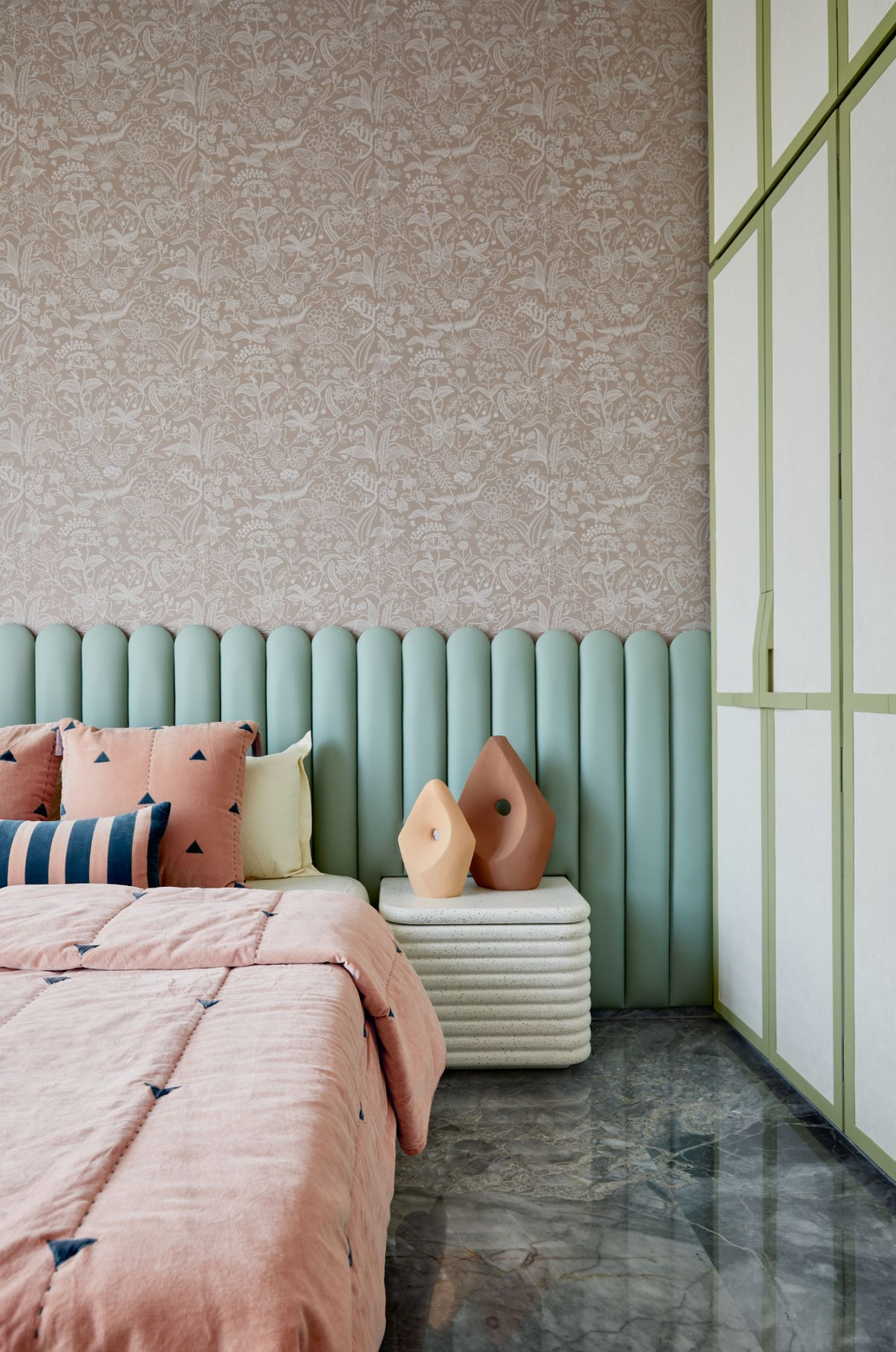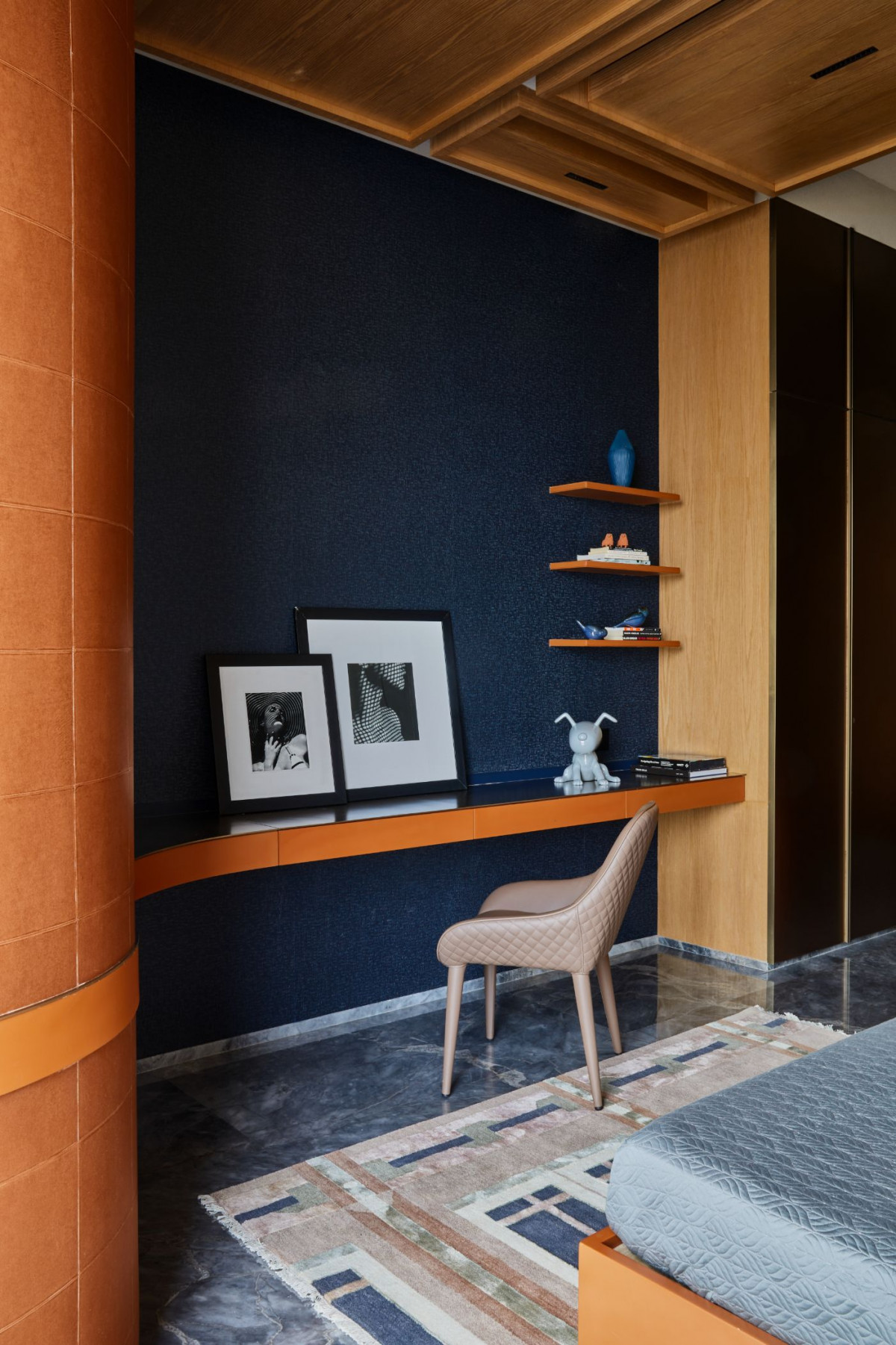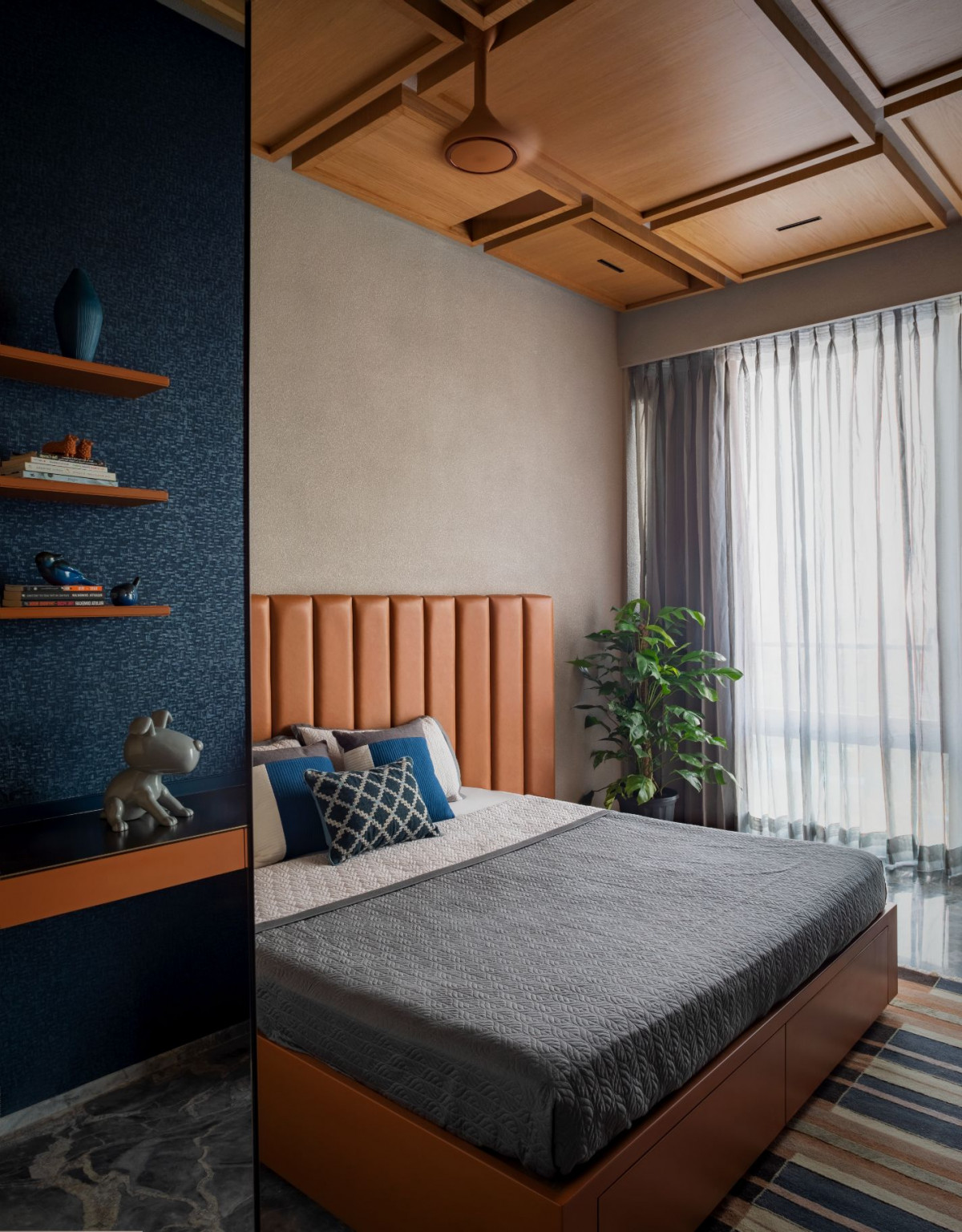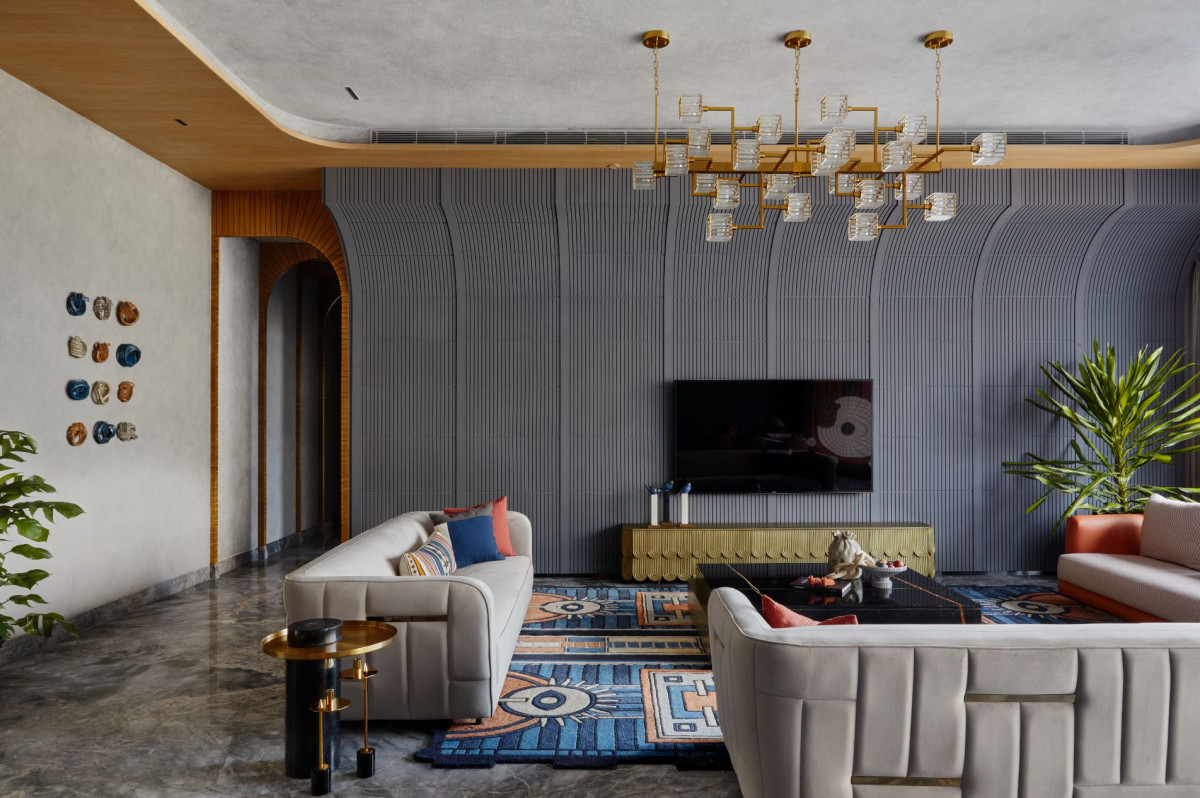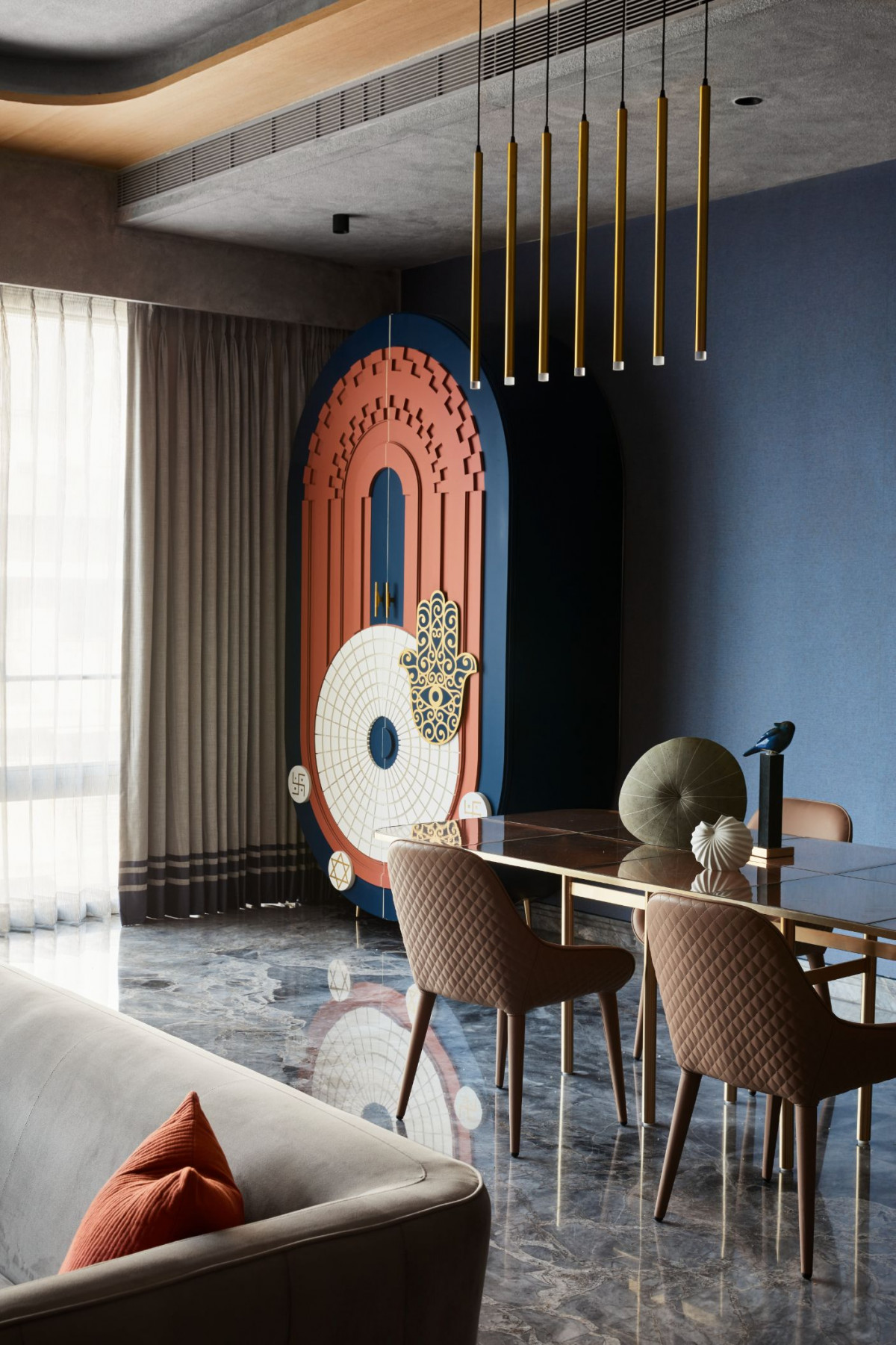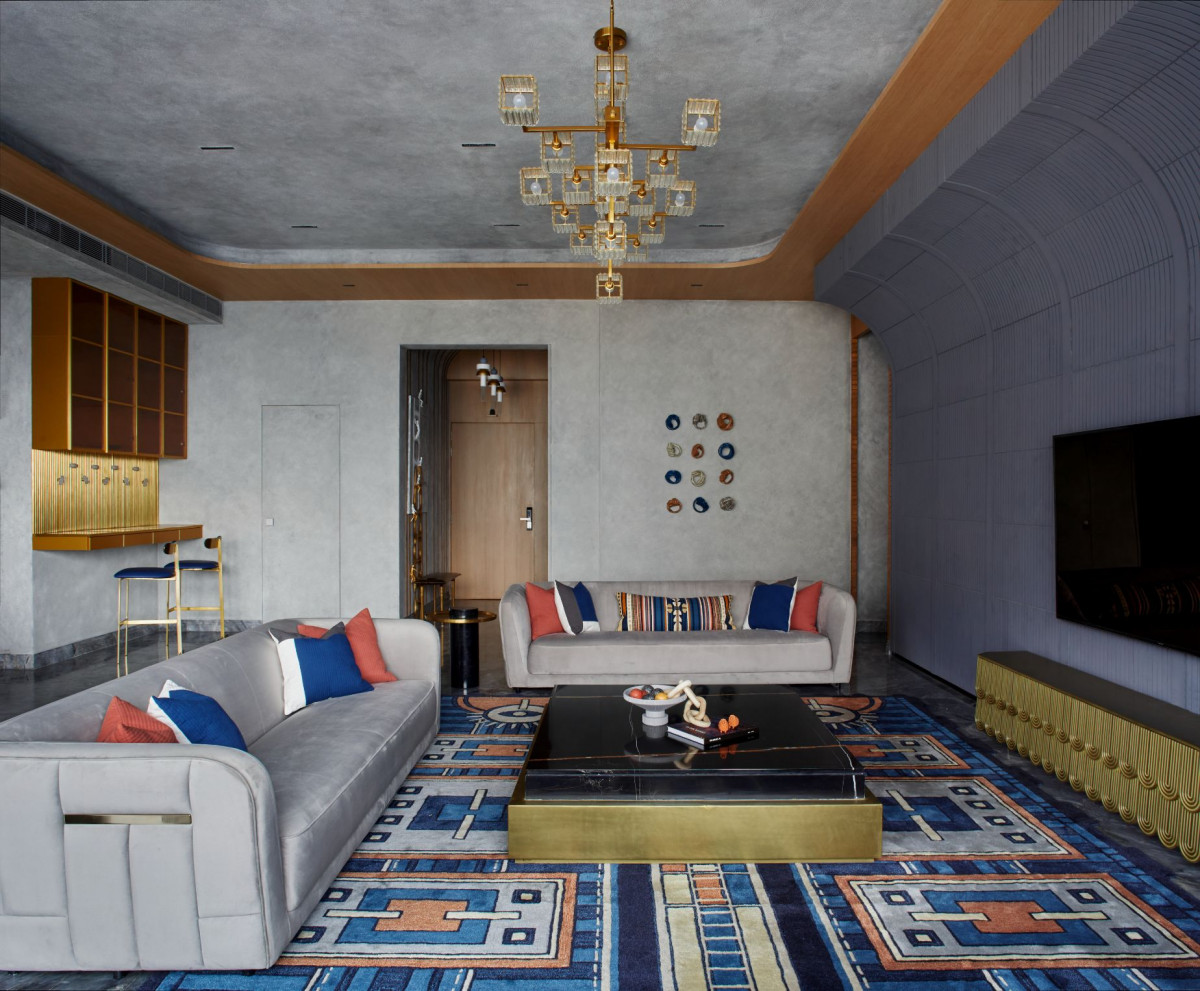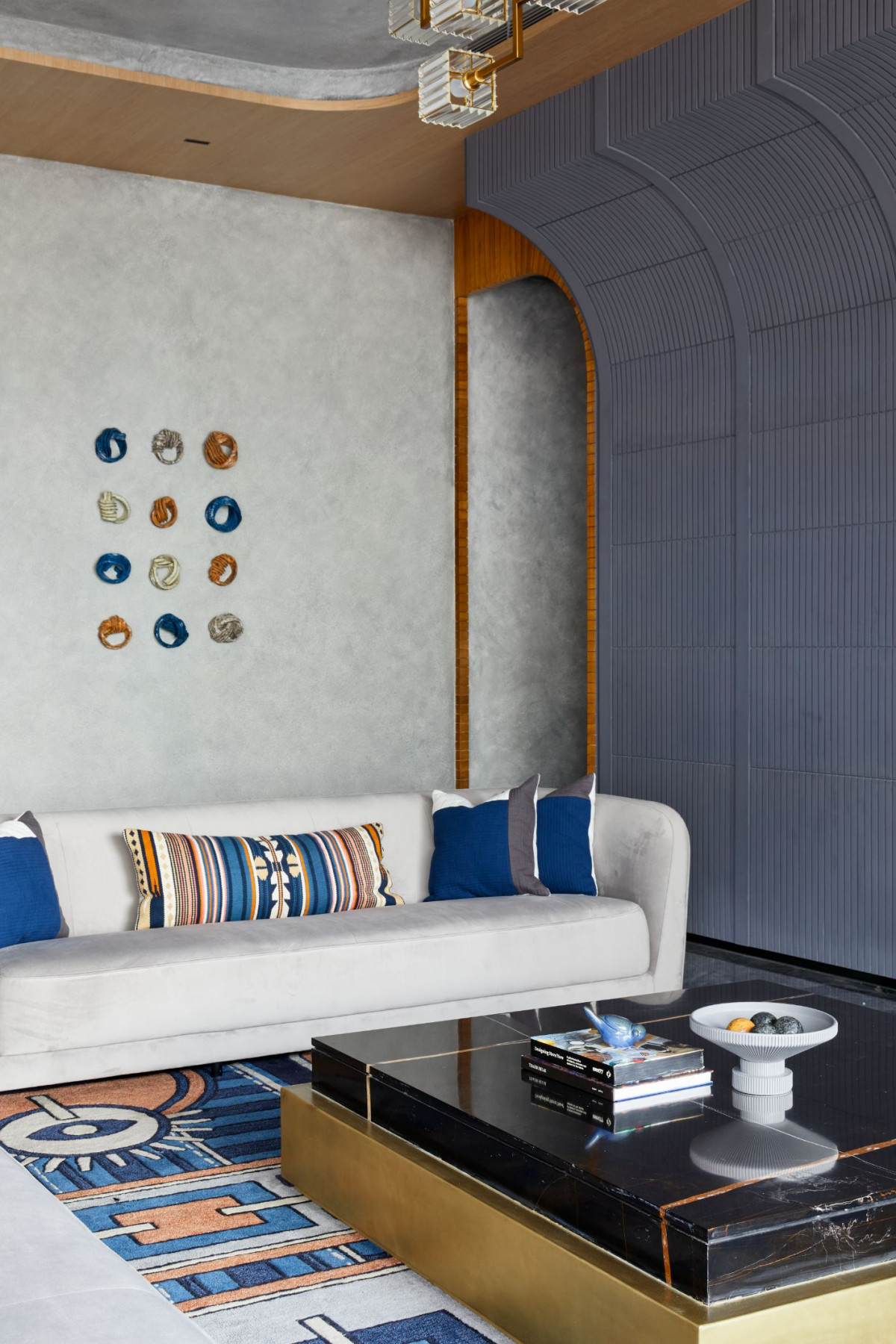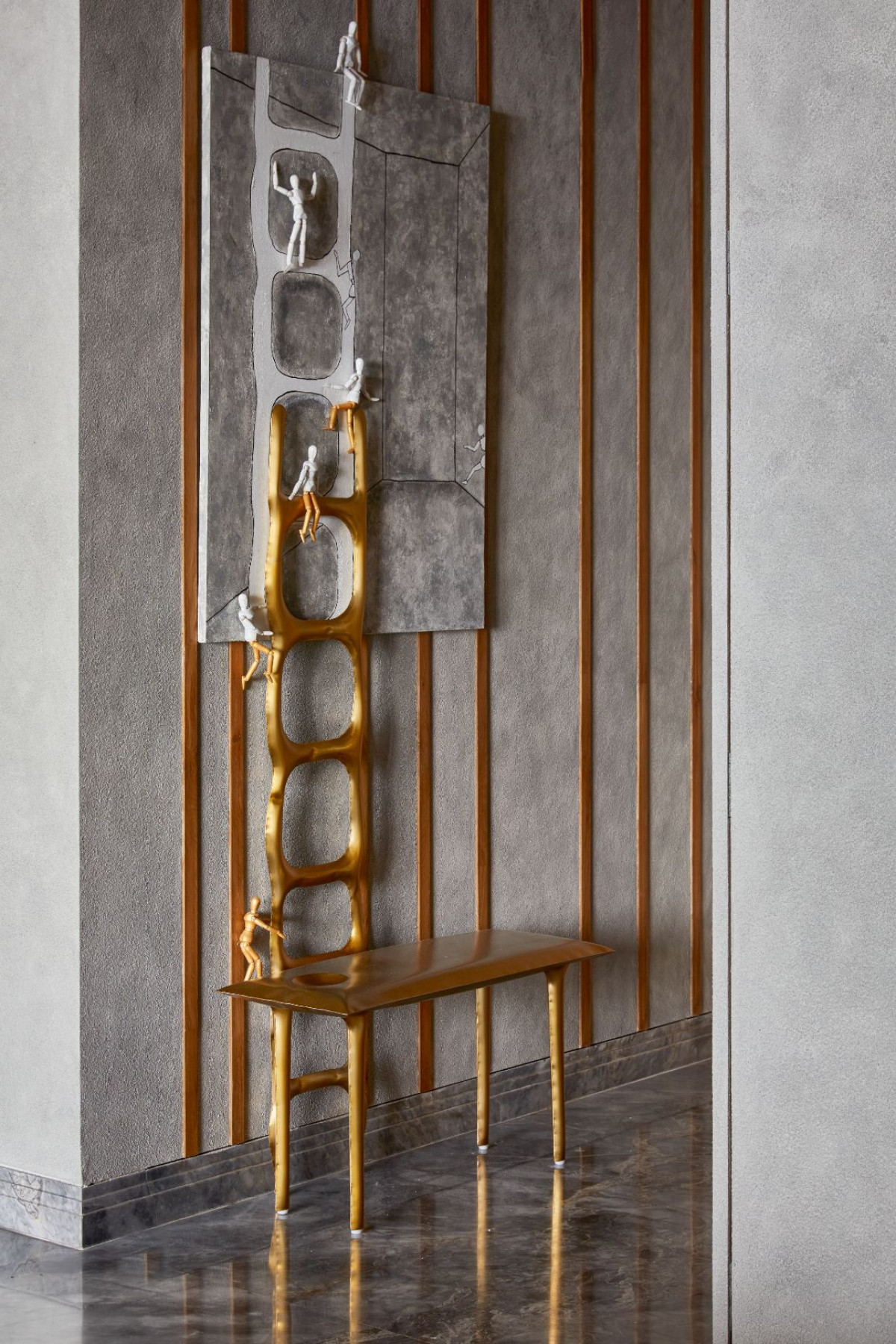 The tunnel-like entry foyer opens up to a spacious living-dining area adorned by a huge game board rug that serves as the highlight of the space. Here, Design Hex paints an exuberant palette of greys, blues and tans with lots of gold for a valiant heart. The flashy gold TV unit makes for the perfect entertainment addition set against the grey textured patterned wall. The dining table is another one from Design Hex's very own collections but with a more subdued version with handmade bubbles peach glass top broken into a grid with a brass framework.
Also Read | Interior stylist Bhawana Bhatnagar on smart lockers at residential spaces
However, the most eye-catching element of the space is the Sacred Charms Mandir. This is an oblong capsule-shaped free-standing unit embedded with sacred symbols of various religions. Moreover, the 3D embossed shutter is designed to be quirky, giving the mandir the perfect millennial touch.
Keeping up with the client's brief, the master bedroom spells glamour and extravagance at its best. It includes the most vibrant coral headboard set against a beautiful backdrop of a textured black panel making it look like small charcoal bricks. This is further glamorised by random embellishments of pure brass caps which are the most attractive element.
Also Read | Chicago Architecture Biennial Announces Contributors for Fourth Edition: The Available City
The guest bedroom has a rather inviting and soothing effect with colours like mint green, peach and white. Here, the design studio decided to have some fun by creating a terrazzo-like effect with sprayed splatters of green on the otherwise bland white table. The brother's room, on the other hand, has a clean masculine streak to it with a stunning staggered wooden ceiling, leather finish wallpapers and a solid sleek metal study table.
Also Read: Festive Home Decor: 10 accessories you should add to your home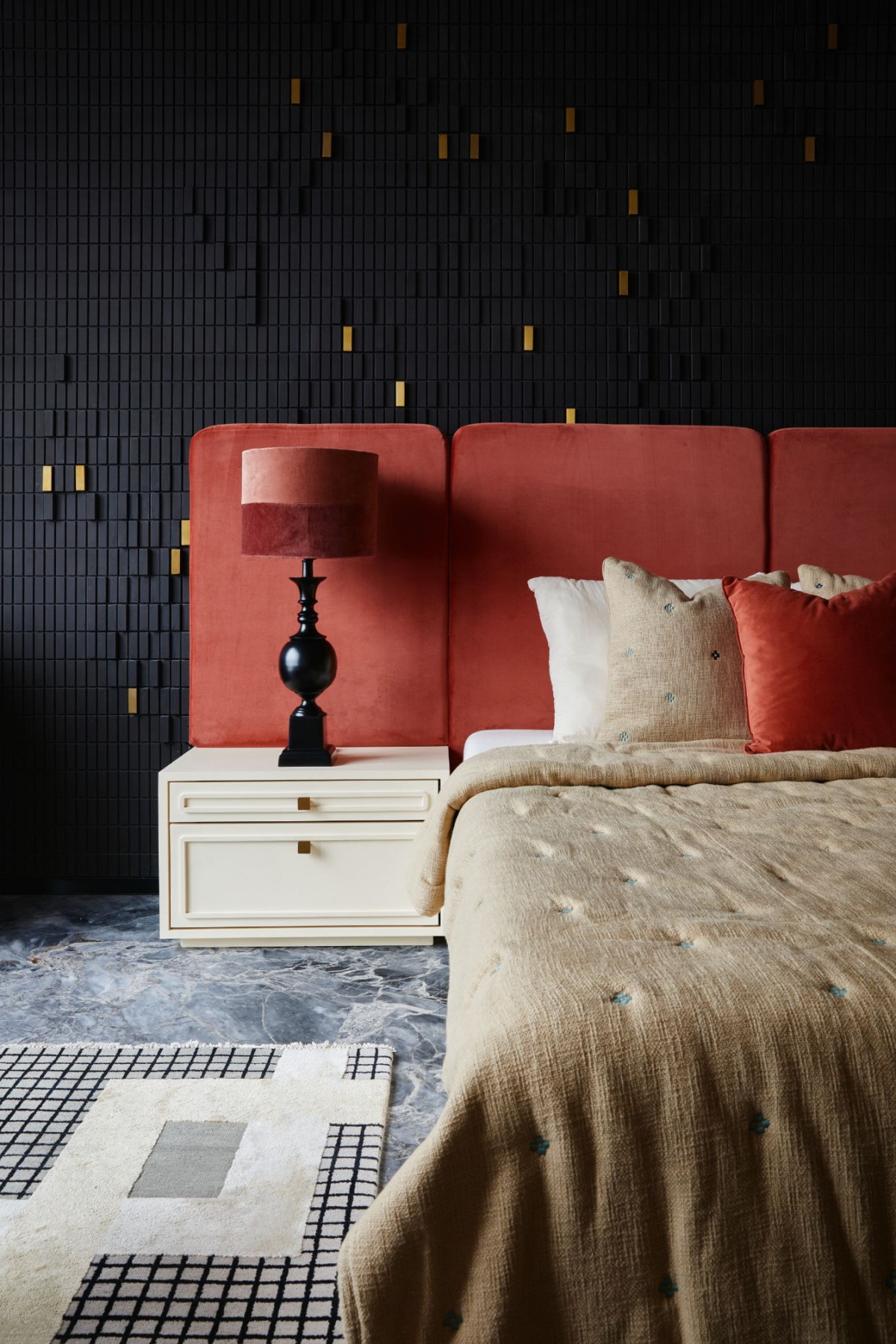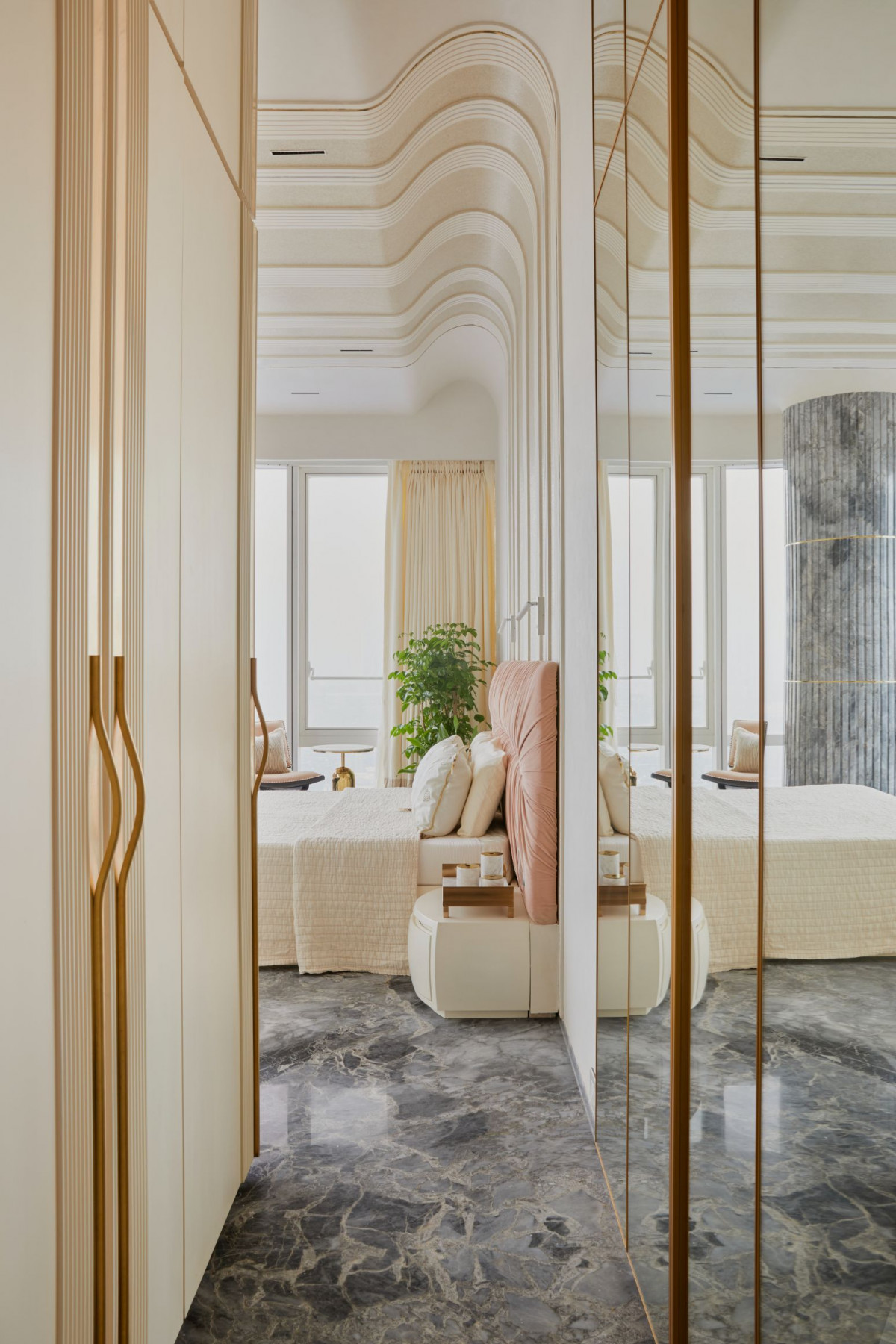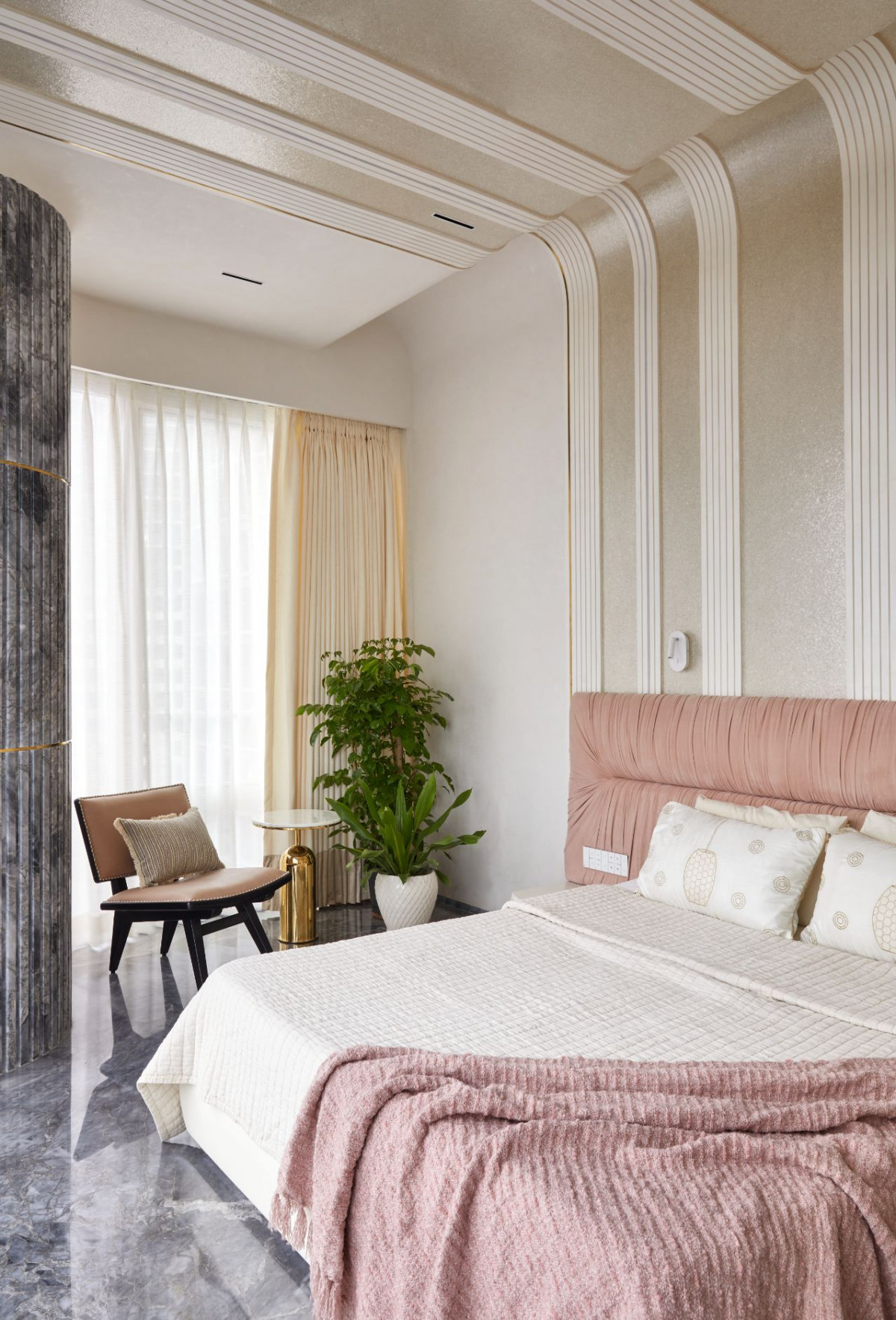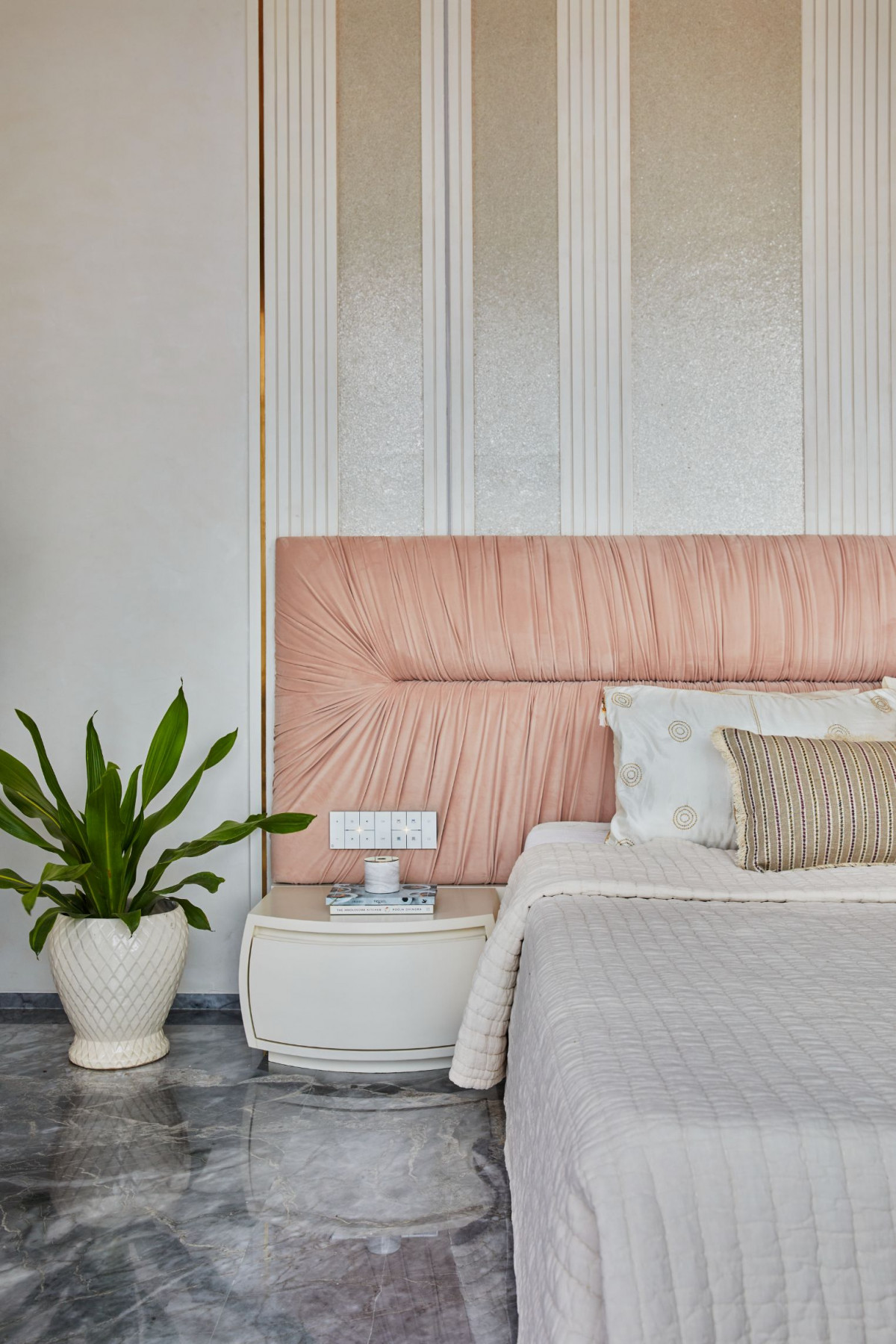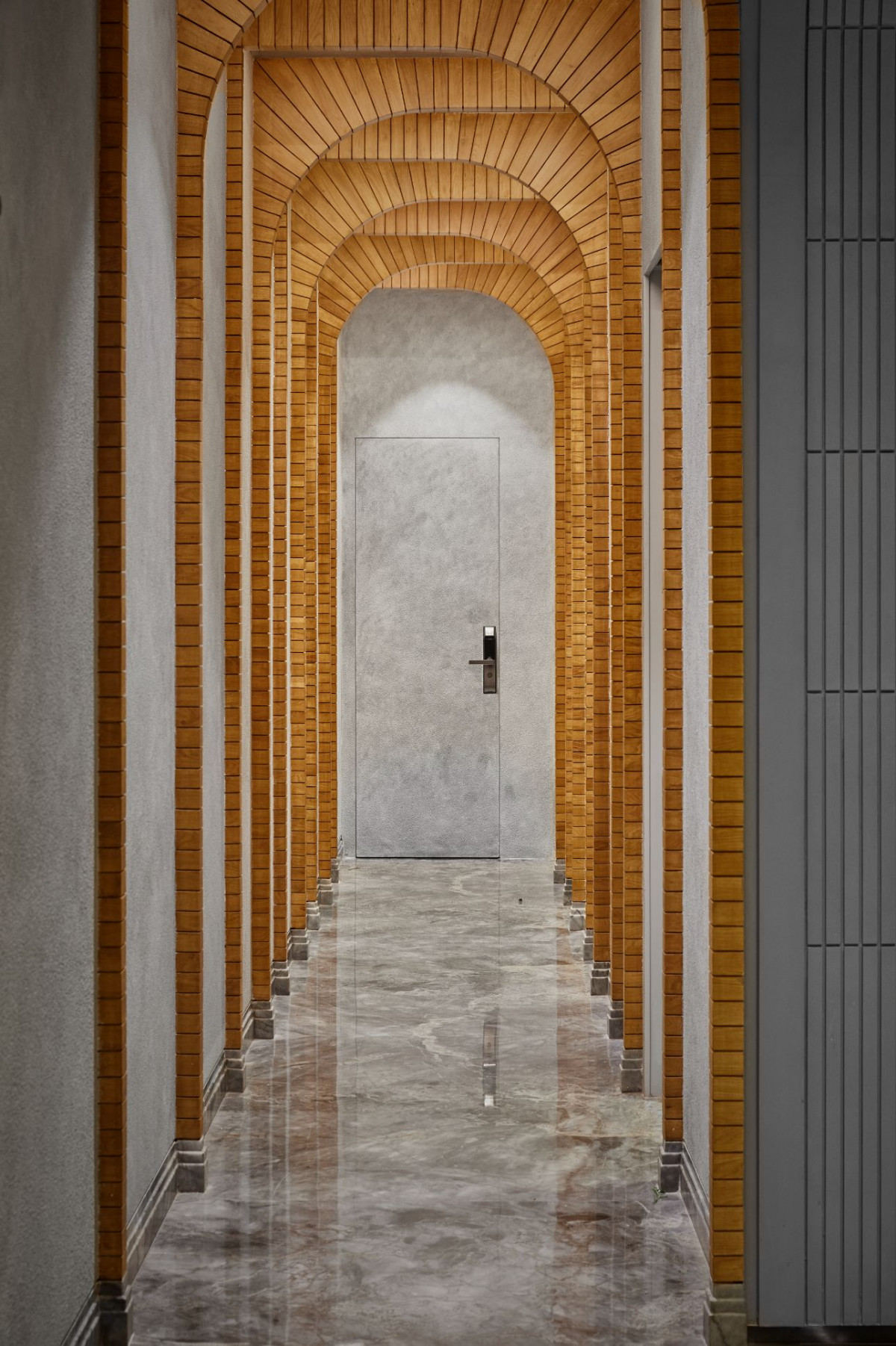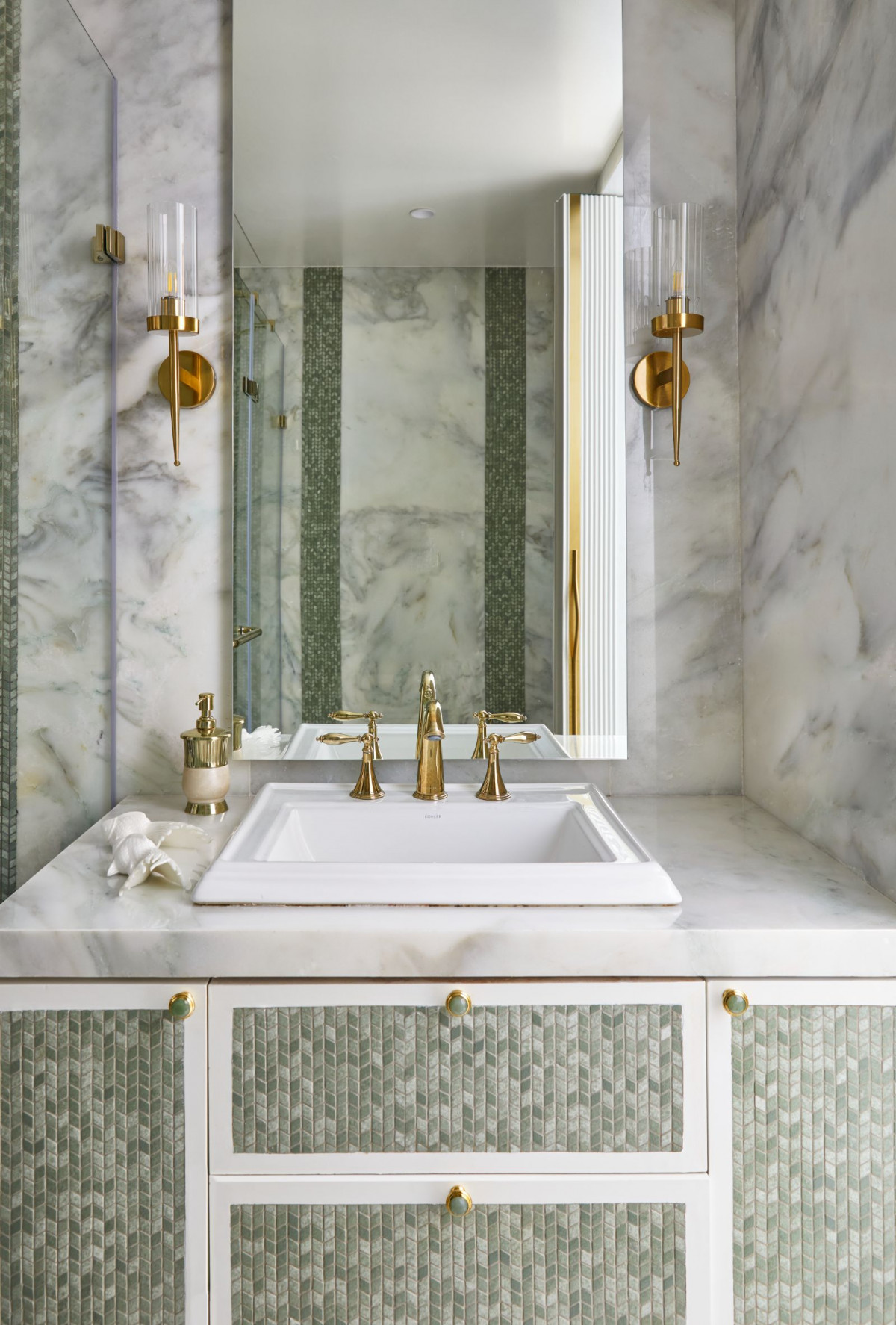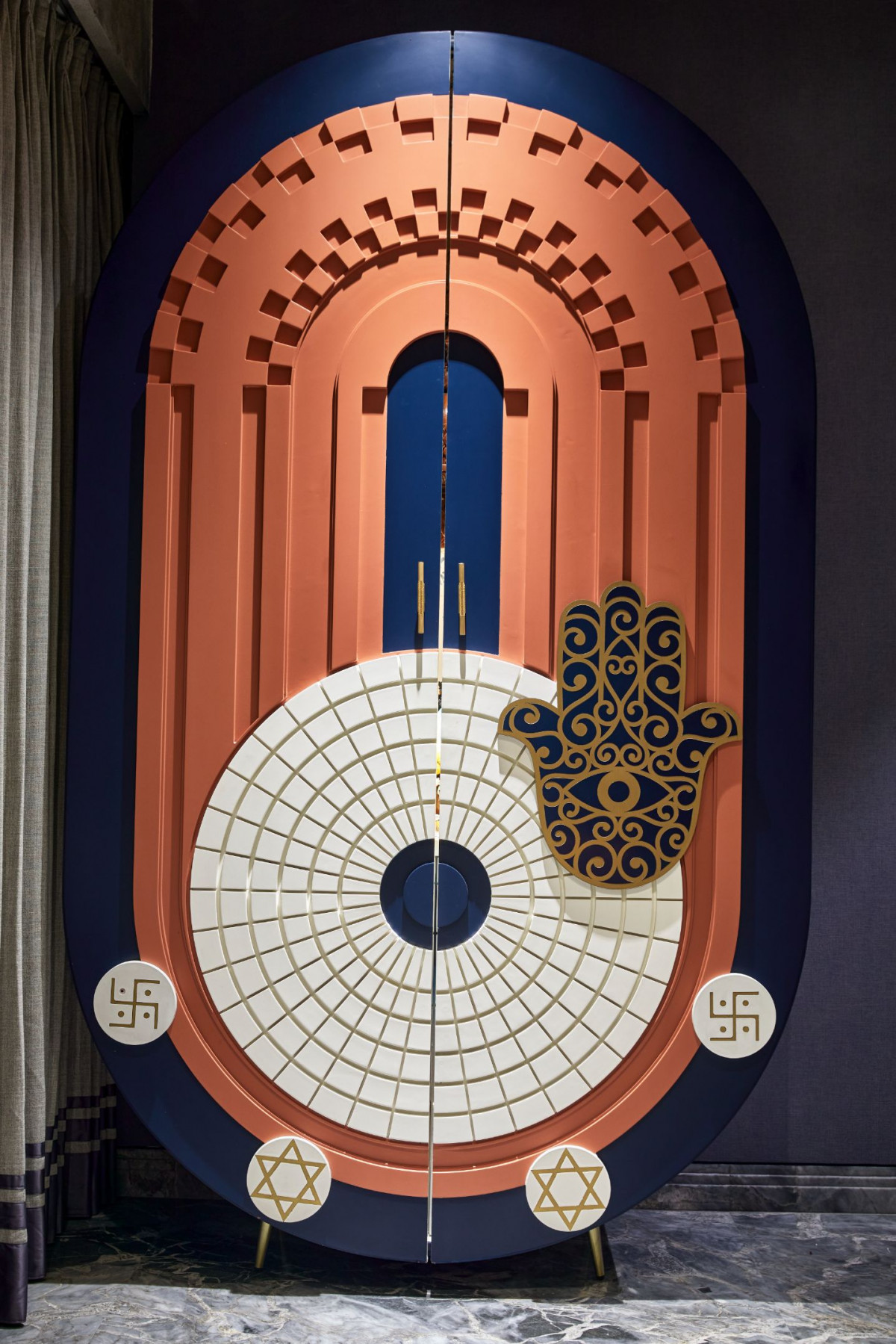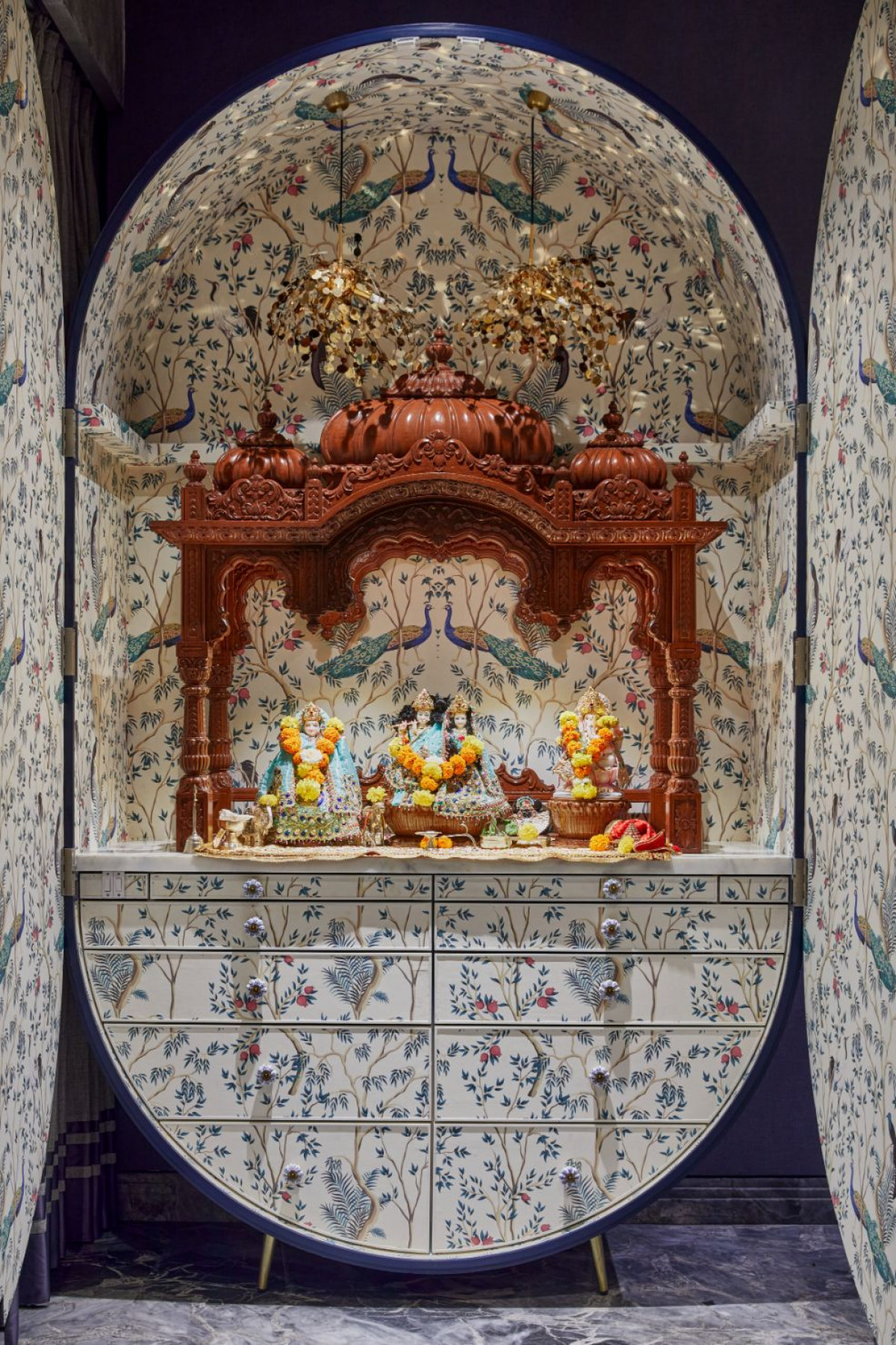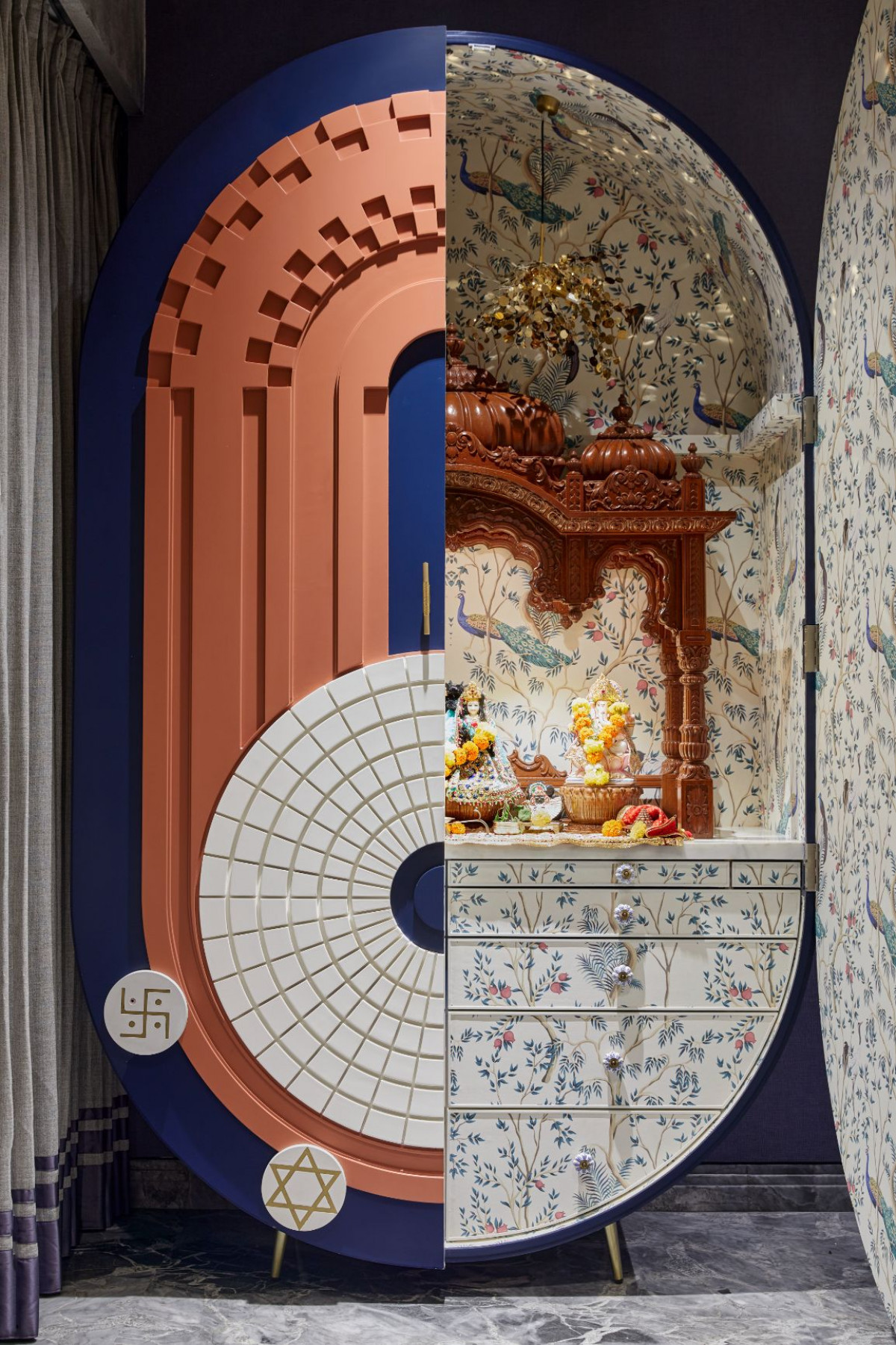 For the parent's bedroom, the studio went with nudes and hints of gold. This was done to introduce a sense of serenity and softness while still maintaining the charm of the house. The room has a structure that makes one pause to admire the unusual form following right from the floor to the ceiling. Design Hex has played with the heights and silhouettes in this room in the most majestic way. Retaining the room's strong forms, the colour palettes were kept pearl white and further accentuated with Mother of Pearl wallpaper and gold band inserts.
Also Read | 4 ways to style your interior spaces with copper
With 'The Apartment with OTT Glamour', Design Hex adopts its signature style of using strong architectural inspiration and creates a fresh yet bold palette, resulting in this contemporary, eclectic space.
Project Details
Project Name - The Apartment with OTT Glamour
Area - 3600 sq. ft.
Location - Indiabulls, Mumbai
Year - 2021
Design studio - Design Hex
Photographer - Talib Chitalwala