In the words of Maya Angelou "You can't use up creativity. The more you use, the more you have." Entrepreneur Vandita Purohit's Indo Bohemian Cafe in Pune is one such café that breathes creativity with a natural affinity.
Tucked away in the quaint bylanes of Bhonsale Nagar, and surrounded by lush greenery, Mauji sits beautifully nestled in a two-storey sprawling bungalow. As you step inside, it's always the aroma of freshly-brewed coffee that will fill you up with a sudden boost of energy. Every little element here peps you up to start a conversation. Born out of passion during the pandemic, Mauji is an evolved Russian concept of a time café.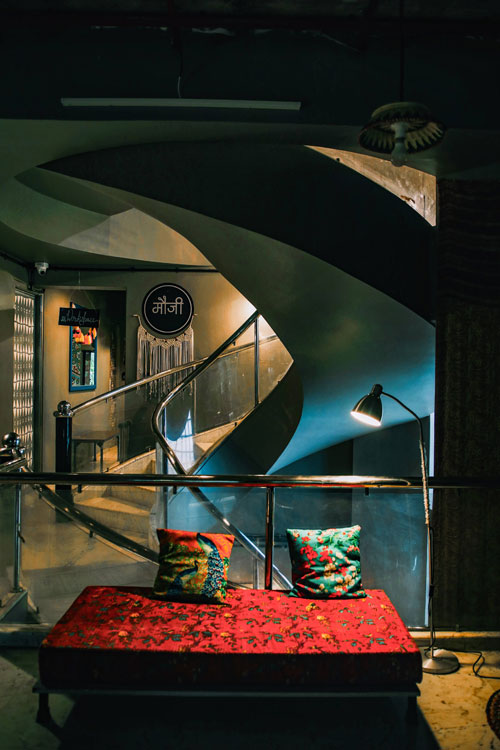 Interestingly, we are informed that Vandita designed the space by carefully curating ideas from her experiences. "The idea from the very beginning was to create a space that is inclusive, that would make people feel like home away from home. We haven't designed the space on any one particular theme, in fact it is a combination of all the elements that I relate with. When I was working on the design sense I wanted to create some of the words that were free-spirited, creative, colourful, community, every corner must have a story. I call it a "good chaos", I always believe that the spaces have a lot to tell, they speak to us and must be well thought out. At Mauji, your creative spirits will be ignited. Someone once said we all have a creative side to us, it only needs to be discovered, Mauji will do exactly that," she says.
Also Read: 7 Simple steps to Declutter your Work Space
My inspiration is my travel. Every place has taught me so much; the experiences I have had across the world have all given birth to the designer and creative head in me. At Mauji, you will see that a lot, every corner is designed using things that I have collected over years. And if you think about it, travel is also a form of good chaos, we like the unknown, we feel comfortable in the most unknown places and with people we have never met before, and it still passes a sense of belonging. That's exactly what Mauji does," she adds.
Step inside, and you will be welcomed by a myriad of quirk. An old Bajaj Chetak scooter that Vandita picked up from a scrap dealer, now stands happily as a reception counter - the first thing to catch your eye as you let yourself in through a big green door.
Also Read: 7 Simple steps to Declutter your Work Space
Vandita envisioned Mauji as a space that spells warmth, and embraces everyone with open arms. And that's exactly how it makes everyone feel. One has to remove shoes before entering so that if you ever like to snuggle up on the sofa, you do that with the same ease and comfort as you would in your own living room.
Vandita's love for restoring almost anything to everything, recycling and upcycling reflects all around this space. As you keep exploring more, you will see a plethora of art objects which are both intrinsic and eccentric. Like the cozy yellow couches where once you sit, you will literally find yourself buried for hours.
Also Read | Shiro Kuramata's Samba-M shines again with Ambientec at the supersalone in Milan
These sofas came along with the property, and were essentially torn and ripped. Instead of throwing them away and replacing them with new ones, Vandita decided to give them a complete makeover. Similarly, the pretty little stools sitting around the tables elsewhere were actually the drawers of an old cupboard.
The interesting pictures in the frames hanging on the walls are nothing but the cutouts from several journals Vandita picked up during her travels across the world. For her, 'use and throw' doesn't exist, everything is 'use and reuse'. And that's what makes this whole space all the more amiable. The colourful drapes falling from the ceiling are her mother's old sarees. Whenever she would feel inspired, she would spend a whole night turning an empty wall into a piece of art.
Also Read | 5 Innovative ideas to make your entryway stand out
Besides its unique concept of being a time cafe - which literally means you pay for the time that you spend here while your beverages are on the house - Mauji offers multiple experiences for multiple moods - especially curated for its patrons. The property hosts a studio space, a coworking space, an event space, maker's space, a screening lounge and a library. Even the food here is prepared from scratch every day and customized to perfection for each customer according to their taste bud and preference.
Pure vibe and good chaos is how this place can be described in a few words. And it is true when Vandita says to everyone who pays a visit, that "at Mauji, you can be a manmauji!"