In August, GROHE launched its campaign IT'S IN AND IT'S ON promoting the swift, premium-luxury retrofit transformation of bathroom and kitchen, without the need for major renovation. In conversation with Satoshi Konagai, Leader, LIXIL Water Technology (LWT), Asia Pacific, Supreeth Sudhakaran of Design Dekko explores the how and why behind the idea. Edited excerpts:
The core of the retrofit campaign is about convenience. What were the insights that led GROHE to work on the campaign – and of course the product line?
With growing concerns regarding health and hygiene due to the pandemic, people are spending more time at home due to the restrictions. With the advent of this 'new normal', many homeowners desired to improve the essential spaces within the household, to enhance their personal and family wellness, with the bathroom and kitchen featuring prominently.
Also Read: Vastu-verified selection and placement of furniture is key to evoke prosperity and positivity at home
This resulted in a rise in demand for personalized products and solutions which could be retrofitted with convenience. It is with this in mind that we created the GROHE 'IT'S IN AND IT'S ON' campaign, which emphasizes the importance of pure, joyful water experiences for wellness, by transforming the bathroom and kitchen spaces into a personal sanctuary for relaxation and rejuvenation. It promotes the swift, premium-luxury retrofit transformation of a home's bathroom and kitchen, without the need to take on the challenges of major renovation.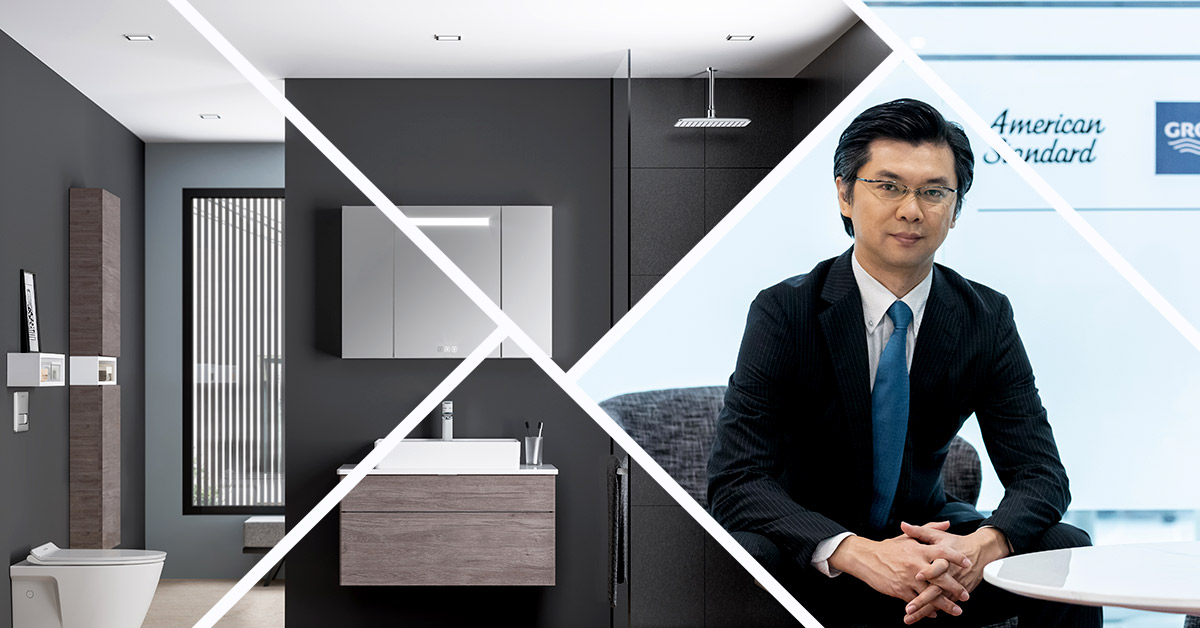 In line with this, the retrofittable products are designed in a way to integrate seamlessly into existing plumbing and mounting points, making the transformation of spaces easy and fuss-free. For instance, GROHE Rainshower SmartActive Hand Shower is an award-winning product equipped with advanced spray jet technology which connects to any standard shower hose via the Universal Mounting System and works with nearly any brand of shower mixer. Consumers do need to change their existing mixer to enjoy significantly enhanced shower performance incorporated with technological functions such as advanced sprays.
Also Read: 7 Simple steps to Declutter your Work Space
Similarly, GROHE Rainshower SmartActive Shower Rail has been precision engineered for speedy installation and with GROHE QuickFix, it ensures that the rail can be adapted to fit existing drill holes, and GROHE TileFix adapts to the depth of the tiles. This would mean that consumers can install their shower rail conveniently without much delay.
Standardisation is a big challenge today. Especially for a product for the retrofit segment. How does GROHE plan to change this?
Being a global brand, GROHE relentlessly searches for technological innovation by working towards integrating the latest digital advances, creating smart solutions that further enhances one's experience. With such constant R&D and innovations in place, we easily overcome the challenge of standardization.
Also Read | Shiro Kuramata's Samba-M shines again with Ambientec at the supersalone in Milan
Besides, almost all GROHE bathroom and kitchen products are retrofittable as the products are equipped with retrofittable features and rapid installation systems such as QuickFix Plus, Universal Mounting System, and GROHE TileFix, allowing for easy integration with existing fixtures.
Are there parallels which can be drawn between consumers in Japan and India? What makes them similar and what sets them apart in terms of behavior and expectations?
What sets them apart is that India is definitely a young country and an early adopter of smart user interfaces and software. New-age Indian families are now investing in focusing on building premium imagery and amorphous design differentiation. To cater such lifestyle needs of our discerning customers across all segments, LIXIL provides a full suite of the bathroom and sanitary ware products and technology. In fact, for LIXIL, India is one of the leading markets in APAC and is poised to become the third-largest market after the US and China over the next decade.
Also Read | 7 decor must haves for your living room
Given the strong economic, social and demographic parameters, India will continue to present a significant growth opportunity and a unique potential for re-shaping the bathroom industry. From being a predominantly unorganized market a decade ago, India has developed into one of Asia's largest bathroom markets.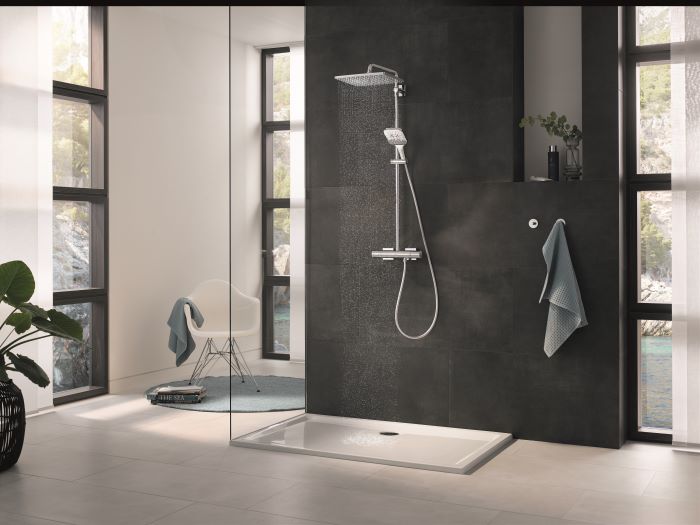 An interesting campaign that piqued the interest of the global markets some years back sort of pushed the thought that showers consume 4X more water and hence promote water wastage/over consumption. How does GROHE respond to such narratives?
Water is the essential element that makes our bathroom rituals so special, personal and enjoyable. That's why we are proud to help everyone experience the pure joy of water. But keeping in mind water wastage, we have always had a burning passion to save every drop we can. It's only because of this passion, that we have created so many sustainable products. And each solution has intensified our initiative, spurring us on to the next level of finding water and energy saving technologies. Hence, we consider sustainability to be one of the core brand values, alongside technology, quality and design.
Also Read | Little Things We Do: How do you define sustainability?
We consider it our mission to develop water-saving technologies and products that enable users worldwide to use water and energy resources safely and responsibly. We invest extensively in research and development to meet the growing need for smart solutions that are hygienic, water saving and are easy to maintain - be it for residential purpose or commercial means.
Understanding the growing need for water security solutions, our GROHE line of products explored the water management solutions for smart toilets. The technology has made it possible to detect leaking water or burst pipes and automatically shut off the water supply.
GROHE Sense Smart – a water sensor to detect leaking water
GROHE Sense Guard – a smart water controller that detects burst pipes and automatically shuts off the water supply
GROHE Eco Joy – for water conservation
GROHE Rainshower Eco showerheads - a product example that reduces water consumption by up to 40% while maintaining the full shower experience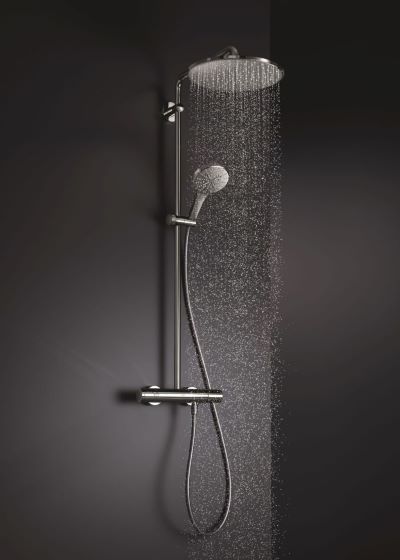 We and our brands ensure that we contribute our bit to the environment by constantly innovating and contributing as a sustainable brand to society. Leveraging our strength as a global leader in water conservation, resource circulation, and filtering technologies, we will continue to set high standards globally and elevate the environmental value of water among our employees and external stakeholders.
The biggest challenge to a segment often comes from a totally different segment. For instance, cameras became almost obsolete because of smartphones. Do you see the adoption of Dishwashers as a threat to the kitchen faucet segment in the future?
It is true that the demand for dishwashers has risen drastically, especially after the onset of the pandemic. As domestic workers were not available, people tried to find a more convenient way to wash their dishes. But this trend definitely is not a threat for the kitchen faucet segment.
Also Read | The Muse: Homing in on the Himalayas
Other than convenience, there are some other key factors that are to be considered before we can compare the two. Dishwashers are significantly high priced, require regular maintenance, and consume plenty of energy. Moreover, dishwashers, too, need to be cleaned. So, the kitchen faucet is not something that can be completely replaced by new technology.
Waterless kitchens and bathing are two distant trends which are being discussed today. As a company that thrives on design innovations, how is GROHE looking at countering this trend?
Waterless kitchens and bathing have started to be a part of conversations but it is a distant reality right now, especially in a market like India. The Indian consumer psychology is very different as compared to the Western markets - people here have attached ritual to how they clean. Bathing and sanitation as activities are essentially linked to water and it is difficult to convince the consumers otherwise.
Also Read | How art can be used for supporting good cause
However, being a global organization, it gives us an edge over others as we can utilize the best of talent and technology in R&D, Design and Marketing from across the world. Based on our research, consumers today are looking at products for more than functional needs. They are looking at intuitive IoT backed products, to bring better designs and optimum hygiene. We have always advocated the importance of intelligent, life-changing and sustainable product solutions and services and are steadfast in our commitment to deliver beautiful and purposeful products that enhance families' well-being.